Counter-Strike: Global Offensive is currently one of the biggest games on the planet. With hundreds of events hosted on an annual basis, it's also one of the world's biggest esports games. Many elements separate this timeless FPS from the rest of the crowd, such as its emphasis on solid aiming skills and good teamwork. One of CS:GO's most defining aspects is that it can be played on private servers. While a lot of shooters these days are hosted on company servers exclusively, this once-upon-a-time Half-Life mod sticks to its roots by allowing people to make their own servers to host games.
While you could, in theory, host a server in your own home, there are gaming server hosts out there that can make things a lot easier for a reasonable price. In this post, we're going to outline the best CS:GO server hosting services and how to pick the right one for your needs.
We have done extensive testing to ensure the list we provide is true and accurate, we haven't just thrown together a list as most people do, each host has gone through rigorous testing such as server stress tests, ping tests, population tests, and MUCH more!
1. Nodecraft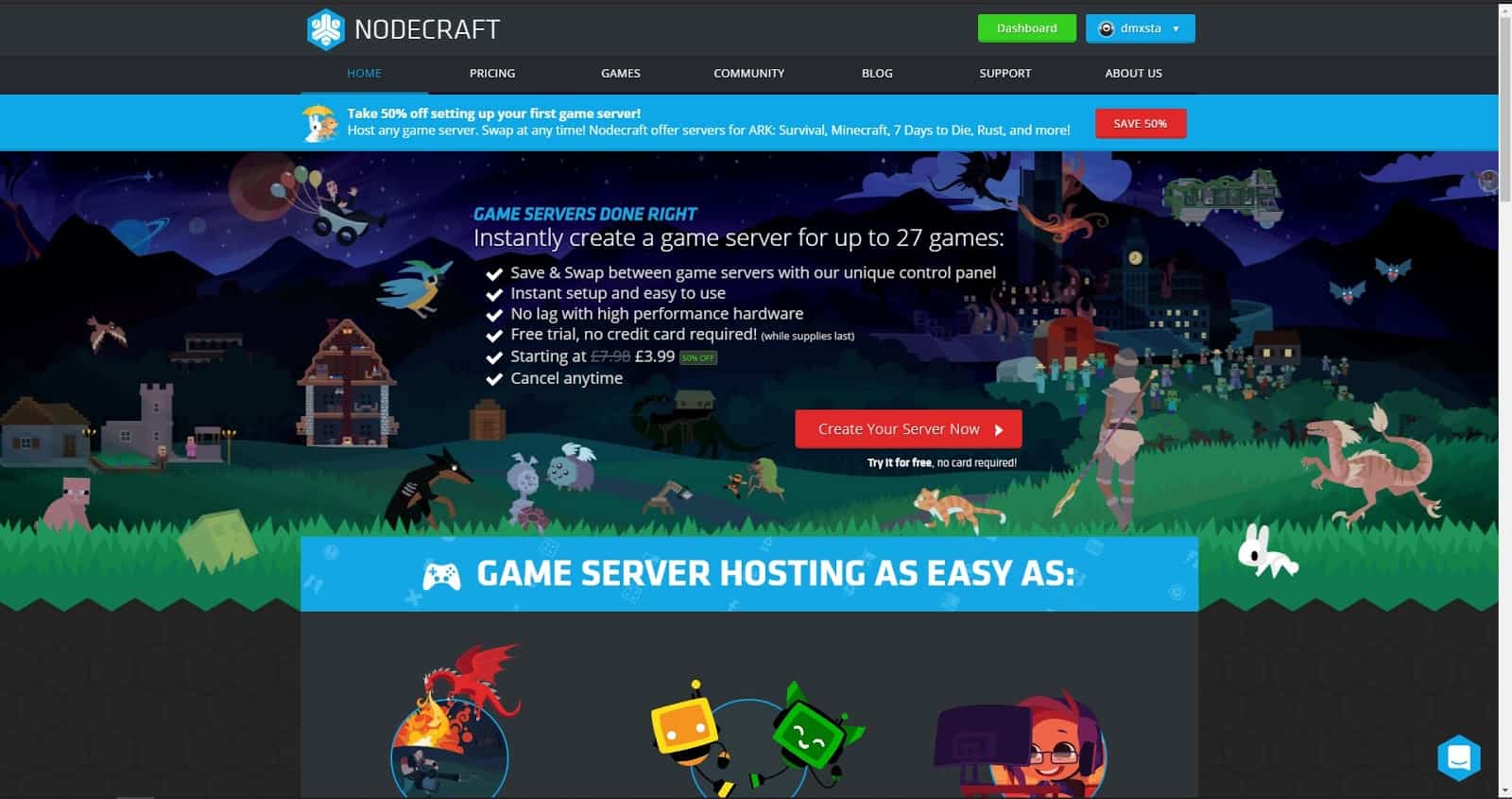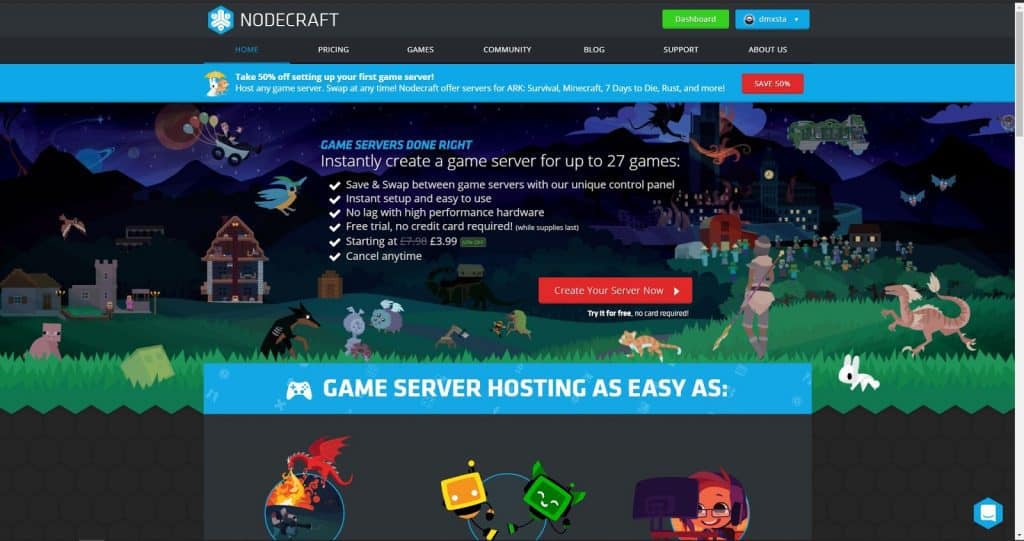 If Nodecraft is sounding like a pretty sweet deal, we've got a way to make it even sweeter. You can get 30% off by using code: GadgetGang
If you're looking for a server host that balances price with ease of use and excellent customer support, then we can't recommend Nodecraft highly enough. As a games server host, they do things a bit differently than the rest of the crowd.
For starters, their pricing structure doesn't revolve around price per slot for CS:GO. Instead, they offer straight packages with unlimited slots and price then based on the number of instances per game. Each package has its own bot that helps automate some aspects of hosting your own server so you've got more time to game. This makes your server life more flexible so you don't have to worry about how many players you can have in at any given time.
On top of that, Nodecraft will never upsell you like some other hosts that may use their player limits as a leverage point. You'll also get some of the best DDoS protection on the market from a server host that prides itself as a security expert. They're also the only host that offers a mobile control panel so you don't have to be glued to your computer screen to keep things under control. The cherry on top? There's a 7 day no questions asked money-back guarantee if you don't enjoy the service.
What makes them the best CS:GO server hosting service primarily, in our opinion, is how ridiculously easy it is to get a game instance going.
Making a game server instance is a simple process. All you need to do is click on New Instance in the control panel.
Add your instance name, which will also operate as your server domain address. Then select your location before clicking create and you're off to the races.
What We Like
SSD storage
Server debranding included
Low ping
Price per hardware
Flexible pricing packages
Bot automation
Mobile control panel
Solid DDoS Protection
What We Don't Like
Not clear from website if mods are supported
Some settings are hard to find
Some mods may require more RAM which is at a more expensive tier
---
2. Nitrous Networks
Nitrous Networks are one of the cheapest brands out there and are another solid pick for CS:GO server hosting. While they don't offer as many locations as other hosts on this list, they still rock the same feature set and then some. For the sever locations they have, the ping is super low. Users especially note their excellent and fast customer support.
What We Like
SSD storage
Mod Support
Server debranding included
Custom control panel
Fast customer support
Some of the lowest price per slot prices on the market
What We Don't Like
Lower range of server locations
Price package scheme not very flexible
---
3. PingPerfect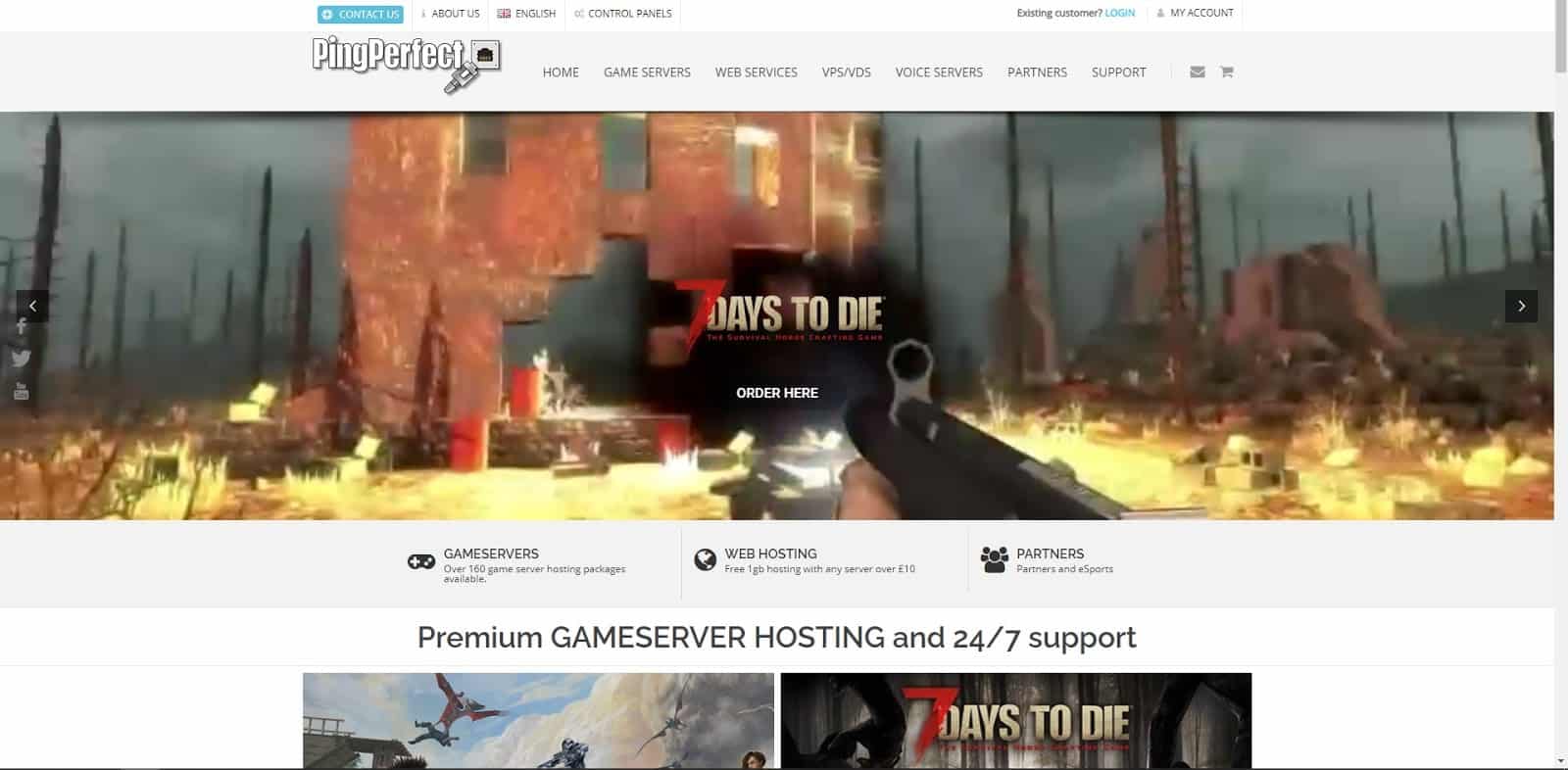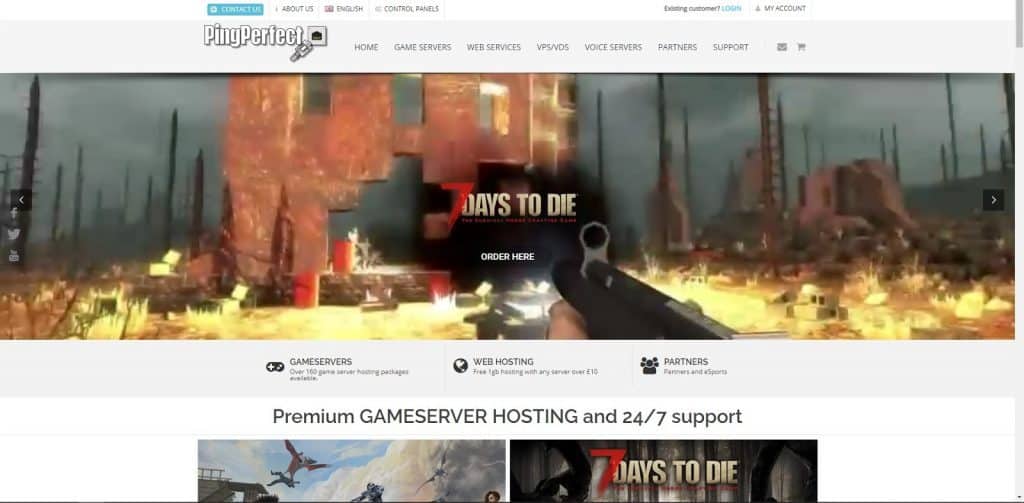 Sandwiched between GameServers for excellent ping and locations offered and Host Havoc for their solid price per slot, PingPerfect is a great choice for CS:GO server hosting. Their pricing packages aren't as flexible as other hosts but they do offer lots of ease of use, solid DDoS protection and a custom control panel.
What We Like
SSD storage
Mod Support
Server debranding included
Over 15 locations with low ping
Good price per slot
What We Don't Like
Customer support can be a bit slow
Pricing packages not as flexible
---
4. Host Havoc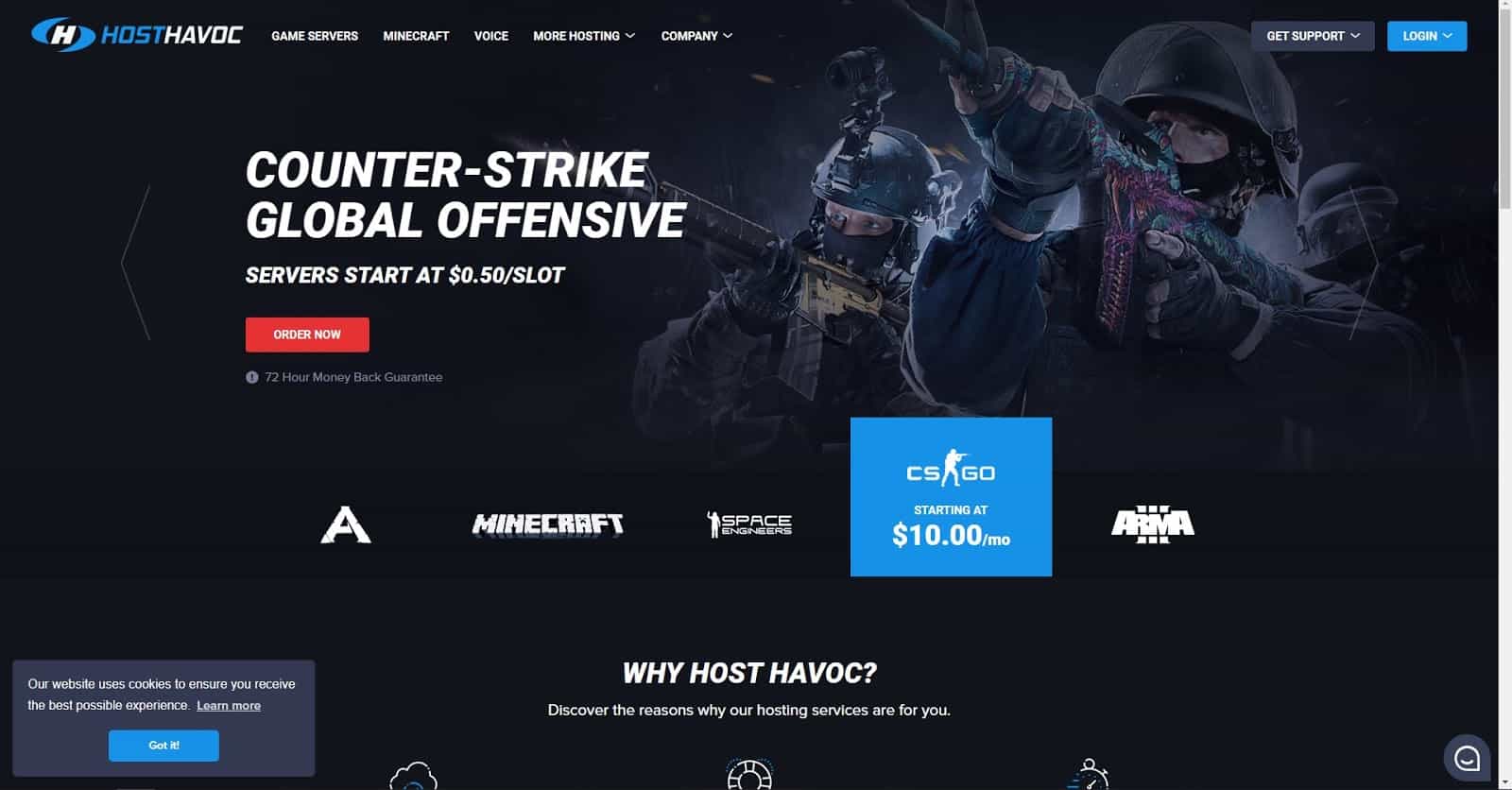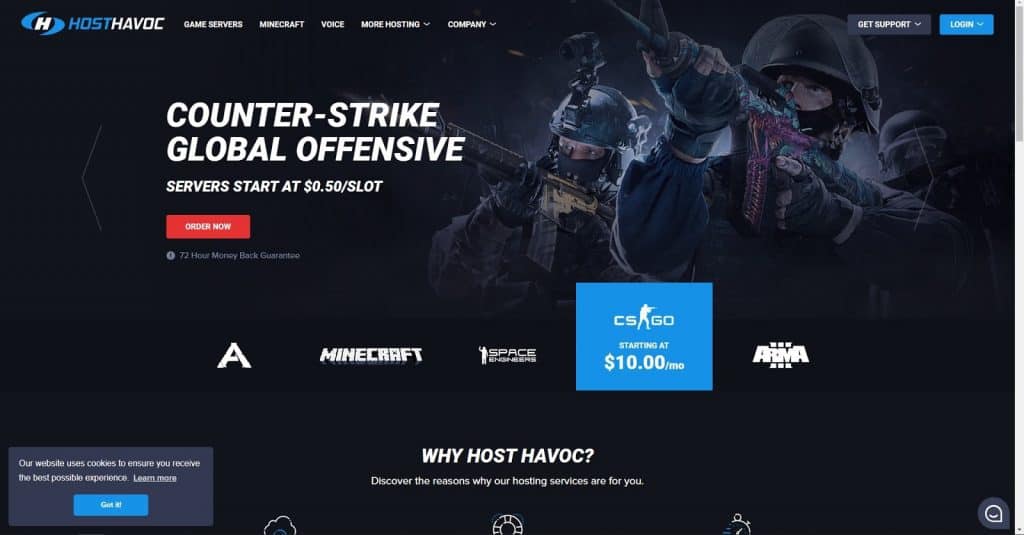 Host Havoc is one of the most popular game server hosts. Their main claim to fame lies in two areas: many years of experience and a low price point. Having built their brand around their expertise in both hardware and software, it stands to reason that their systems are solidly streamlined in order to offer their low $0.50 per slot price for CS:GO server hosting. The main downside is that they don't offer the TCAdmin panel that most other big players do.
What We Like
SSD storage
Mod Support
Server debranding included
Over 15 locations with low ping
Lowest price per slot
Flexible pricing packages
What We Don't Like
DDoS protection reportedly not consistent
No custom control panel
---
5. GameServers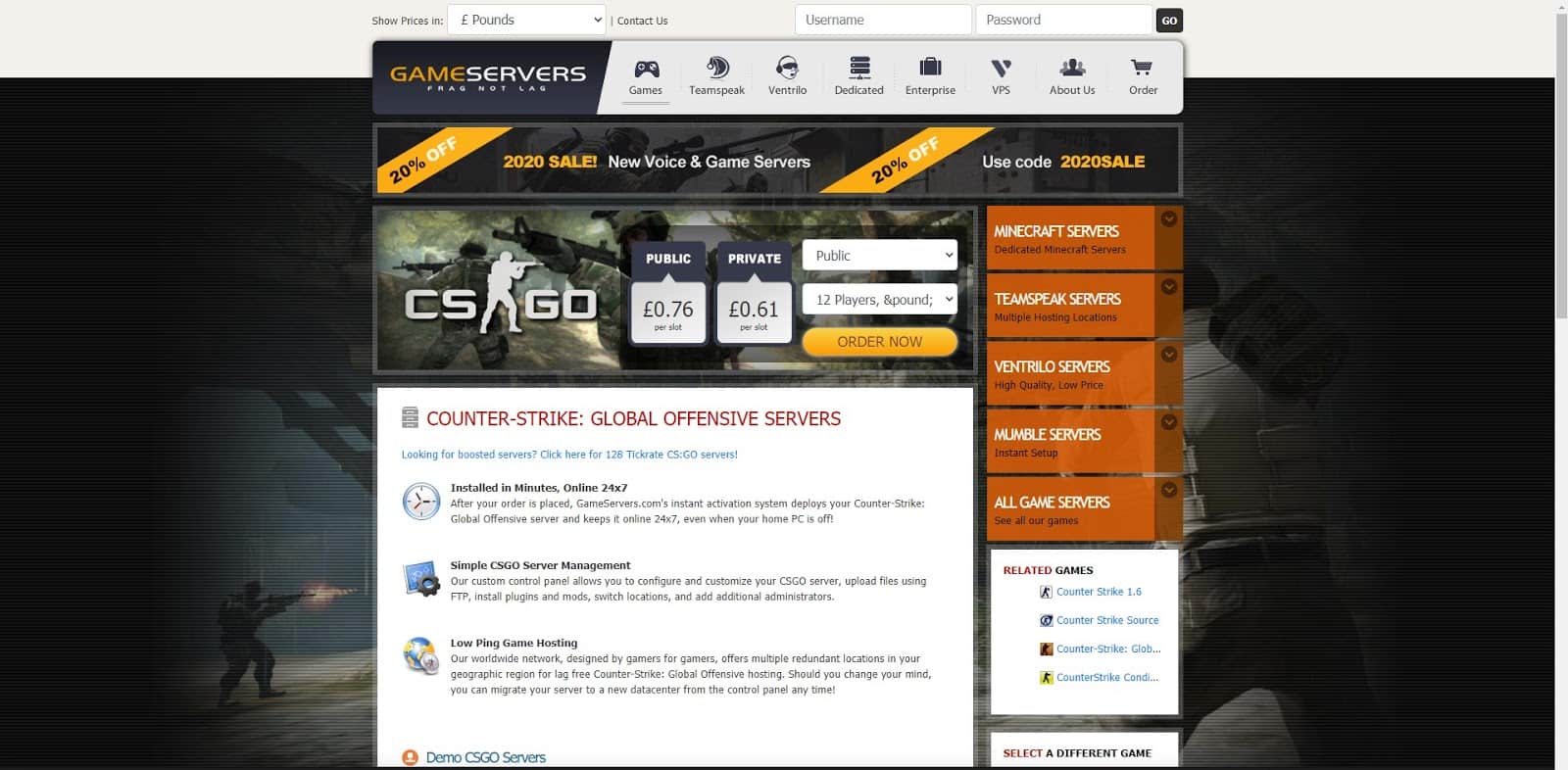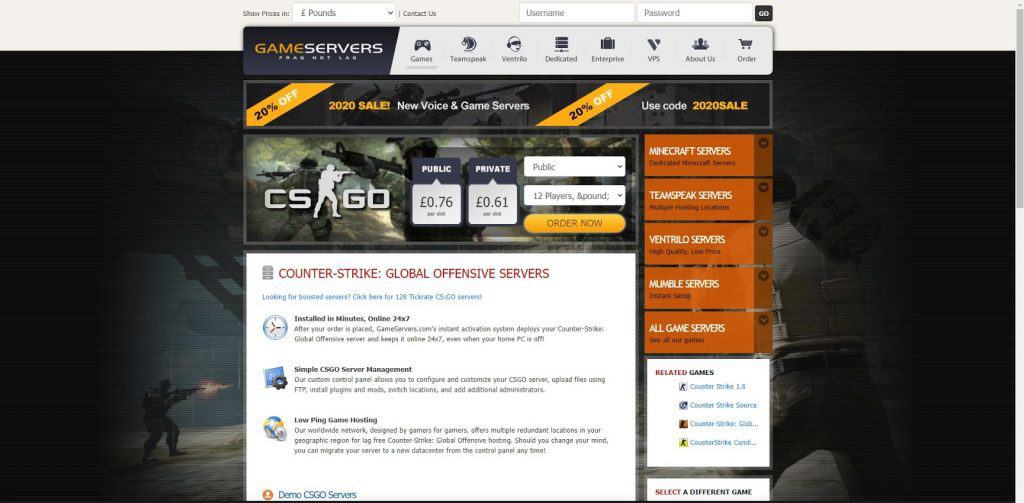 GameServers is one of the longest-standing players in the game server hosting space. With over 5 years since their founding, they offer servers for a variety of games, including CS:GO, at a reasonable price for the quality. Their ping is some of the lowest in the market and with over 15 server locations, you'll be hard-pressed to not find one that works for your area. While not the cheapest in the CS:GO server hosting landscape, their $1 per slot is still highly competitive. The key downside is that some users have reported that despite offering DDoS protection, GameServers have let some attacks slip through the cracks.
What We Like
SSD storage
Mod Support
Server debranding included
Over 15 locations with low ping
Custom control panel
What We Don't Like
Advertised DDoS protection may not be the best
Competitive pricing but not the cheapest
Support times are lackluster
---
Why Get A CS:GO Server Host?
Running your own server for any game is its own unique experience. You've got the freedom to set your own rules on how the game is played which can make for incredibly fun sessions. You're also in control of who you allow in your server. You can stick to just having your friends play with you, restrict access to people in your area, or open up the floodgates to the entire world. Your gaming experience can be as private or public as you desire.
For CS:GO in particular, having your own server means you can practice for your next event with your team without interruptions. Arranging friendly matches with other esports teams also becomes hassle-free as you can simply invite them to your own server. If you're a CS:GO livestreamer or content creator, having your own server means you can mess around for recording sessions and host matches with your community.
For any of these use cases, picking the best server hosting service for CS:GO is essential. So how do you go about choosing the right server host to call home? Read on to find out.
What To Look For In A CS:GO Server Hosting Service?
CS:GO server hosting comes in a variety of flavors. For the most part, hosts pretty much offer the same features. What ultimately separates the best from the rest, though, are the following features.
Low Ping
CS:GO is the kind of game where connection reliability matters. You don't want to be lining up the perfect AWP shot only to get a lag spike just as you're about to pull the trigger. This is why ping matters. It's an indication of how consistent and reliable your connection to your server is going to be. The lower your ping value to the server is, the better your gaming experience.
The best CS:GO server hosting services offer you test servers to check your ping. They also offer multiple locations so you can pick the one that is closest to you. The closer your server is to you, the lower your ping is going to be.
Ease of Use
The primary reason you're choosing to pay money for CS:GO server hosting is the convenience these services offer. You don't have to tinker with your own server nor do you need to concentrate on optimization and maintenance.
This is all baseline, though, and the devil is in the details. The best server hosts for CS:GO go the extra mile by providing a few more nuggets that make your life that much easier. For starters, they have control panels that are easy to use. The user experience on offer places the most important settings front and centre and takes the guesswork away. The best companies also offer mod support by having one-click installs for most of the popular mods for CS:GO. If you'd like to play with mods, this is a feature to have on your radar.
Server Security
Let's face it. Being on the internet is fun and all, but there are still people out there who just enjoy watching the world burn. Whether it's a toxic player you booted from your public CS:GO game or just someone out there causing trouble, your server could find itself the target of a DDoS attack.
If you don't want your server to abruptly go offline from such an attack, you'll want to pick a Counter-Strike: Global Offensive server host that has set up security measures. Pretty much all of the best hosting companies have DDoS protection as a baseline but it's always good to look into how effective it is.