True wireless earbuds have been one of Creative's more successful passion projects, resulting in excellent models like the Outlier Air 3. Not contented to stop there, the company went back to the drawing board to come up with something even better at an equally appealing price. Is the newest iteration of a fan favorite all it's cracked up to be? Continue reading our Creative Outlier Pro review to get all the info!
Tech Specs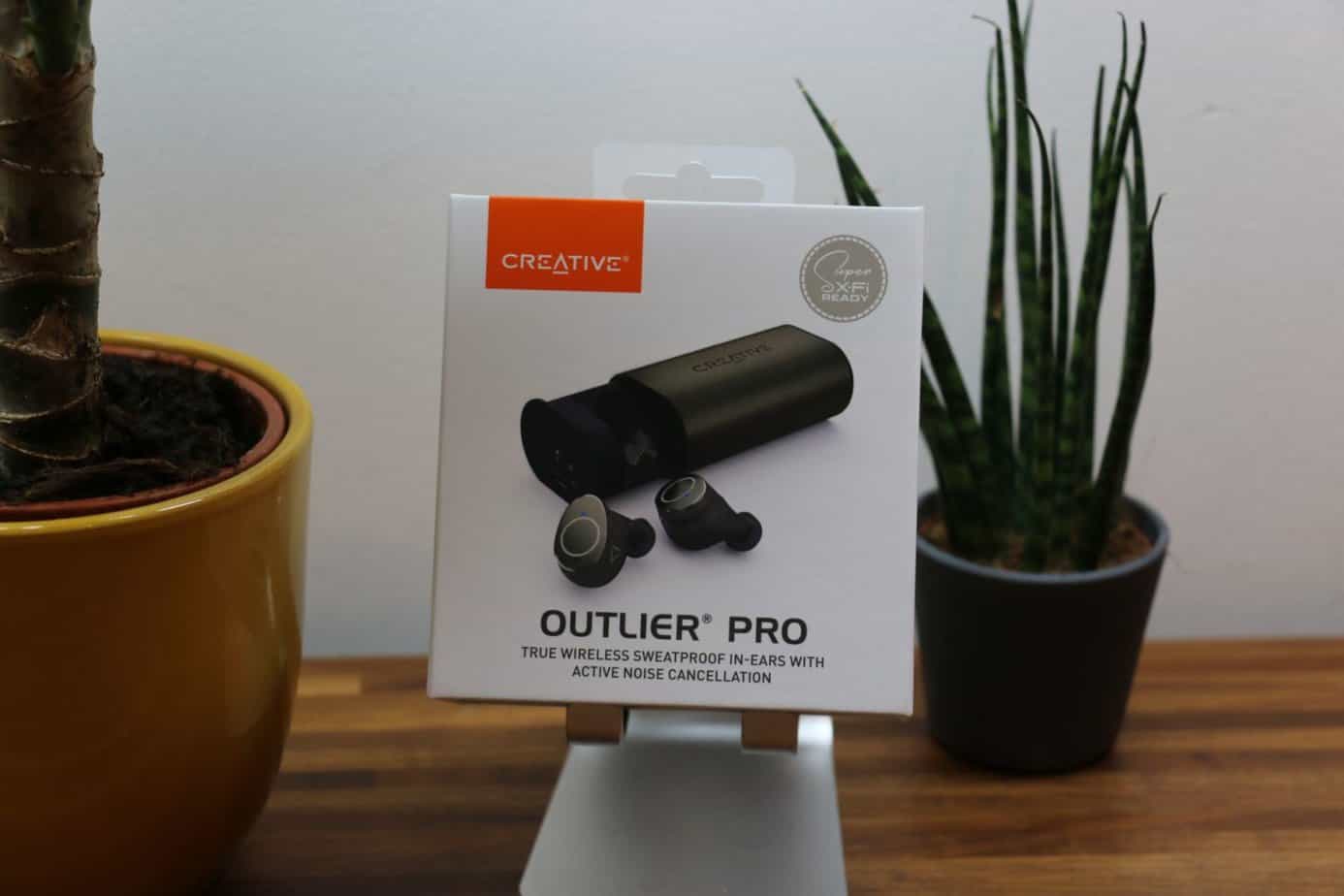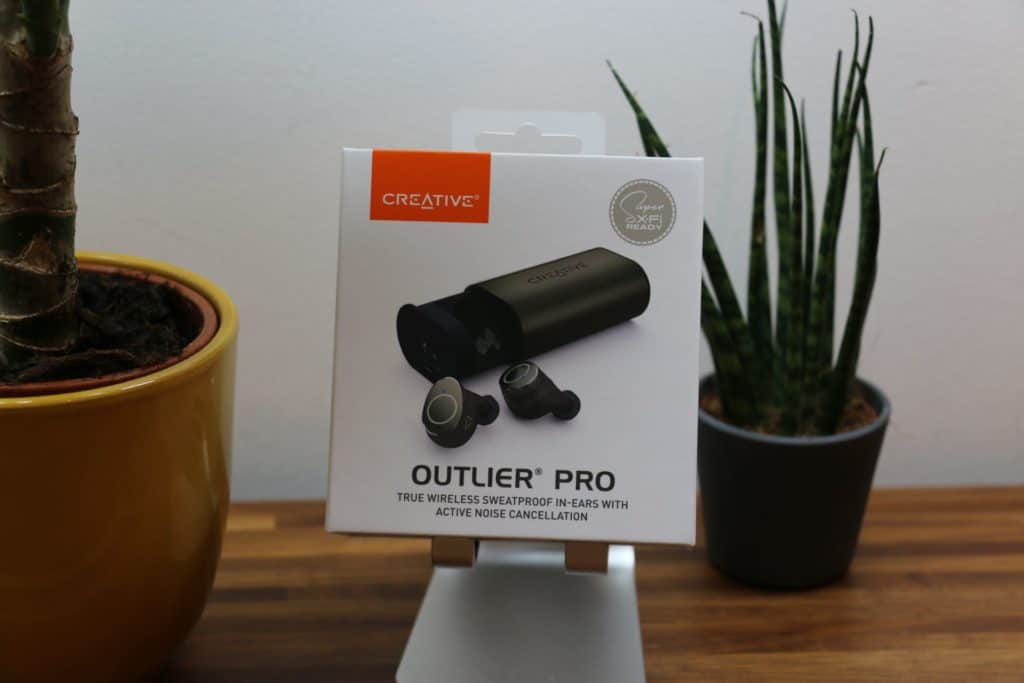 Users familiar with older Outlier buds will spot several welcome upgrades on our table. Chief among them is battery life, which got a whopping 20-hour bump! Each bud has one extra microphone for better noise cancellation detection, and a larger driver promises a more elaborate soundstage.
| | |
| --- | --- |
| Connectivity | Bluetooth 5.2 |
| Wireless range | 33' |
| Earbud frequency response | 20Hz – 20kHz |
| Microphone frequency response | 100Hz – 10kHz |
| Battery | Rechargeable LI-ion 15h/charge for earbuds 60h/charge total |
| Drivers | 10mm graphene coated |
| Supported codecs | AAC, SBC |
| Charging cable included | Yes, USB-C |
| Water-resistant | Yes, IPX5 |
Packaging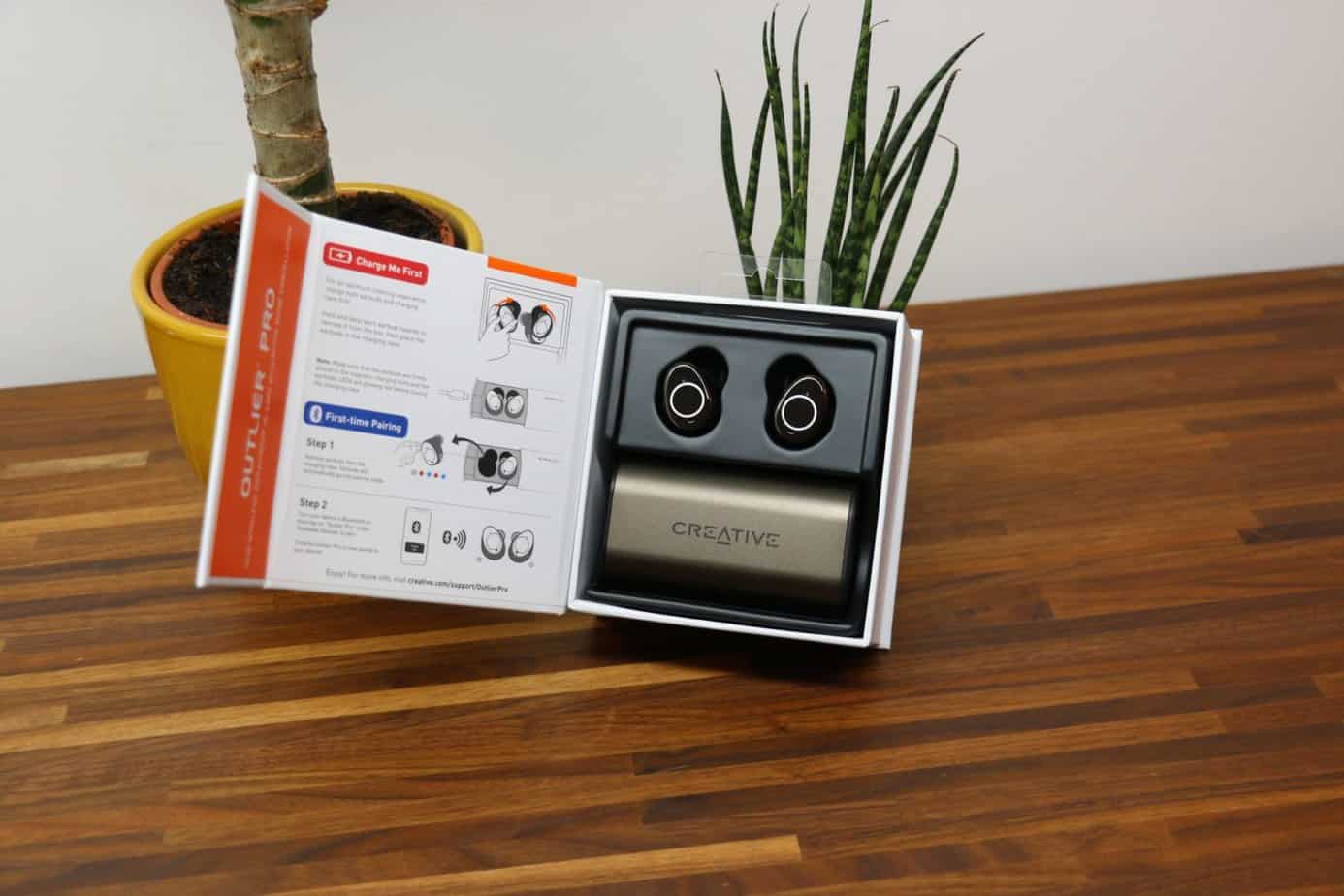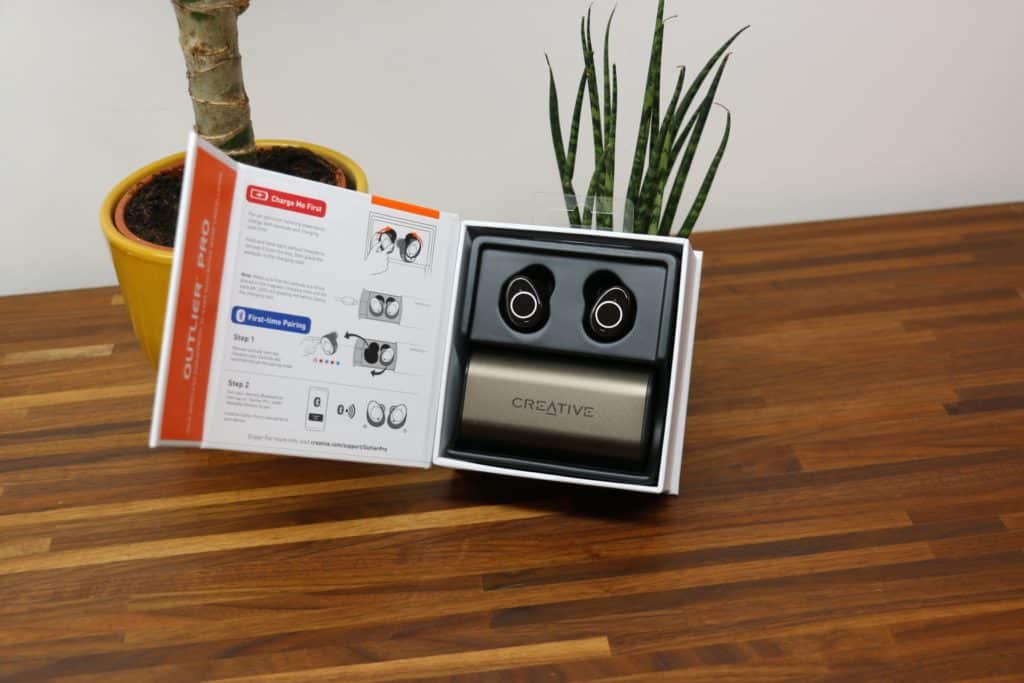 The Outlier Pro ships in attractive white cardboard packaging with a clean close-up shot of the product as a highlight. You'll find general info on the buds on the back, while opening the box reveals a quickstart guide and separate storage areas for the case and buds.
Design & Comfort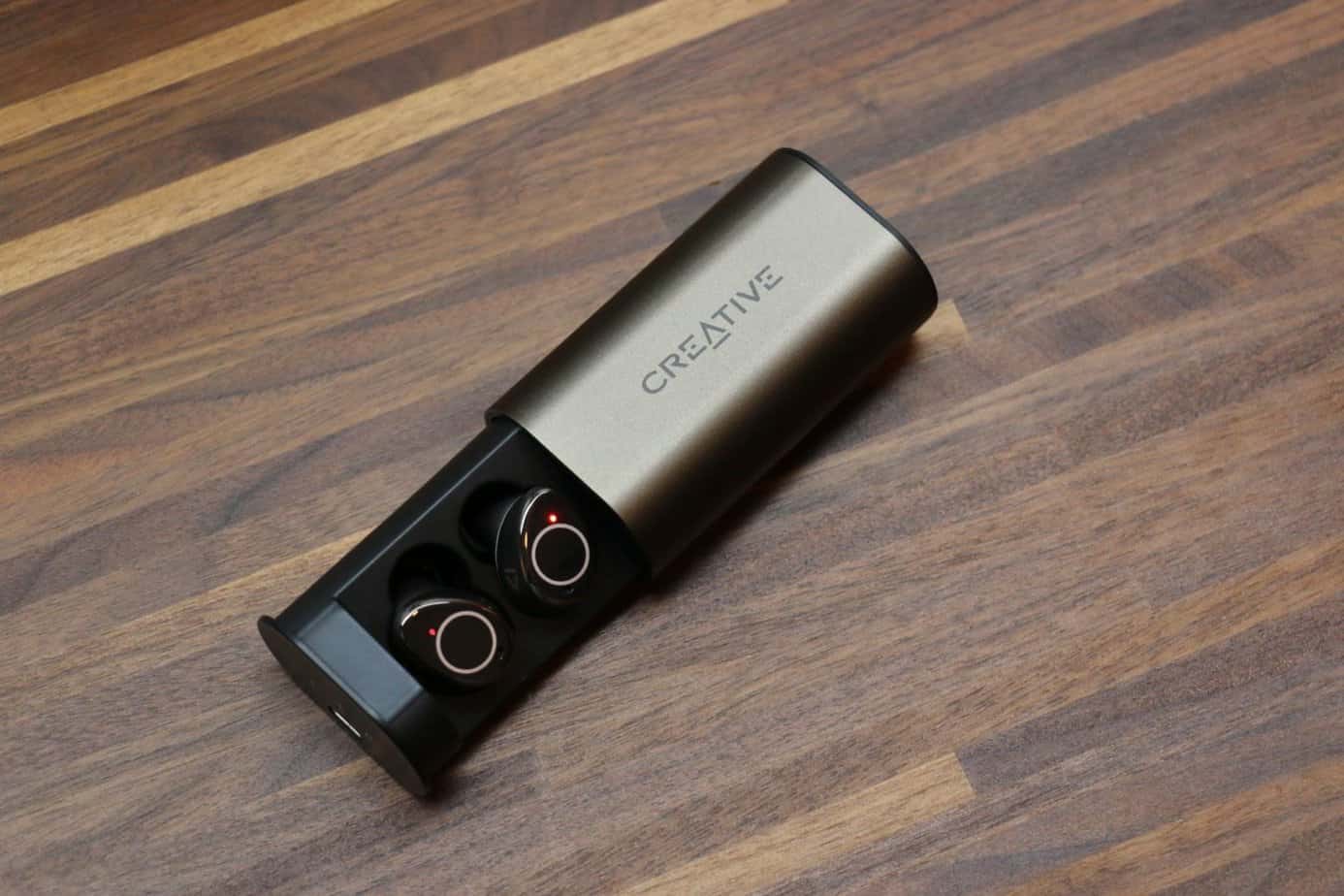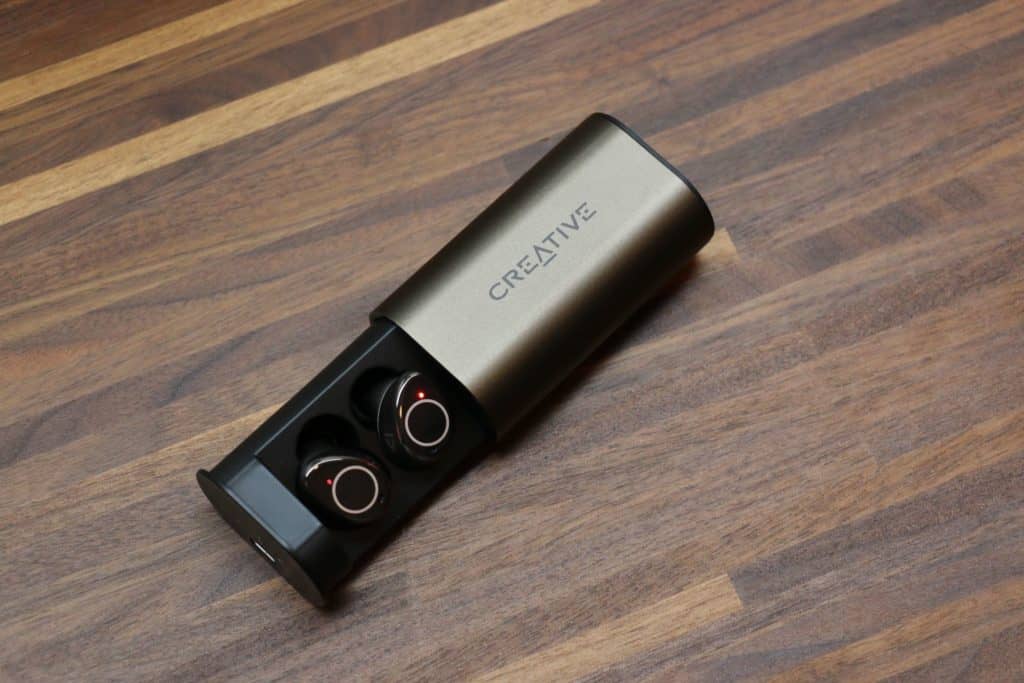 Compared to the Outlier Air 3, the Pro adopts a more solid presence. This is most evident in the buds themselves since they're a good deal chunkier. Size doesn't impact the Outlier Pro's superb comfort much since you get three silicone tips for a wide range of lobes.
Most earbuds score poorly when it comes to waterproofing. The Pro has an IPX rating of 5, meaning that working out or getting caught in the rain won't spoil your enjoyment. The inclusion of bigger graphene-coated 10mm drivers is the likely culprit. We'd gladly sacrifice stealth over improved sound quality, but some users might find the new design too obtrusive.
The same goes for the new color scheme. Creative opted for a color it calls Metallic Umber. It's more reflective than on older models and metallic dark gray with a hint of beige. The color choice looks classy, especially on the case. Speaking of, we found the case to be robust and informative since LEDs on the side indicate its charge level and those of each earbud. However, focusing on increased battery life had a negative impact on the case's portability.
Controls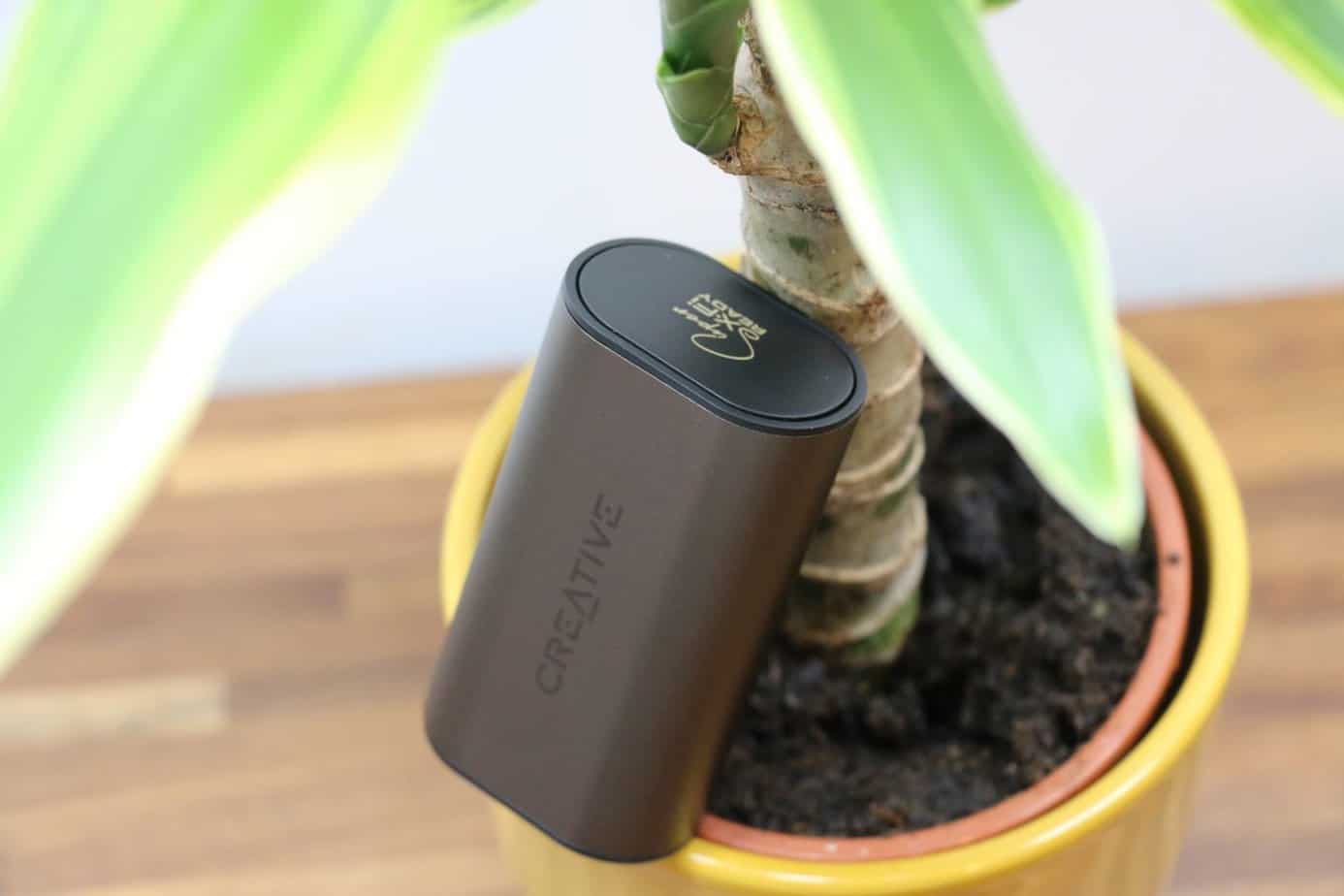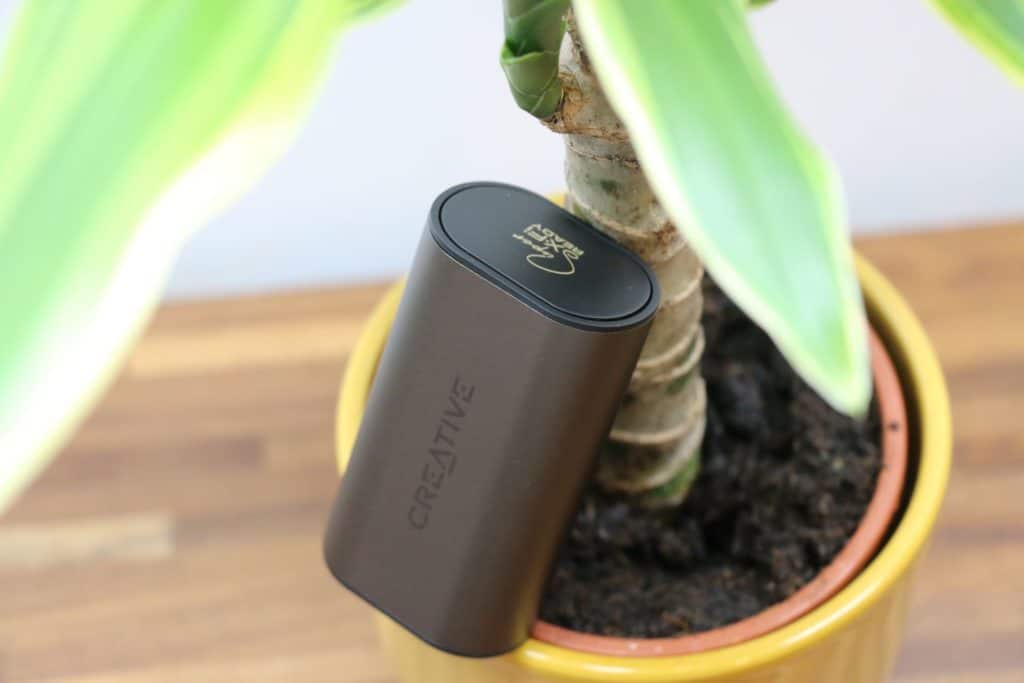 You control the Outlier Pro through a series of taps and touches. Each bud is responsible for different aspects of operation. For example, tapping the left one three times will enable your phone's assistant, while doing the same on the right skips to the next track. We found the controls to be sufficiently intuitive after a brief acclimatization period. Should the default setup not click, you can always change what each kind of tap odes from inside the app.
Audio Quality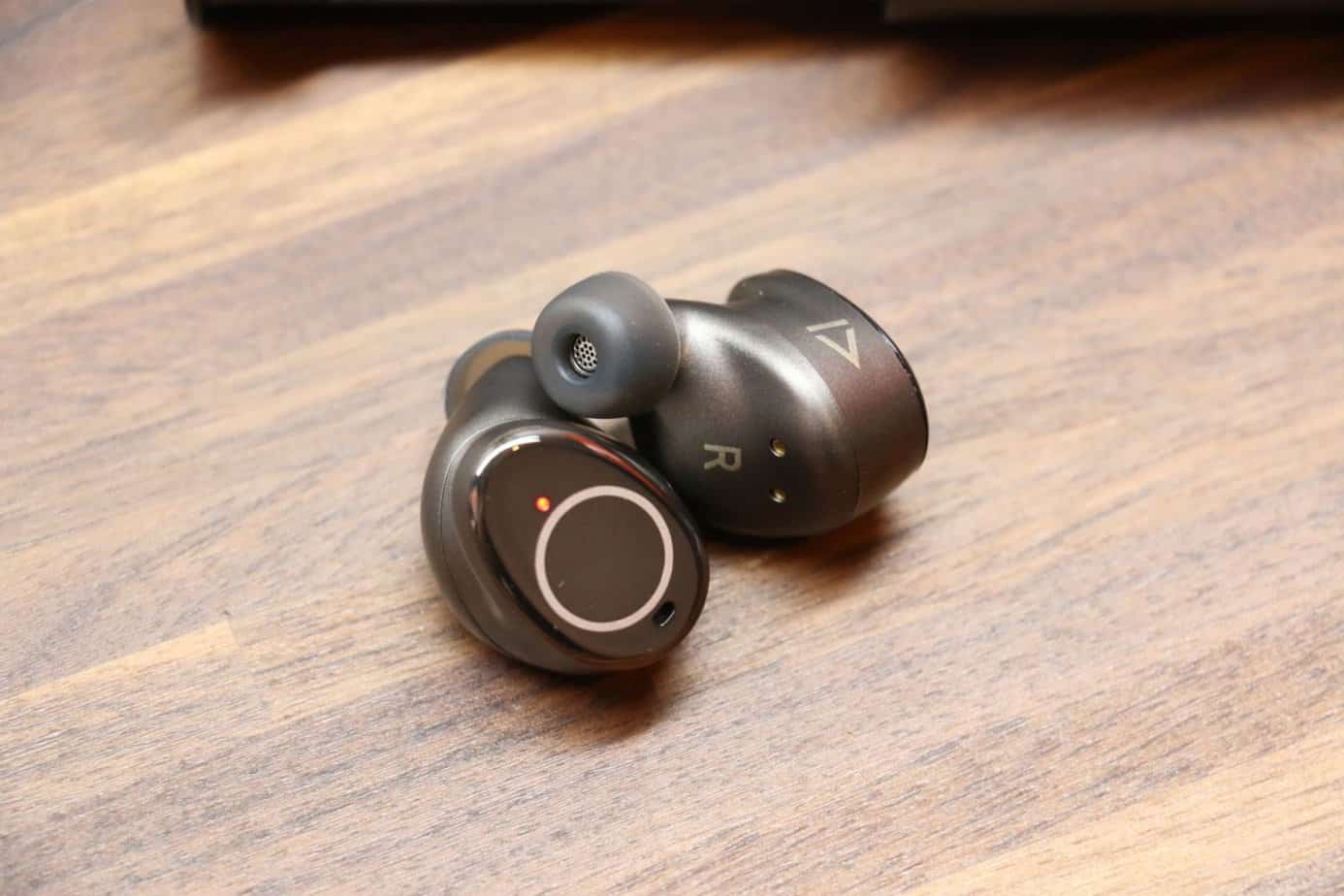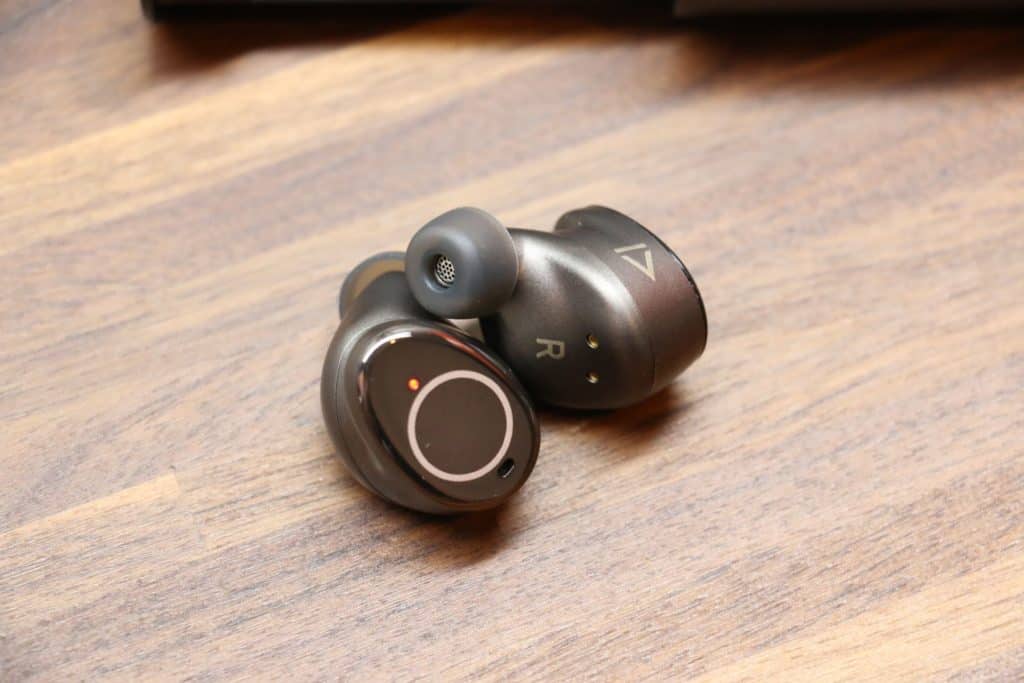 And now, the part of the Creative Outlier Pro review integral to your enjoyment. Listening to the Outlier Pro's output makes us believe Creative designed the buds with killer workouts in mind. Like the song says, it's all about that bass with them. You'll love the richness and depth if you're into bass-heavy genres like drum & bass or EDM, as the overwhelming lows presence gets the heart pumping in the best possible way.
Vocals aren't as sonorous at default settings and can fade into the background. Performances that don't rely on lows so much can sound muddy. Nothing a trip to the excellent equalizer can't get rid of, though. Highs are crisp if not as fully realized as the other extreme of the sound spectrum.
While we'd rather use regular headphones for gaming or movie nights, the Outlier Pro can be a worthy substitute for explosion-filled blockbusters or meaty shooters.
Microphone Quality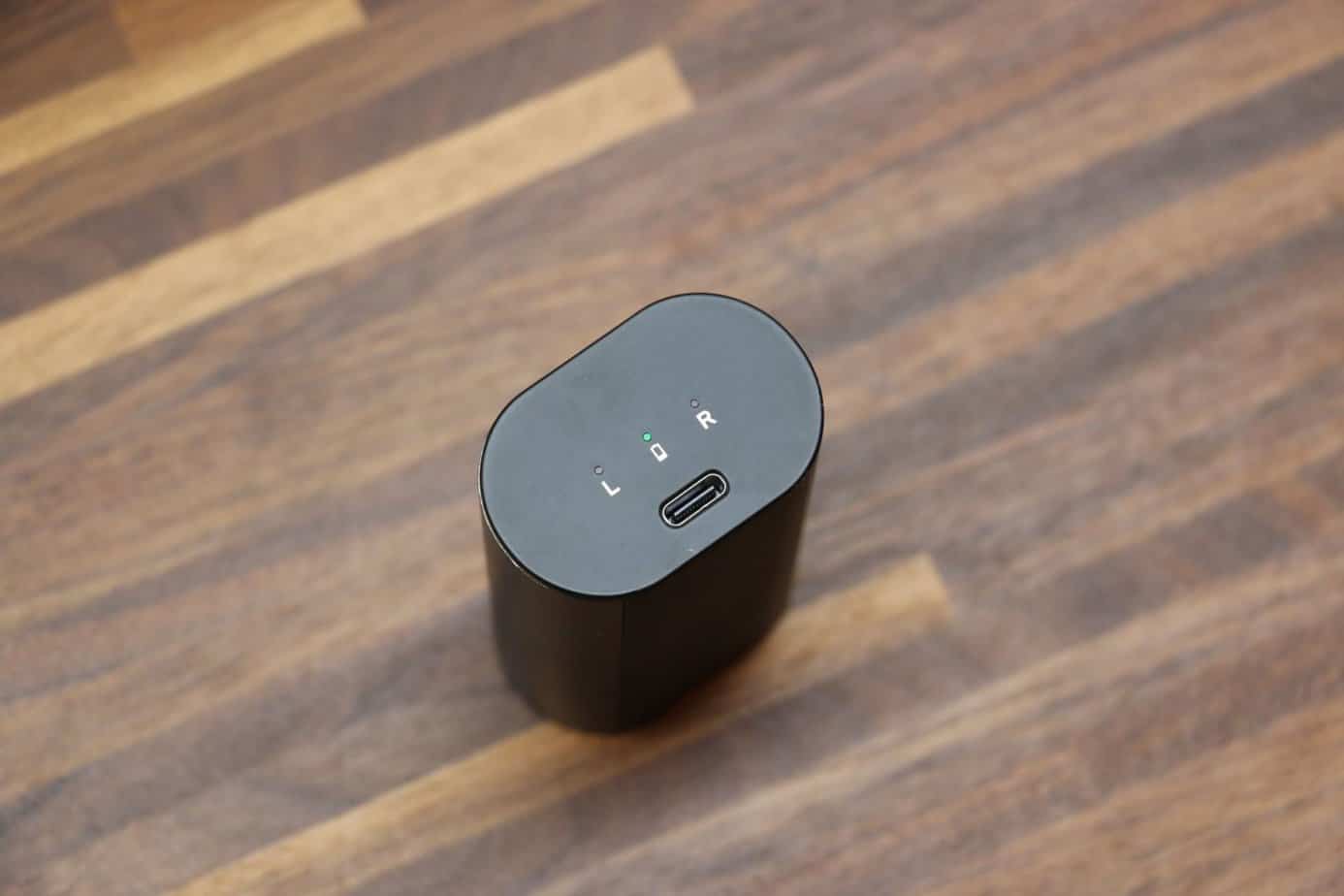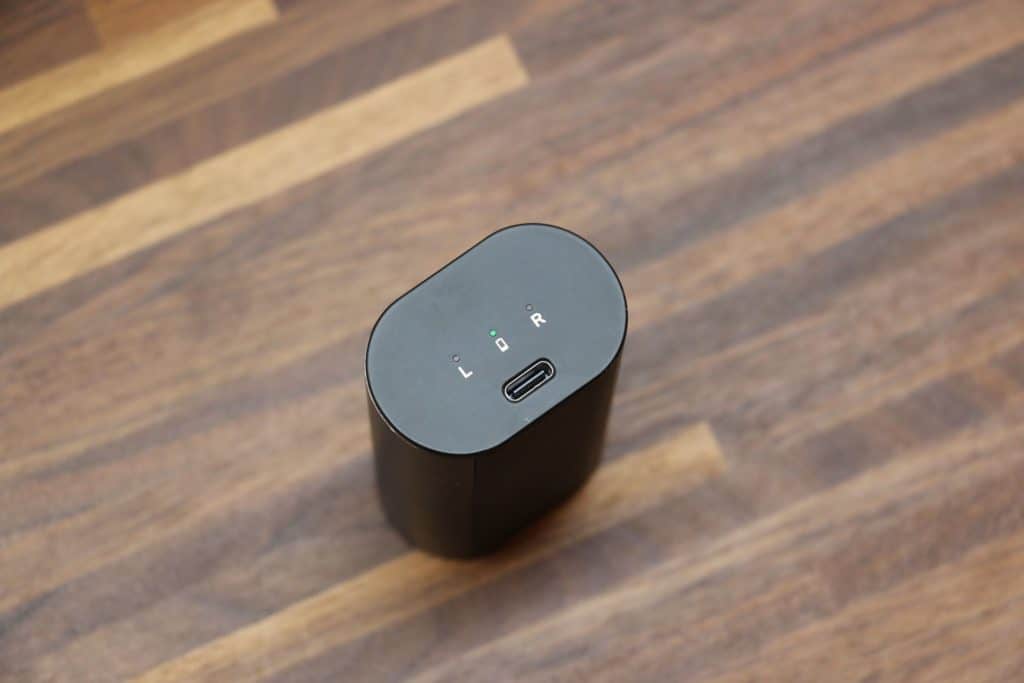 Each Outlier Pro earbud has three built-in mics, making for better-than-average recording quality. It's a clear step up from the Air 3 and can easily compete with entry-level headsets when it comes to recording quality and clarity.
Noise Cancellation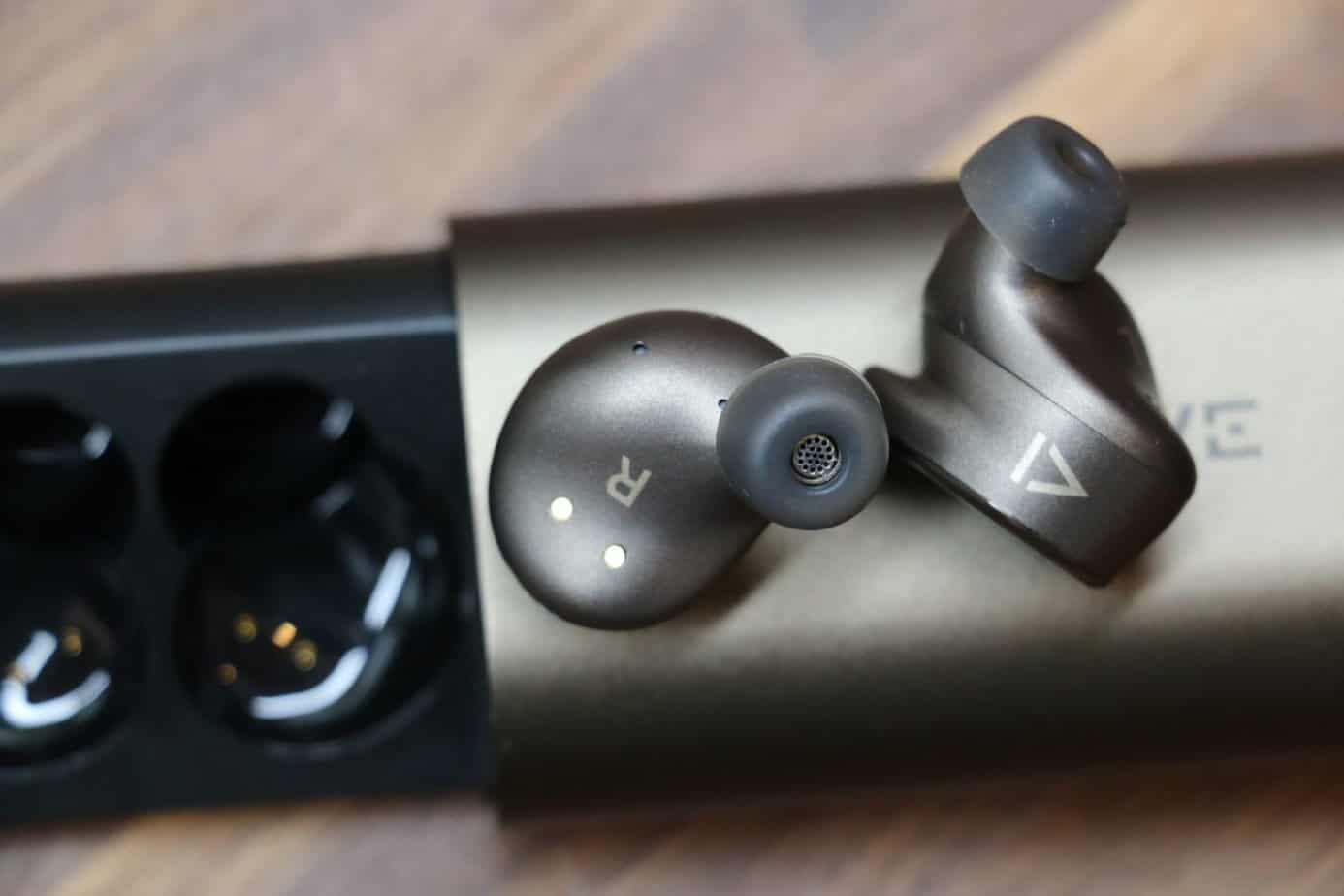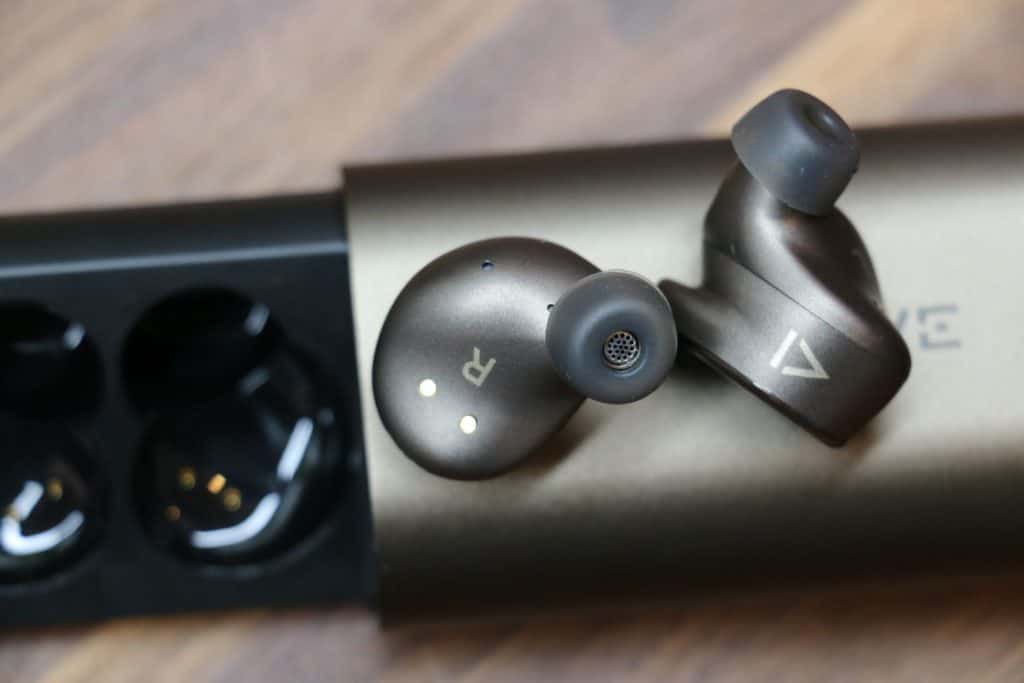 The microphones mentioned above play a pivotal role in implementing ANC or Ambient Noise Cancellation. They're strategically placed to provide feedforward and feedback information that builds a complete picture of the noises surrounding you. The earbuds can then detect excessive noise levels and compensate for different environments.
Turning ANC on generally does help. It's particularly effective at removing soft yet persistent noises. The harsh clang of cutlery or oncoming traffic isn't eliminated as effectively. Still, there's a clear advantage to having ANS on. Additionally, an Ambient mode introduces partial noise cancellation so you can have peace & quiet while being more aware of your surroundings in critical situations.
Battery Life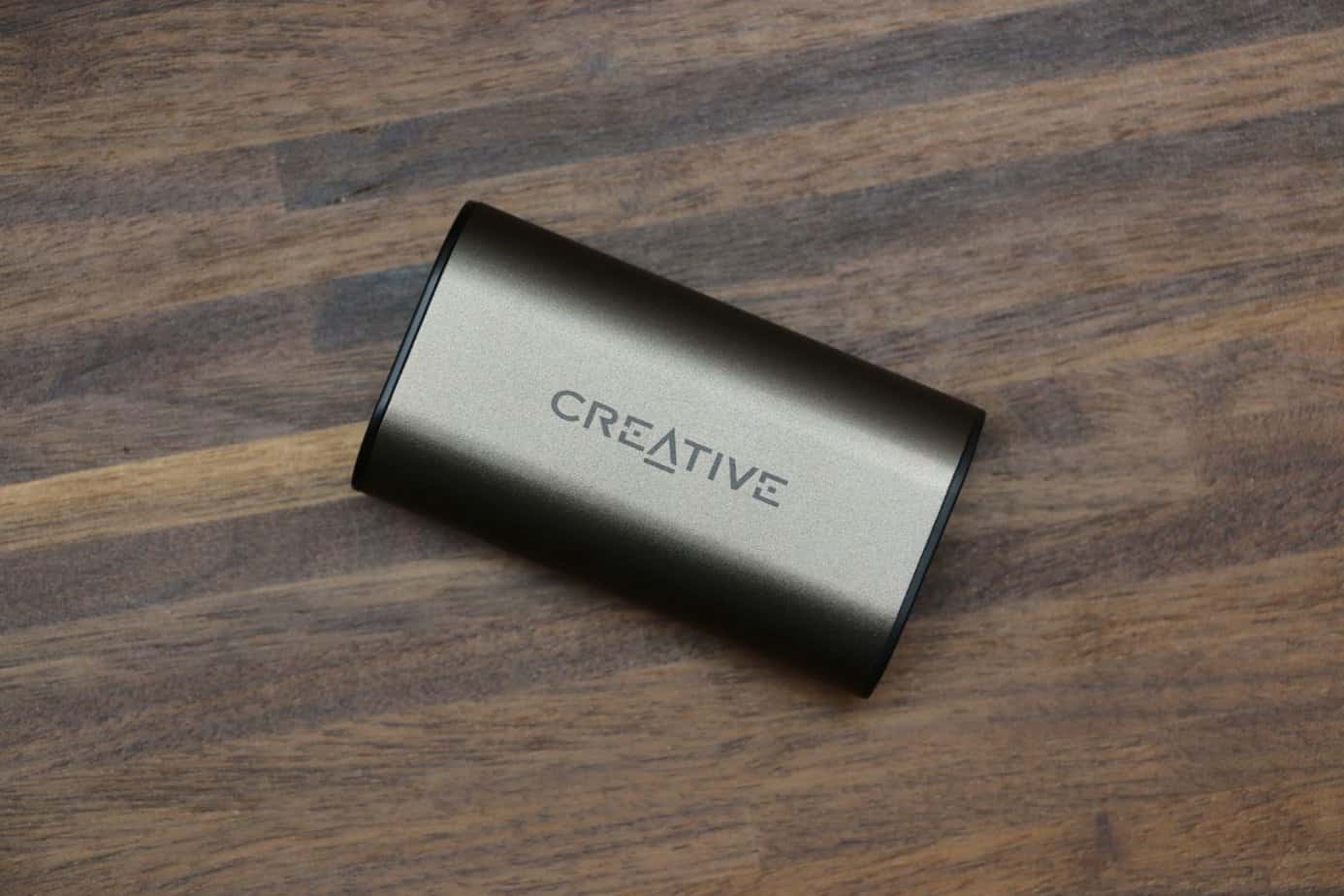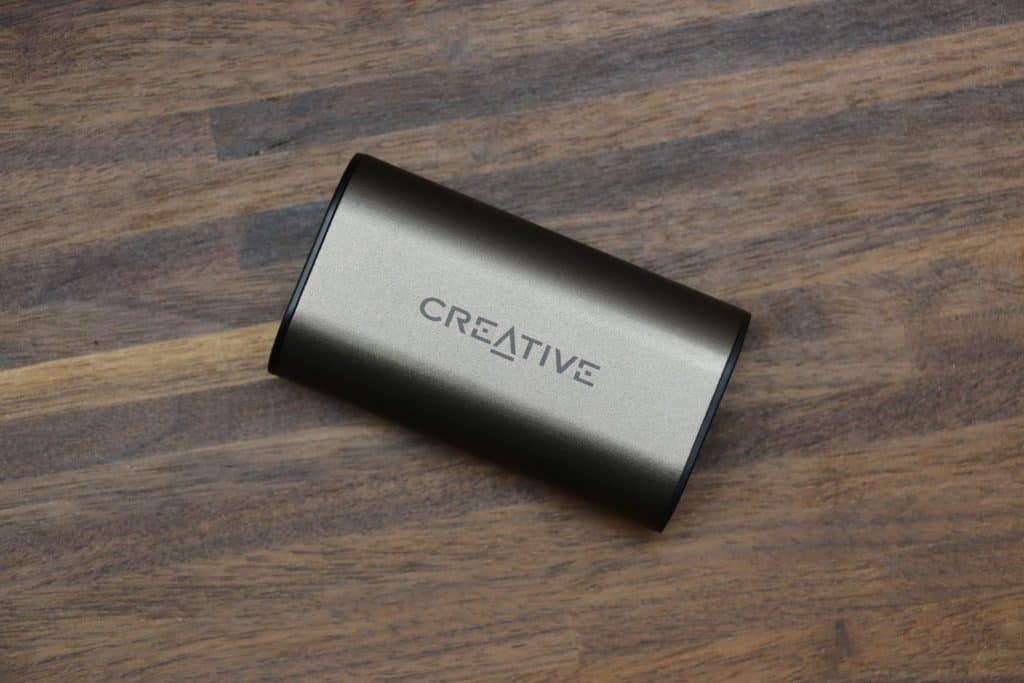 If the Outlier Pro does anything right, it's longevity. The earbuds themselves last up to 15 hours per charge, and you get an additional 45 hours from the case. That's a class-leading result that would stand out even when compared to more expensive models.
Recharging is done through the included USB-C to USB-A cable and takes around three hours. If you're in a hurry, fast charging will get you two hours' worth of sound after just 10-15 minutes. There's also a QI-compatible surface on the bottom for wireless charging on compatible mats.
Keep in mind that blasting loud music or turning ANC on will shave a couple of hours off your listening time. Even so, you can get through an entire day without worrying about running out of juice for tunes or podcasts.
Connectivity
The Outlier Pro uses Bluetooth 5.2 to connect to other devices seamlessly. The 33-foot radius limit holds true, and we haven't experienced pairing issues or dropouts once the earbuds established a connection. You can toggle a lag-free setting in the app that decreases the time it takes a sound your phone or TV sends to reach the buds, but we found it unnecessary. Establishing a connection each time takes a little longer than on most competing models, which shouldn't be a deal-breaker.
App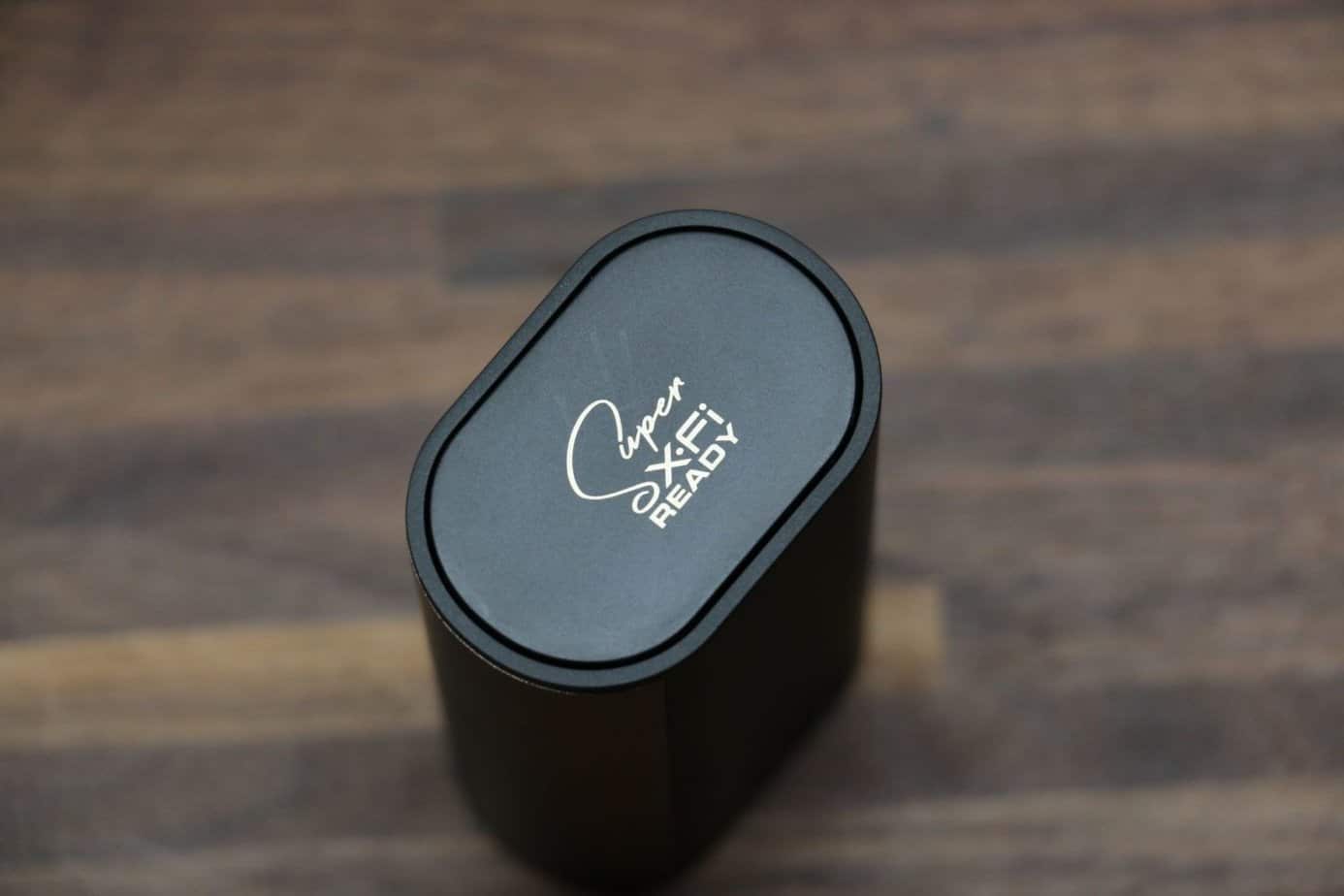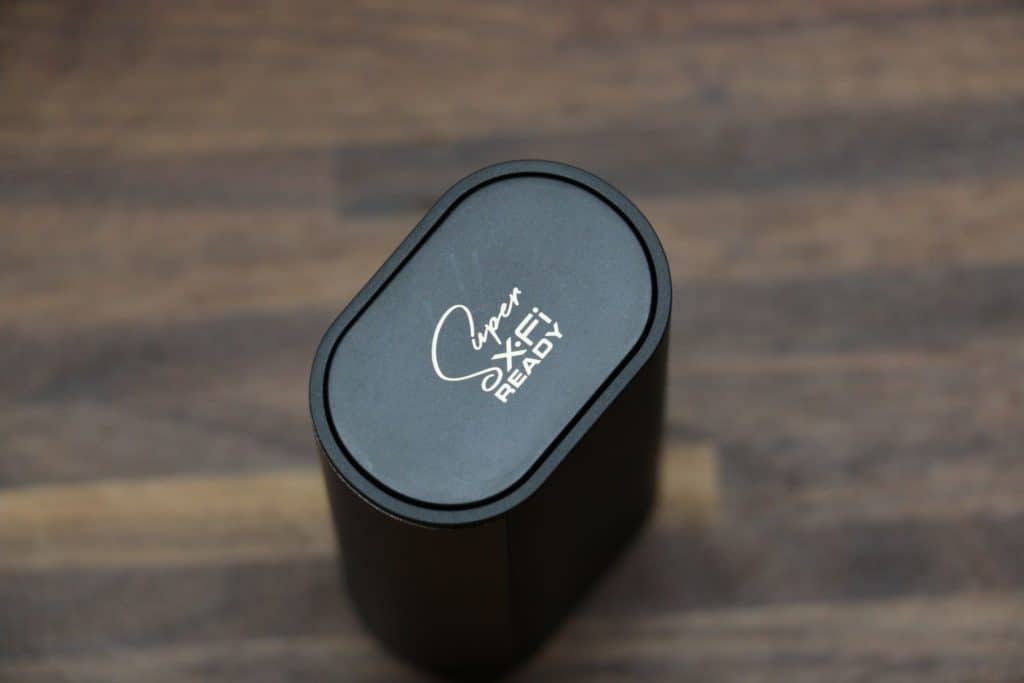 Creative did an excellent job designing its core app. You might have trouble finding it as the word Creative is all too common on mobile app stores. Go here (Android / IOS) if you have trouble.
The app controls every aspect of operation, most notably the equalizer. Kudos to Creative for making this part of the user experience so comprehensive! There are already many genres of music and presets like gaming or movies to choose from, but the equalizer's real power comes from user-defined curves.
You can create your own profiles by drawing the curve with your finger. It might take you a few tries to get things right. Once you get the hang of everything, it's possible to adjust the settings in a meaningful way to emphasize the bass further or open the soundscape up more to vocals and mids in general.
The app also lets you reconfigure the controls and adjust ANC / Ambient mode levels. The Outlier Pro supports a version of the Super X-Fi technology that's fully realized on Creative's headphones. It relies on computational audio to recreate the sound of a sophisticated speaker setup within your head. This leads to a better sense of ambient sound and a more immersive listening experience. You'll have to install a separate app for this, and only content you listen to through it is affected.
Conclusion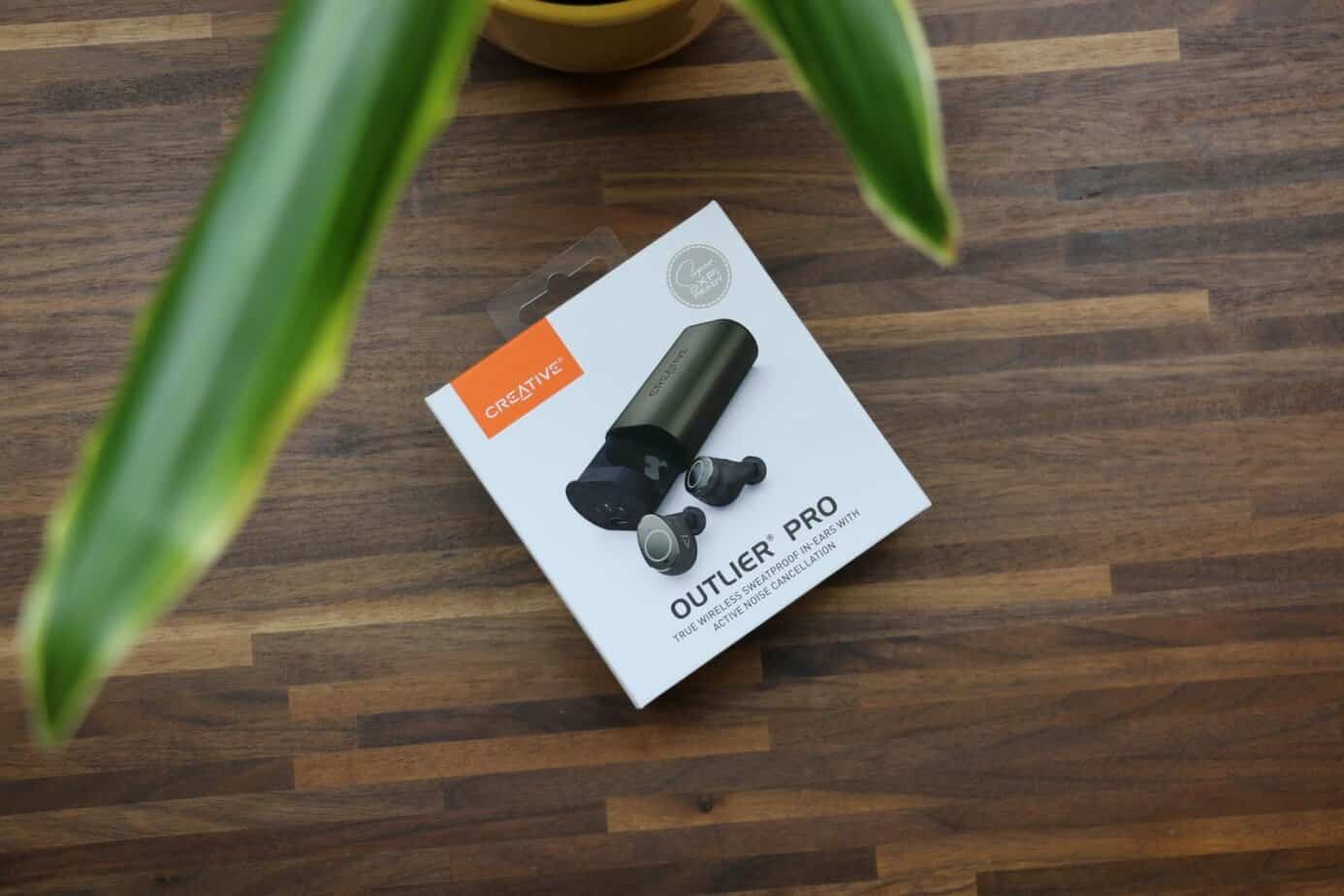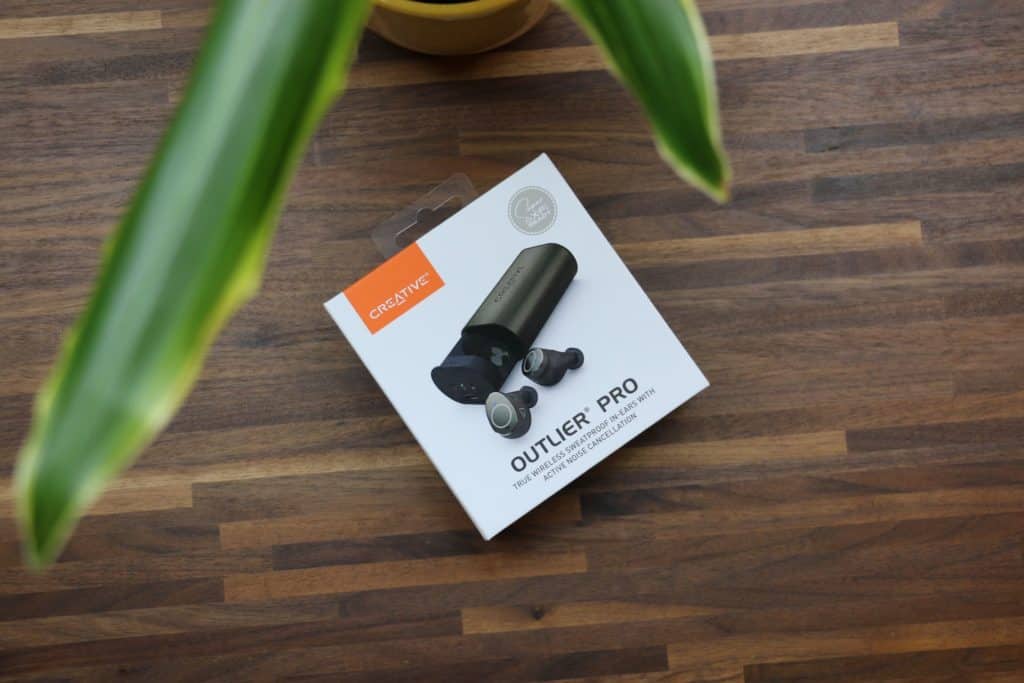 As you've likely gathered from the Creative Outlier Review, we're generally impressed with the buds' overall performance and viability. There are models out there that do better in all respects, but you'll have to fork over much more cash to own some.
Features like the battery life, equalizer, and noise cancellation credit the Outlier name. It's worth getting this model over competitors from the likes of Jabra or Anker on those alone, not to mention the kick some users are sure to get from its bass-centric profile. Other folks will pass due to the buds' bulkiness. We're inclined to believe that the former will far outnumber the latter.