Acefast is making a name for itself with affordable products, and the Acefast Crystal A45 Charger Review explores another of its unique-looking devices. The Crystal charger differentiates itself from the crowd by offering various colors and plenty of charging power. We've reviewed a couple of Acefast products and have generally enjoyed using them; thankfully, the A45 charger seems like another home run for the company.
GadgetGang received the European variant for the Acefast Crystal A45 Charger Review. Similarly, the A46 code name is for the Chinese version, while the USA uses A47 in the game. The charger doesn't have a catchy name, unlike the colors it's available in. Let's dive in and see what the Acefast Crystal A45 Charger offers.
Package – Acefast Crystal A45 Charger Review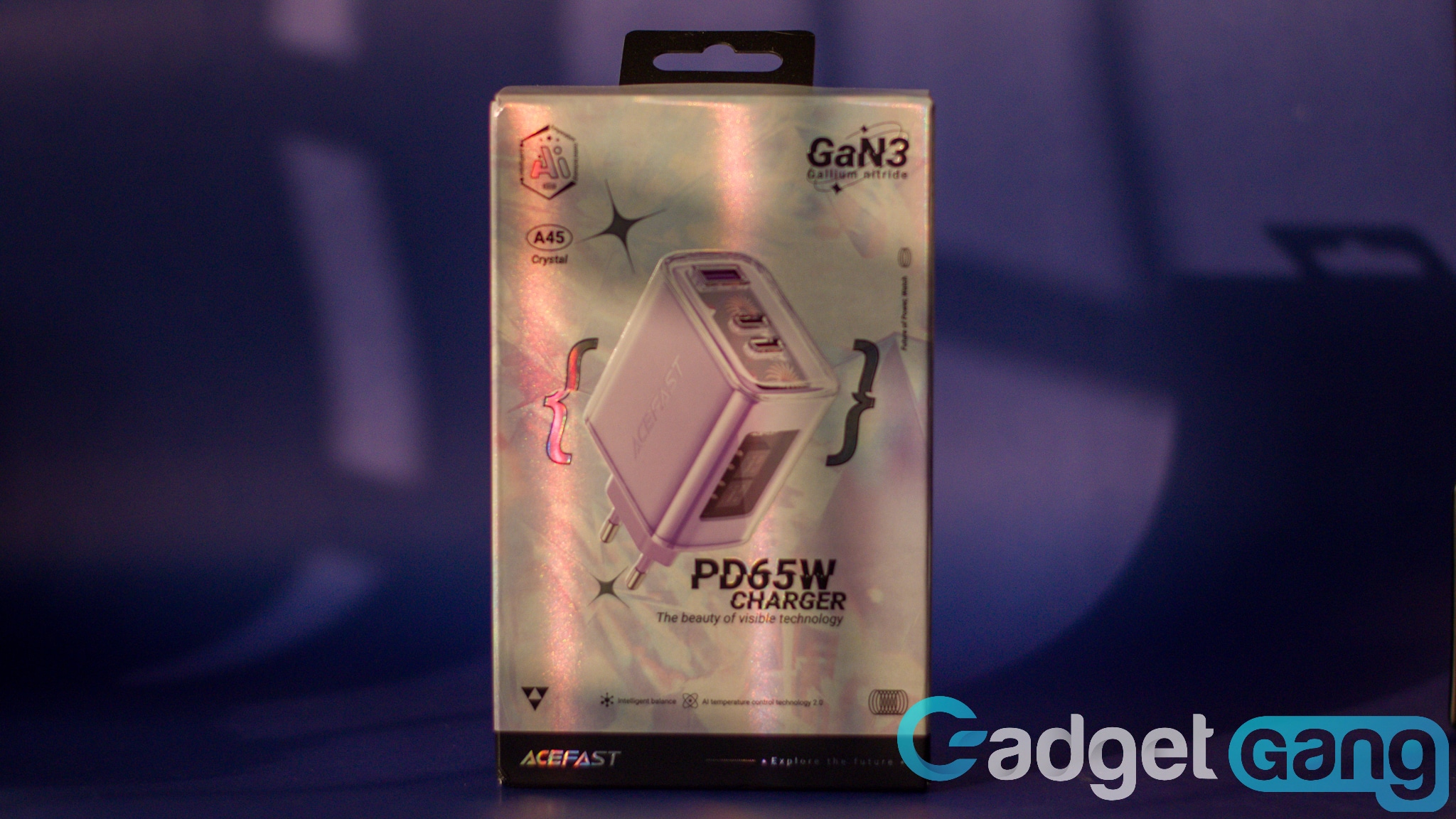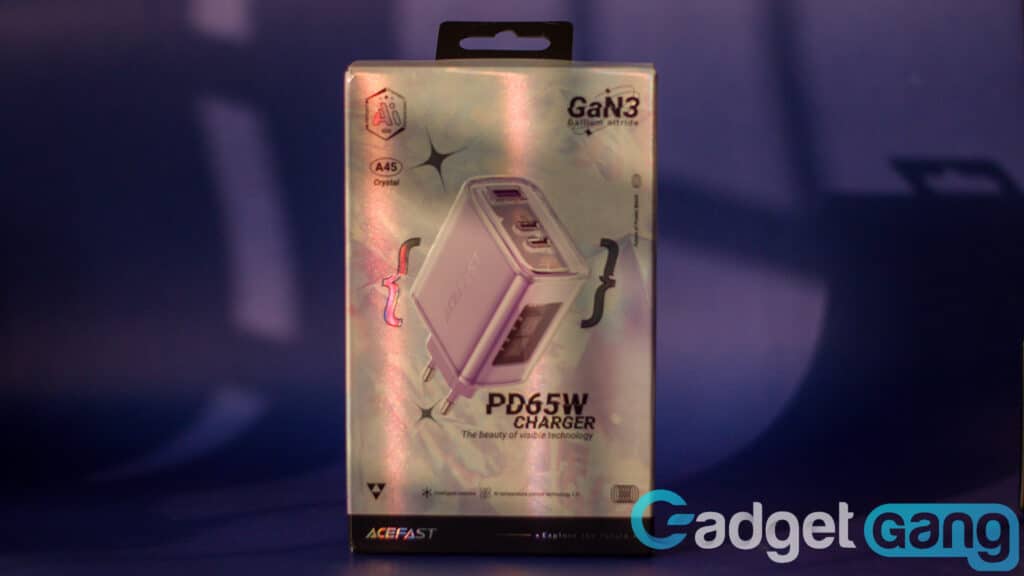 The Acefast Crystal A45 Charger comes in sturdy packaging. There is only a little inside the package except for the charger and a user manual. We were expecting a color-matched charging cable like we received with the Acefast Crystal T6 earphones, but it wasn't available. Even the Acefast Charger Hub comes with a braided USB Type C cable.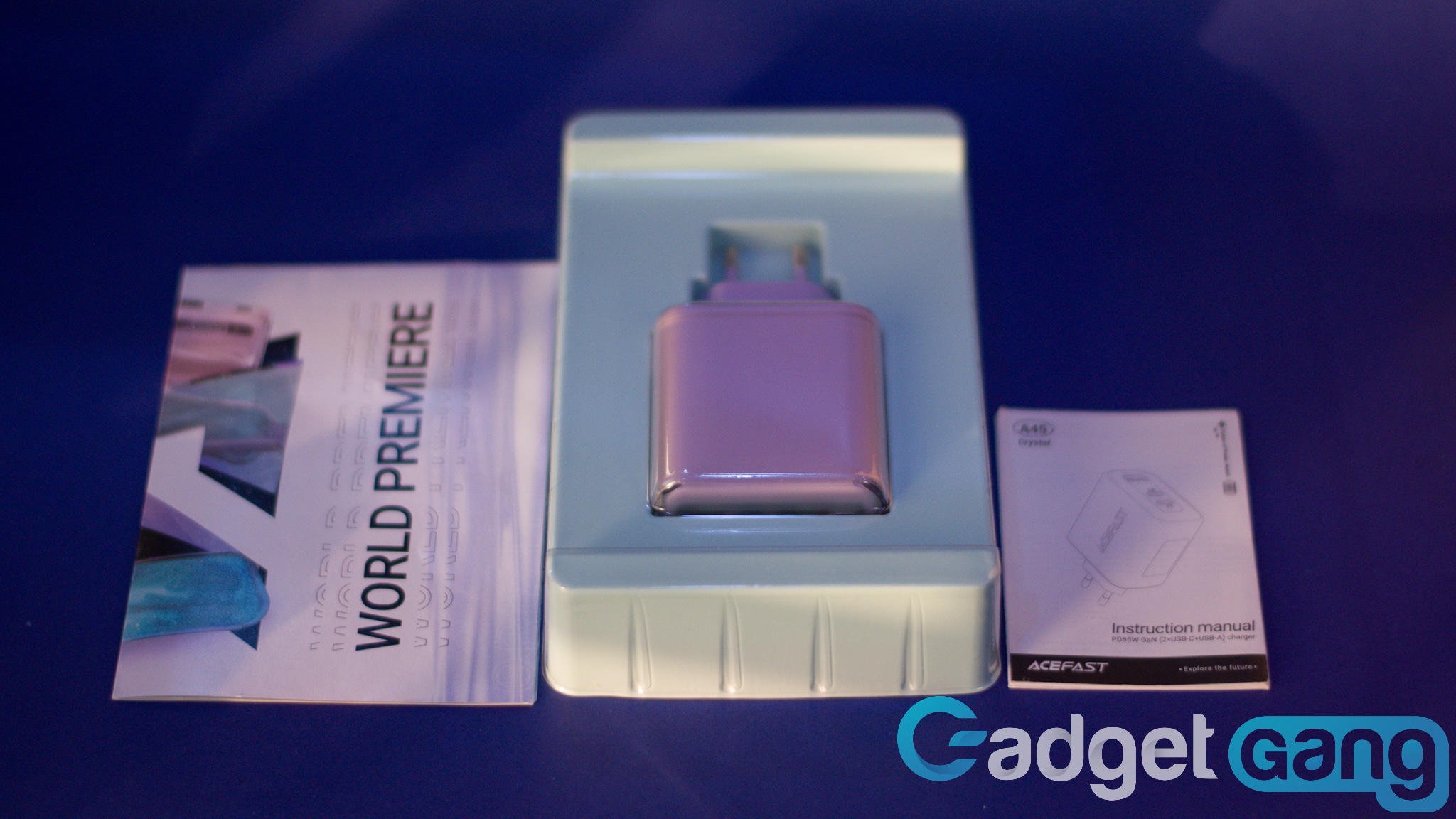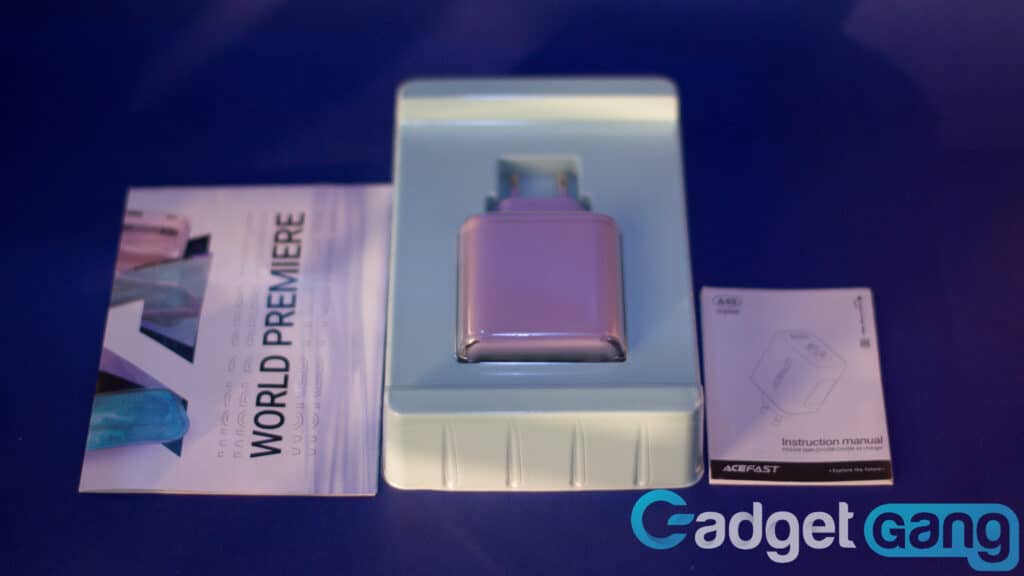 The package itself is sturdy, and the charger came in perfect condition. The unboxing experience is still excellent, just like with other Acefast products. Regarding safety, the box does a great job while being highly presentable.
Tech Specs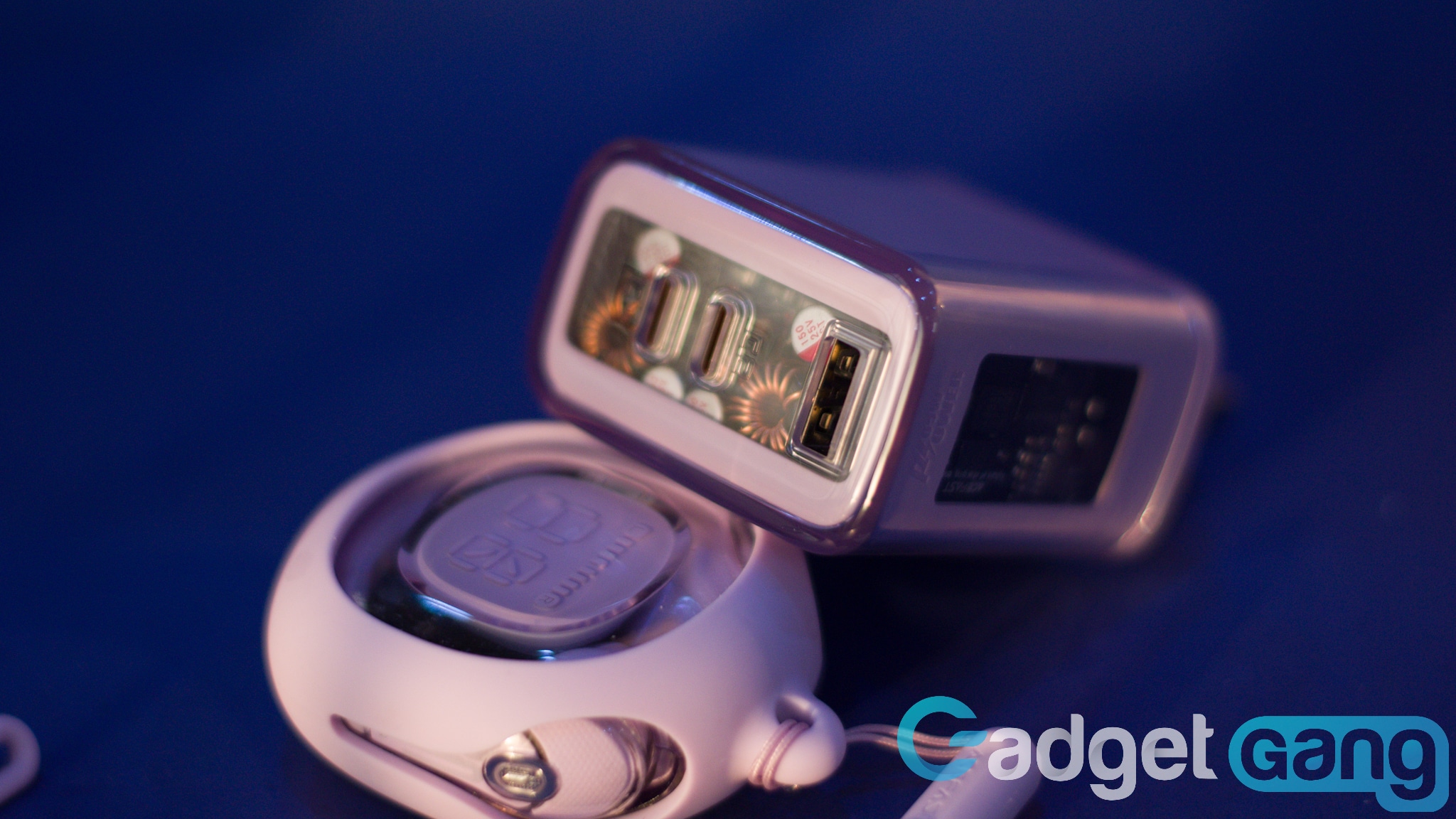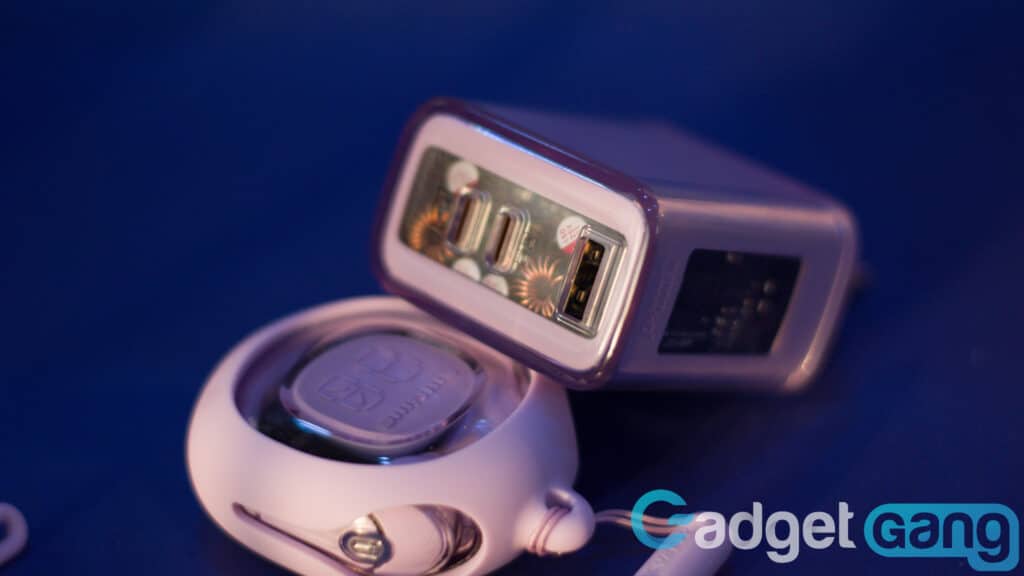 | | |
| --- | --- |
| Total Output | 65W Max |
| Input | AC100-240V ~ 1.5A 50Hz/60Hz |
| Output C 1 | 1/2 – 3.3V-21V⎓3A (PPS), 5V⎓3A, 9V⎓3A, 12V⎓3A, 15V⎓3A, 20V⎓3.25A (65W max) |
| Output C 2 | 1/2 – 3.3V-21V⎓3A (PPS), 5V⎓3A, 9V⎓3A, 12V⎓3A, 15V⎓3A, 20V⎓3.25A (65W max) |
| Output A 1 | 5V⎓3A, 9V⎓2A, 12V⎓1.5A, 10V⎓2A (20W max) |
| Material | Flame retardant PC |
| Fast Charging Protocols | QC2.0, QC3.0, QC4+, HW FCP, PD2.0, PD3.0 |
| Size | 96 x 54.5 x 33.5mm |
| Weight | Approx 162 grams |
Design – Acefast Crystal A45 Charger Review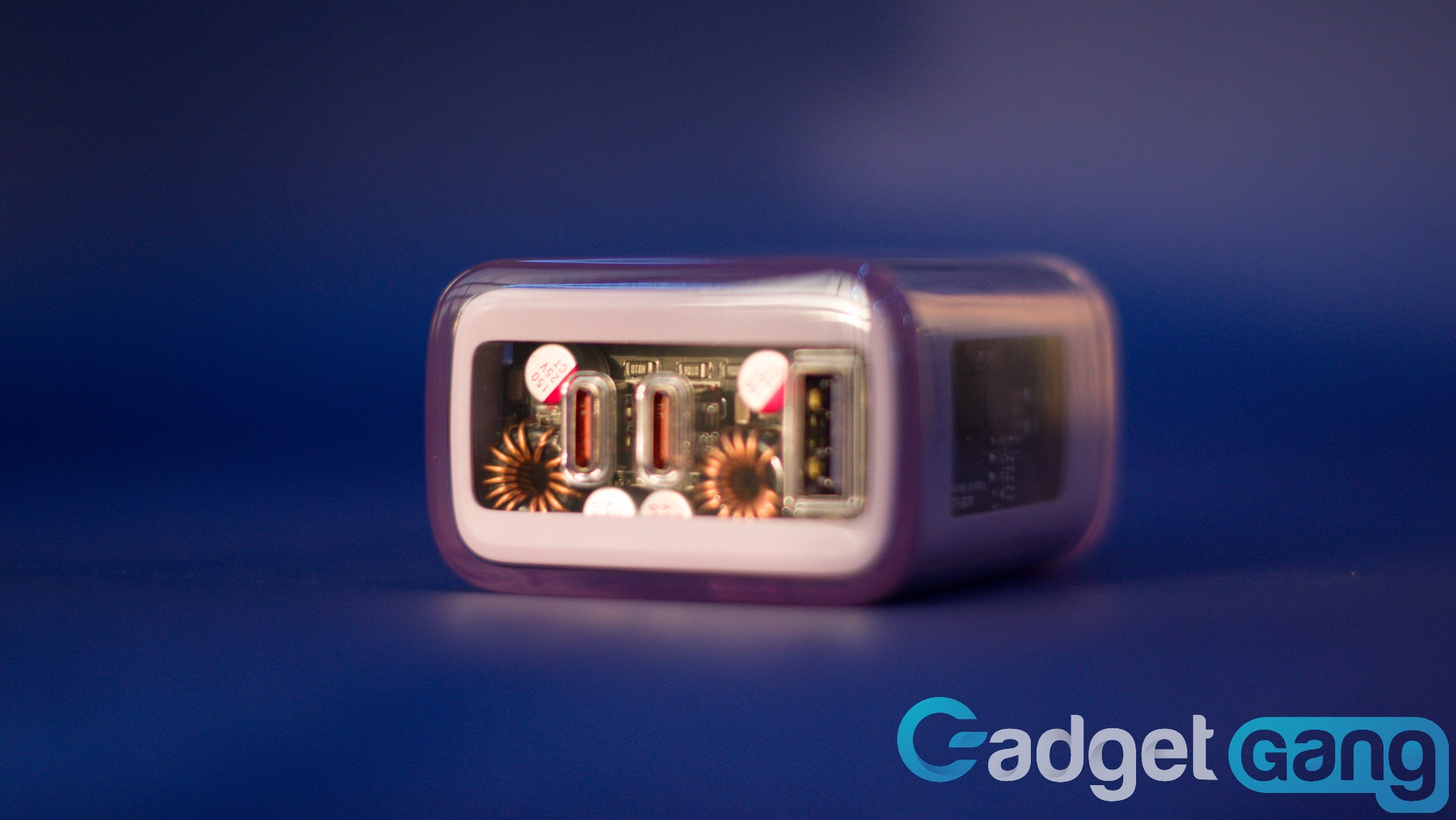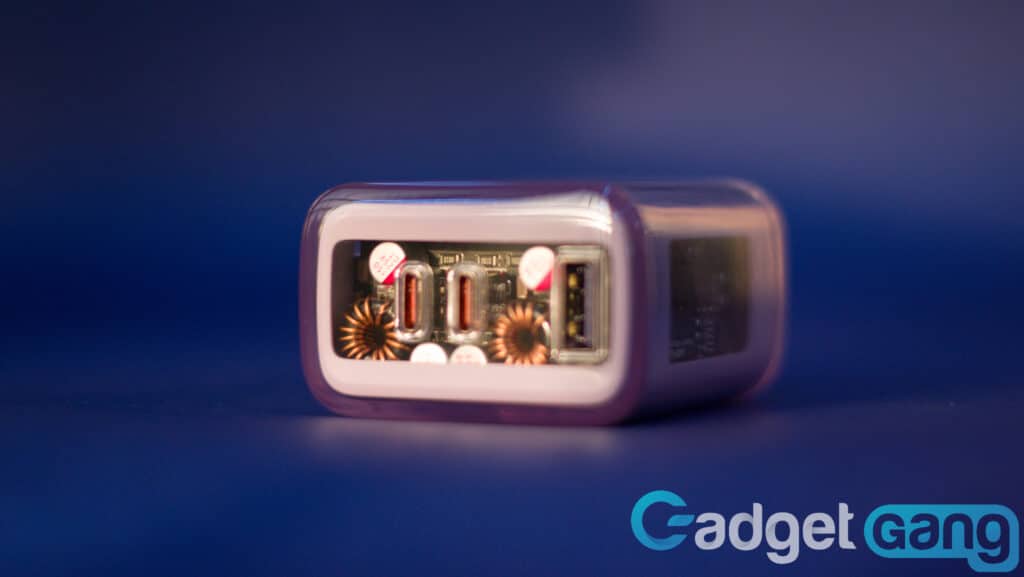 Design is the focus of Acefast, and it also shows in the transparent Crystal A45 charger. The charger comes in four colors – Mica Grey, Mountain Mist, Purple Alfalfa, and Cherry Blossom. These marketing names translate roughly to grey, light green, subtle purple, and pink. We received the Purple Alfalfa color to match the Crystal T8 earphones.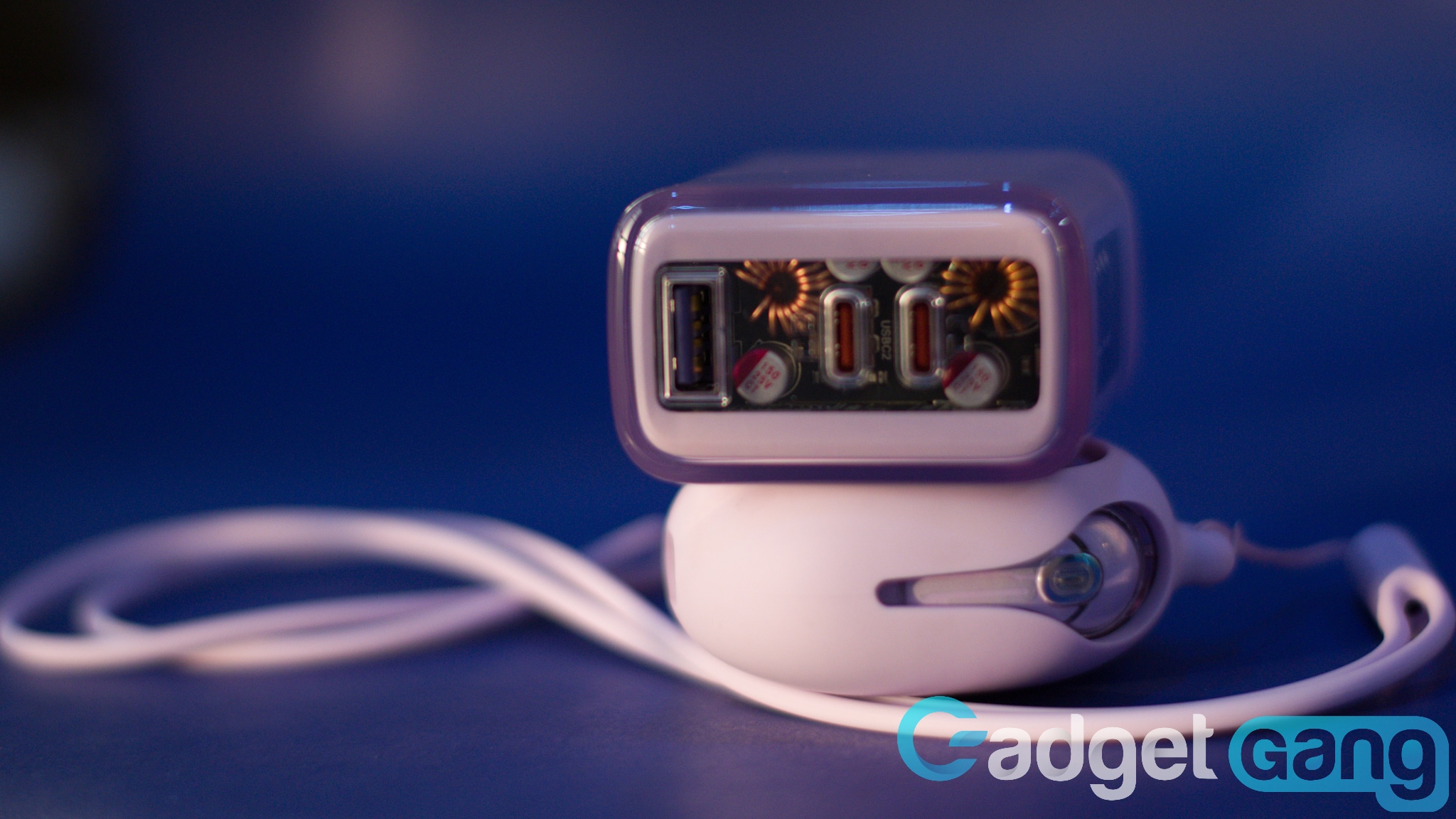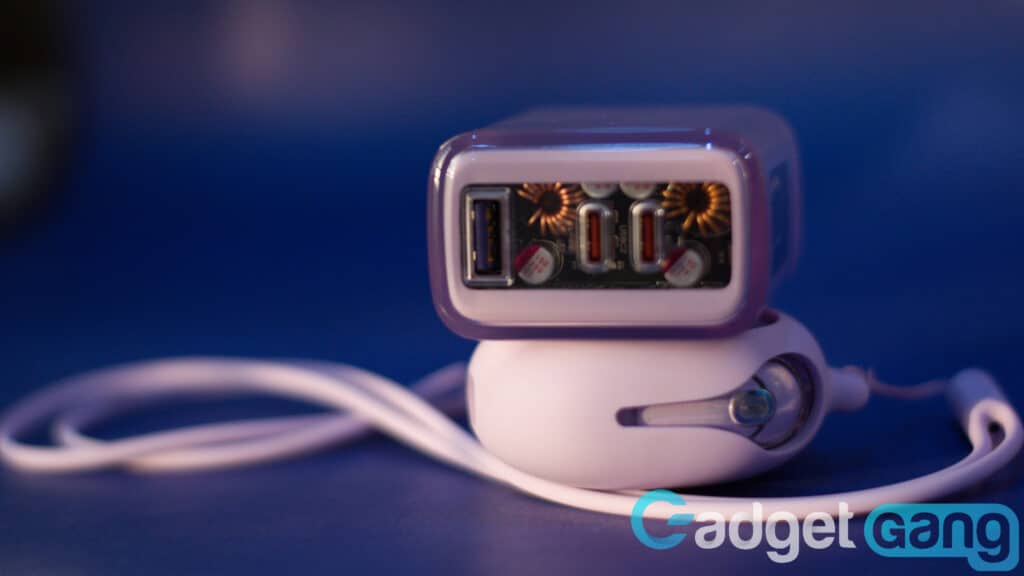 The Acefast Crystal A45 Charger is not entirely see-through; it has a transparent outer layer of plastic but offers three transparent windows. We may see an utterly see-through charger from the company, but clear product enthusiasts must make do for now. The charger still looks excellent, though, which any company strives for. It certainly caught some eyes and a couple of questions from my friends.
Material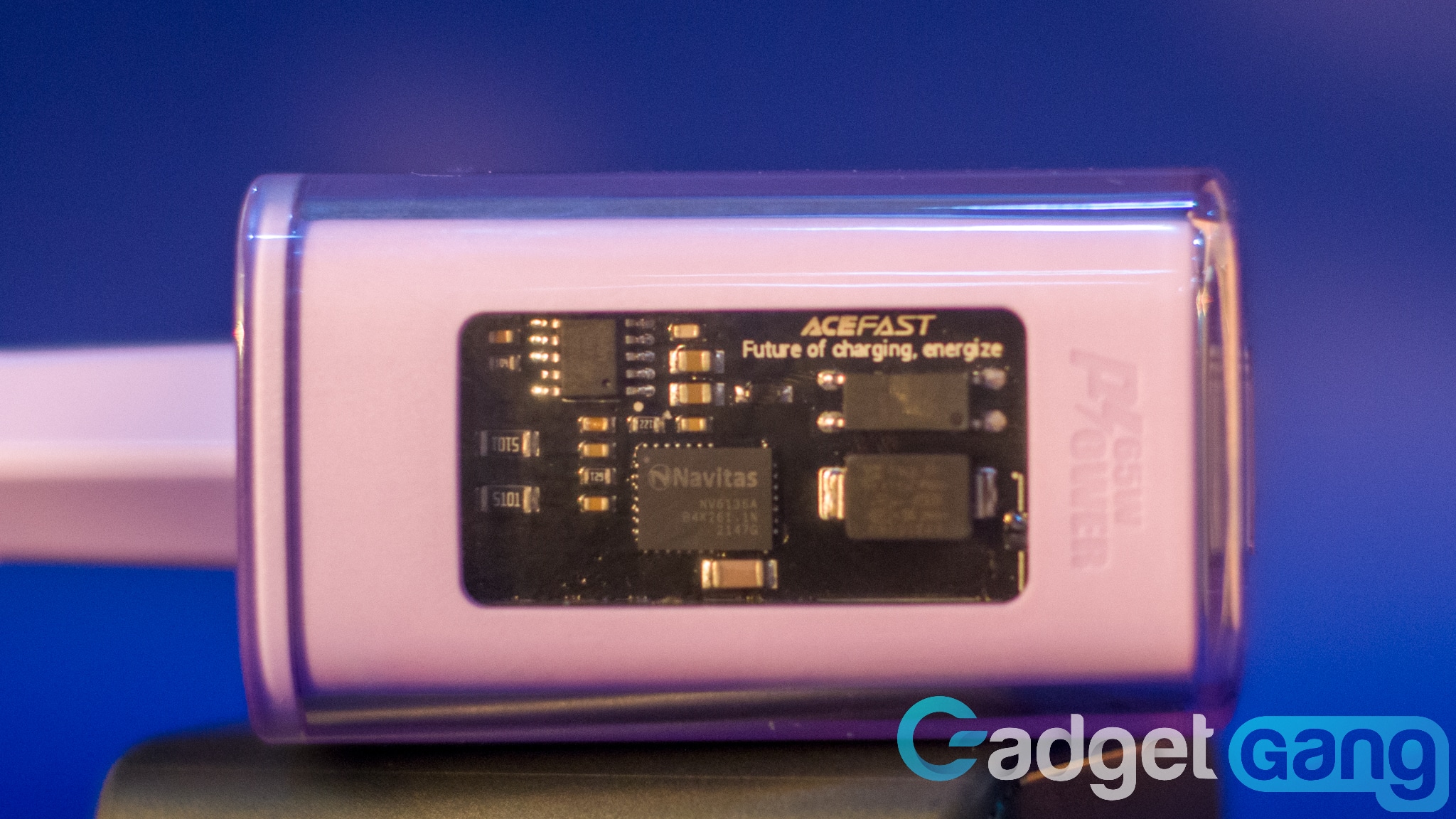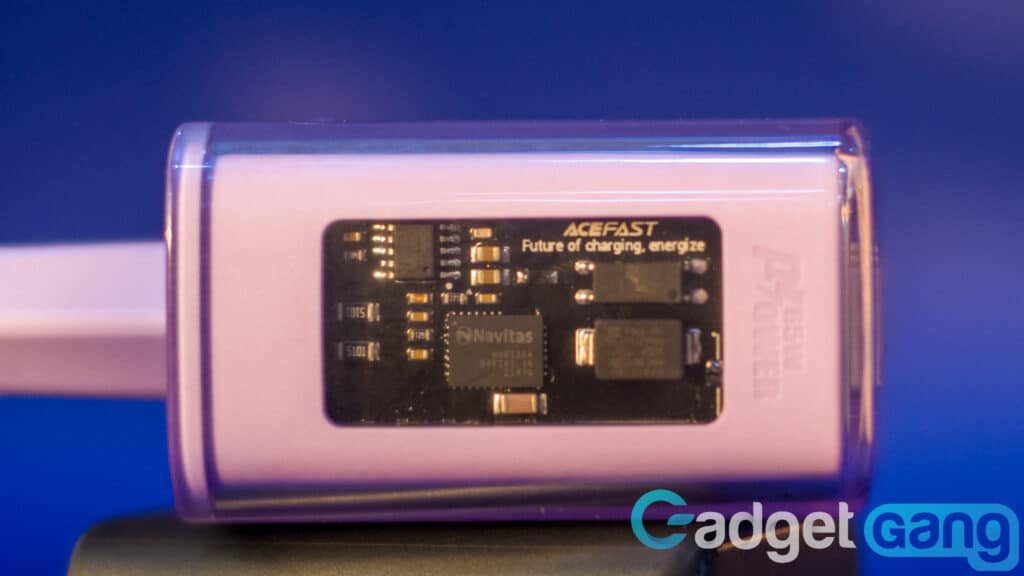 The material is polycarbonate plastic. It is durable, but the transparent nature of it may result in scratches from usage. I haven't seen any wear and tear from the four weeks I've used the charger, but it is inevitable. The charger weighs around 162 grams, which isn't light but can be carried in the pocket. The charger is heavier than the Acefast GaN Charger Hub but offers more ports.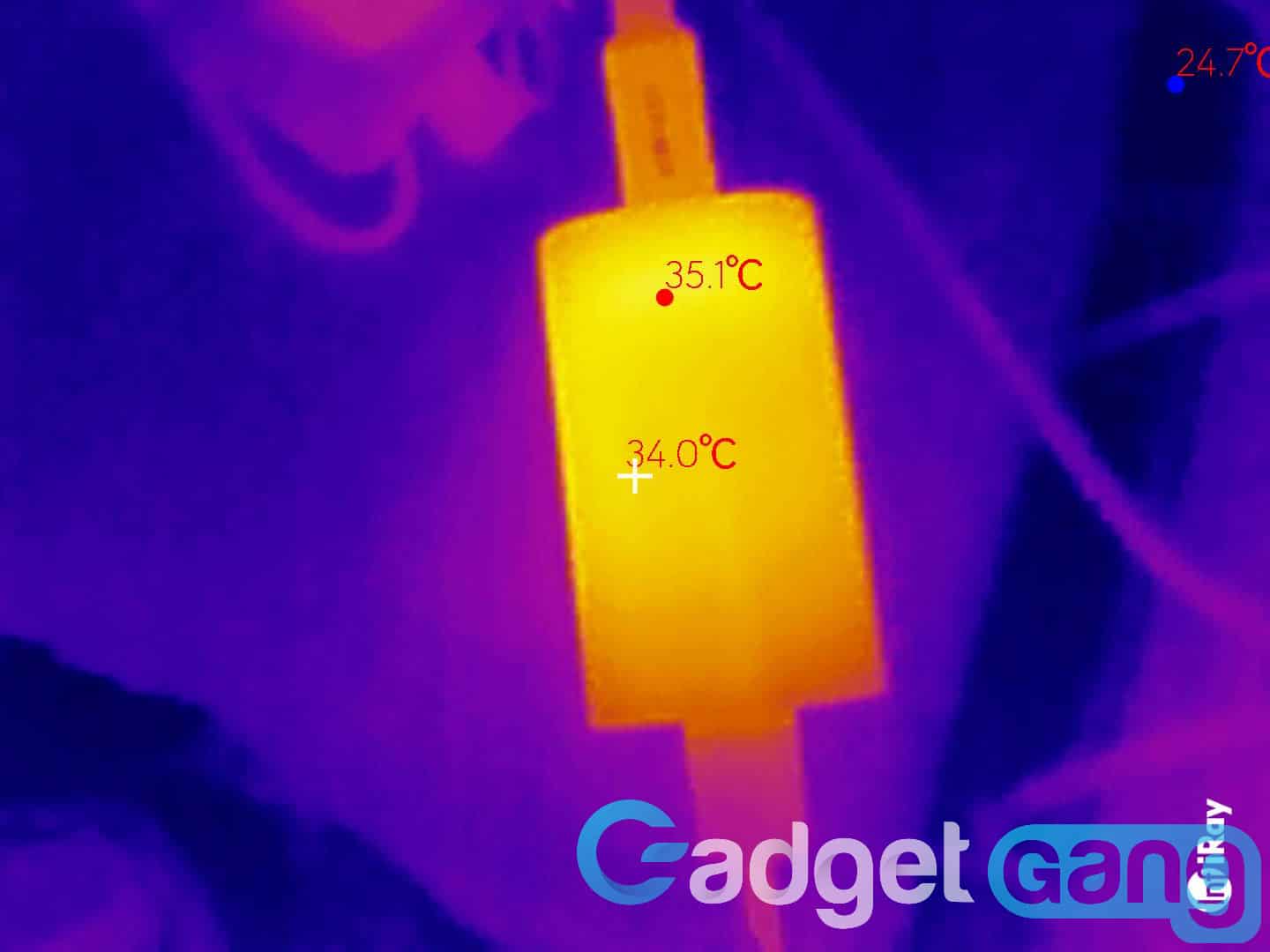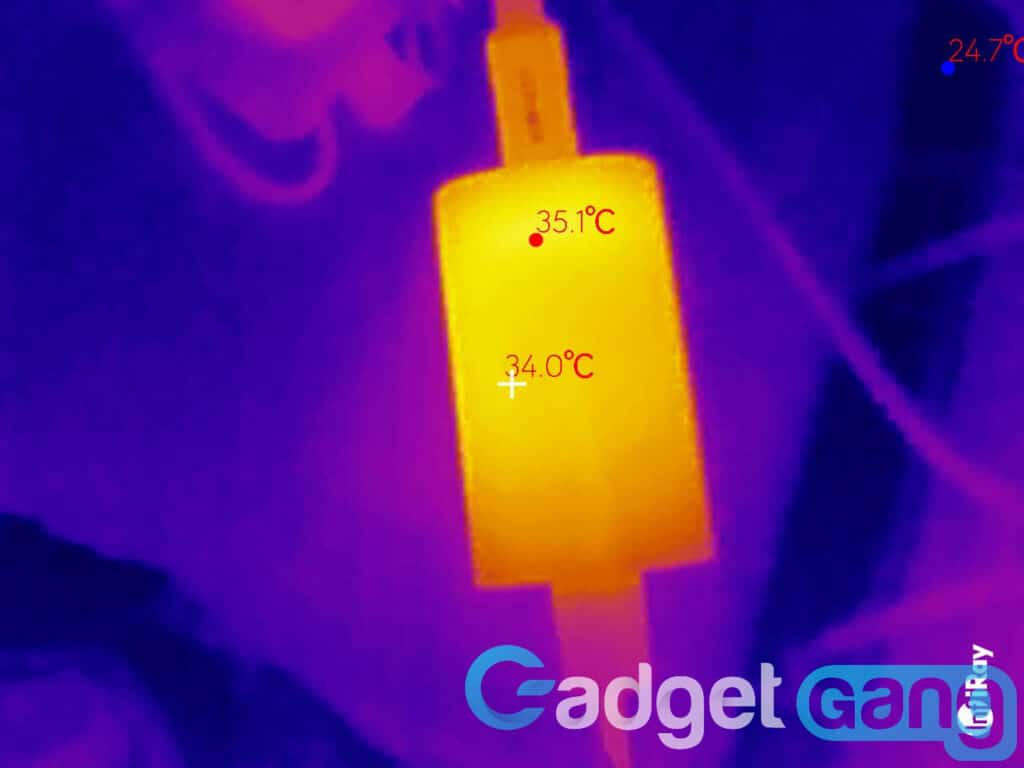 The Acefast Crystal A45 uses third-generation Gallium nitride GaN3 technology, further reducing weight. It doesn't get too hot even when using the charger at its full output of 65W. Other chargers offering the same specs either heat too much or are "chonky" The Crystal A45 strikes a good balance.
Ports – Acefast Crystal A45 Charger Review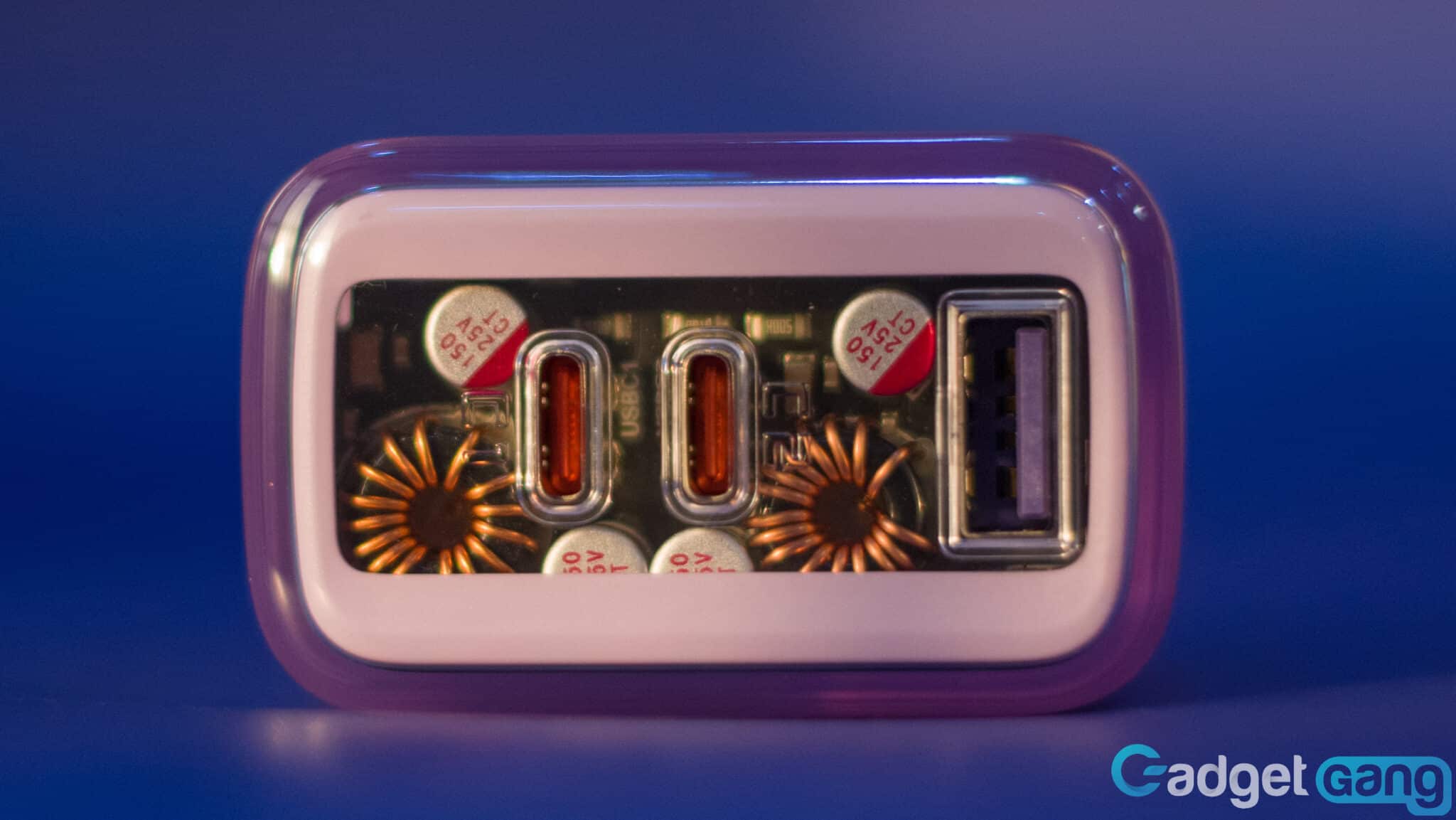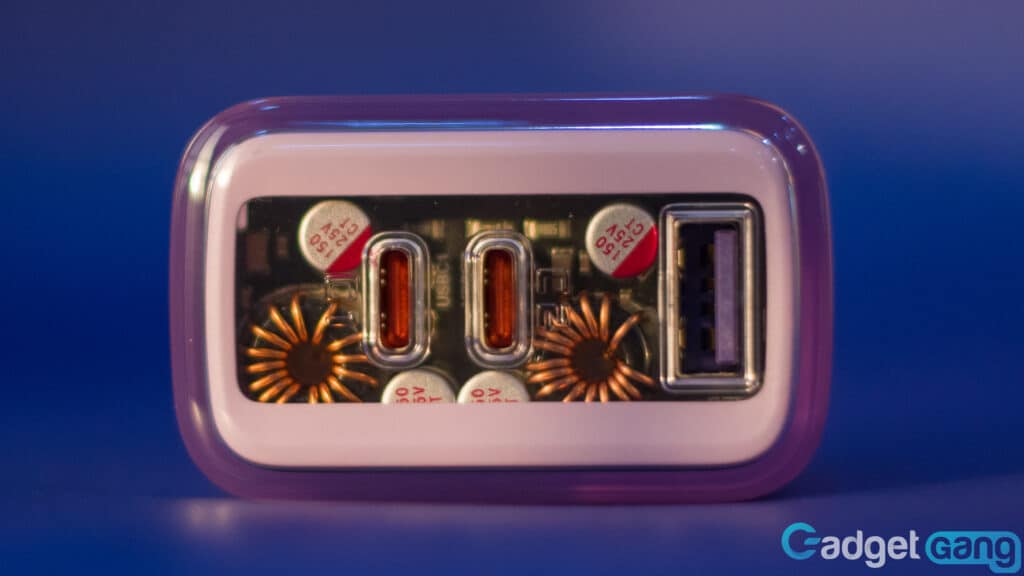 The Acefast Crystal A45 Charger offers three ports: two USB Type-C and one USB Type-A. Both Type-C ports offer 65W and have identical protocols and outputs; this is rare to see on a charger. The same Type-C ports also remove the headache of remembering which one is the "prime" port for charging laptops fast.
| | | | |
| --- | --- | --- | --- |
| | USB C 1 | USB C 2 | USB A |
| Single Port | 65W | 65W | 20W |
| Double Port | 45W | 20W | |
| | 45W | | 18W |
| | | 5V/2.6A | 5V/2.6A |
| Triple Port | 45W | 5V/2.6A | 5V/2.6A |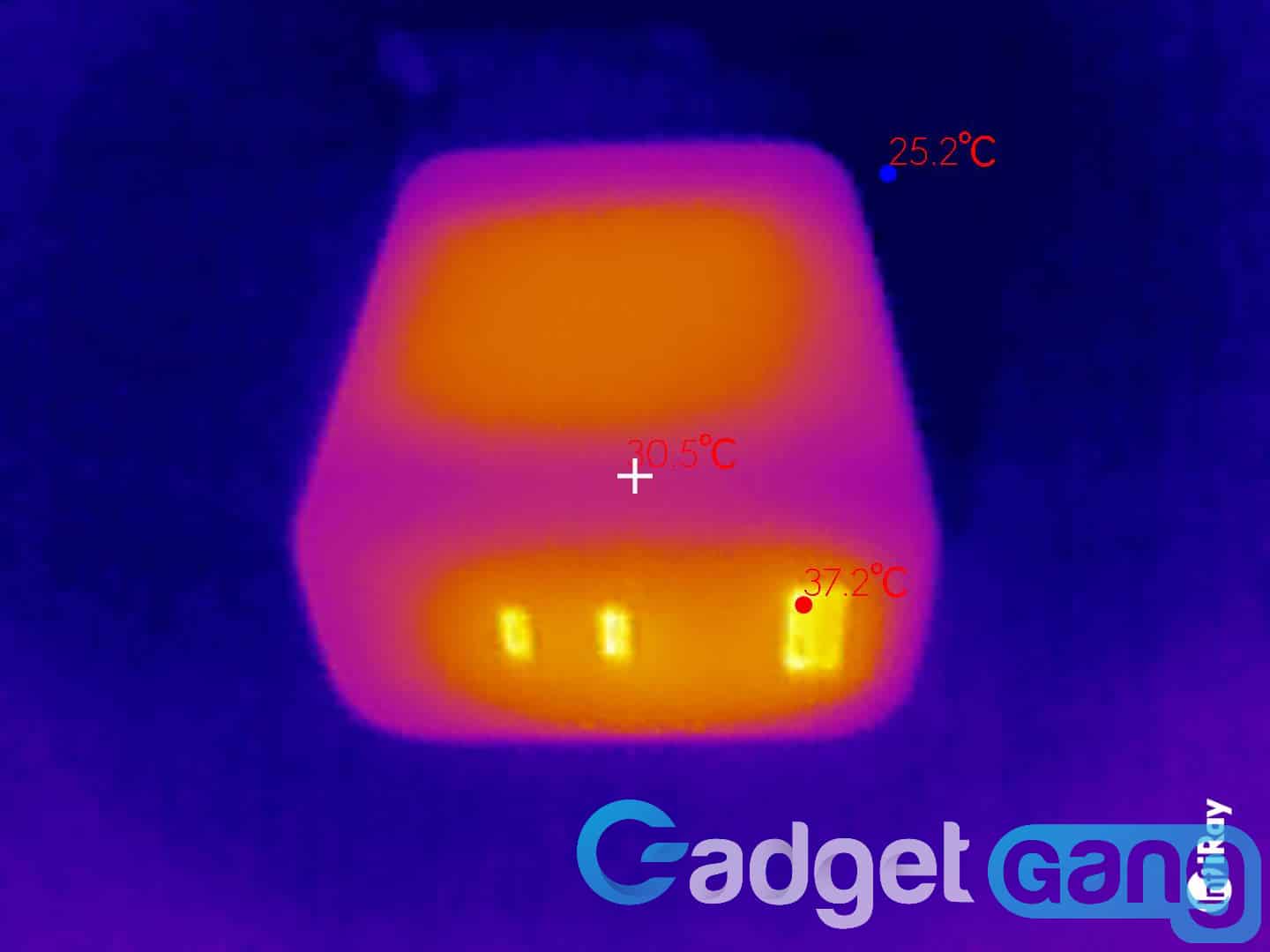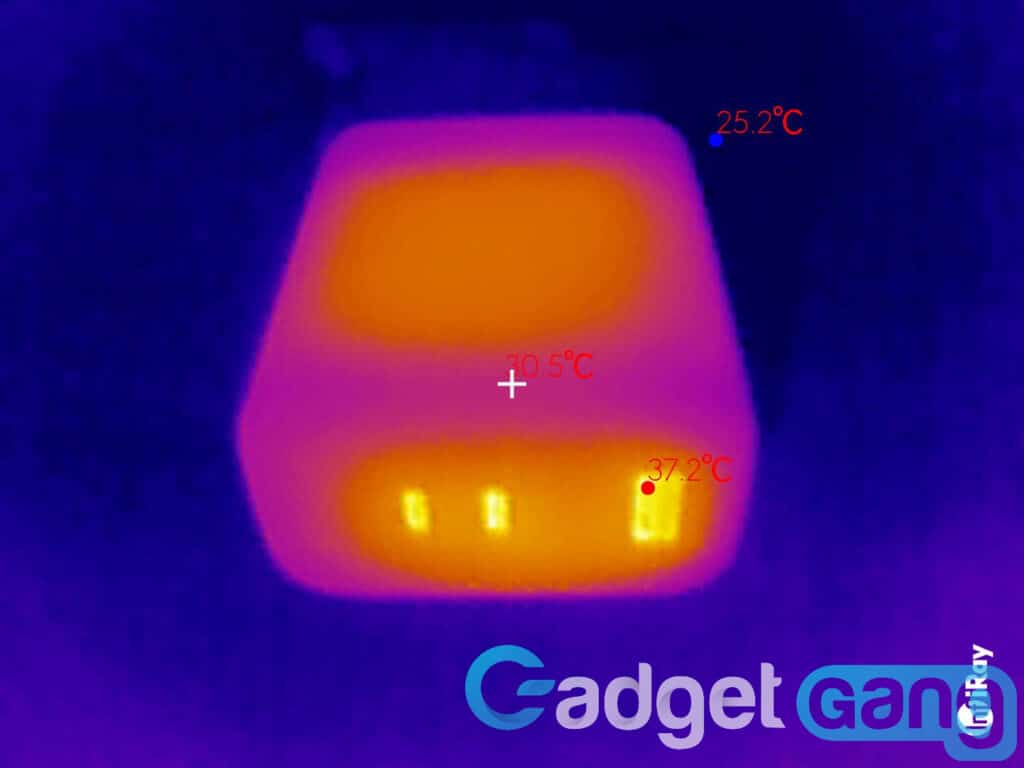 The A45 has a good selection of ports that eliminate the need for carrying multiple chargers during travels. It has plenty of power to charge demanding laptops and smartphones on the go.
Compatibility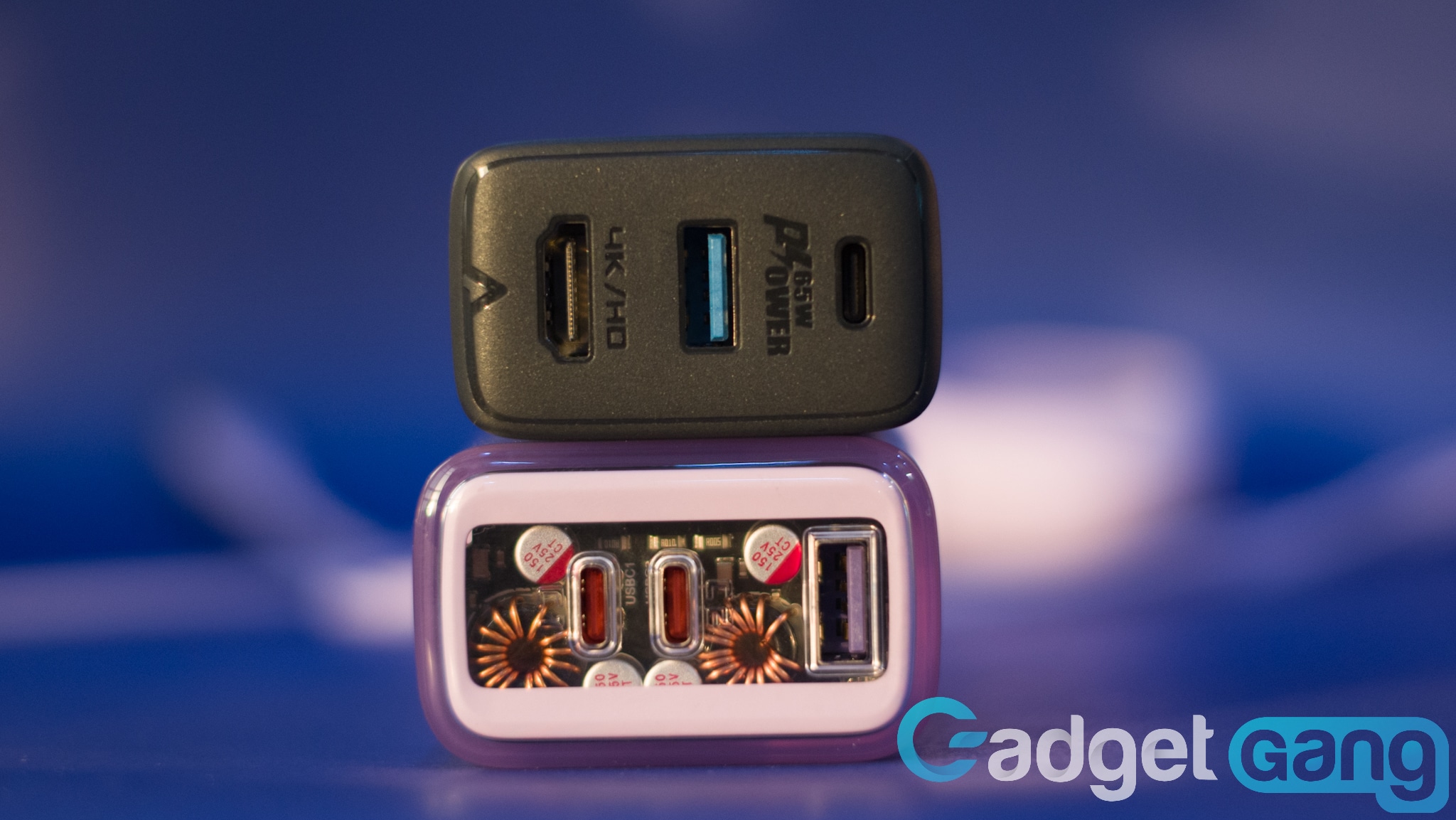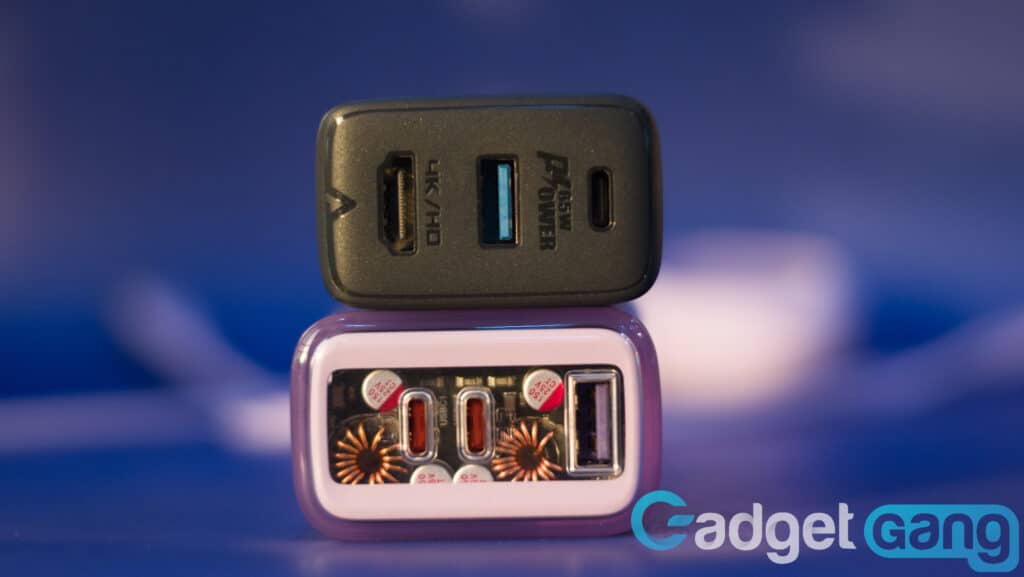 A modern device demands Power Delivery, and the Acefast A45 supports 5, 9, 12, 15, and 20 Volts up to 65W. PD lets you charge your laptops and other devices without any trouble. Another popular charging protocol, Quick Charge, is fully represented here, with 4+, 3.0 (5V, 9V, 12V), and 2.0 making the compatibility list. PD Quick Charge 5 is also supported but needs to be listed on the official website.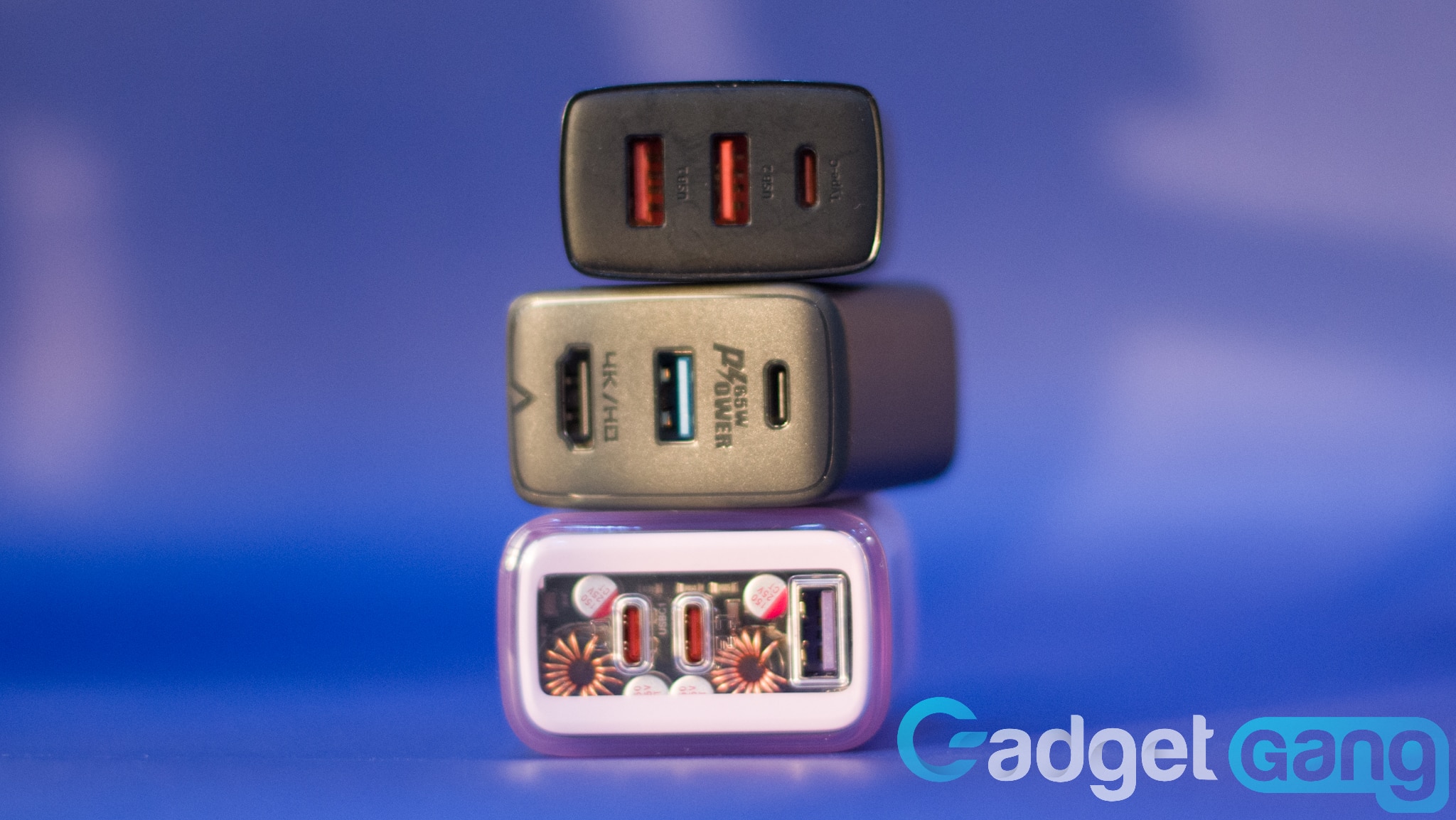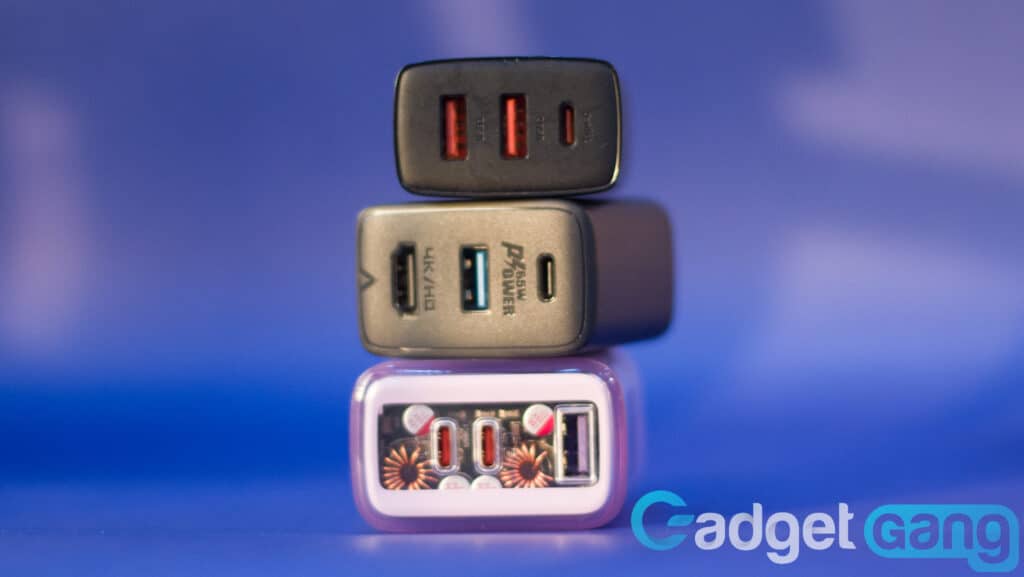 As for Samsung devices, the Crystal A45 supports Adaptive fast charging (5V, 9V, 12V) and the Samsung 2A standards. Fast Charge Protocol (5V, 9V, 12V) and Super Charge Protocol (3.3 – 12V up to 20W) are also supported for Huawei devices. The lone USB Type-A port on the charger is only 20W and doesn't have the same charging standards as its Type-C siblings. You won't get power delivery, but it retains Quick Charge support. It also supports AFC, FCP, and Apple's 2.4A standards, so it's far from useless.
On the Apple side, the Apple 2.4A charging standard is also compatible. This results in a well-rounded charger that doesn't leave any significant charging standard behind.
Pricing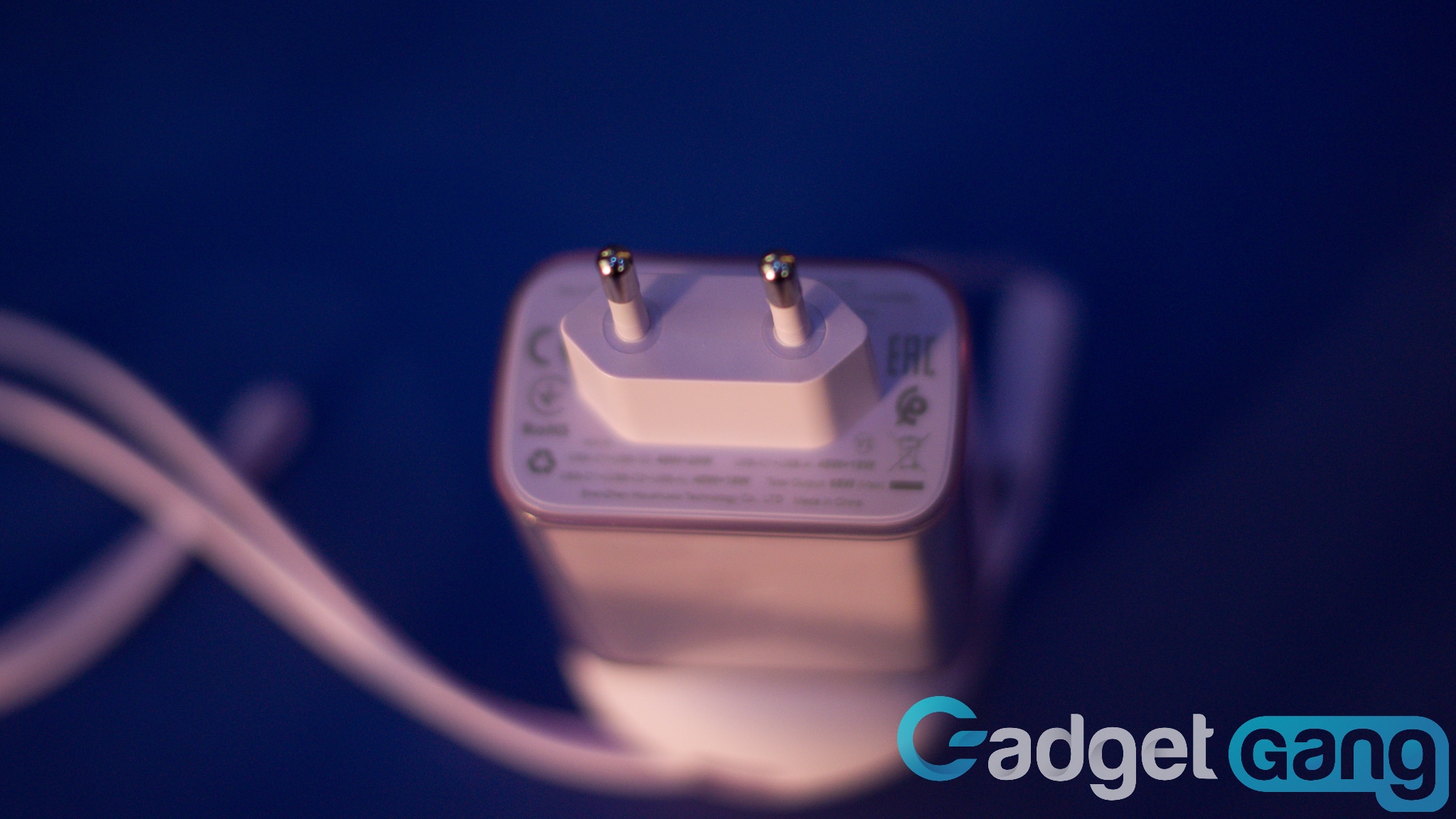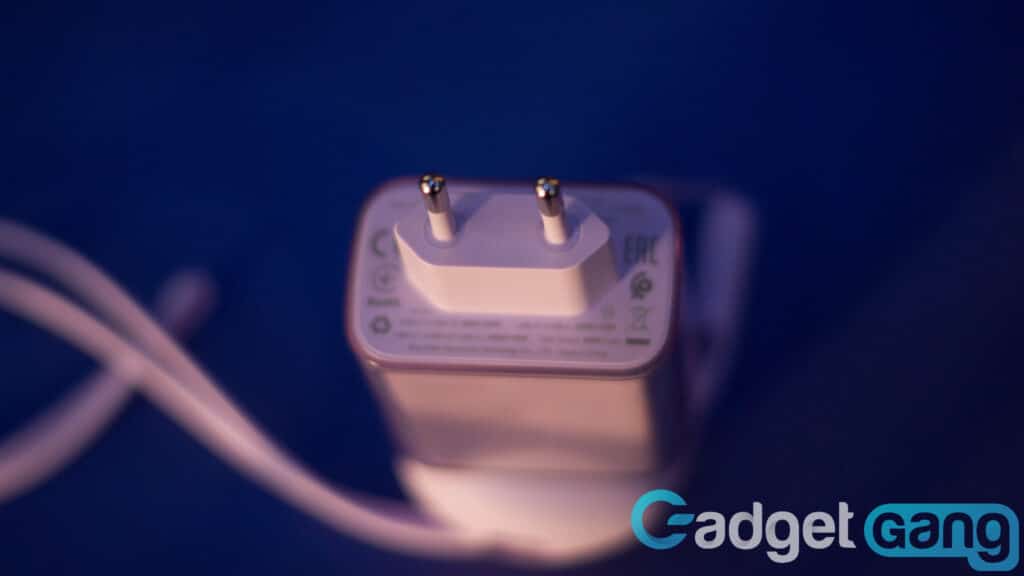 The Acefast Crystal A45 Charger Review won't be complete without considering the charger's price. The MSRP is around $60 on Amazon but usually goes for less than $45 regularly. The charger is also out of stock and in high demand. The official Acefast Acefast Crystal A45 Charger page also sells the charger for a slightly higher price.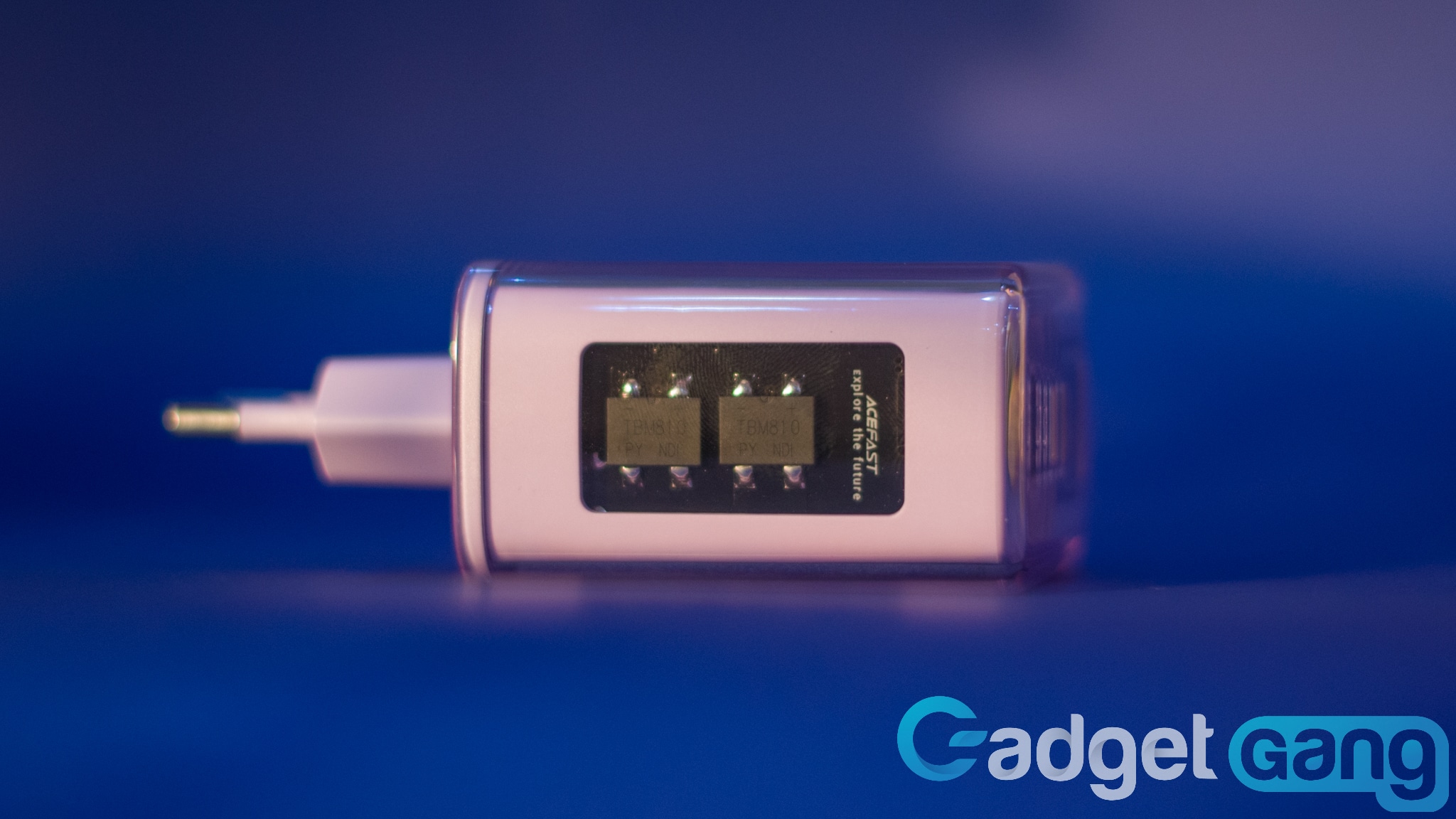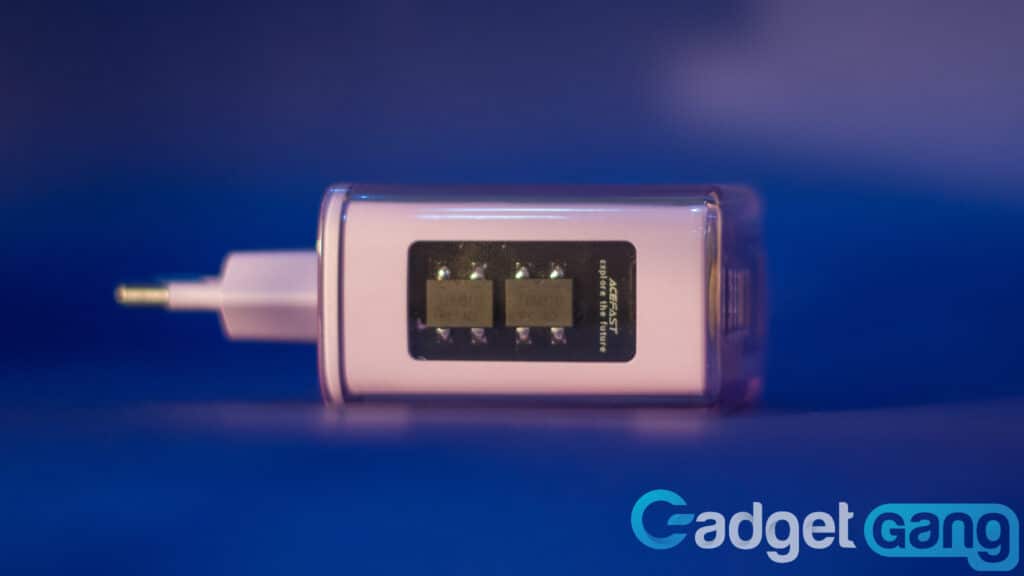 The price could be more competitive, but compared to the competition, the Acefast Crystal A45 Charger looks better and charges devices fast. Other GaN chargers from Anker, Baseus, or UGREEN also offer similar specs at almost the same prices, so the choice comes down to the transparent design or colors.
Conclusion:
The Acefast Crystal A45 Charger is a beautiful-looking device that strays from the mainstream trends. The colorful transparent design makes the charger stand out whether you use it in a class or office. It's compact, doesn't heat up much, and charges almost everything at blazing-fast speeds. The only downside is that it doesn't come with interchangeable prongs, making international travel slightly heavier as you'll need a converter.