It's the battle of two of the most popular thermal pastes on the market, Arctic Silver 5 vs Arctic MX-4. This has been an ongoing debate for many years and we're finally here to solve the mystery between the two.
There are many thermal pastes on the market, however, using the best thermal paste can help lower your temperature by a few degrees. Many people will say a few degrees is minor but to the PC gamer / enthusiast it can make a big difference.
If you have an old tube lying around, it's always worth checking the date you purchased it as they only have a shelf life of 3 years, you don't want to use anything older as the paste will have started to degrade. When buying thermal paste it's always a good idea to buy from shops with a fast turnover such as Amazon. This way you know the paste will be fresh.
Arctic Silver 5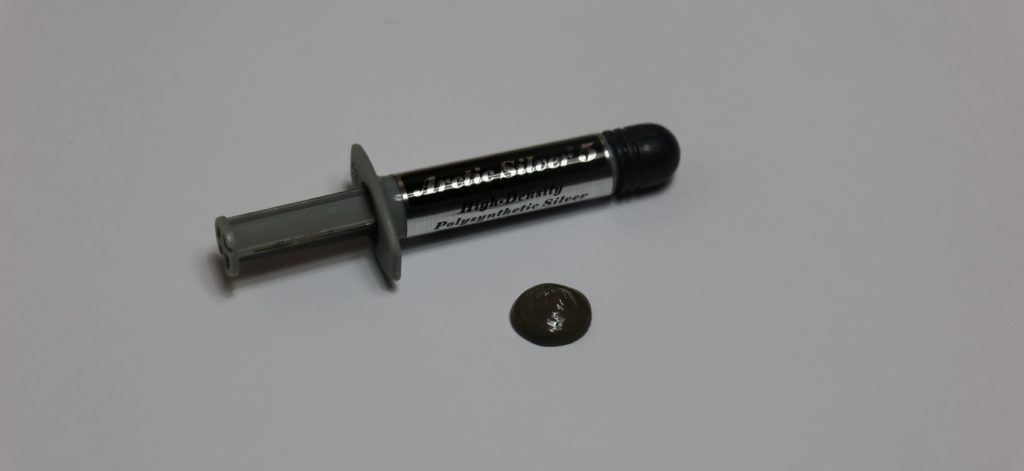 Arctic Silver 5 is one of the leading thermal pastes and it has been for many years, this has been the go to paste for many enthusiasts. It has a large fan base and some people are even going as far as calling them Arctic Silver 5 fan boys.
The main drawback in our eyes is that this paste requires curing before we can achieve the best temperatures, according to the manufacturer website, "it will take a up to 200 hours and several thermal cycles to achieve maximum particle to particle thermal conduction and for the heatsink to CPU interface to reach maximum conductivity."
This basically means you need to run your PC for 200 hours, cycled ( ensure it's turned off at night ) in order to achieve the best results for this thermal paste. This is a big drawback as many people will just want to install the thermal pate and see the best results right away.
Arctic MX-4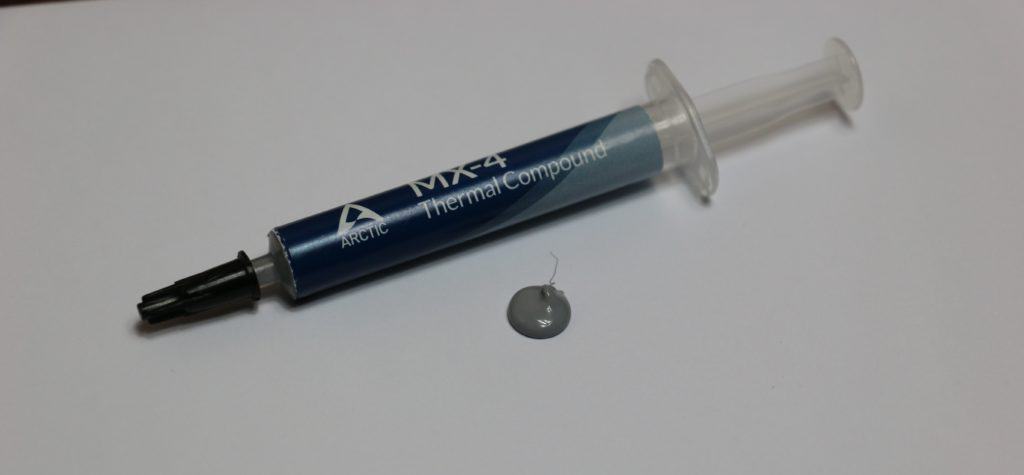 Arctic MX-4 is a newer thermal paste, it's gaining a lot of attention and many people are claiming it's better then than AS5, are the claims true? Keep reading the Arctic Silver 5 vs Arctic MX-4 comparison to find out!
One noticeable advantage is that this paste does NOT require any curing time, you can simply apply it and reap all the benefits straight away without having to wait 200 hours.
Testing methodology
Both pastes were tested using our test rig, this is the same rig used for all of our testing purposes so we can ensure that everything is fair.
Testing Rig:
CPU: AMD Ryzen 7 2700X
Cooler: NZXT Kraken x52
Mainboard: Asus ROG STRIX X470-F
RAM: G.Skill Trident Z DDR4 3200MHz
Now comes the interesting part, how we came to test the Arctic Silver 5 and Arctic MX-4.
Testing these thermal pastes deemed to be a little difficult as one required over 200 hours of cure time, we wanted to make this test as fair as possible and followed the manufacturers requirements. We let the Arctic Silver 5 cure for 200 hours before we performed any testing. The Arctic MX-4 required no curing, however to make things fair we ran the computer under normal usage for a few days before we performed any testing.
The process:
The CPU and cooler are cleaned of any old thermal paste, we used some rubbing alcohol to ensure there were no traces of old compound.
New thermal paste was applied using the pea method
Room temperature was then measured both times, 22c was the outcome.
Pastes were cured by following the manufacturer requirements
Idle and load temperatures were measured
Temperature
The graph below shows the idle and stress temperatures of the thermal pastes. They were achieved by doing the following:
Idle: The PC was left idle on the desktop screen for 60 minutes.
Load: We ran the Prime 94 stress test for 60 minutes.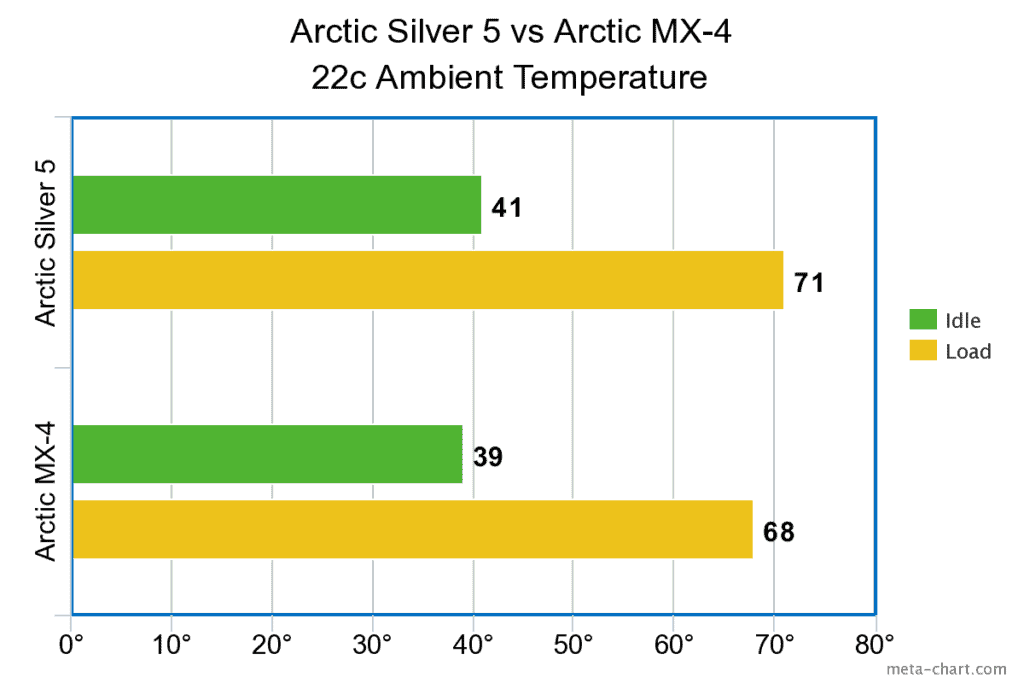 Conclusion
Both thermal pastes are very good, however, we do have one clear winner and that is the Arctic MX-4. This thermal paste is a winner all around with lower temperatures when idle and under load, another huge advantage is that the paste does not require any cure time as appose to the 200 hours with the Arctic Silver 5.
Arctic silver was a very good paste at it's time when it was released in 2004, however, technology moves on and nowadays there are better choices. The Arctic MX-4 is a very good thermal paste and maintains low temperatures throughout, it can also last up to 8 years so no need to ever change it unless you plan on keeping the same CPU for 8 years.