The premium Chromebook concept is not a new idea. It's been there almost as long the laptop brand produced by Google. However, only the Asus Chromebook Flip has managed to realize this vision like never seen before. This gadget is undoubtedly the penultimate premium Chromebook. While it won't hit the same performance levels compared to something like a Google Pixelbook, it does not necessarily need to.
Besides, not only does it cost half as much, it offers specifications that are pretty comparable. What's even more impressive is that this Chromebook contains a 360-degree hinge. This gives it the ability to turn inside out hence the addition of the word "flip" to its name. Measuring in at 2.6 pounds and 12.5 inches the Asus Chromebook Flip is not 'just an exceptionally good Chromebook', it might just be among the best laptops money can buy this year.
Design and Features
This Chromebook has an overall footprint measuring about 11.9 by 8.3 by 0.59 inches. This means that it's deceivingly compact. Those of you that are touch typists will love using its keyboard. With just 1.4mm travel between keys, typing reports and long emails can be done in a flash. A palm rejection feature is included in the touchpad and it responds quite well to press or tap. The housing's left side features a headphone jack (3.5mm), speaker grille, a USB 3.1 port (Type-C), volume controls and the power button.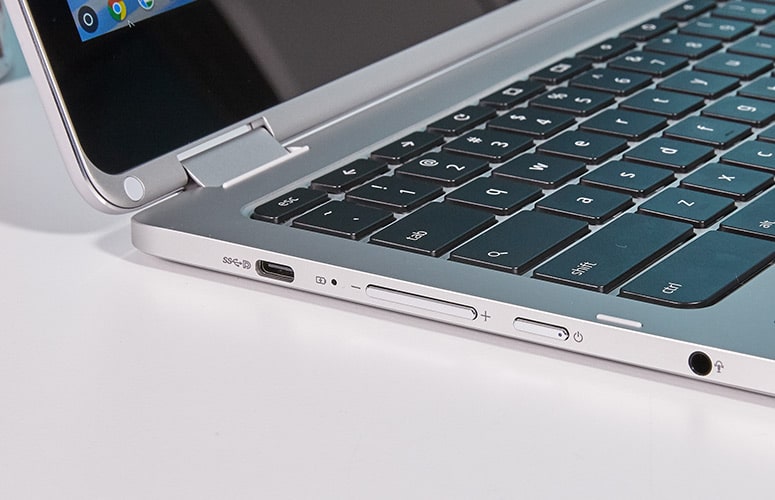 Like we mentioned earlier, this Asus Chromebook has a 360 degree hinge that allows you to fold it completely converting it into somewhat of a tablet. These hinges do a perfect job when it comes to holding the display screen in place when in various modes. The FHD backlit 12.5 LED screen has Corning Gorilla Glass cover giving it additional protection. As for its aesthetics, the display is plenty bright as well as sharp as a knife.
Performance
The best CPUs to power Chromebooks are the Intel Core M-Series. Their performance is much more efficient as well as more ideal for the Chromebook line compared to the average Celeron chip. The Asus Chromebook Flip with its Core M3 Series processor happens to perform almost twice as fast as a Celeron processor-powered Dell Chromebook 13. That said, the Acer Chromebook 14 powered by Intel Core i5 or HP Chromebook 13 powered by the Core M5 series chip pack way more of a punch than this hybrid Chromebook by Asus. However, not by THAT much.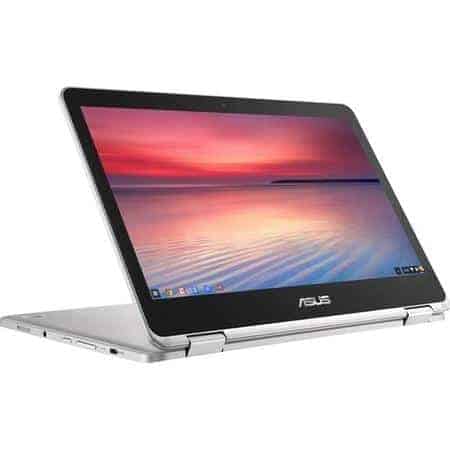 The 64GB eMMC storage it comes with should certainly be enough for most Chromebook users. The 4GB memory it's equipped with should be enough to satisfy most computing scenarios as well. We must admit though, a slight increase in RAM would definitely help keep at bay any potential performance glitches and hiccups. However, we know that an increase in that department would probably lead to it costing more money. But hey, its performance is still out of this world either way.
Software
The Asus C302 Chromebook supports Google Play Store straight from the box which puts Android app right at your fingertips from the get-go. Despite the recent termination of Chrome Apps by Google, Chrome OS wasn't affected which means you'll still be able to continue using Chrome extensions and apps without a problem. When switching from the laptop to tablet, tent or stand mode the display screen auto-rotates. Also, you can use the tablet mode in either landscape or portrait mode.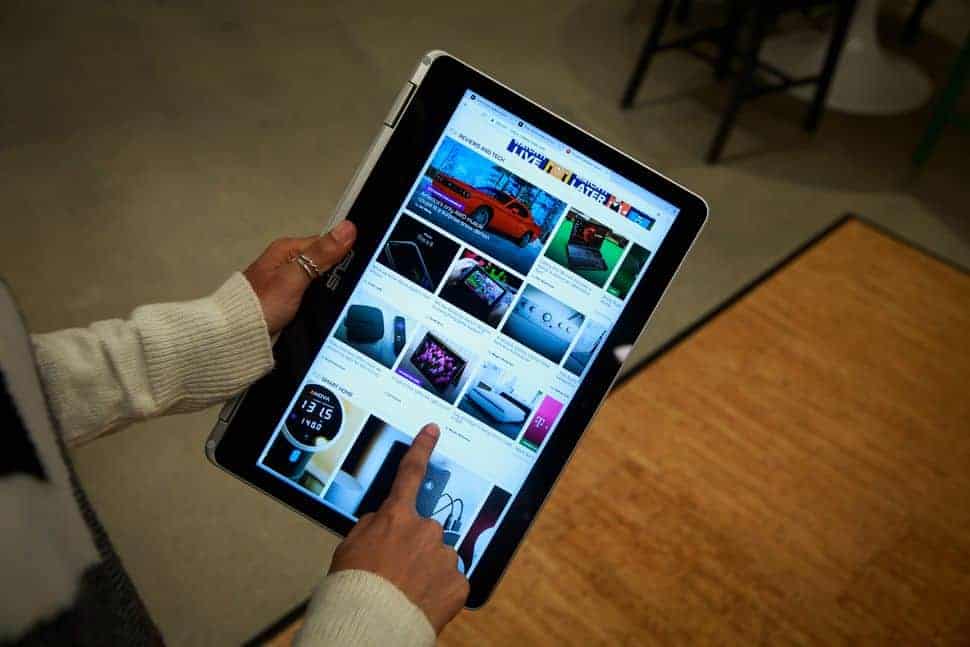 The software on the Flip C302 recognises inaccessibility of keyboard and when that happens, for text input, a touch keyboard pops up on the display screen. With many Android applications having not been fully optimised to run on Chrome OS, using this Chromebook on tablet mode is something you'll probably find yourself doing quite a bit. It's basically as though this device is part Android tablet as well as part Chrome OS laptop. Oh, and this works effortlessly. It might just be one of the best things about this device.
Specifications
Model: C302CA
Display: 12.5 inch FHD Backlit (1920x1080p) LED Display Screen. 16:9 Touchscreen covered and protected using Corning Gorilla Glass
Processor: Intel Core m3 Series 6Y30 Processor
Graphics: Integrated 515 Intel HD Graphics
Memory: 4GB RAM
OS: Chrome OS (Play Store support included)
OS (Drive): A 64GB eMMC
Ports: Type-C USB 3.1 (2x), 3.5mm audio jack (1x), microSD card-reader (1x)
Webcam: 1280x720p HD Web Camera
Connectivity: 4.0 Bluetooth capability, WiFi 802.11ac
Weight: Measures in at 2.65 pounds
Dimensions: 11.9 by 8.3 by 0.59 inches (WxDxH)
Our take
The Asus Chromebook Flip is generally a high-quality Chromebook, in our opinion. It matches the high-quality standards for Chromebook devices that had been set by HP Chromebook 13 as well as many other premium Chrome OS devices. All this with high spec-parts and an elegant design yet at a considerably affordable price. The only real bad thing about this hybrid machine is it's below average speakers, however, that's a problem eighty percent of laptops on the market suffer from. Also, it would have been so much greater if the Android application integration would've been designed and created to operate a bit more seamlessly. Other than those two things, everything else about this Chromebook is simply outstanding. More importantly, it's highly likely that Google will provide additional Play Store access to the Chrome OS build assigned to this Chromebook in particular as it has always done similar things in the past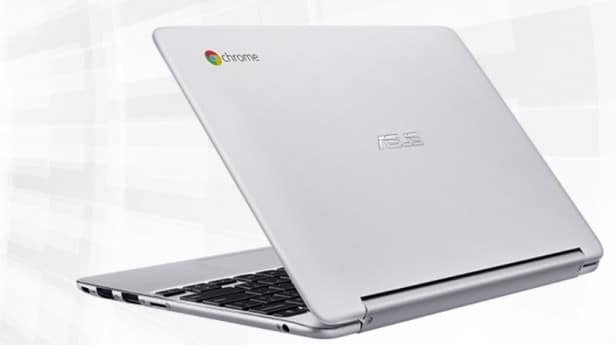 Is it worth it?
If getting your hands on a premium Chromebook is something you've been 50/50 about doing, please stop. Such situations are why we, the Gadget Gang, exist. We don't want you to have to stress your mind so much with such things. Get the Asus Chromebook Flip! Besides being the first of its kind that offers very comfortable usage both as a tablet as well as a laptop, it's generally a very effective machine. I mean not many things can top that, don't you think? We might even go as far as saying that for the moment this Asus Flip C302 is probably the king of Chromebook, and with that price tag it's totally worth it.