Okay, by now you should start realizing that Augmented Reality or AR is a real thing and it doesn't look like it's going anywhere anytime soon. In fact, this new concept is getting stronger by the day. The gaming industry isn't being left behind. AR games are fast becoming front-runners, especially in the smartphone and tablet realm. The first AR Games that were seriously popular on mobile were Pokemon Go and Ingress. Before these two games it was mostly only trailers and proof of possible concepts. Anyway, now they're much more available and Gadget Gang is here to tell you the best Augmented Reality games that are worth your time. Of course, you know we had to get you one on this. We'll never let you fall behind, believe that.
Brickscape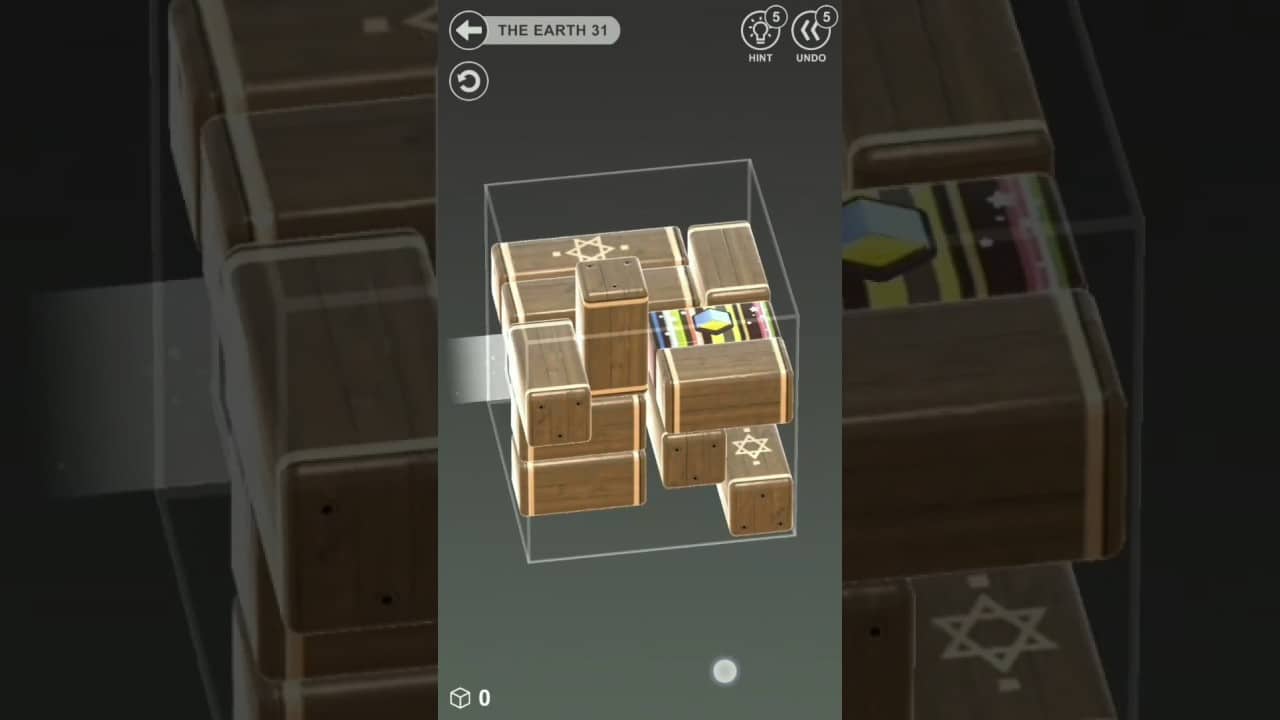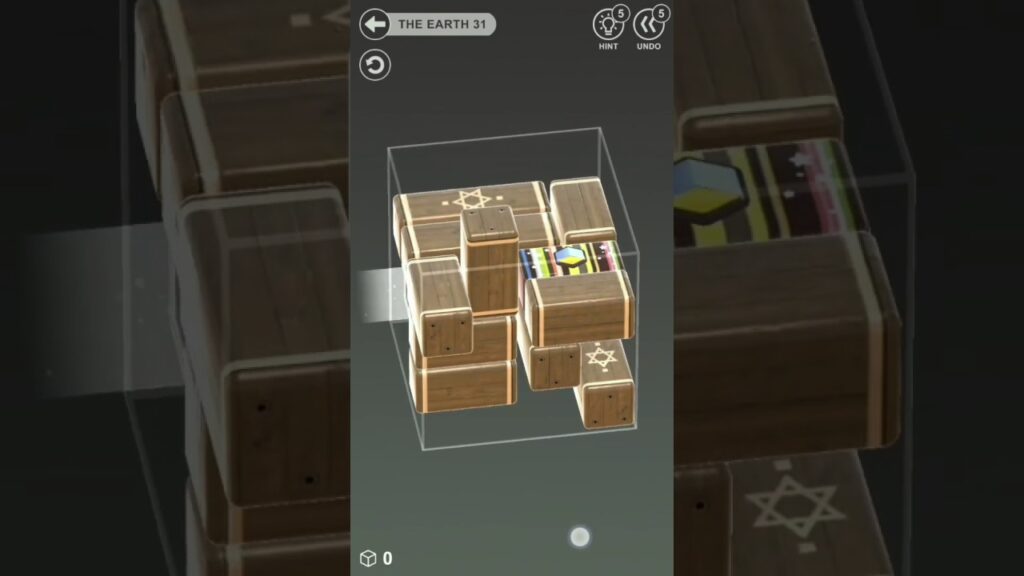 Brickscape is a puzzle game that's in 3D. Cool, no? Players are meant to move various blocks around while inside a box. The main objective is to bring the core piece to the center of the box. It's relatively simple; however, that's Augmented Reality games for you thus far. The game is not exclusive to Augmented Reality playability. You can use regular backgrounds as well. The version with AR lets you play using your surroundings through your phone's camera. Like most other Augmented Reality games, it is a pretty fun idea and concept. Also, it isn't anything too deep or serious.
ARrrrrgh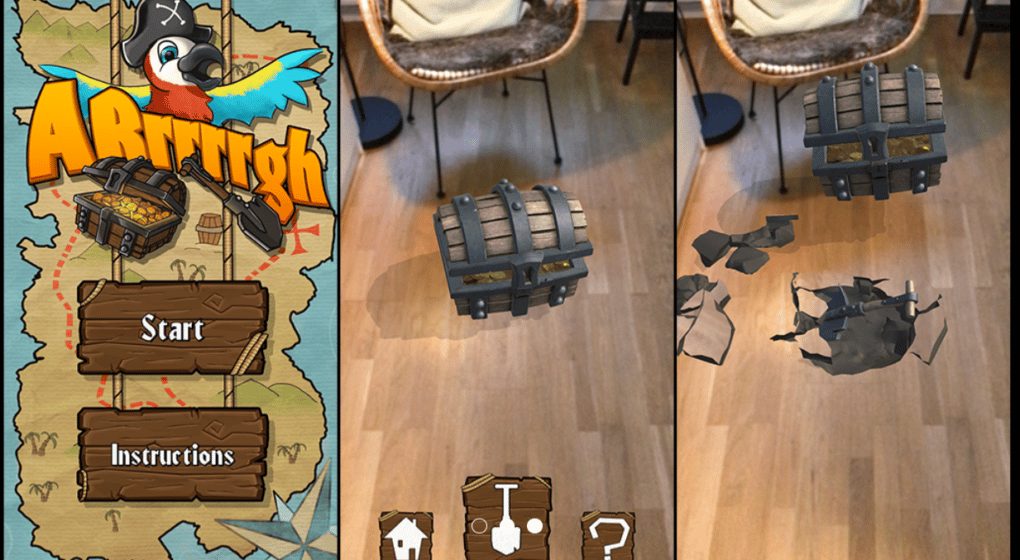 If you're looking for a new spin when it comes to "hide-n-seek" play with a hint of a little pirate involving rum, treasure hunts, and a parrot, then ARrrrrgh is just what you need. Your house or any other general surrounding can be instantly transformed into a quest territory. In this area, you can now seek out or place treasure chests with gold. Kids, parents, and friends can all get in on the fun and experience the adventure this game has to offer. This game was created using ARCore and Unity. Fortunately, the fact it's still in its early stages, no in-app adds are available just yet providing a pure and fun gaming experience.
Temple Treasure Hunt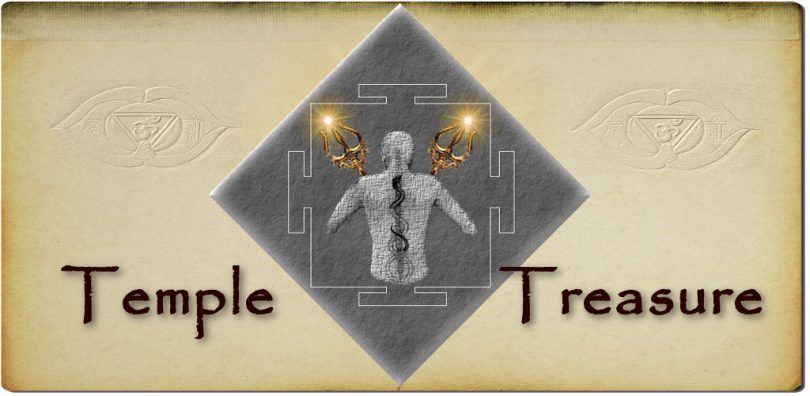 This geolocation AR game is for the myths and mysteries lovers. If you're one of those then you're sure to dig this game. It can be played both indoors and outdoors as well. You're to choose one of two roles. Either you're a Treasure Hunter or you're a treasure protector. Treasure Protectors create treasure trails while Treasure Hunters track down and find the treasure, of course. As the game unfolds you'll also come across Indian mythological characters that have been designed to guard certain treasures. Two scenarios exist if you want to play this game. To create treasure trails, the user picks the role that deals with that and places guardians on the map in outdoor mode. In the indoor mode you'll place physical markers. The latter role, which is hunter, will use this maps and markers to locate the loot.
Zombie GO
Zombie games are without a doubt a very big hit in the Augmented Reality gaming industry. This game is a prime example of a fantastic Augmented Reality shooter. Basically, they bring a Zombie apocalypse into the real world. Okay, at least that is how the producers look at it. Users of the game are expected to walk through parking lots, school and their homes expecting a zombie to jump on you at any time. When the action begins, you fight and kill using weapons of your choice.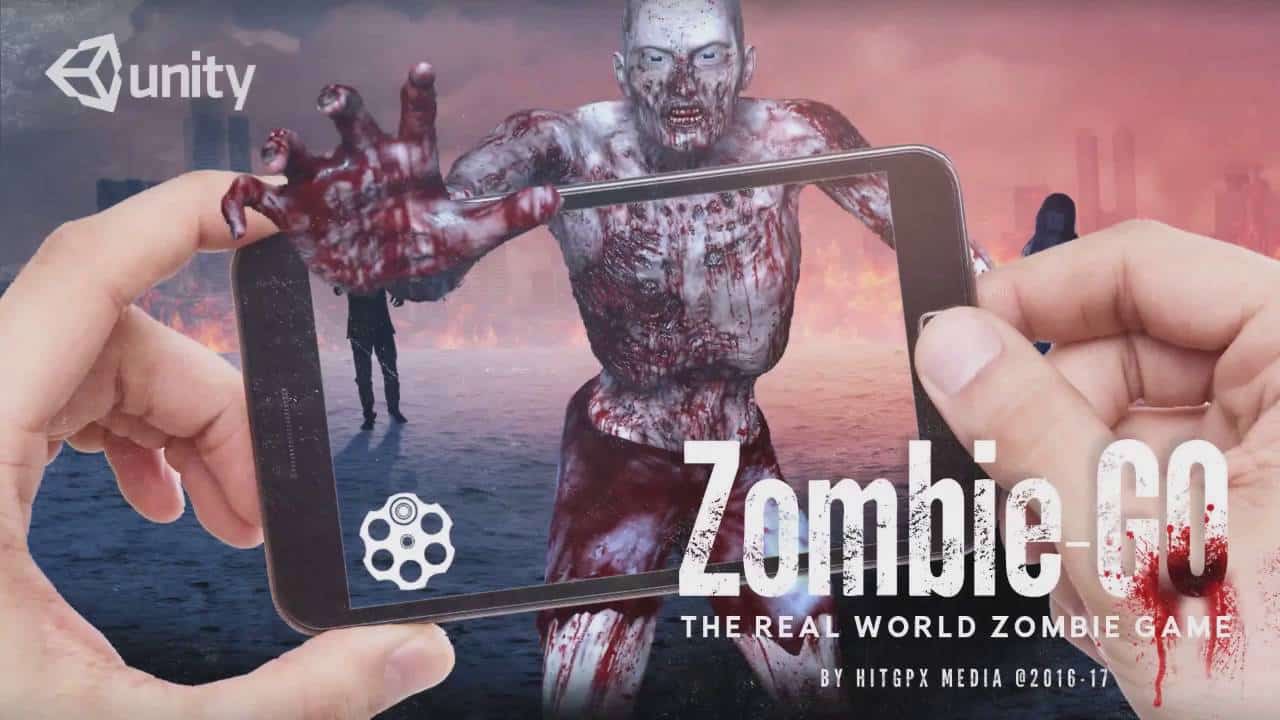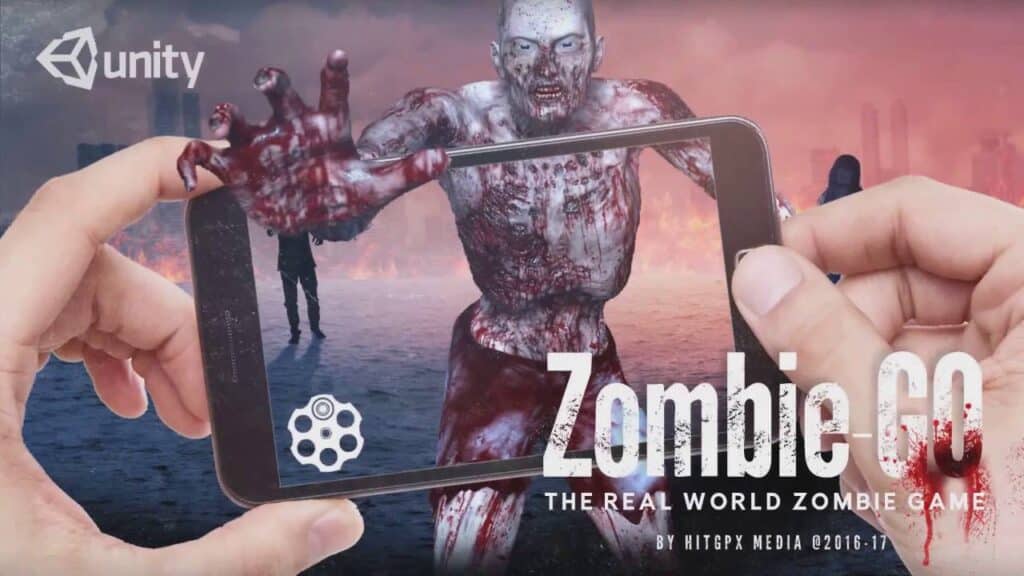 So, how to play? Once you've started the game, walk around and once you spot a monster shoot them by tapping the screen. Tapping the "First Aid" button will increase health. Always act fast and enjoy yourself trying to stay alive. Oh, by the way, this game also allows you to use social media to share your skill. It's Unity engine-powered as well as an exclusive to Android.
AR Invaders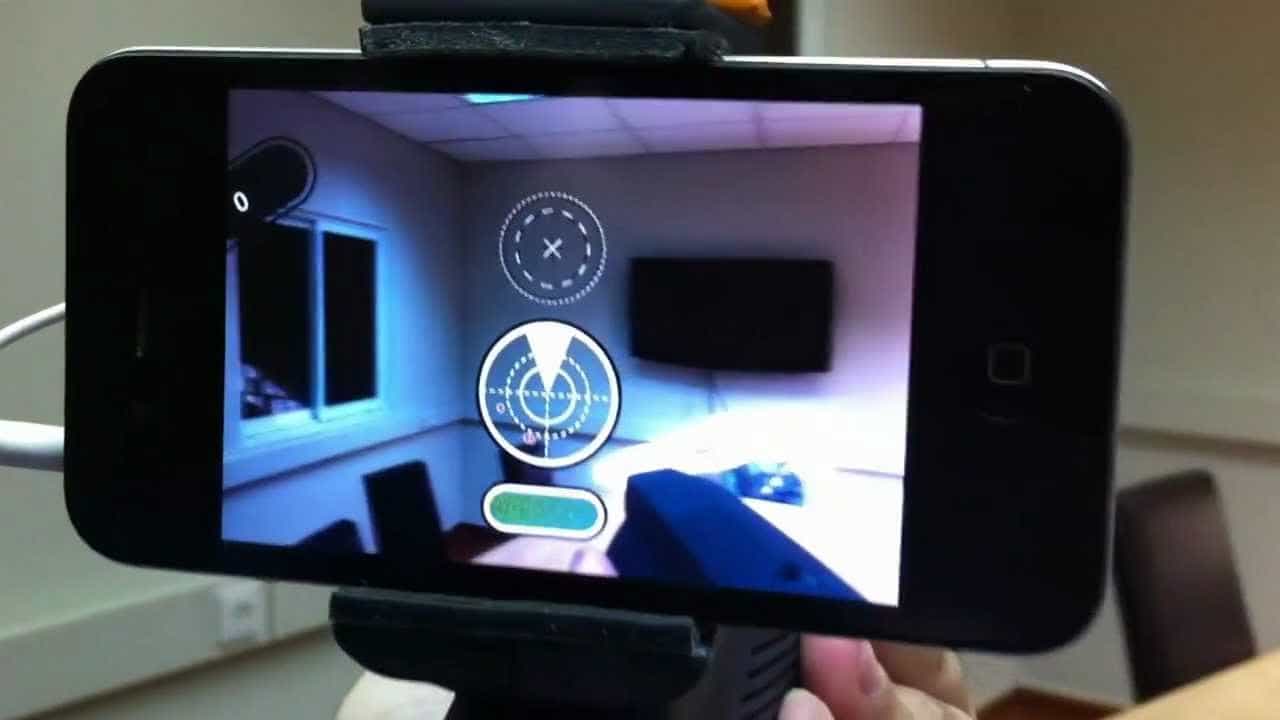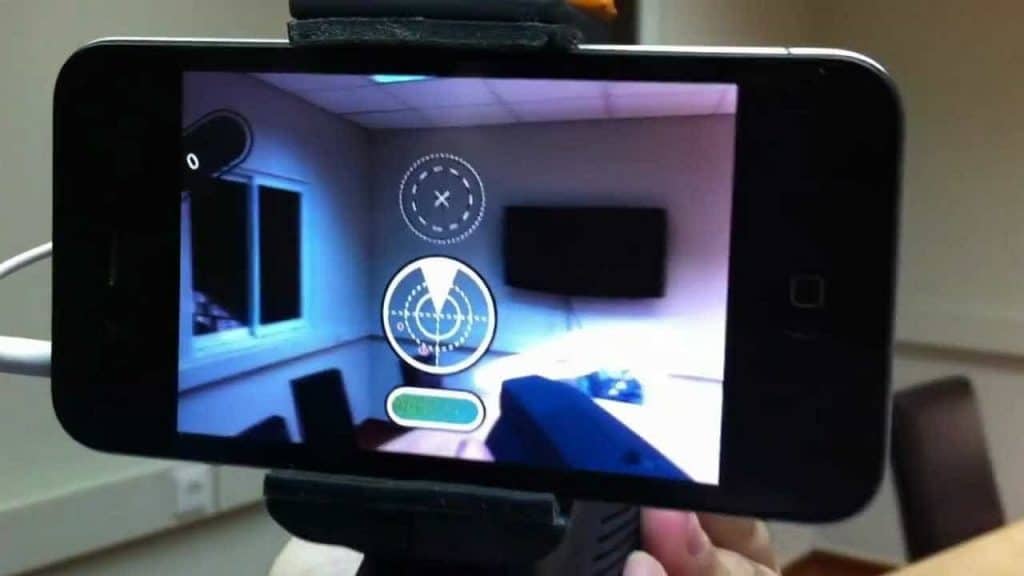 This AR shooter is a simple basic level game with a well-recognized plot of Aliens v Humans. When on the Augmented Reality mode, the camera on your smartphone will project UFOs in your surroundings. Your main objective is to take down all the aliens before they completely destroy your city. All you need to do is line those enemy ships up, point and shoot. The game has three story modes; Multiplayer, Hole'em Up and Invasion. Players will be allowed to take part in two action modes. Be it sitting position 180 degrees or standing position 360-degree gameplay, you'll always need to be fast as well as aware of your surroundings. The game has a truly old school vibe to it but it still makes our best Augmented Reality games list. It has quite a number of fans. Hopefully, now you might just be one of them.
Zombies, Run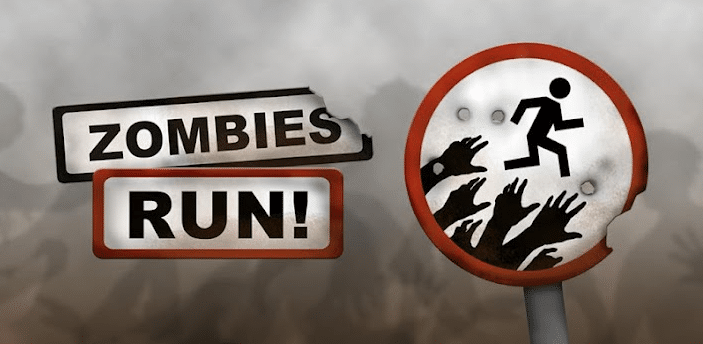 Might you be interested in turning your morning or evening jog into an exciting adventure? Here comes an AR game that will help you do exactly that. In this game you're a protagonist called "Player 5" who survives a zombie attack in your city. Your headphones will be used to listen to different narrations as well as music. Your main objective is the completion of different missions through running or walking. You collect items while trying to escape the zombies that are chasing after you. At the moment, several seasons of the game have been officially released so far. This means that you'll never have to lose the motivation to your morning or evening exercise. It has over one million downloads at Google Play clearly showing how popular it is. Go on, make your morning or evening run a little more exciting.
As we wrap things up we have to add, the games we've mentioned on this list are just but a brief overview of the Augmented Reality concept and application. There's so much more out there. However, for now, here from Gadget Gang these are the best Augmented Reality games in our professional opinion. Hopefully, by now you know we know what we talking about when it comes to such. So, go try one, two or all the games we've just mentioned then come back and tell what you think. Until next time, Adios!