Have you ever found yourself confused when deciding what the best wireless charger you should buy for your Samsung Galaxy or Note device? The Samsung Galaxy S10, S10+, Note 10, and Note10+ are the latest devices the company has in the market. Owing to their top performance, they consume more power than the low-end phones you can think of.
Fortunately, the phones have adequately power-packed batteries to suit your needs. For instance, the S10+ battery capacity is 4100mAh while that of the Note 10+ is 4300mAh. You will want, however, to recharge your devices any time to ensure you have enough energy to last you the duration you are away from a power source.
Owing to the inconveniences that come with the wired chargers, it is ideal to get the best wireless charger for Samsung Galaxy S10. In this post, we review the top best chargers you can buy for your S10 or Note 10.
How to Identify the Best wireless Charger for Samsung
We have broken down the things you should consider when picking the best wireless charger for Samsung to enhance your experience. With the right information, you will avoid the counterfeits and shoddy chargers you see everywhere in the market. Low-quality chargers do not last long. Some do not provide enough power to charge your devices as much and often as you need.
Before buying a wireless charger for your Samsung Note 10, here are the things you need to know.
1. Wattage
The power of a device is the core determinant of the wireless charger you will need for your Samsung Note 10. While shopping for the best wireless charger for Samsung, you need to have the power compatibility in mind. It is the power output of your wireless charger that determines how fast and efficient it will be to charge your device.
Many Samsung Note 10 owners may find it tricky to determine the appropriate wireless charging power wattage for their devices. However, it is easier than you thought. The recent technologies know how to handle the charging to ensure that your device is safe while taking the best amount of charge for a fast and complete charge.
In case you have no idea what to choose, pick the highest power wattage you find in the market for charging your device. On the contrary, choosing a low power charger will make charging your device slow, and you will need a long time to get it full. The Samsung Note 10 technology supports up to 20 Watts.
2. The Design
When it comes to the wireless charger design, there are only two types to choose from. You either take a flat pad where you lay your phone on the table or the stand that holds your phone when charging.
The best wireless charger for Samsung S 10+ design that you pick depends on your preferences and usage conditions. The flat pad is "more portable" as compared to the phone stand design. You can easily stash it in your bag when heading out without making any "squeezy" effects.
However, if your charging position tends to be unstable, a flat pad charger may not be an ideal option. On a slanting surface, your phone can easily slide off the table. That is where the stand charger plays a significant role. It will help you in holding your device in place and avoid any inconveniences while charging.
3. The Charging Standards
We mentioned earlier that many phone manufacturers employ the new technology that allows you to charge your device with a high power wireless charger while maintaining your device's safety. This feature is, however, only possible if the wireless charger manufacturer has incorporated it into their design.
There are various wireless charging standards in the market. However, the common one, Qi, is the appropriate technology you need for charging your Samsung smartphones. The technology ensures that your device is safe using its overcharging and over-voltage protection.
Some of the wireless chargers also have temperature regulation capabilities. Therefore, overheating should not be a concern when using the wireless charging technology for your Samsung Note 10 plus.
The Best Wireless Chargers for Samsung S10 and Note 10
After gathering the information you need when you want to buy a wireless charger for your Samsung smartphone, it is time to check out some of the best models that are in the market. We have sampled the best user-rated wireless chargers that are compatible with your Samsung Galaxy Note 10.
On this list, we picked only the best wireless chargers that are compatible with your Samsung Galaxy S10 and the Note 10. We also ensured that we list only the manufacturers that followed the quality standards for wireless chargers.
Here are the best 10 wireless chargers for Samsung that you should consider:
---
1. Yootech Wireless Charger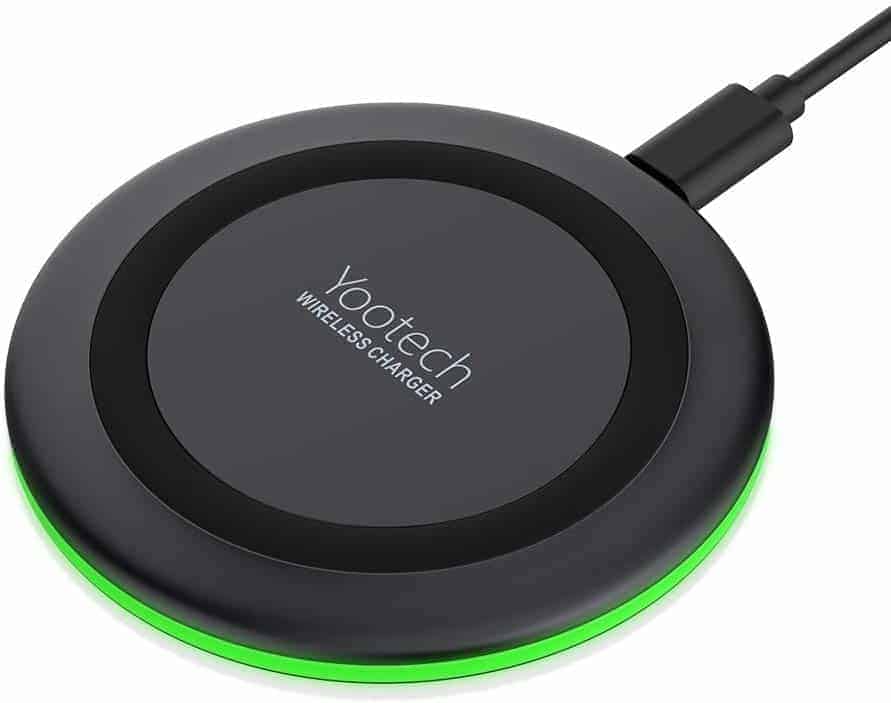 The Yootech is a wireless charger for your Samsung S10, Note 10, and their variants among other models. The charger is Qi-certified, and it is a safe solution for your wireless charging needs.
The wireless charging pad supports fast charging to ensure that your device gets the energy within minimal time. There are three models of the Yootech wireless charging pad. They support 5W, 7.5W and 10W charging power.
When using the wireless charger for your Samsung Note 10, Note 10 plus, S10, S10 Plus, S10e, and other Samsung S models, you will need the 9V, 1.6A adapter. The 5V, 2A adapter is compatible with all other models and brands that meet the Qi standard of wireless charging.
Yootech wireless charger comes with temperature control technology. With this enhancement, you are sure that your device is under protection from heating, voltage surging, and short-circuiting. Your phone can efficiently charge without worrying about any charging malfunction.
The Yootech wireless charger has a sleep mode feature which allows you to have the peace of mind while charging. After accurately detecting your device, it will start to charge, and after a while, it will turn off the LEDs and give you a sleep-friendly environment.
---
2. RAVPower Fast Wireless Charger
RAVPower is a fast-charging solution rated 4.2 on Amazon. With 30W charging power, you will save up to 80 minutes of your charging time using a wireless charger. The HyperAir technology used in RAVPower fast wireless chargers makes it possible to charge your Samsung Note 10 and Galaxy S10 faster than you can with ordinary chargers.
With the Foreign Object Detection technology, the RAVPower can charge your Samsung phone without having to remove the phone case. The charging power can transmit through an 8mm cover. However, you should ensure the case is non-metallic.
With a cooling Silicon, the HyperAir technology, and an aluminum alloy, your RAVPower wireless charger is equipped to protect your gadget against overheating while charging. The fail-safe circuit system is there to protect your Samsung from overcharging, overvoltage, and short-circuit.
---
3. Samsung Qi Fast Charge
The Samsung Wireless charging pad is Qi-certified for fast charging your Samsung Note 10 wirelessly. Apart from the Samsung Note 10, the wireless charger supports all Qi devices, making it among the best wireless charger for Samsung S 10.
The advantage of using the Samsung Qi Fast Charge wireless charger is that you get the fast charge for all Samsung Galaxy S series from 6 upward and the Note 5 and later devices. That includes your Samsung Note 10. All other Qi devices can charge with the normal charging. You can, therefore, use the charger on various makes and models of phones as long as they support the Qi technology.
---
4. Anker Powerwave Pad Wireless Charger
Anker is one of the high-rated manufacturers of chargers, power banks, and other accessories to power and enhance your smartphone experience. The Anker Powerwave pad features a 10W fast charge for Samsung S10, Note 10, and all other compatible Samsung devices. The iPhone gets a boost of 7.5W which makes charging faster than ordinary wireless chargers by 10%.
The Anker Powerwave can charge your phone while it is in the case. However, the case thickness must be 5mm or less. You also have to ensure that there are no magnetic objects between the phone and the pad. With a led indicator, you can confirm when the device is charging or you have to attend to it.
With the charging pad comes a 4 ft micro USB cable you will use to connect it to the wall adapter and a lifetime warranty. However, you will have to buy an adapter separately (use your Samsung adapter for the same). Ensure it is a 5V/2a adapter. You can as well use the 9V/2a one for Samsung Note 10 and S10 fast charge.
---
5. Belkin Boost Up Wireless Charging Pad
The Belkin Boost is a wireless charging pad for Samsung and other devices. They have two pads that you can choose from. The 7.5 W is designed for iPhones, but you can use the 5 W pad for Samsung Galaxy S10 or Note 10, LG, Sony, and other smartphone variants.
When using the Belkin Boost Up wireless charging pad for your Samsung, you can get the standard charging. Therefore, you may lack the fast charge feature designed into your phone by Samsung. The pad comes with a wall adapter and a 5 ft cable, and it can charge phones in cases that are 3mm or less in width.
---
6. CHOETECH Slim Wireless Charger
CHOETECH boasts of 3 000 000 customers who rely on their premium products around the world. Their wireless charger offers 7.5W and 10W fast charge capabilities for Samsung Galaxy S10, Note 10, iPhones, and other smartphone brands.
As a Qi-certified wireless charging pad, the CHOETECH wireless charger is compatible with the QC 2.0 and 3.0 adapters to give you the fastest charging experience for your Samsung devices.
The pad is also ETL-certified with top-notch components and an integrated smart chip that prevents the wireless charger from overheating, short-circuit, and over-voltage.the pad has a stay-in-place rubber guard that enhances stability when charging your devices. To prove their quality, CHOETECH gives you 18 months free warranty for the Qi wireless charger.
---
7. Vebach Merak Wireless Charging Stand
With 97% 5-star rating, Vebach must be the best wireless charger for Samsung so far. Only one person gave a negative rating of this premium wireless charger which all the other purchasers found useful, elegant, and of high quality.
The Vebach is a 2-in-1 device that you need at home. As a stand, you can use it to hold the phone on your work desk. It also serves as the wireless charger for all compatible devices. As a wireless charging stand, it offers you stability when charging your Samsung S10, Note 10, Galaxy S series, iPhone, and other Qi-certified devices.
With a QC 2.0 or 3.0 adapter, you can fast-charge your Samsung smartphones on the 10W output. The charger also supports 7.5W for iPhones and 5W for LG and other Qi models. The charger comes with a 45-day return warranty backed up by 24 months of product replacement. You also get a 3-ft USB-C cable you can connect to any adapter to start charging your Samsung S10.
---
8. PeohZarr Fast Wireless Charger
PeohZarr is a Qi-certified wireless charger offering you a fast charge solution for your Samsung Note 10 and other supported phones. The charger gives you up to 85% fast charging capability for your phone, which is a 20-30% improvement form the ordinary wireless charging pads.
With the PeohZarr fast charger, you can be sure of the safety of your device. The Foreign Object Detection technology will detect the presence of metals around or between your phone and the pad, and it will cut off the current flow to protect your smartphone from any short-circuit mishaps.
The charger comes with a QC 3.0 adapter to save you the struggle of finding an efficient adapter for powering your phone. With the 3.0 QC, you get a fast 10W charge power for your Samsung Note 10 and 7.5W for compatible iPhones.
With integrated secure temperature control, your device will not overheat or surge the charging voltage. Whenever the charger detects high temperatures or voltage, it will disconnect the charging. It also disconnects when your phone is fully charged. The pad is also designed to emit any heat and stay stable on the table and grip the phone when charging.
---
Summary
Wireless charging is possible with almost all modern smartphones. The technology behind the wireless charging capability may vary from one device to another. That is why most of the best wireless charger for Samsung may not be ideal for many models.
In most cases, you may need a different wireless charger for your other devices. Please verify with your manufacturer what wireless charging technology you should pick for your phone. In case your phone does not support fast charging, you should buy a standard 5W wireless charger. It will be more affordable than a fast-charge enabled charger.