For the past five years or so Microsoft has been really gunning for the concept of 2-in-1 hybrids and Windows-powered slates. They've eventually managed to become the gold standard bearer for products in both those departments with their outstanding Surface Pro-Line. However, the Microsoft Surface 2 laptop is just something else altogether. The Surface brand is a premium, slim laptop that was specifically introduced into the market with the aim of competing with the likes of HP Spectre, DELL XPS and Apple's MacBook Air Laptops in general.
The Surface laptops from Microsoft have actually borrowed a lot more than what they've really invented themselves. Fortunately, it has managed to synthesize the greatest hits of what most high-end laptops offer. They usually have a modern, slim design, a good touchpad and keyboard combo, a superb 12.3-inch touchscreen and a decent amount of set ports. It's technically not a much better product than most of their other laptop brand competitors on the market, however, it certainly can compete with them. In fact, it actually provides a real alternative if you're interested in something different.
One of this laptop brand's biggest innovations is its fabric-covered interior. Microsoft has used an artificial material known as Alcantara to cover the inside of their new laptop. It's best known for being a boat upholstery industry player. The fabric surfaces end up being more stain-resistant as well as much sturdier than one would initially expect. Both the original Surface and this new Surface 2 have a very similar overall design and build.
Design and Display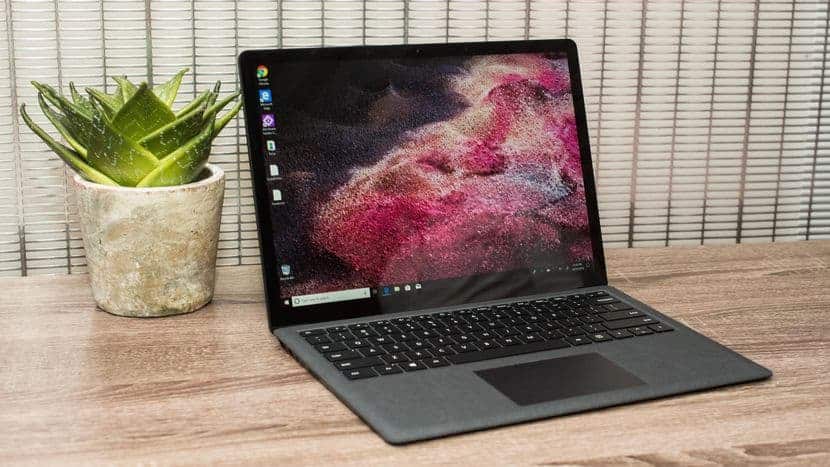 One of the most noticeable things, at first glance, about the Surface 2 laptop is its unique lid. It's a quality piece of aluminum material that has tight corners and has been plastered with the chrome logo right at its very center.  The lid on the black option looks especially neat. However, the fabric on the inside of this option looks a bit greyer. It could've been a lot better if it were a little darker, in my opinion. Aside from the black option, the Surface 2 also comes in a Burgundy and Cobalt Blue color scheme. At 0.6 inches thick weighing in at 2.7 pounds, this laptop is similar compared to Dell's XPS 13 laptop which is 0.5 inches thick and weighs also 2.7 pounds. It's lighter than the MacBook Pro 13-inch but thicker and heavier than HP's Spectre 13 laptop.
Concerning display, the picture quality on the Microsoft Surface 2 is what we'd consider jaw-dropping. What that means is that it's fantastic. It has an out of this world amount of detail put into the display in general. It produces a colorimeter measurement of about one hundred and seventy-six percent of sRGB spectrum results. If you didn't know, well, that happens to be way above the industry average which is one hundred and fourteen percent. Its screen is also very bright. It emits up to around 321 nits which is more than the average of the 311 premium laptop.
Keyboard and Touchpad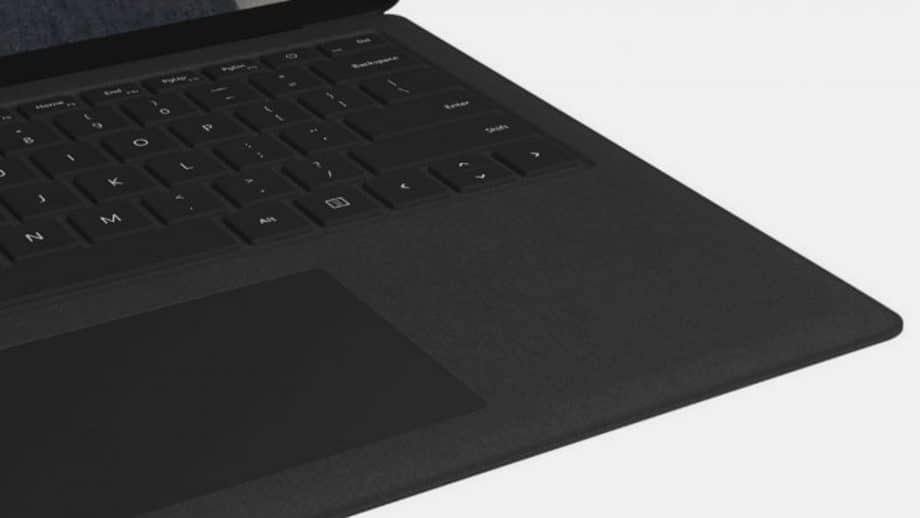 The keyboard on the Surface 2 offers a very comfortable typing experience. This is in large part due to its cushiony keys. A fast typist should be able to do eighty words per minute easy using this laptop. In fact, you won't even break that much of a sweat. Its keys offer a vertical travel of about 1.3 millimeters and require a force of around 70 grams to actuate. While the former measurement is slightly shy of the 1.6-millimeter vertical travel most people are looking for, the latter is well clear of the 65-gram minimum most people want. This also helps compensate for how shallow the keys are.
The 2.7×4.1 inch glass touchpad on the Surface 2 laptop provides excellent scrolling as well as input. Not only does it very accurately register all your clicks as you navigate your desktop, but it also recognizes the three-finger-app Windows 10 switching gestures. A really helpful feature for those of you that may be too used to Apple products but still want the chance to try out something different.
Performance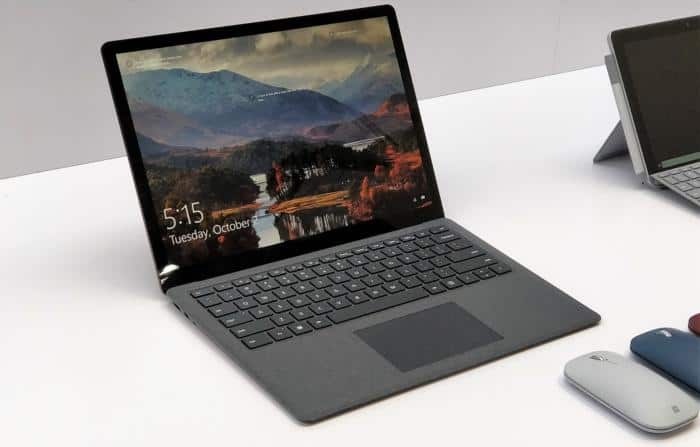 When Microsoft debuted their new Surface 2 laptop, it made some claims that were pretty bold, to say the least, about the performance gains they've made with this product. For starters, they claimed that this new installment is about eighty-five percent more powerful than its predecessor, the original Microsoft Surface. That huge claim of such a massive leap is attributed to Microsoft's introduction of the Intel quad-processor on their laptops. This is a new addition they made this year.
However, they've also claimed that they've managed to completely redesign most of the electrics inside their new laptops. This means that now when you have a loaded system, the need for cooling fans has been greatly reduced due to this redesign, according to them. This inevitably also reduces the chance of system throttling. The Surface 2 laptop has generally also managed to keep up with most, if not all, of its competition when it comes to performance. Given some things may have been oversold by Microsoft, but other than that everything seems pretty cool in this department.
Specifications
Operating System: Windows 10 (64 bit)
CPU:                        Intel Core i5-8250U, 1.7GHz (Quad Core, 6MB Cache)
Graphics:                Graphics 620, Intel UHD (128MB)
RAM:                       8GB LPDDR3, 1866MHz SDRAM
Storage:                 256GB SSD
Weight:                  1.25kg or 2.76 pounds
Connectivity:          802.11ac Wi-Fi, Low Energy Bluetooth 4.1
Size:                       12.13×8.79×0.57 inches
Display Screen:     3.5-inches, resolution 2256×1504 PixelSense Display, 3:2 aspect ratio
Ports:                     One 3.0 USB port, Surface Connect Port, mini DisplayPort, mic/headphone jack
Our Take
Speedy and sleek accompanied by a stunning display screen, the Microsoft Surface 2 laptop continues the Microsoft tradition of producing excellent hardware. The only thing we see would've made it a whole lot better is if its port selection was a tad bit stronger. That's the laptop's one major downside. Other than that, everything else about this Microsoft product seems to be well more than just satisfactory. It's definitely well worth all the rave behind it. In fact, we might just get one for ourselves here at Gadget Gang who knows.