Acer has come out all guns blazing with this one. I mean with this product they've come through really big. Those of you that may be looking for an upscale-looking, slim gaming laptop that can double up for both work and play such as, hmm I don't know, the Razer Blade? This article might not be for you because the Predator Helios 500 by Acer is completely the opposite of all that. This gigantic seventeen-inch gaming laptop has its chromed, horned logo alongside several multicolored internal lighting as well as desktop footprints that are rarely seen nowadays. Yeah, all your typical over-the-top gaming laptop aesthetics.
This hardware is for those of you that are unapologetic gamers. Simple as that. High-end video gaming laptops have been trending towards small and subtle designs lately. However, not everyone really wants or even needs nondescript, sleek laptops to play their favorite games. Some of you I'm sure may want a laptop that can shout out loud and proud its gaming credentials. The Predator Helios 500 does this pretty well. As expected from the Predator brand, this product also has layers of, angular panels and, of course, flashing lights.
As a gamer you'll also appreciate the Nvidia G-Sync compatibility as well as the 144Hz screen. Both these things give the laptop the ability to provide smoother on-screen gaming experiences. Besides that, there's the 1920×1080 nontouch pixel display that's a snooze, with a thick throwback bezel and dull colors.
Design and Build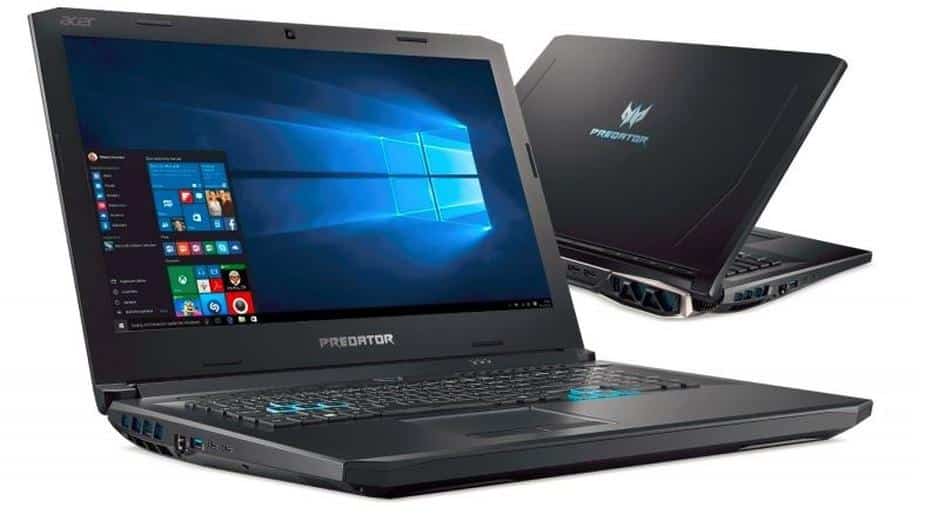 The good thing about being this massive is at least it has plenty of room for any connection or port that may be needed by a gamer. There are DisplayPort video outputs, a full-size HDMI with an Ethernet jack pin, two USB-C ports and three USB-A ports. Small side vents and massive rear vents help the GTX 1070 and Core i9 stay cool. In fact, the Predator Helios 500 doesn't get as hot during gaming as other gaming laptops usually do.
The number pad and big keyboard are large enough for gaming that's keyboard-based. Both the all-important WASD keys and the arrow keys have been outlined using the color blue making them easier to spot. The backlit keyboard is not per key, it's zone-based. This means that it isn't as flexible compared to most of its other competitors out there. The laptop's default lighting setting is blue. This is kind of a welcomed change of pace considering how most other brands seem to be hell-bent on using either lava red, laser or fire. Basically, red color schemes.
With the lid closed the Predator Helios 500 comes at 1.5 inches in height, which happens to be considerably thicker than a stack of two Razer Blade laptops. In other words, it's nowhere near portable. So, if portability is something that's essential to you then you might want to consider looking at other gaming laptop options.
What of Refresh Rates?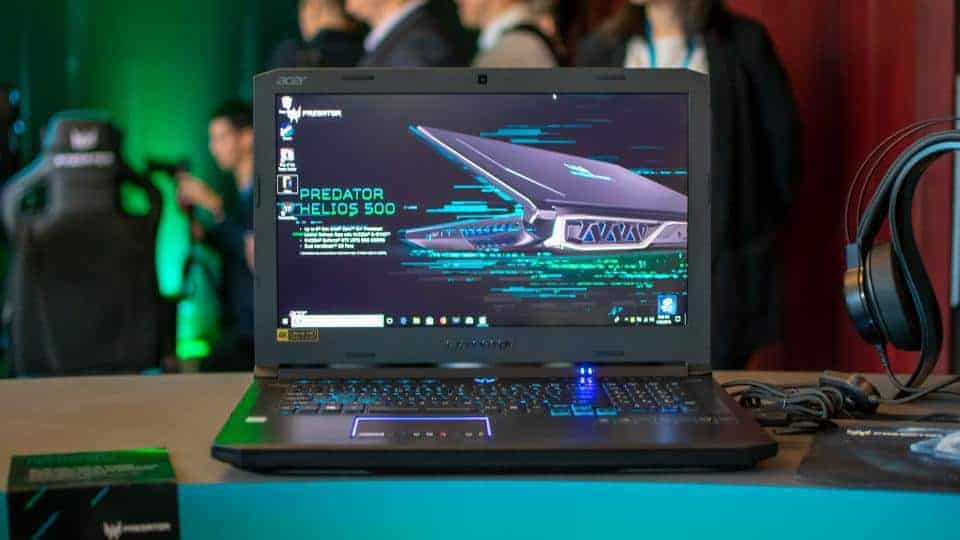 If you're going to spend big, and I mean BIG, bucks on big laptop hardware such as this, it certainly had better have killer gaming capabilities, no? Of course. Anyway, fortunately, the combination of a full-power GPU GTX 1070 and Core i9 processor helps it do just that. Furthermore, Acer's proprietary software allows for a little-inbuilt software overclocking. However, even without it, this gaming laptop is still a mighty powerful performer. Even those high-end machines GTX 1080 GPU and Nvidia GeForce features struggle a great deal to beat it out. And remember, most of those are usually far more expensive than this is.
The fact that it only drives a 1920×1080 display screen means that the Predator Helios 500 can easily run most of the latest next-gen games out there the likes of Strange Brigade, Far Cry 5 and many more. All this can be done at ultra-detail or high levels as well as at super-fast frame rates (90-115 fps in some cases). Playing with either a gamepad or mouse is still really smooth and screen tearing was prevented by the G-Sync display.
How does it perform?
You may have come across some controversial stories about the Core i9 found in Macbooks. Nevertheless, we're here to inform you that you shouldn't worry because the ultra-fast 6 Core processor was designed for gaming laptops such as the Predator Helios 500. These are among some of the fastest processors on the market right now. It certainly hasn't gone to waste in the Helios 500. This new product from Acer can whizz through anything you throw at it.

The Intel Core i9 found inside is also overclockable. Other features of the Helios 500 is its 16GB of RAM storage, 5400-rpm HDD, a 2TB and a 512GB NVMe PCIe SSD. Besides gaming, this machine is also one hell of a productivity device. It doesn't show any signs of struggle or slowing down even though when hitting with large workloads. This Predator takes about fourteen seconds to copy 5GB worth of your average mixed media files. This means it runs at a rate of around 391mbps. Quite fast yeah?
Battery Life
A machine this big will obviously need to stay plugged in most of the time. The Predator Helios 500 is no different. When it comes to battery life, I'm afraid here is where the Helios 500 doesn't do so good. It's never a good idea to leave your power adapter at home, as is the case with most video gaming laptops. Video playback alone will only last about five hours while web browsing should take up slightly over two hours. The only gaming laptop that has better results when it comes to this, which by the way is considered average, is the Razer Blade. The G-Sync inclusion is no doubt one of the main reasons why its battery life performance is so poor.
Our Take
Acer's Predator Helios 500 is a compelling high-end gaming laptop. Its high refresh display is justified by the fast framerates it delivers. Even though it isn't the most portable nor is it the most extravagant, it's certainly a fantastic balance of performance and value. Don't take that for granted. It's something really hard to come by sometimes. When it comes to seventeen-inch gaming laptops, the Helios 500 is certainly the one to beat. For more on these types of laptops check this out.