Gaming laptops have set the pace by staying ahead of the game when it comes to their unique features. From their powerful graphics to gorgeous displays all
the way to great audio, the gaming laptops are a force to reckon in terms of providing you with immersive entertainment experience in just a simple portable
package.
On top of that, a number of gaming laptops are stylish in their designs and they comprise of top quality keyboards coupled with high-end VR headsets to take
away all your concentration while playing your favourite games.
From the extensive testing through playing a selected number of top titles, we have picked for you some of the best gaming laptops that you can buy to
enhancing your gaming skills.
Alienware 17 R5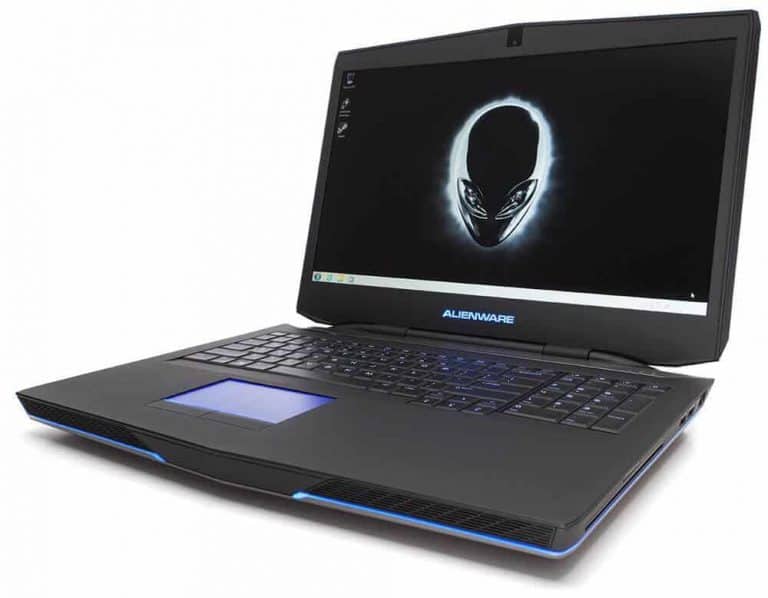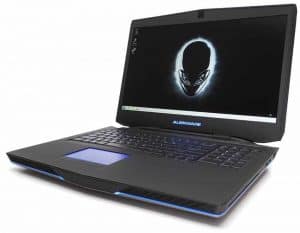 If your dream is buying a gaming laptop that has some of the best features, you should not go beyond Alienware 17 R5. The laptop provides you with a
combination of the best performance with comfortable typing and the innovative eye tracking to let you enjoy every aspect of the game.
Apart from its attractive design, the Alienware 17 R5 is VR-ready to allow you to take your gaming skills and experience to a completely new level. With a 17-
inch screen, this gaming laptop is regarded as the ultimate powerhouse gaming machine that is designed with the cooling technology which includes the latest
generation of the overclocked Central Processing Unit (CPU).
It features an 8th Generation Intel®??Core™ i9 Series (Processor) for high performance in gaming technology. The Alienware 17 R5 is mechanically
engineered with the Alien Cryo-Tech V2.0-thermal technology with a thin hinge-forward design for better performance.
As a matter of fact, this gaming laptop can remain cool even if it is subjected to the extreme graphics pressure, thanks to the presence of the ventilation and the
upgraded cooling system.
Dell G7 15 Gaming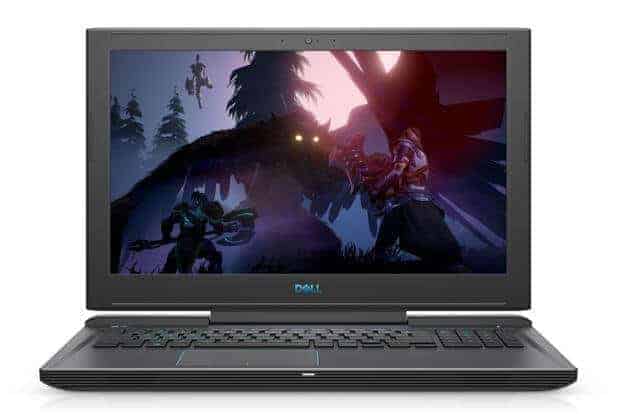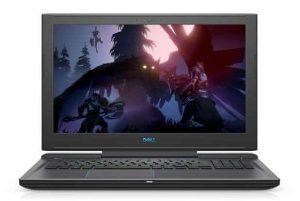 When you think of sleekness and sophistication in any gaming laptop, Dell G7 15 Gaming should be in your mind. This is a stylish and moderately powerful
gaming machine which defines quality performance that comes with its value.
The machine is outfitted with the Core i7 processor with Nvidia 1060-Max-Q GPU which makes it perform way better than the usual gaming laptops in use. For
the operating system, the gaming gets even better when using Windows 10 where you are likely to experience games in 4K and DirectX 12 game play.
These machines are skilfully engineered specifically for gaming purposes starting from the latest processors to a little more of the powerful graphics cards to
give a more intense but real experience when playing games.
Likely, you will have a stunning view with unparalleled experience accompanied with the superior sound and an ultimate theatre experience that will create an
everlasting impression in your mind.
Moreover, you will be sure of great speed when using this gaming laptop without necessarily getting worried about it overheating due to the huge cooling
system it is designed with.
Asus ROG GU501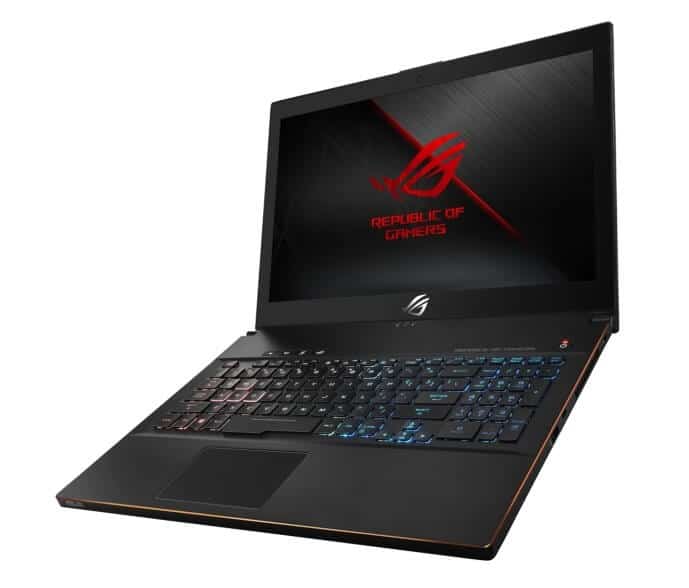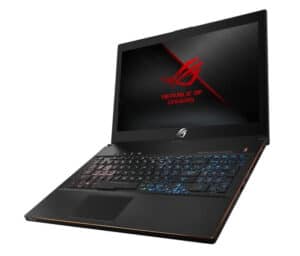 Despite the displays on Asus ROG GU501 being a little bit dimmer, the machine is capable of delivering the best and quality gaming graphics in just a sleek
package accompanied with solid audio. With the inclusion of the NVidia 1060 GPU, you will be sure of getting solid mid-level performance when the machine
is on high settings.
The machine is designed from top quality materials such as aluminium. This kind of material creates a two-toned effect with a large mirror shined logo (ROG)
on one side which glows in reddish light when the laptop is operating. To keep the gaming laptop cool, there are two legs at the back that elevate the machine to
let out extra heat when in use.
Even though the machine is slim in its design, there are plenty of ports with three USB (3.0 PORTS) an HDMI output, a headphone/microphone jack and the
power jack. On the right side, there is a 4th USB Type A (3.0) port, Thunderbolt 3 port as well as a Kensington lock slot.
When it comes to the display, the Asus ROG GU501 boasts of 1080 display on a 15.6 inch which is not as bright as in the other gaming laptops but it is vivid to
let you have a view of clear images In addition to that, the keyboard gives you 1.4 mm with a 68 grams of force you will require when pressing the keys for
better results.
Asus ROG Strix Hero 2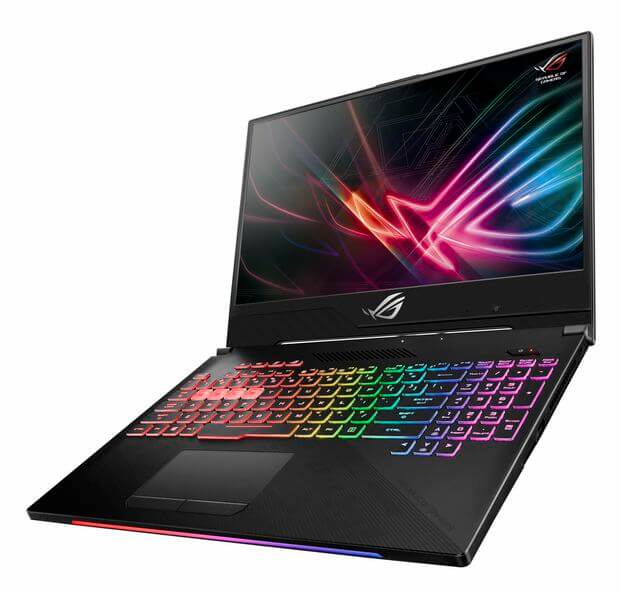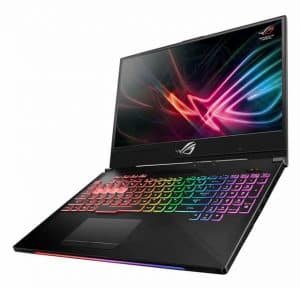 When you dream of a stylish black aluminium lid for the best gaming laptop, the Asus ROG Strix Hero 2 should make your dream come true. This state of the
art gaming machine has a metallic gray logo (ROG) that shines with the RGB color when in use.
The internal chassis of this gaming laptop has indicators for the battery, power, the, and the Wi-Fi. For the ports, you will find the power jack, RJ45 port, Mini
DisplayPort, HDMI port, 2 USB ports, a single USB Type C port and the headphone-microphone jack located on the left side. On the other hand, the right side
has a Kensington slot, the USB 3.1 port, and the SD memory card, reader.
With the display, you will have the first-hand experience of crystal clear graphics on a 15.6 inch 1920 by 1080 with the 144Hz panel which is brighter and vivid
to give you detailed information as you play your favourite games. The keyboard is easy to use due to the fact that the keys are well spaced requiring 63 grams of
force to press then down.
HP Omen 17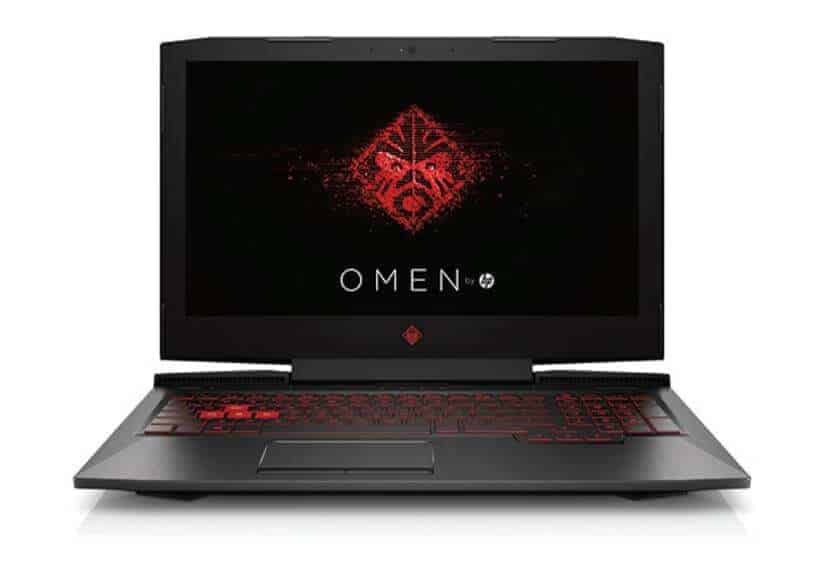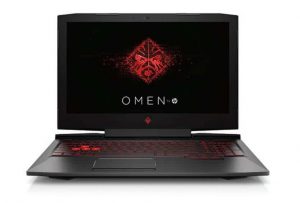 If you want to achieve greatness in a gaming competition, the HP Omen 17 will provide you with the platform to showcase your skills. The machine has a very
powerful hardware with an aggressive design that will give you confidence for better performance.
The machines include the current generation processors with dedicated graphics to offer you what you want in terms of gaming. Its dragon-red-back lit keyboard
will give you an assurance of every keystroke being detected while at the same time highlighting WASD, the customisation macros and the 26-key rollover that
is anti-ghosting for better imaging.
When it comes to the gaming, perfection is guaranteed for game-changing performance with cinematic experience via a 4k and FHD display. You can also use
the Virtual reality to immerse yourself deeply into gaming when using HP Omen 17 best gaming laptop.