In the world of instant messaging apps, there is a silent battle happening in plain sight. On one side, we have a well-known fighter, loved and hated by hundreds: WhatsApp. On the other side, we have a smaller yet powerful rival: Telegram. The Telegram vs WhatsApp battle has started—and the world needs a winner.
We will go through this article by examining the numbers and exploring the features provided by each app. We will take into consideration:
Each App's Statistics
Privacy and Security
Chat
Multiplatform
Calls
Customization
Extra features
Here is everything you need to know about the Telegram vs WhatsApp fight. Please note that as of today, both of these apps are being constantly updated meaning new features may be brought out
---
WhatsApp in Numbers
WhatsApp was founded in 2009 by a former Apple employee called Jan Kuom. Mark Zuckerberg bought WhatsApp in 2014 and it's only been growing ever since. As of August 2020, WhatsApp has over 2 billion active users worldwide—so it's used by more than 25% of the population.
Although it has presented several technical problems also. Most users complain that sometimes their servers are down and they find it difficult to send and receive messages. #WhatsAppDown is a common hashtag on Twitter. But most of the time they work efficiently and do their job: making sure your aunt's good morning image arrives on time.
Another fact is that thanks to apps like Messenger and WhatsApp, we had a new revolution era in digital marketing. The world before social media used to be a different place, and WhatsApp helped to accelerate that process.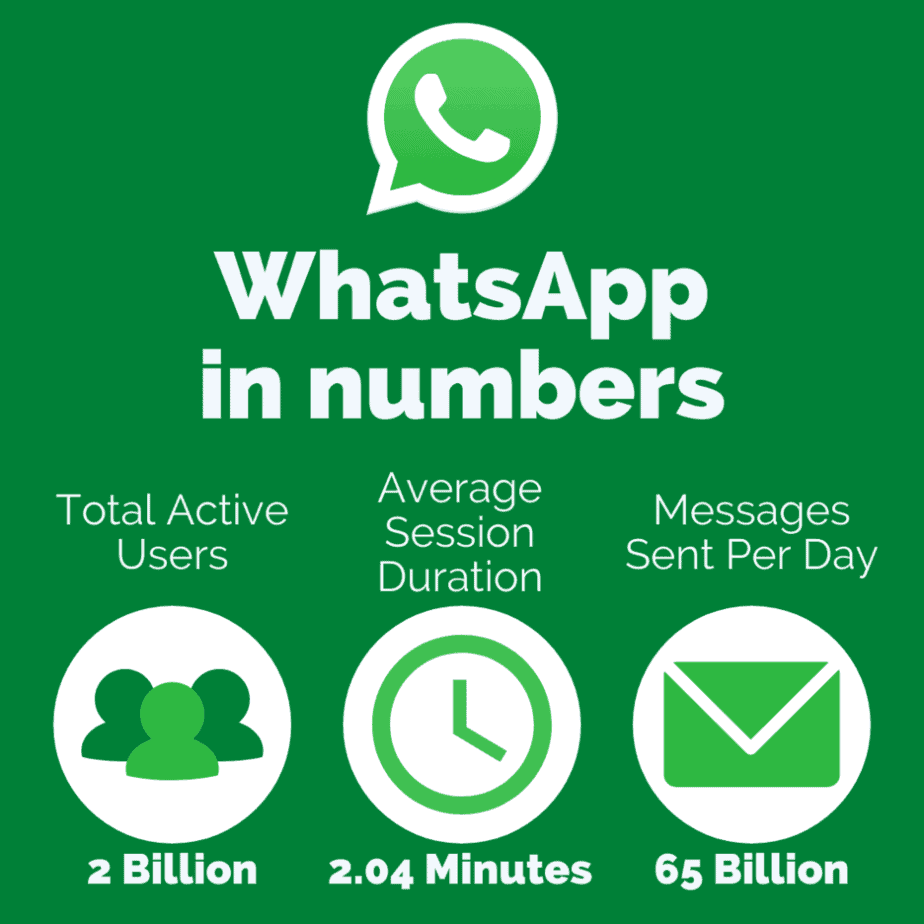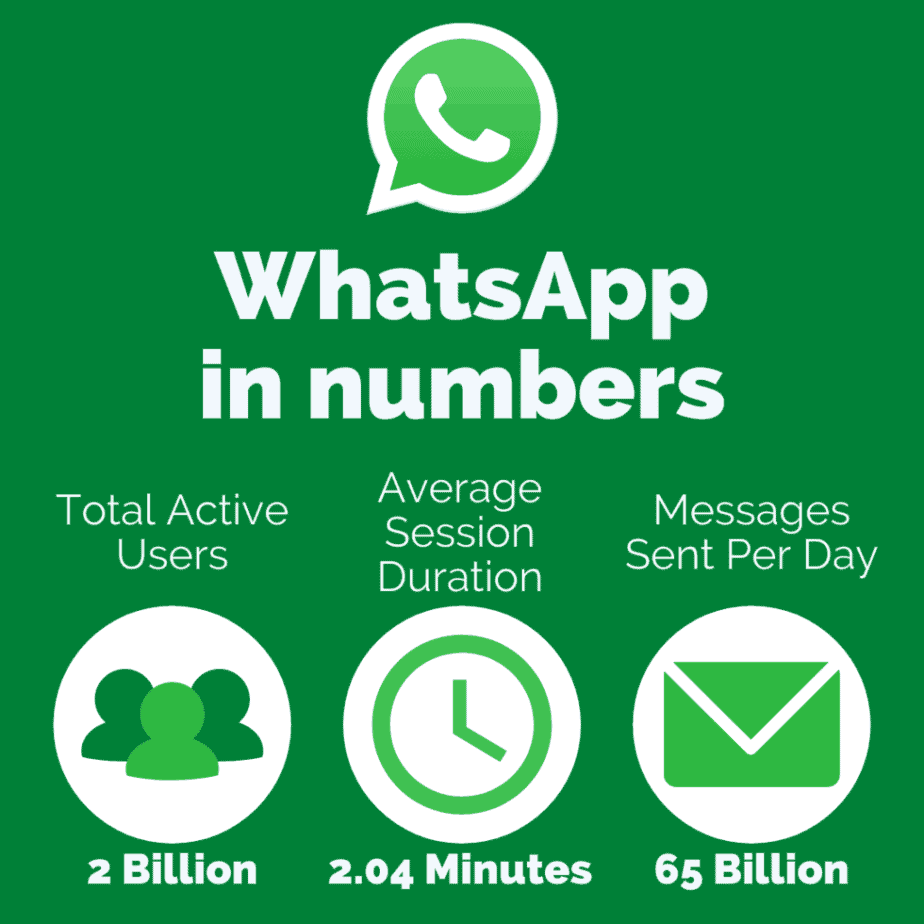 Telegram in Numbers
Telegram was founded a few years later than WhatsApp, in 2013. It was founded by Russian brothers Nikolái and Pável Durov. Pável Durov has been described by many newspapers as the "Russian Zuckerberg". In April 2020, Telegram reached 400 million active users, which is four times lower than that of WhatsApp.
The Durov brothers originally created the app as a way to combat the Russian censorship. On the client-side, Telegram maintains a free code. Unlike WhatsApp, Telegram stores all of its data on a heavily encrypted cloud. Pavel Durov has stated that it would require a major architectural redesign of the server-side software to connect independent servers to the Telegram cloud.
One interesting fact about Telegram is that they haven't spent one single dollar on an advertisement. Most of their users knew about the app thanks to mouth-to-mouth recommendations. Telegram users are known to be very loyal to their favorite app.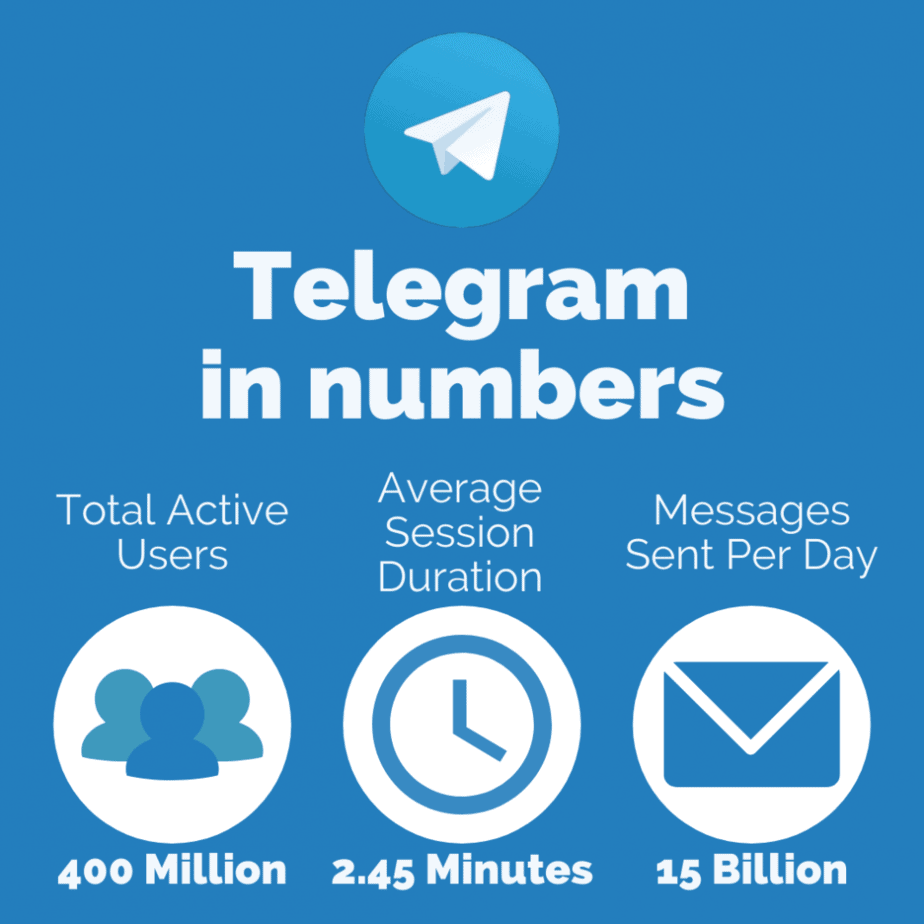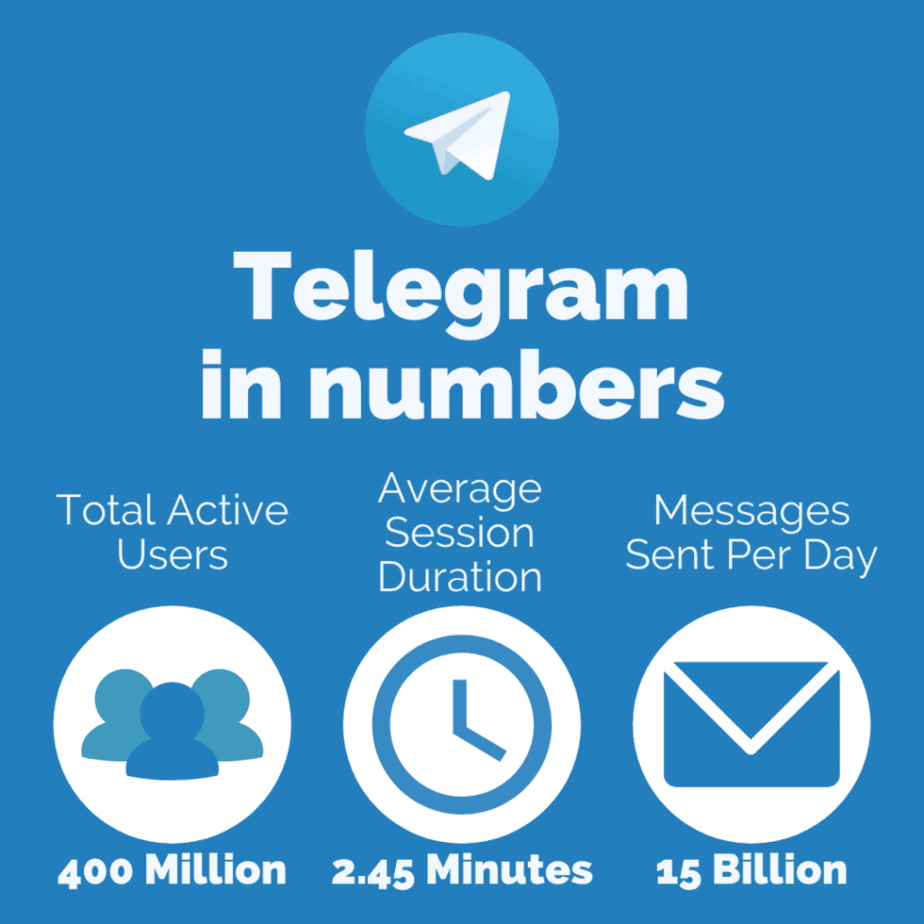 It's very clear who has a bigger userbase. It's four times more likely to find a WhatsApp user than a Telegram user. With a crushing victory, WhatsApp wins the first point on this Telegram vs WhatsApp battle.
---
Privacy and Security
When talking about privacy and security people like to compare Telegram vs WhatsApp. WhatsApp's messages are encrypted using the Signal Protocol, which is end-to-end encryption applied to all chats. However, WhatsApp's been on everyone's spotlight after several scandals about their security. More notably, the Jeff Bezos hack that had the world doubting the app's security.
Another concern for users is the lack of trust that many suffered after the Cambridge Analytica scandal in 2018. Since Mark Zuckerberg owns both Facebook and WhatsApp, many doubts revolved around the messaging app. But WhatsApp is mostly safe, and the end-to-end encryption means brings a security layer that only experienced. Your messages are not stored in any server or cloud, they only exist on both ends of the conversation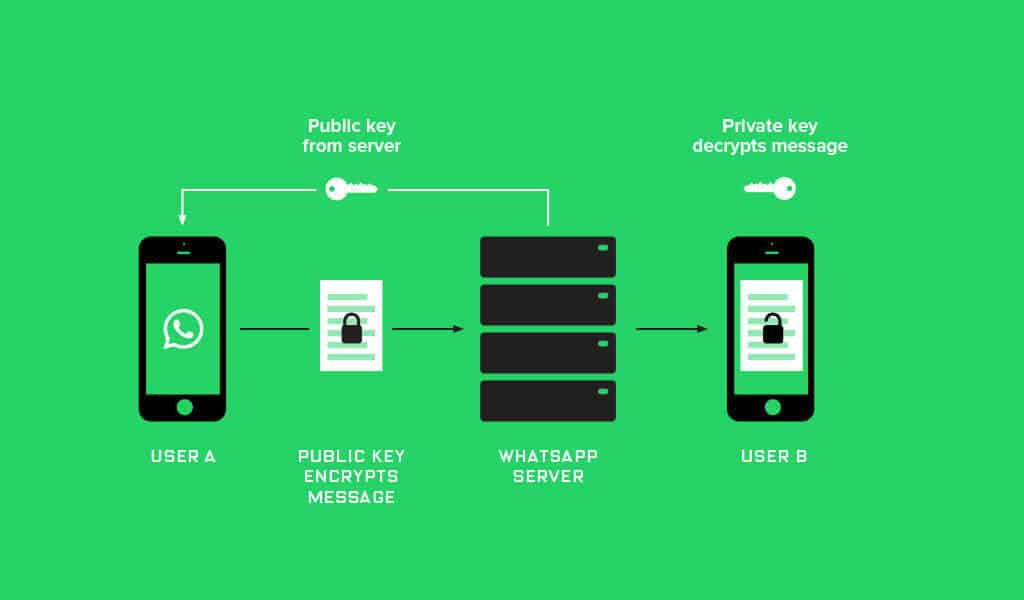 Telegram uses its own encryption mechanism called MTProto. Many security experts have doubted MTProto, calling it a "home-brewed and unproven cryptography". Telegram defends itself by saying that "there are no known ways of undermining MTProto encryption".
Telegram also has end-to-end encryption, but doesn't apply it to every chat, WhatsApp does. So when does Telegram apply end-to-end encryption? On secret chats. Secret chats are a unique feature in Telegram. You have self-destructing messages, screenshot protection, and a secret keyboard.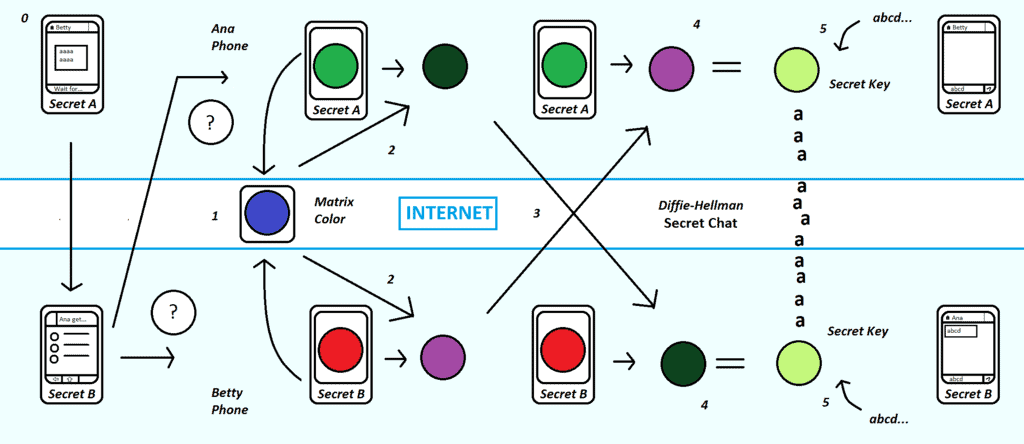 Access
In terms of access, both of the apps stand on even ground. They both offer a fingerprint verification and a two-step verification
Usernames
But the unique feature that makes Telegram better overall in terms of security, are Telegram's usernames. On Telegram, you can give a username to your account. That means that now you don't have to share your phone number with everyone on some group that your friend dragged you in. On WhatsApp, you can only display a phone number—which sucks if you really don't like strangers calling you.
---
Chat
Both of these apps revolve around the idea of being a messaging app. But let's take a look at what they have in common and what sets them apart on this WhatsApp vs Telegram battle.
Their chats are pretty intuitive and second-nature to most of us, so if you learn how to use one, you'll know how to use the other. On both messaging apps you can send:
Text Messages
Stickers
GIFs
Emojis
Music
Pictures
Videos
Voice notes
Real-life location
Contacts
Files
Telegram offers other features called video clips, which is almost like a voice note, but it comes with a short video. You can also program messages in Telegram. You set a time, a date, and your message will be sent timely.
With Telegram, you can also send animated emojis. All you need to do is send a single emoji to see a cute animation. Not all emojis have animations, most of the animated emojis are mostly about faces and expressions.
It's also possible to send silent messages in Telegram. Whether the other person is sleeping, studying, or in the middle of a Just Dance session and you don't want to interrupt, you have the option to send a silent message that will make no notice to the receiver.
Size Limit per File
Each platform has a size limit per file sent. WhatsApp has that limit at 16MB while Telegram allows an impressive amount of up to 2GB per file.
Starred Messages vs Saved Messages
WhatsApp has the "Starred Messages" feature which works quite simple. If anyone sends an important message that you don't want to lose, you can star that message and access it later. Kind of like a bookmark. This way you can quickly access any necessary information.
Telegram has the "Saved Messages" feature which is almost the same to some extent. You can resend messages to your "Saved Messages" chat, which is basically a chat with yourself. However, you can also send direct messages to yourself and store them there. And since Telegram is cloud-based, you can store pretty much any file and keep it safe. There is no limit to how many messages you can send to your this chat, so you got here a cloud-based storage with unlimited space. How about that?
Groups
Both platforms offer the creation of groups. Groups are loved and hated by many. We're pretty sure you've been in a group. Whether it was your neighbors, your family members, or your friends, we know you haven't scaped finding yourself in one of these. Let's compare the features.
On both apps, you can choose who can add you to any group and you can see all the other members. But Telegram offers more complex features to group administrators. They can choose what type of messages are allowed, how many messages per minute can be sent, they can mute individual people, and more.
The maximum capacity on WhatsApp is 256 people and on Telegram is 200.000 members. That big capacity makes it a great tool for social media marketers trying to reach audiences.
Channels
Channels are a unique feature offered by Telegram and they're basically a group with unlimited capacity. But instead of having everyone talking, only the admin can send information and messages. Telegram has channels for all types of things:
Movies
Songs
News
Memes
Personal brands
This is an excellent feature that suits anyone trying to grow an online community.
So who wins this round? Both of the apps have the necessary features to maintain a conversation flowing with another human. But when we start exploring beyond that necessary ground, we see that Telegram has explored way more options, so Telegram wins this round on the Telegram vs WhatsApp battle.
---
Multiplatform
Sometimes you don't have your phone near you. Sometimes you need to check your messages and all you can find is a good old QWERTY keyboard. That's why it's important that your messaging app is available on multiple platforms.
WhatsApp and Telegram are both available for Android and Apple devices; they can also be found on Windows Phone. Only Telegram is available on Firefox OS and Linux. They also offer a Web, Windows, and Mac platform, but this is where they function differently.
WhatsApp is not a cloud-based app, it works by synchronizing data from one user to the other through the servers that don't keep any information per se. But we know that Telegram is cloud-based, and that gives them an advantage here.
With Telegram, you can log in through any platform and find your messages without the need to synchronize your phone with the PC. With WhatsApp you can only access the PC versions if your phone is on, charged, and synchronized.
It's not about which app is in the most number of platforms, but which app is easier to carry around. So, Telegram or WhatsApp? This time Telegram wins again another round on the WhatsApp vs Telegram battle.
---
Calls
Another important feature to look into it's the calls that you can make inside any of the apps. Many people are starting to prefer in-app calls rather than regular old calls, for others it's just the same, but for a messaging app, it's vital.
You can make a pretty decent call with both Telegram and WhatsApp as long as you are connected to the Internet. But there's a feature that WhatsApp has that beats Telegram.
WhatsApp gives you the possibility to add up to eight people on a video call. Rumors say that they're planning to expand this number to fifty people. WhatsApp has had this feature since 2016, allowing four people, but in 2020, they decided to double that number.
Telegram used to be behind many messaging apps since it didn't have any form of video calls. But on their seventh year anniversary, they decided to finally implement video calls. For the moment, it's only possible to make a one-to-one video call, but they're planning on expanding to group calls in the following months.
Still, WhatsApp has had this feature for years while Telegram is only giving their first baby steps on video calls. Is WhatsApp better than Telegram in this? Yes, WhatsApp wins this round for now. WhatsApp better watch out on this one, video calls were a long waited feature among Telegram users and it might bring more fire to their Telegram vs WhatsApp battle.
---
Customization
The level of personal customization is important. Predetermined might look good, but it's important for many people to be able to fully customize their apps. Make them feel like it's theirs.
WhatsApp has a certain degree of customization. You can choose any background chat image or choose a predetermined color. You can also pin chats, archive them, and choose if you want to turn off notifications—in order to live stress-free, you must.
But Telegram has those options and some even more advanced. You can pretty much choose any color that you want for your app. Just a quick tour on Telegram's configuration panel and you'll see that every little aspect can be customized. You can even choose a regular image or a short video for your profile.
Dark Mode
Both apps count with a dark mode for those of you who prefer darker colors. This feature was first available on Telegram and later it was added to WhatsApp. When standard version just won't do, go dark.
Widgets
WhatsApp counts with five widgets for your Android device. They haven't been updated in years — But they're there. Telegram doesn't have any.
Folders
Telegram gives you the option to create separate folders for your chats. This is really helpful for anyone who has a lot of groups, contacts, channels, and more and needs a way to organize all of that. WhatsApp doesn't count with a feature like this yet.
When it comes to customization, Telegram has to win. WhatsApp falls behind Telegram in this category. Telegram allows you to customize almost every aspect and feature available.
---
Extra Features
There are unique features of each app that didn't fit any of the other categories. These features help these apps to be set apart and have helped them reach the status they have today.
WhatsApp's Stories
In 2017, WhatsApp decided they wanted to compete with Snapchat, so they decided to implement stories to their app. Whether you love or hate them, you can't deny that stories have helped WhatsApp maintain relevance.
Stories are the place where people share their photos, their favorite videos, and their 3 a.m. thoughts. It's a great tool for small businesses or anyone trying to sell something. Even those who claim to hate WhatsApp stories have found themselves watching their friend's trip to the movies.
As of August 2020, Telegram doesn't show any interest in adding stories to their app. That is a shame for anyone who likes to take a peek into their friend's lives.Telegram only has the good old text status and they seem to be fine with just that.
Telegram's Bots
Telegram has a unique characteristic feature that sets it apart from WhatsApp: Bots.
What are bots? They are special accounts that don't require a phone number to set up. Users can interact with them.
What do bots do? Whatever the programmer intended them to do. Bots are made with programming tools and are given a set of commands to follow. So if you know how to program, you can pretty much make a bot for anything.
There are bots like @TGhost_bot that transform multimedia content into URLs. Other bots are meant to admin large groups. There's even a bot you can use to consult Wikipedia without leaving Telegram (@wiki).
You can find bots that work as a translator, a PDF converter, a music searcher, and many more awesome things.
WhatsApp has bots you might be thinking. Yes, they do. But they're not as complex as the ones on Telegram. They're mostly used as chatbots to answer simple questions. Which is not at the same level as Telegram's bots.
So which one is the winner here? Is it Telegram or WhatsApp? We can call it a draw here. These features are unique to each platform and they have their good and bad sides. One point for each app on this round.
WhatsApp vs Telegram: Conclusion
Now that's a hard decision to make. Let's say that it really depends on what you need from your messaging app.
WhatsApp is used by more than 25% of the population, so it's more common to find WhatsApp users than Telegram users. And isn't the whole point of a messaging app to be able to find people and send them messages?
On the other hand, Telegram works more like a half-social media, half-multitool, half-messaging app. It's way more flexible than WhatsApp on customization, and most importantly: on security.
Telegram or WhatsApp? The app that works better for you will depend on your personal taste. It is also possible to combine these two apps and become a master at both Telegram and WhatsApp. The Telegram vs WhatsApp is an ongoing battle, and it's you, the user who chooses the winner.
Leave a comment and tell us what you think. Which app works better for you? If you want to find out what are the best free Android apps and get the greatest reviews and more, don't forget to follow GadgetGang to stay updated.