Are you looking for a beefy workstation charging solution? The UGREEN Nexode Charger Review might introduce a device perfect for any desktop setup. I'm tired of different chargers and their wires littering my desktop; visual clutter decreases my work efficiency as well. The UGREEN Nexode Charger, with its 300W of power, aims to solve that problem by being your only charger.
The UGREEN Nexode Charger is not a tiny charger by any means. It's a charging solution best suited for tables rather than plugged directly into the power outlet. It's simple to carry around from one room to another, but you can forget about putting it in your pocket (unless you wear super-extra baggy jeans). The tradeoff is the 300W of charging power; it can charge almost all your devices simultaneously.
Package – UGREEN Nexode Charger Review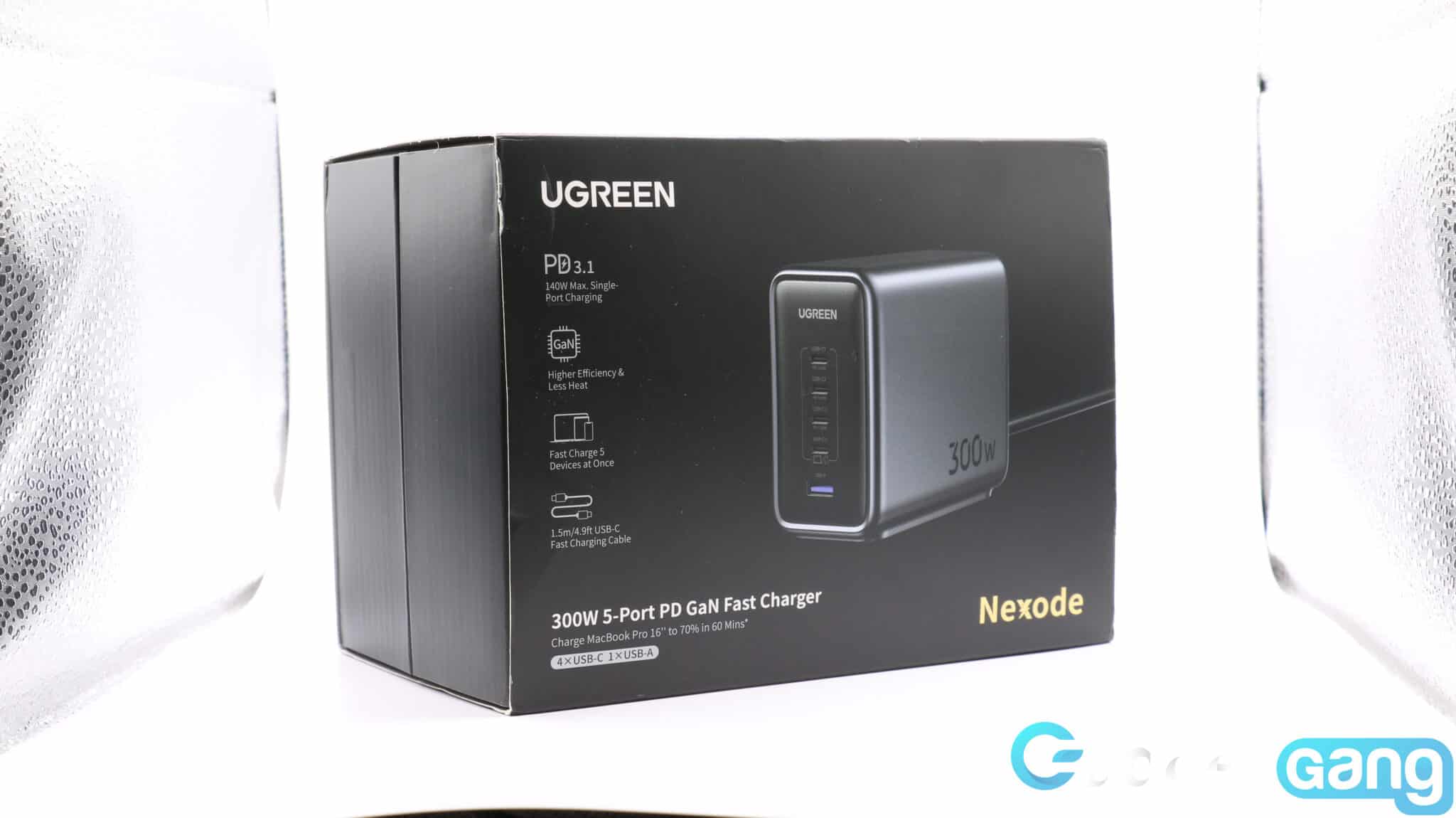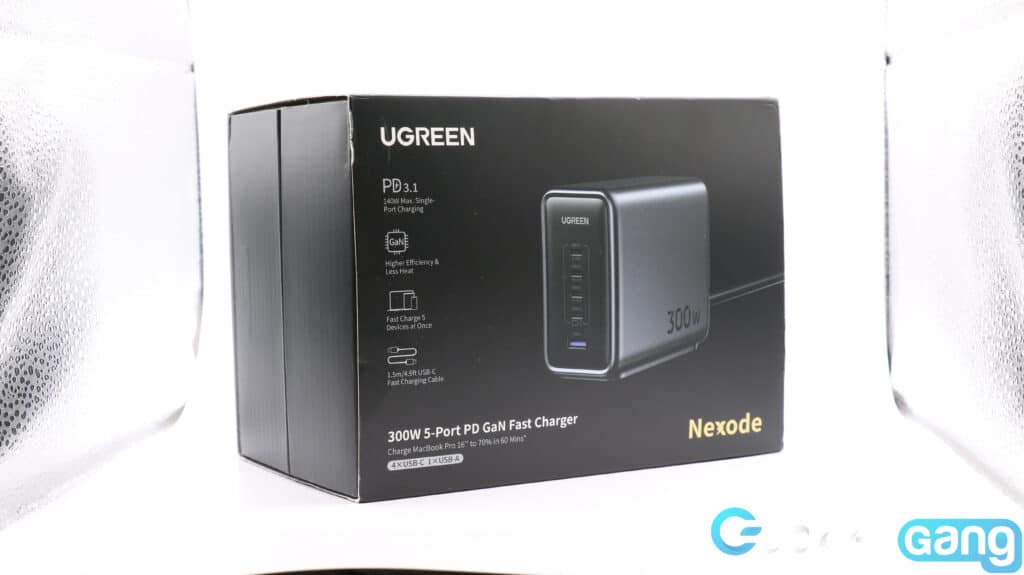 The UGREEN Nexode Charger arrived in a solid recyclable box. There is a ton of information listed on the box as well. The outer package is well made and informs the consumers what the package includes. The packaging is sufficient and protects the main star of the show well.
Inside, you'll find the UGREEN Nexode Charger, an AC power cord, a USB Type-C to Type-C charging cable, user instructions, and a product overview booklet. The charger feels hefty but compact; the first impressions were positive, and it felt like a premium product.
Tech Specs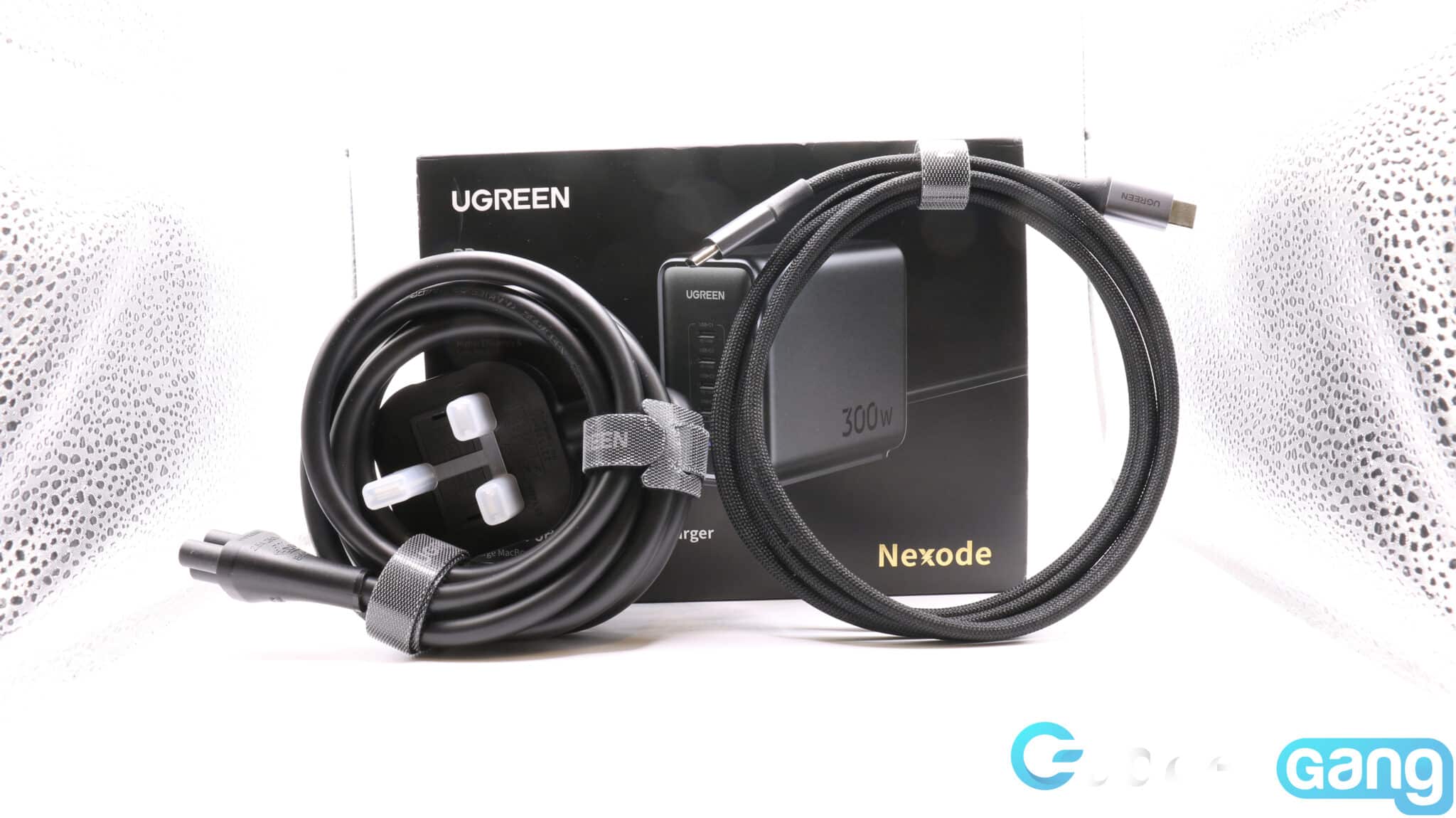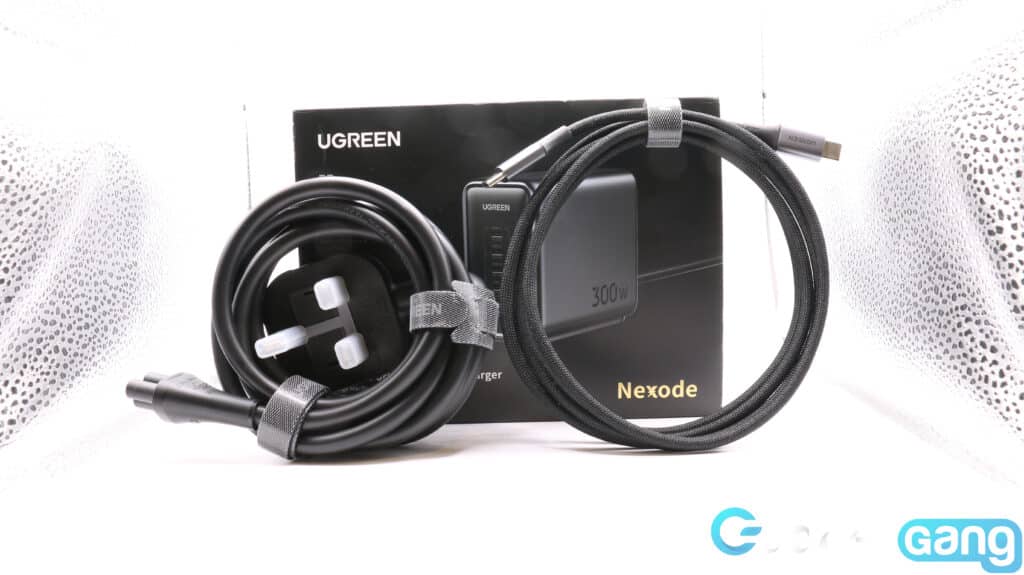 | | |
| --- | --- |
| Manufacturer | UGREEN |
| Model | Nexode 300W |
| Size | 111.6 x 95.3 x 53 mm |
| Charger Weight | 868 g |
| Cable Weight | 85 g |
| Ports | 4 x USB Type-C, 1 x USB Type-A |
| Power | 300W |
Design – UGREEN Nexode Charger Review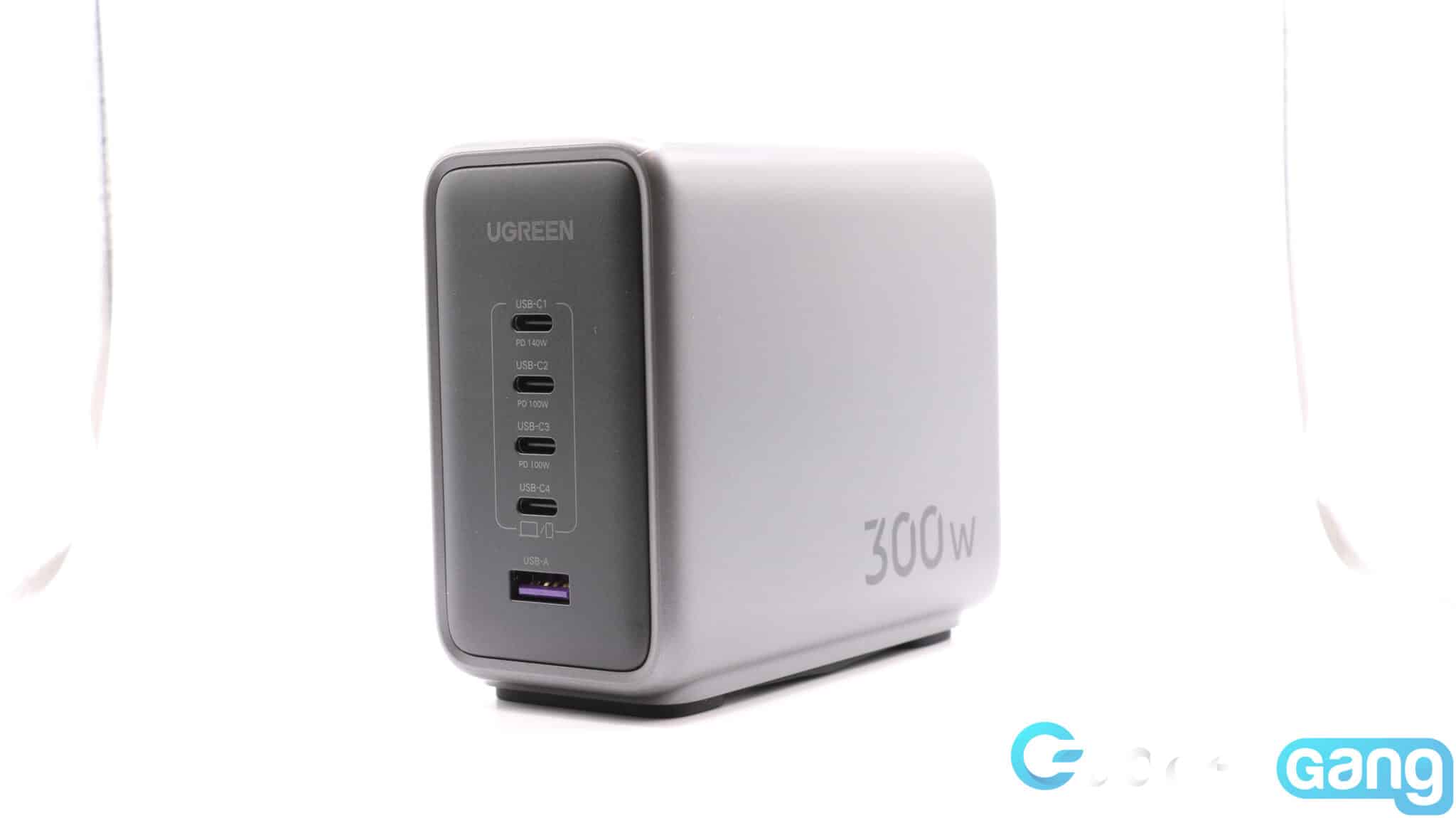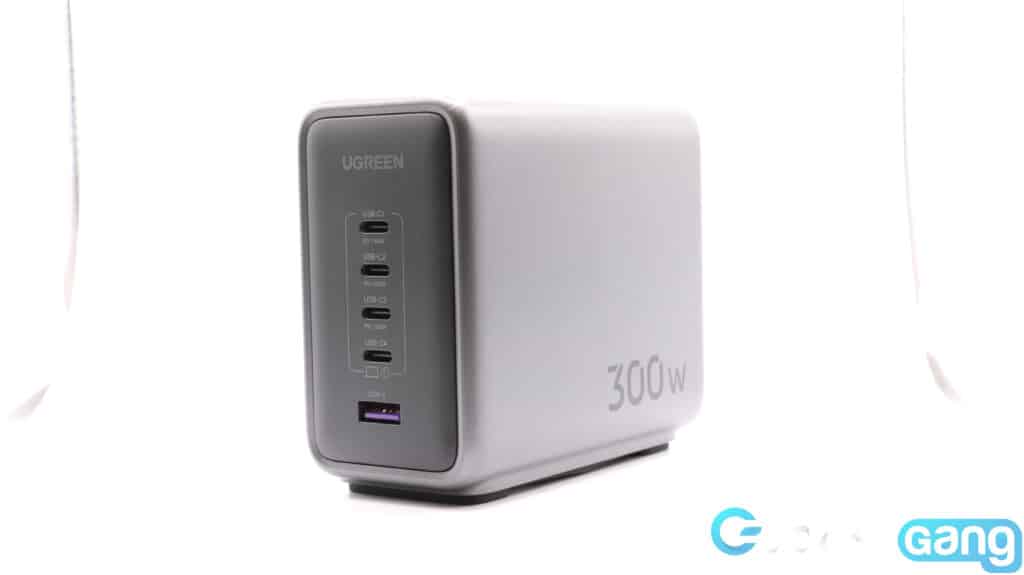 The UGREEN Nexode Charger Review must highlight how UGREEN managed to keep the size small here. It is a 300W brick; it should be a lot bigger than what it is. The fact that the charger doesn't get too hot when charging four devices is also quite good. Chargers with this much power are either huge or get super hot while charging. The UGREEN Nexode Charger remains within a reasonable range.
The design of the charging hub is also relatively muted. Unlike the Acefast A45 Charger, this one has a professional color choice of standard grey. So, placing it in any official position would only get eye raises from relaxed workplaces. The edges are rounded, the charger feels smooth to the touch, and there's a stand at the bottom. I like the two-tone color scheme UGREEN opted for the Nexode GaN charger, but it might be too drab for some.
Material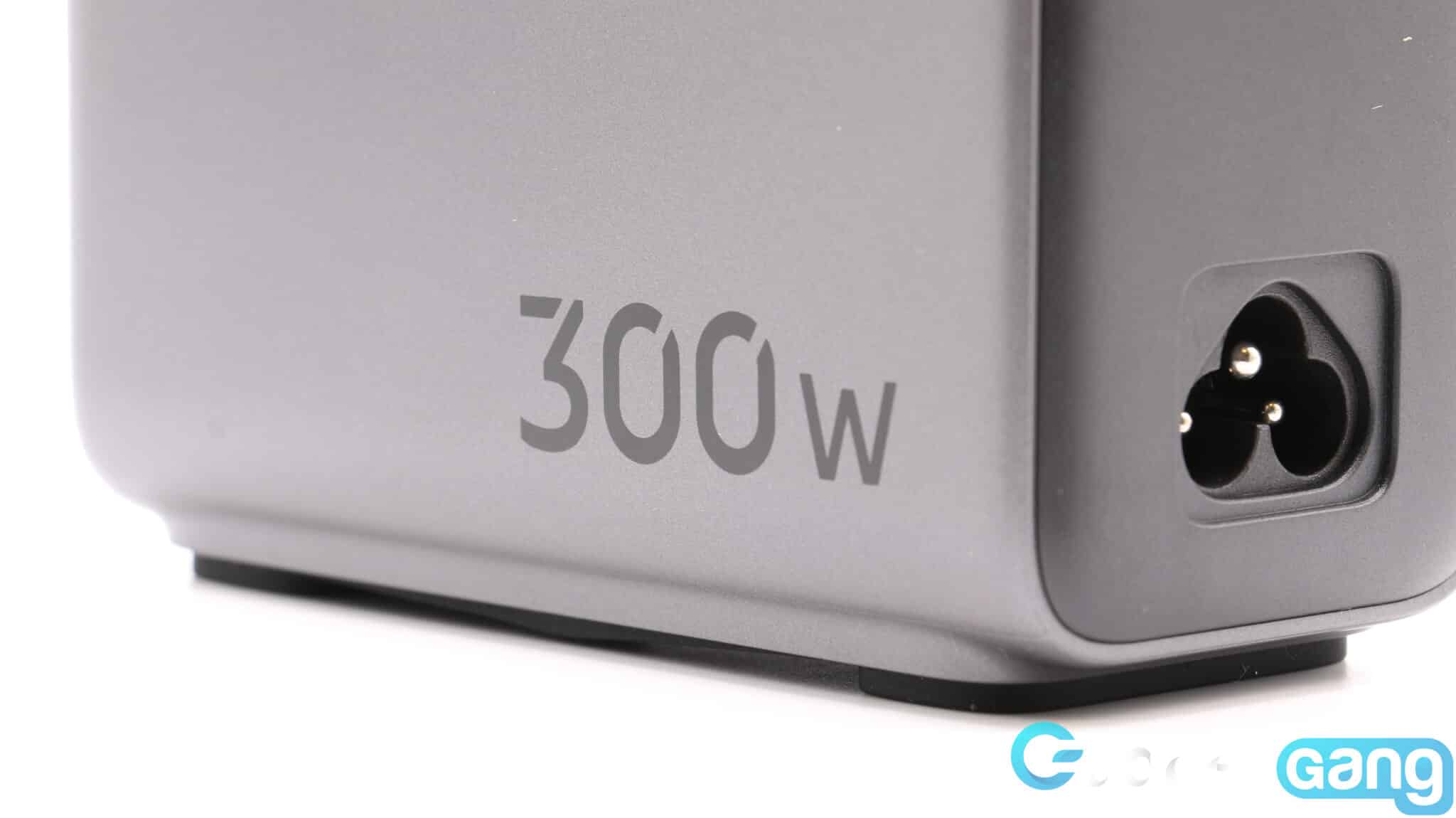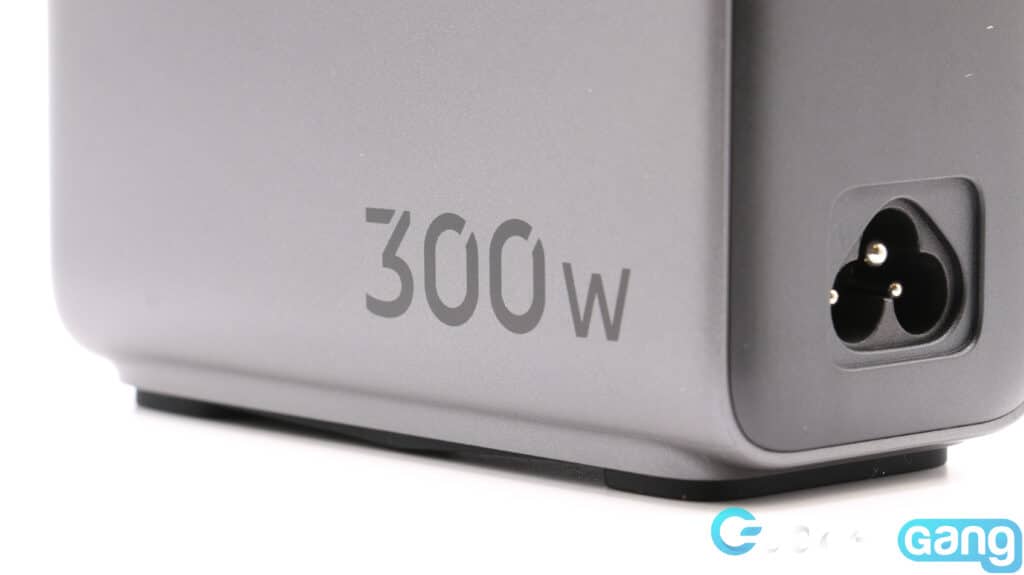 The UGREEN Nexode is made with fire-retardant polycarbonate plastic and has a metallic theme. The matte finish is immune to typical fingerprints but might retain some extra sweaty prints. There's just the "300W" itched on the charger's side, making it look minimalistic and professional. The company used suitable quality materials on the charger, and as a result, it feels premium in the hands. The charger has some heft to it despite being smaller than most laptop chargers. It's also a gallium nitride charger, which helps with the size, charging speeds and heat management.
Ports – UGREEN Nexode Charger Review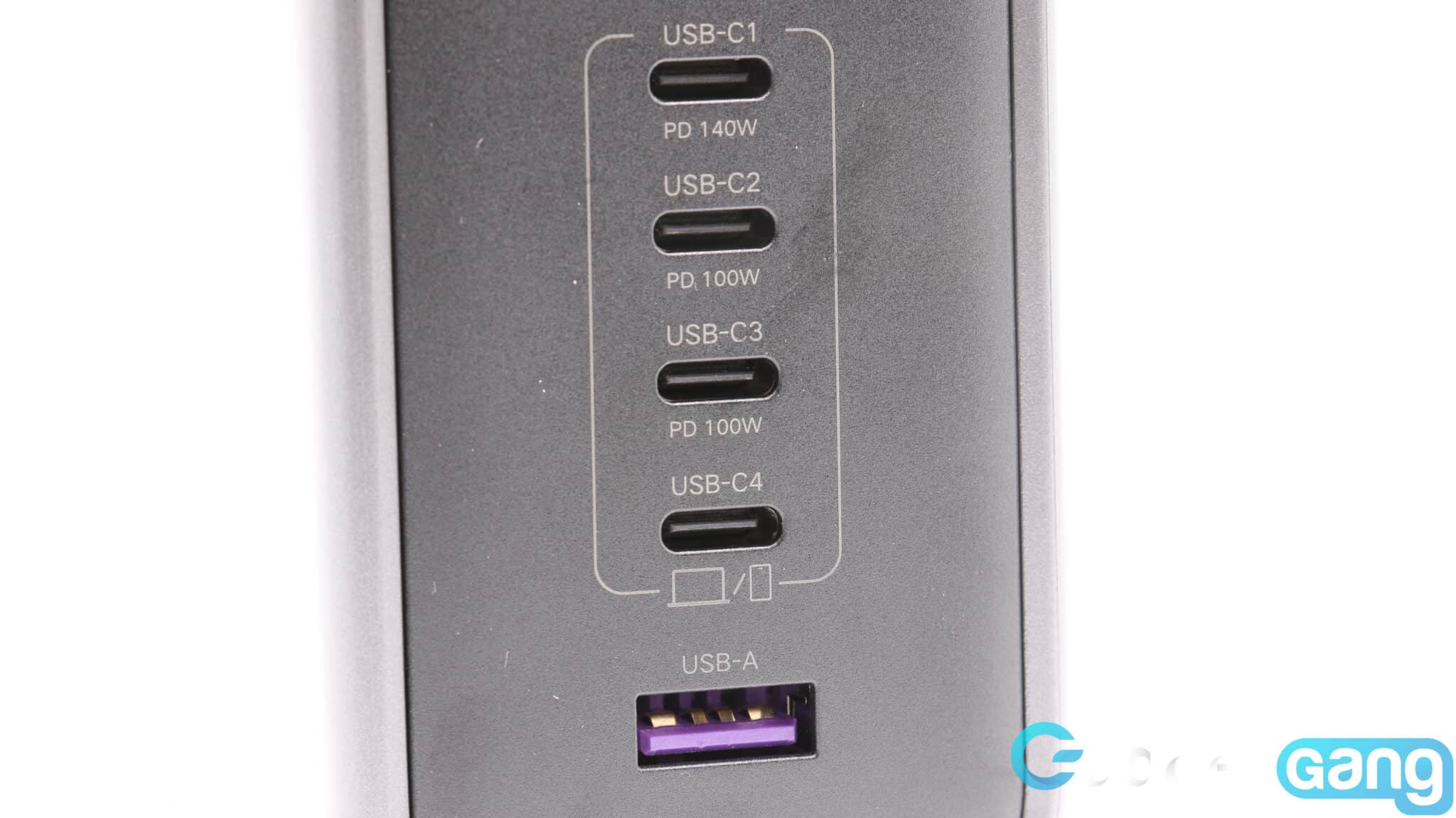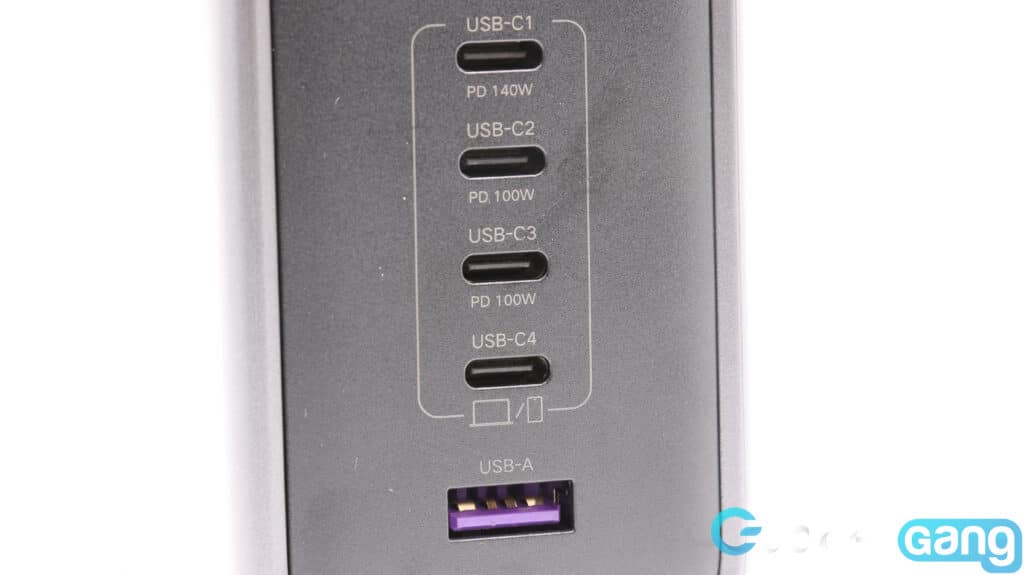 A charger is made by the number and quality of its ports, and the UGREEN Nexode Charger has a couple of them. On the front, you'll find four USB-C ports and one USB-A port. Subtle white lines encompass the USB-C ports, while the USB-A port is purple. The Type-A female port also comes with wide pins that support high currents. On the back, there is a three-pin input power connecter; it's a standard port so that you can plug in any third-party cable.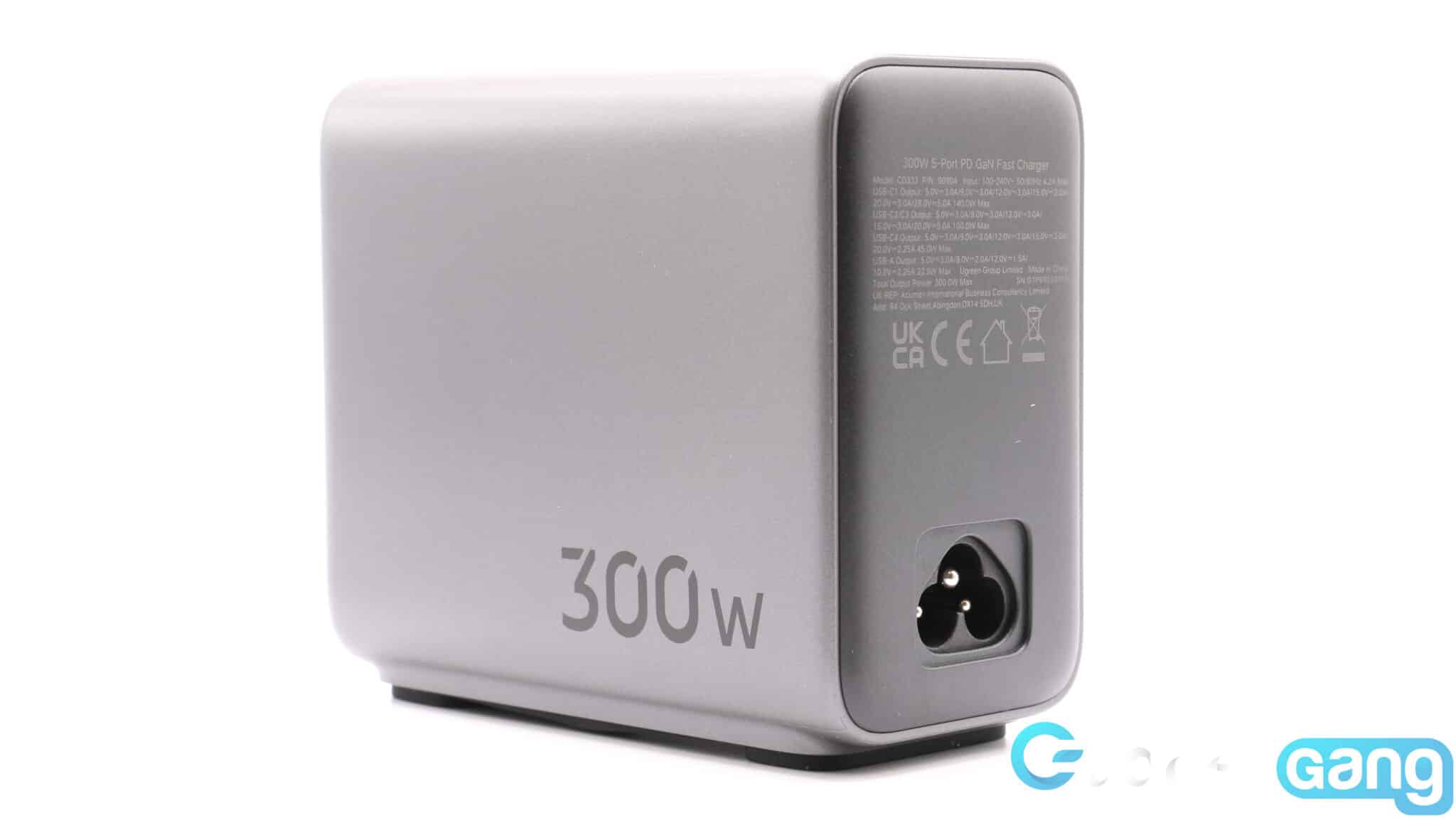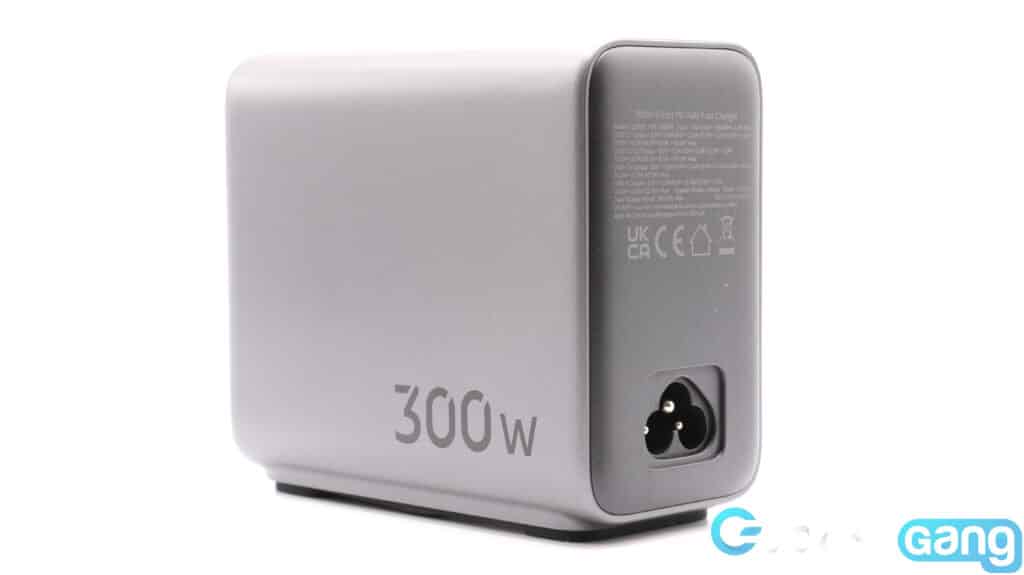 The UGREEN Nexode Charger supports input of 100-240V~ 50/60Hz 4.2A maximum. The topmost USB-C port offers 140W at 28V/5A, which is more than enough to charge a Macbook or other compatible laptops. The other USB-C ports can reach 100W; however, if the first port is already in use, only one different Type-C port will output 100W. The others will offer 60W if the first two are in use. The tree will look like this if you use all four Type-C ports: 140W > 65W > 45W > 20W, with the Type-A port reaching 22.5W.
Charging Experience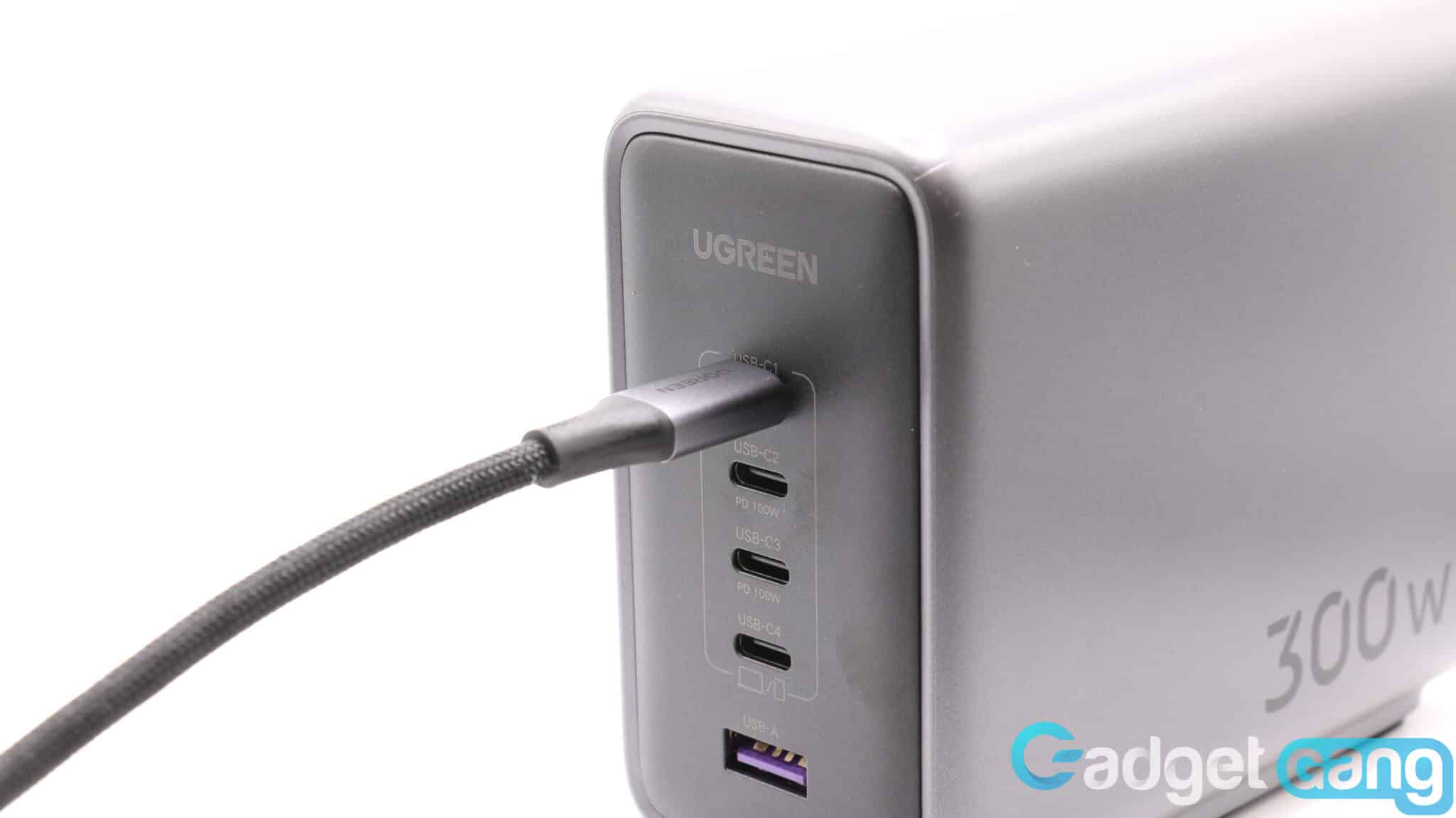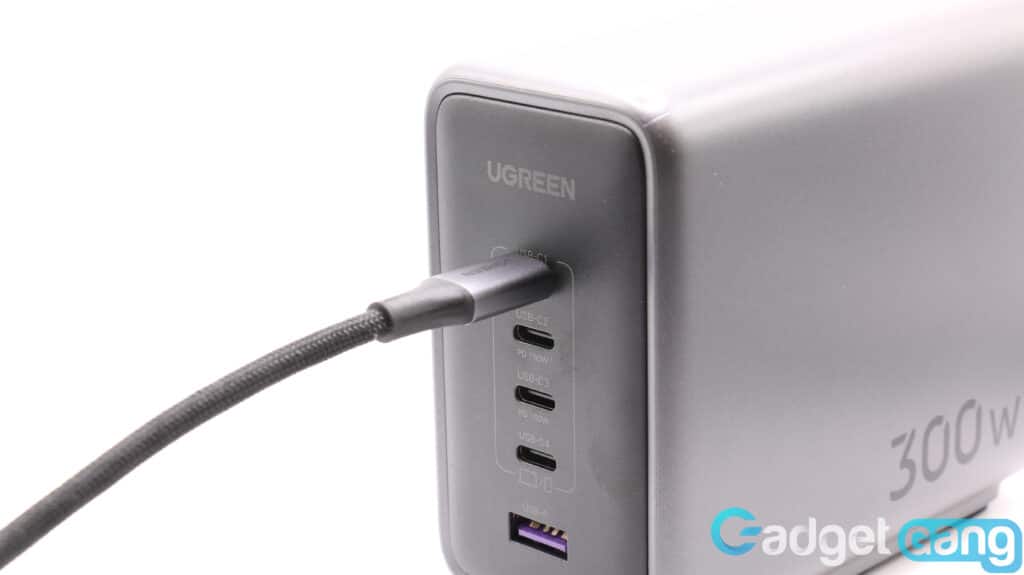 A charging strategy is involved when charging multiple devices. Plug in a laptop on the top port, with a phone in the second, and you can charge any older device that doesn't require a lot of juice with the remaining ports. The charger's output would be 300W, so you can easily plug in 5 devices and charge them simultaneously. There are no LED lights to indicate when the charger is powered on; it would've been convenient to have a visual indication.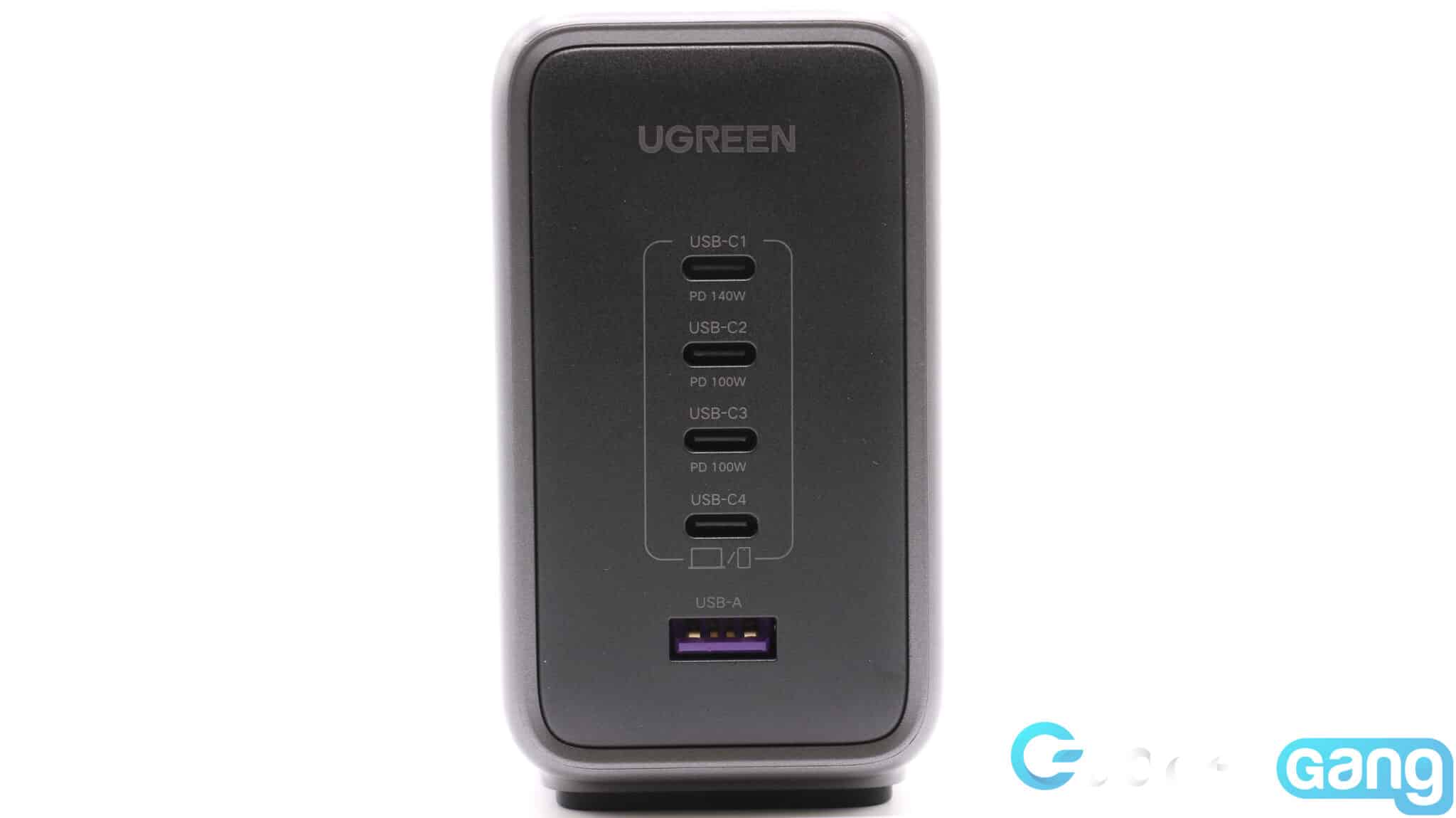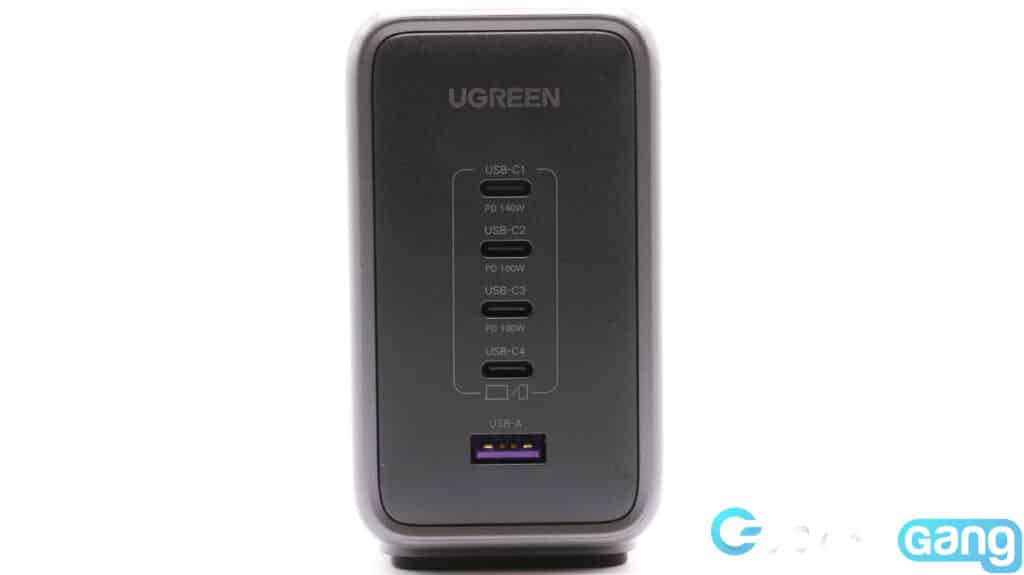 Another significant plus is that the charger doesn't disconnect devices when you plug in another. Usually, GaN chargers don't use a better system of detecting output, so the charger needs to disconnect all appliances and redo the calculations completely. The UGREEN Nexode Charger doesn't do this at all, making it an excellent choice for devices that need continuous power. I have a laptop with a dead battery, and this feature helps a lot in my niche case.
Price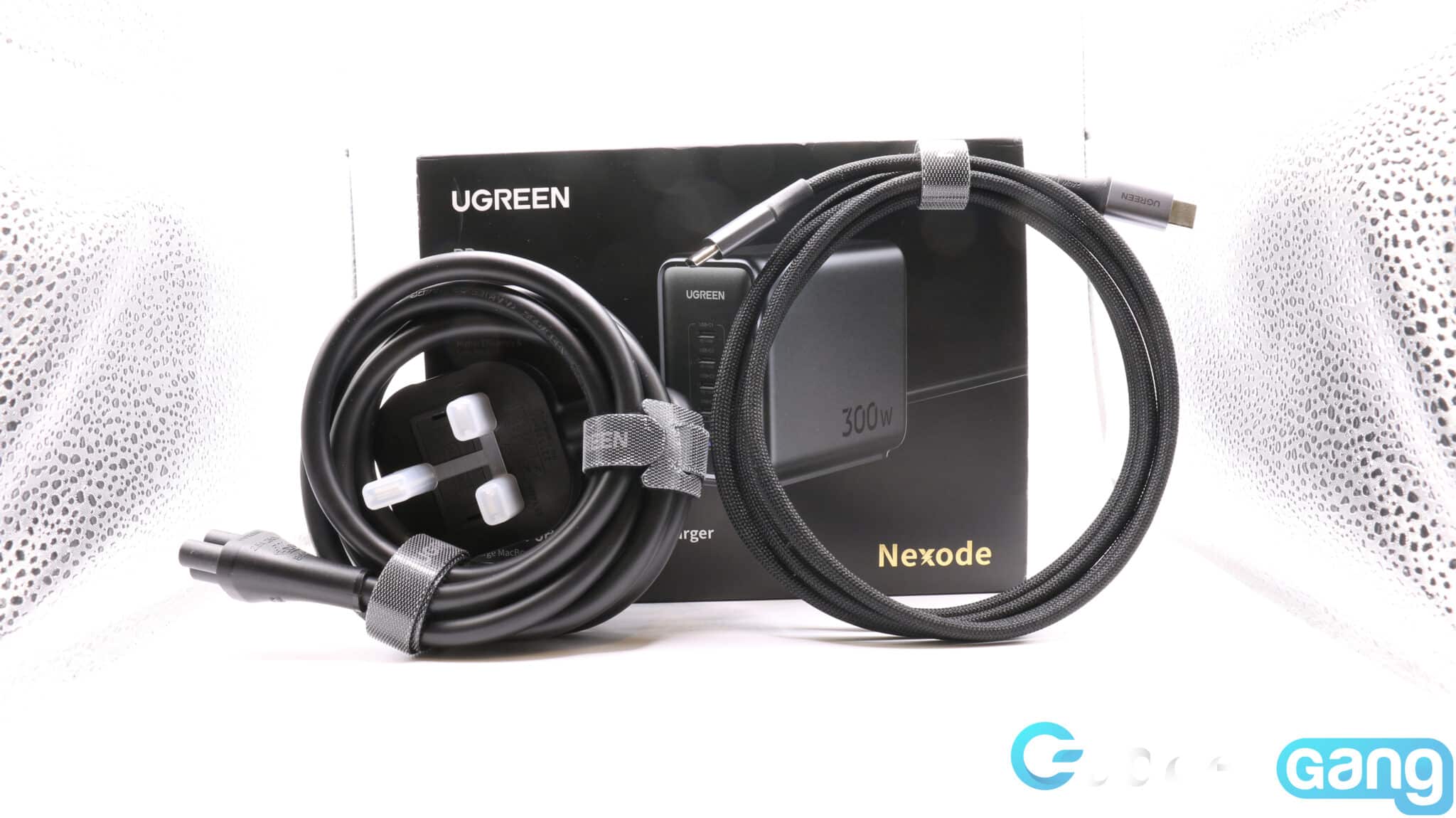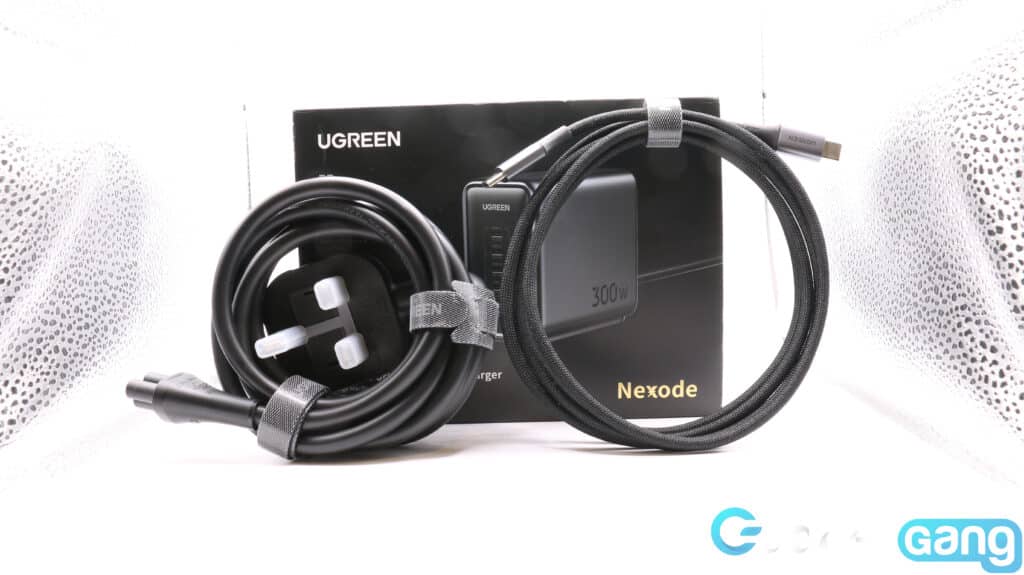 I have to discuss the price in the Ugreen Nexode Charger review, as this might be the deciding factor for many consumers. The charger is priced at around $200, a significant amount. However, if it ends up replacing three or four other chargers on your desk, it becomes a worthy investment. The Nexode replaced my laptop, phone, tablet, and keyboard chargers/adapters entirely on my work desk.
So, if you have a lot of devices that need regular juice, the Ugreen Nexode charger with its 300W might be a neat solution. It may not be worth the price if you are only looking for a laptop charger or a highly portable charger. If you want something less expensive and added functionality, the Acefast GaN Charger hub connects to the TV, too.
Conclusion:
The Ugreen Nexode 300W GaN charger is a good-looking charger that can fit any desktop. It has ample power to run all your devices without a hiccup. It's expensive but might be worth it if it tidies your work desk. Users looking for a professional-looking solution to their charging needs are happy with what this chunky charger offers.