Fatal Frame is one of the gaming worlds more overlooked survival horror games, right up in the ranks with games like Siren and Silent Hill. It also shares a common trait with the latter by not having an entry in the series for almost a decade. However as 2021 is a memorable year for the series, the director has hinted that there is something planned for the series.
A New Fatal Frame Game could be coming in 2021.
Fatal Frame is a game that started with the PS2 and had its last game in 2014 on the Wii-U. The game revolved around the players fighting ghosts with a spirit camera that they used to take pictures of the ghosts in order to defeat them.
The series was rarely ever on the accord as other horror titles such as Resident Evil or Silent Hill but still had a very loyal and dedicated fanbase that has been waiting for many years to have a new entry come to any console. Alas, an entire console generation has come and gone without fans seeing any new entry come from the series.
In the tail-end of 2020, Famitsu interviewed a few Japanese developers about their ambitions on 2021. One of the interviews stuck out and showed that perhaps there is hope for the series after all.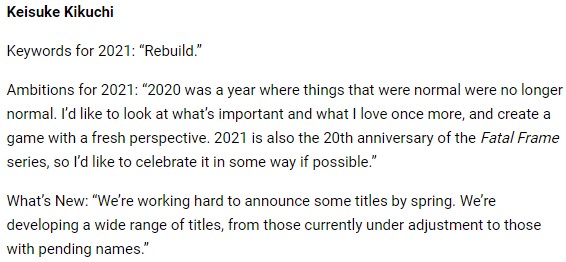 In the first paragraph, they mention how the game will have its 20 year anniversary which is a sign that the series is set for doing something memorable for fans.
And in the second paragraph, they reiterate that they have a lot of titles under development with hopes of announcing something in Spring 2021, which should be very soon.
Fatal Frame on the Wii-U was an underrated game due to players being able to use the Wii-U game pad as a faux camera to fight the ghosts. Perhaps the newest game utilize the gyro controls of the Nintendo Switch to replicate the experience? Or even better, bring back the Nintendo Labo and integrate it with the game.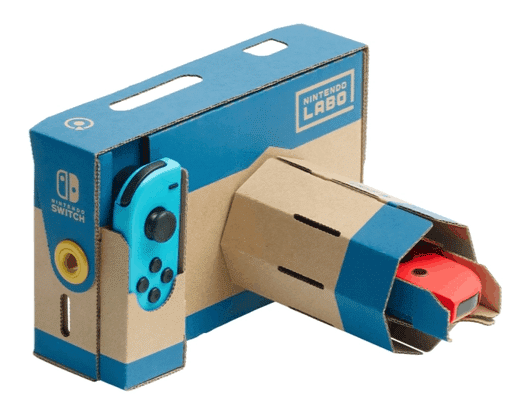 What ever the news might be, I know I am excited at the prospect of playing a brand new game after all these years. Especially in the dry spell of the classic horror games.