In a little under 12 hours, AMD will present its RDNA3 GPUs. Team Red hasn't allowed too many leaks get out this time. Angstronomics, however, has recently published an article with a die photo of AMD's Navi31 GPU. To reiterate, the RX 7900 XTX and RX 7900 XT are rumoured to employ AMD's Navi31, the company's top-tier GPU from the RDNA3 family.
This image demonstrates the MCM (Multi Chip Module) architecture of Navi31, which will house 6 MCDs and 1 GCD. Although the actual die size is reported to be 533mm2, based on prior leaks, the packaging size works out to be 5547.5mm or 2612 mm2.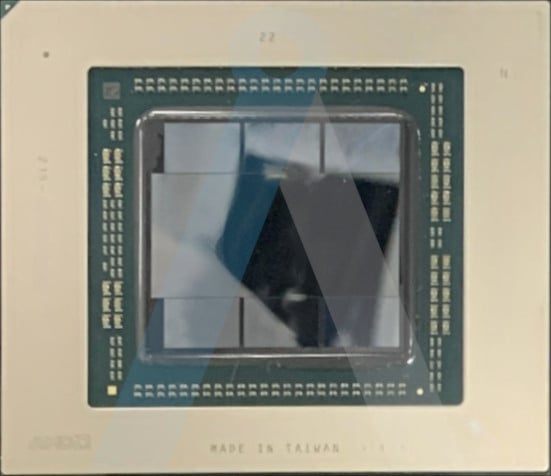 The next-generation enthusiast cards, including the Radeon RX 7900 XTX/XT graphics card, would be powered by the AMD Navi 31 GPU, the top-tier RDNA 3 processor. We've heard that AMD would replace its next-generation RDNA 3 GPUs' compute units with work group processors. Dual CU (Compute Units) will be housed in each WGP, however there will be four SIMD32 clusters per CU, as opposed to two on each CU in RDNA 2. According to rumours, AMD has the choice of the 6nm die from TSMC or Samsung.
Performance and efficiency have both enhanced dramatically with the RDNA3 microarchitecture. The new Infinity Cache generation, a revamped Graphics Pipeline, and a redesigned Compute Unit are all elements of RDNA3. All of these generation-on-generation advancements are predicted to result in a significant boost in ray tracing workloads as well as raw vectorized performance.
The Radeon RX 7900 XTX 24 GB and the Radeon RX 7900 XT 20 GB are two cards based on the top-tier Navi 31 GPU that are anticipated to be part of the first range. The Radeon RX 7000 graphics cards and AMD's RDNA 3 GPU architecture will be unveiled in a few hours, but the real retail launch won't happen for a few weeks.