In Europe, the cost of AMD Ryzen 7000 CPUs has significantly decreased, with the flagship model now costing 200 Euros less than it did at launch.
Retailers are reportedly selling the AMD Ryzen 7000 Desktop CPUs at huge price reductions, according to reports from industry publications HardwareLuxx and Computerbase. These price reductions aren't made formally by AMD, but rather by the companies who sell its processors. The launch pricing for these chips weren't so great in Europe, so this is fantastic news for those who were hoping to create a PC using the newest AMD CPUs.
For instance, the AMD Ryzen 9 7950X debuted in the area at a cost of 849 Euros, followed by the Ryzen 9 7900X at 669 Euros, the Ryzen 7 7700X at 479 Euros, and the Ryzen 5 7600X at 359 Euros. The VAT, which is roughly 20% and applies to all electronic items in the European market, was the main factor behind the costs being far more than what customers were paying in the US.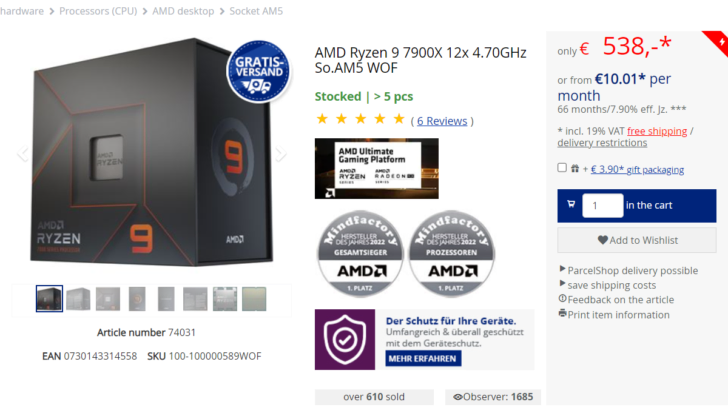 A considerable price reduction has now been achieved as a consequence of new market pricing adjustments and merchants relaxing their initial price policies. In the current market, AMD Ryzen 9 7950X models start at 648 Euros, Ryzen 9 7900X models cost 538 Euros, Ryzen 7 7700X models cost 398 Euros, and Ryzen 5 7600X models cost 297 Euros.
With the exception of the AMD Ryzen 9 7950X, all CPU prices have moved closer to their US counterparts, and the flagship is now nearly $30 US less than its $699 US US price, which is a fantastic value.