We can confidently state that we just seen one of the numerous shocks that CES 2023 was sure to provide. The RDNA3 mobile GPU lineup from AMD has finally been made public with little to no earlier leaks.
Future RDNA3 mobile GPUs, including the Radeon RX 7600M XT, RX 7600M, RX 7700S, and RX 7600S, were shown by AMD's CEO Lisa Su. These GPUs include 32MB of Infinity Cache and are produced using a 6nm manufacturing node. 8GB of GDDR6 RAM is available across the board.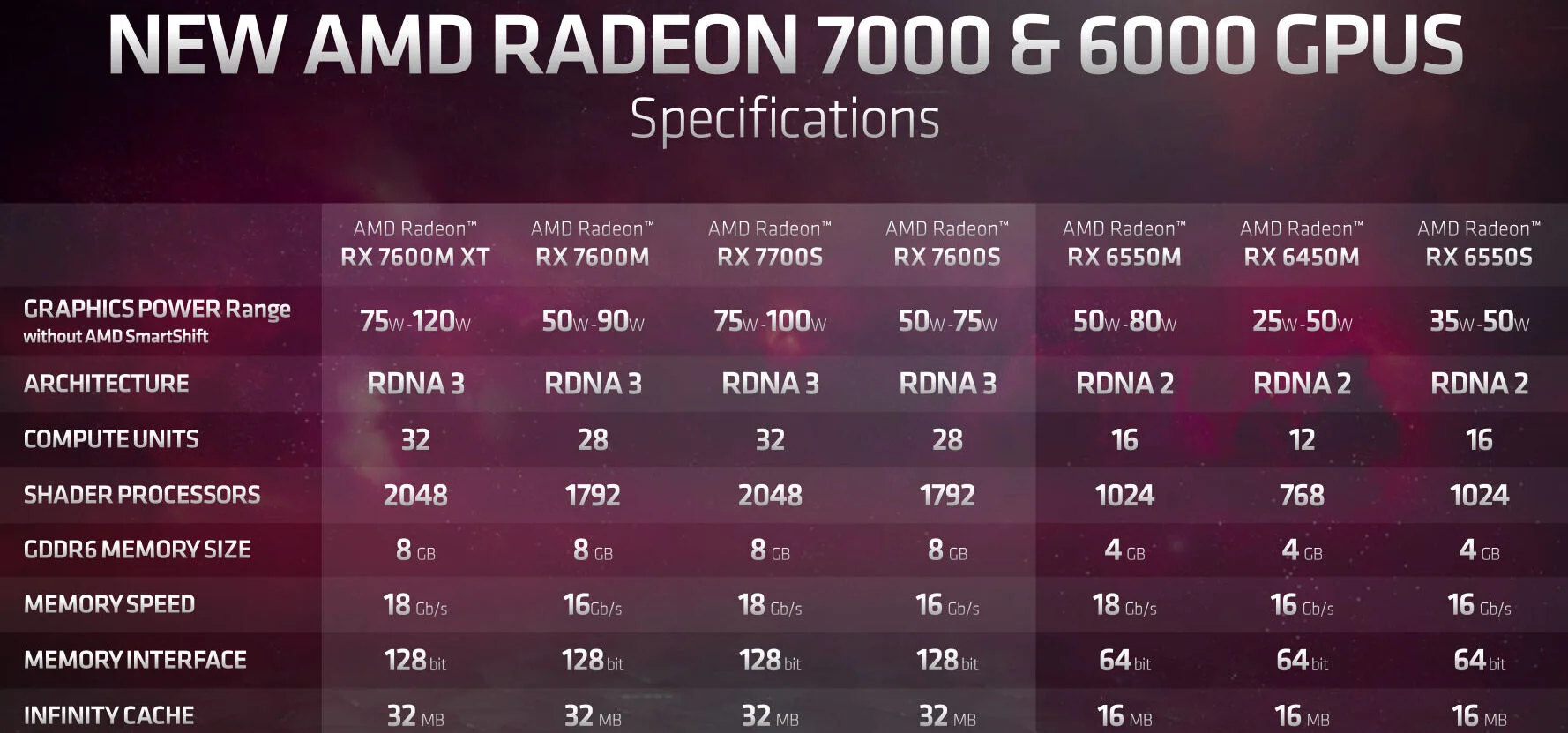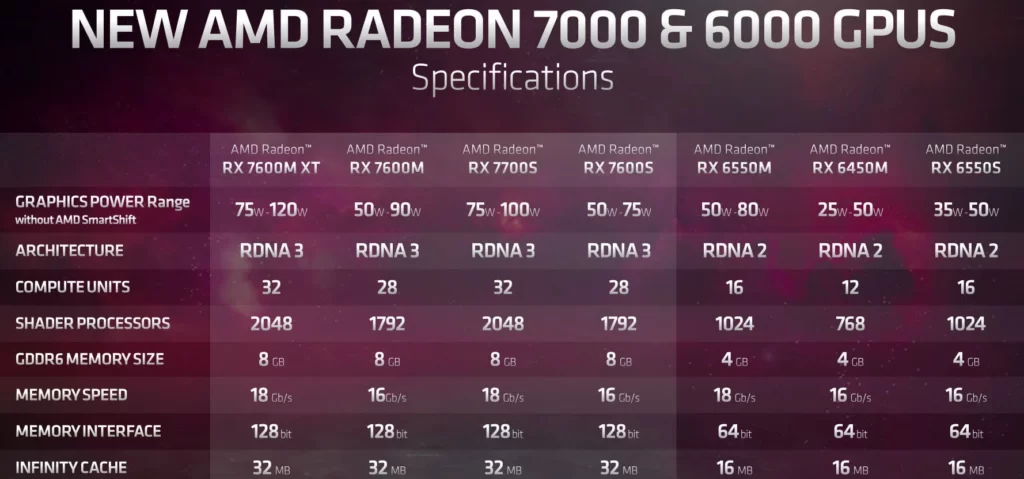 The Radeon RX 7600M XT GPU, the top model, has 2048 Shading Units or 32 RDNA3 CUs. This GPU delivers a significant performance improvement over prior generation thanks to its 8GB of GDDR6 memory over a 128-bit bus. With a TDP range of 75W to 120W, it may be used by a broad range of users. The RAM is a little bit slower and has 4 less CUs on the 7600M non-XT.
The RX 7000S series for "Thin & Light High Framerate Gaming" comes next. AMD has unveiled the RX 7700S and RX 7600S, two GPUs with characteristics that are comparable to those of the 7600M series but a lower TDP.
Performance Benchmarks
The RX 7600M XT outperforms the RX 6600M 8GB from the previous iteration in 1080p performance. The performance of the 7600M XT has a significant advantage in practically every game.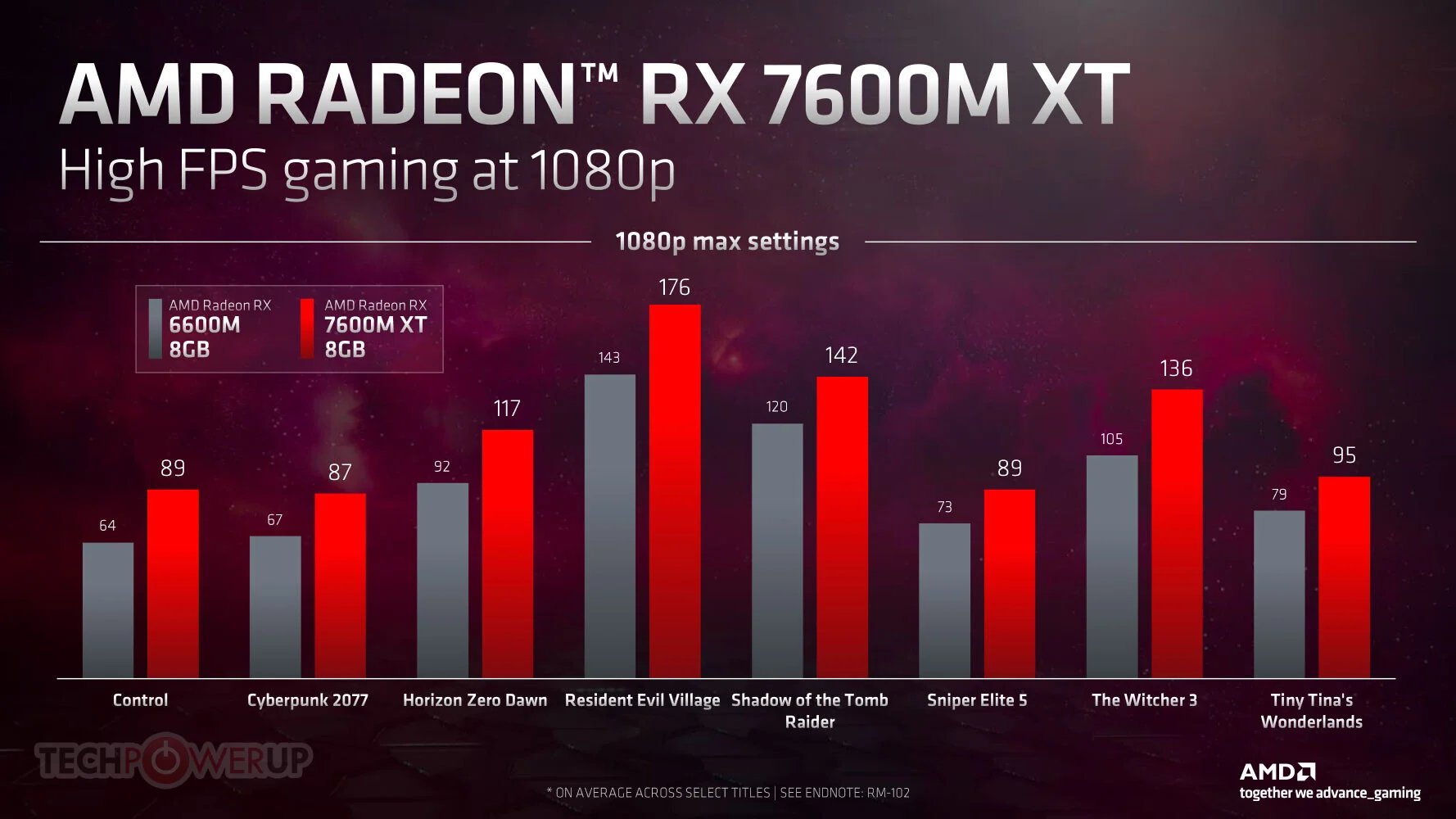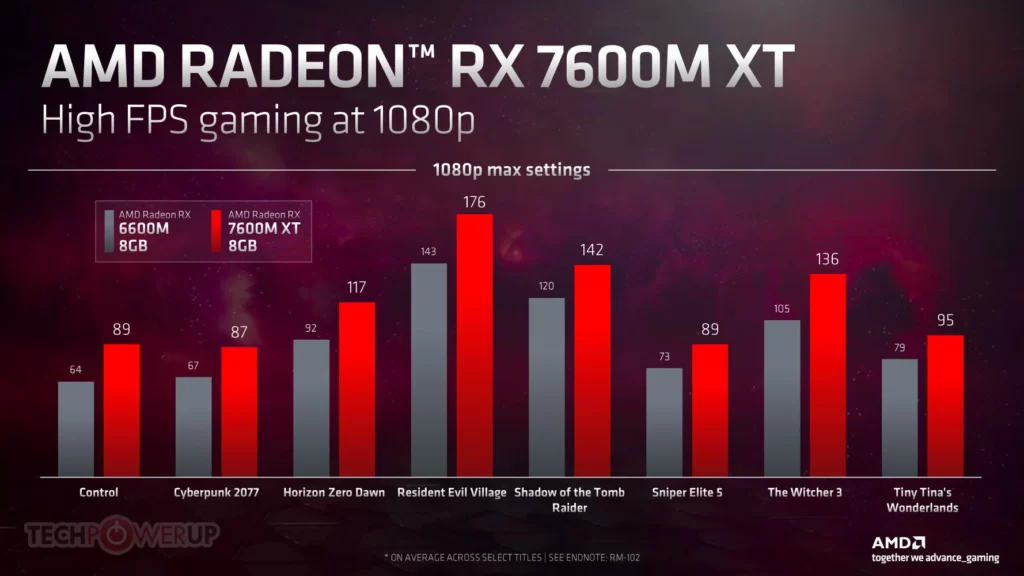 When AMD chooses to put this GPU up against an RTX 3060, you know it's powerful. The NVIDIA desktop RTX 3060 constantly behind the 7600M XT across a broad range of games.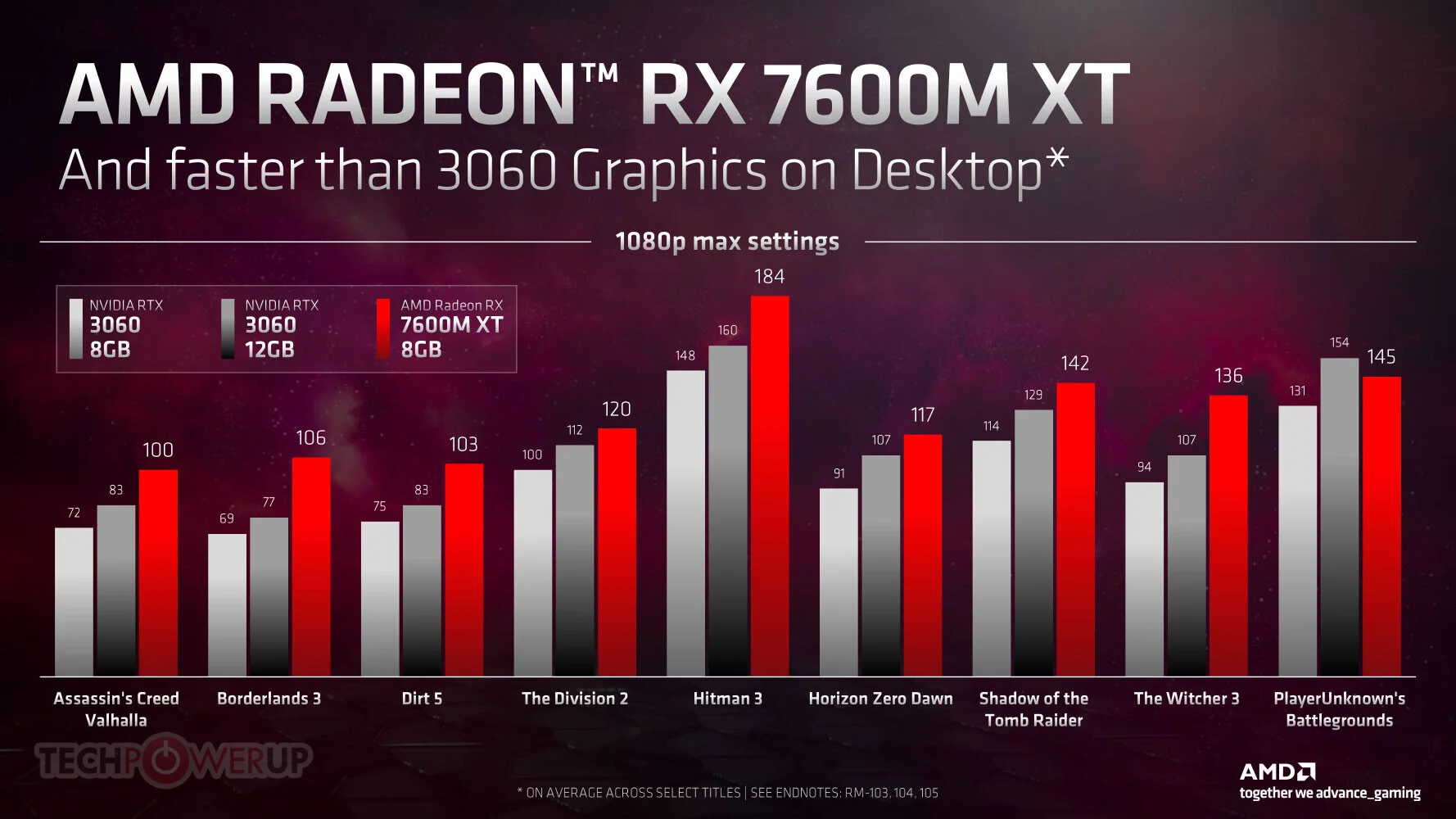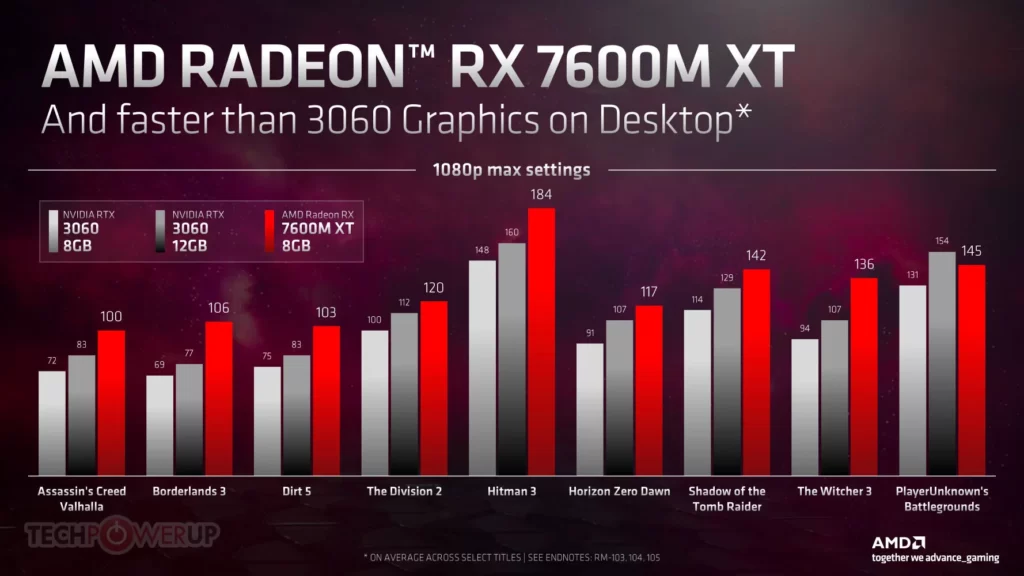 The same is true for the RX 7700S, which outperformed the 6700S based on prior generation by a wide amount. The RDNA3-based 7700S surpasses the 100 FPS threshold at 1080p maximum settings in the majority of games. Cyberpunk 2077 is the sole outlier, although 87 FPS is still rather acceptable.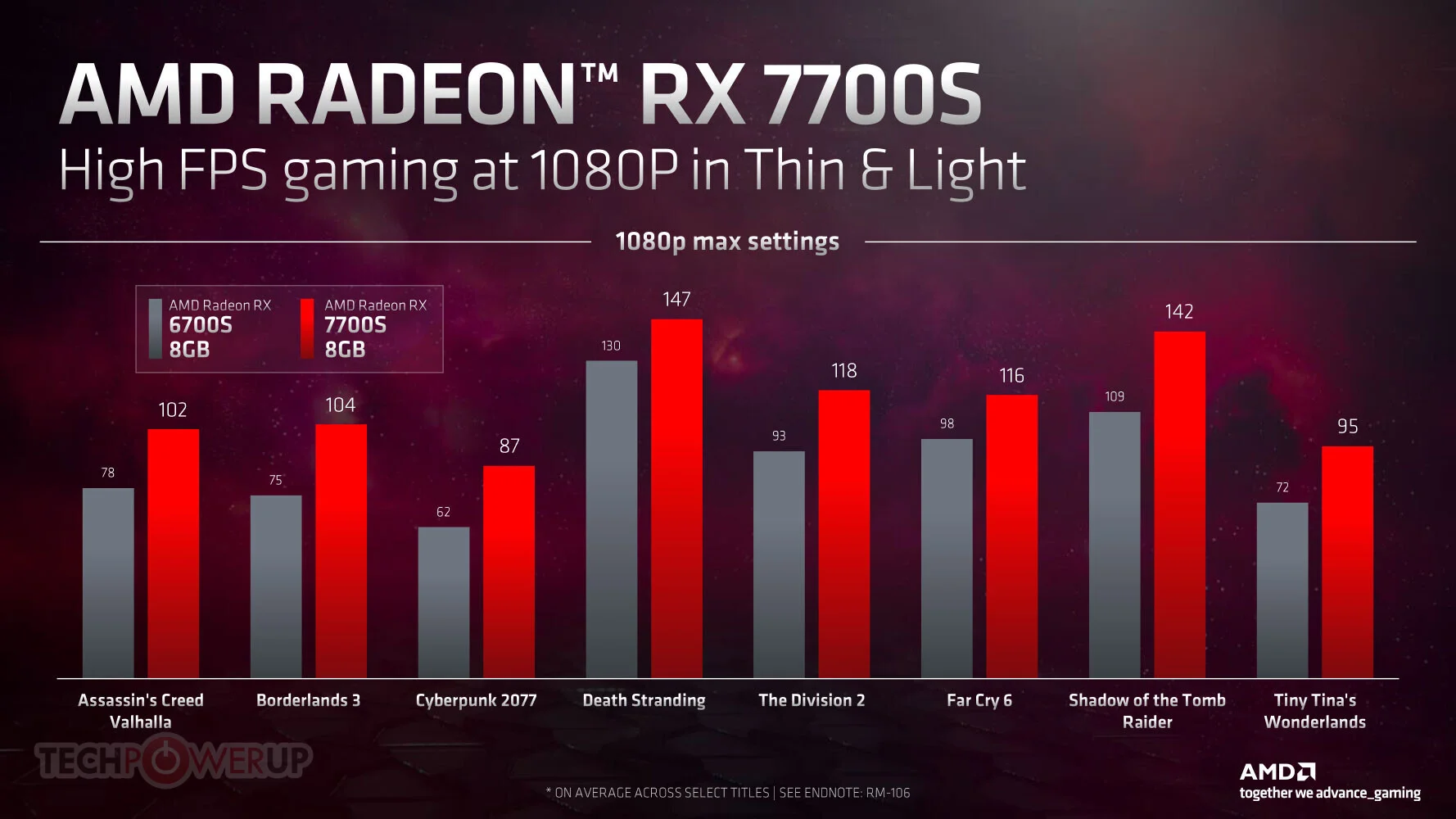 Under the banner of AMD Advantage laptops, AMD reveals that four distinct models will be equipped with these next-generation GPUs. These GPUs should start to perform sometime in February or the following month.
Source: TechPowerUp