The closed Alpha registrations for Back 4 Blood are now open. Player based in the United States, Canada, United Kingdom, France and Germany can register now at the official website.
The playtest begins on 17th December and ends on 21st December, and is currently only available on PC. Prospective players must have a WB Games Hub account to redeem their alpha key. A gameplay showcase is also scheduled for 17th December and the closed beta will be available right after the presentation.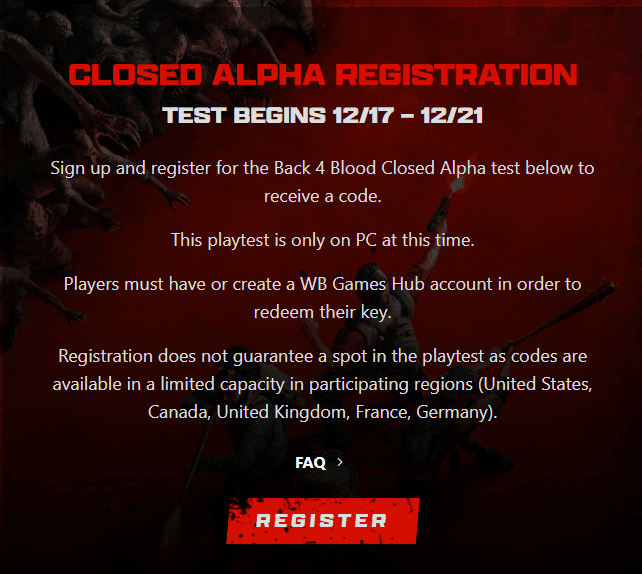 Back 4 Blood is the next generation of zombie shooter from the developer Turtle Rock Studios, the team behind Left 4 Dead and Evolve. In this first person cooperative thriller, the 'Ridden', a parasite that turns humans into zombies, have taken over the world. It's your job to eradicate the ridden and reclaim our world. In other words, your standard zombie game story. However, the charm of a zombie game does not lie in its story, but rather the sheer thrill of anhiliating zombies and Back 4 Blood nails that component.
There are five different types of zombies, each with their own unique abilities. The game contstantly adjusts the gameplay to player actions and spawns so that no playthough feels alike and creates a 'memorable, unpredictable and dramatic gameplay.'
The closed alpha will showcase an early mission from the four player co-op campaing. You'll fight not just hoardes of zombies but also towering zombie bosses, all the while trying to survive. The commitment of constanty evovlving gameplay is also present in the alpha gameplay, so everytime you play throguh the level, you'll be presented by new challenges, gear and weapons.
Players can choose between 8 different characters, each with their unique secodary weapon, when the game releases. For the closed alpha, the number of characters is limited to 4.
Back 4 Blood releases on June 22, 2021 for PC, PS4, PS5, Xbox One and Xbox Series S/X.