Hey, we can't blame you for wanting to become a YouTuber. Every day more and more people are turning to YouTube as a way to do what they love, share it with the world, and get paid. But when it comes to deciding the best cameras for youtube, some people could feel a little intimidated. After all, they need to create quality content in order to stand out on YouTube and that means having a great camera.
YouTube has around 2 billion users worldwide and more than 1 billion hours are being watched daily. There's not a doubt on who's the king of the video-making platforms. Choosing the best camera will be one of the first steps to achieve your dream of becoming a YouTuber and reaching one of the world's largest audiences.
Using a smartphone for practice could be a great idea. But when it comes to uploading videos, I'm sure you'll want to have great video quality. Smartphones simply lack many functions that are second nature to most YouTube cameras. And don't even think about filmmaking cameras, that's just too much (unless you're making a documentary). But going back to the cameras here's how to choose yours:
How to Choose the Best Camera For Youtube
Like with most things, the best YouTube camera for you will depend on your needs. A daily Vlogger would need a different camera than a YouTube gamer, for example. Sit down and think about how you'd use your camera on your channel. Here are some important questions to help you pick the best camera for you:
Will you be in a studio or will you be constantly moving around while recording?
Do you plan to practice any extreme sports?
Do you want to directly make live streams on YouTube with your camera?
Are you familiar with more professional cameras or are you more of a beginner?
Your choice will depend on what you'll need and how you'll plan to use your camera. Luckily for you, this list was designed with those questions in mind. That means that by the end of the article you'll have a clearer picture of the best camera for you. Without anything else to add, let's explore our choices.
---
1: Canon Powershot G7 X Mark III
Best All-around Camera for YouTube
Amazon product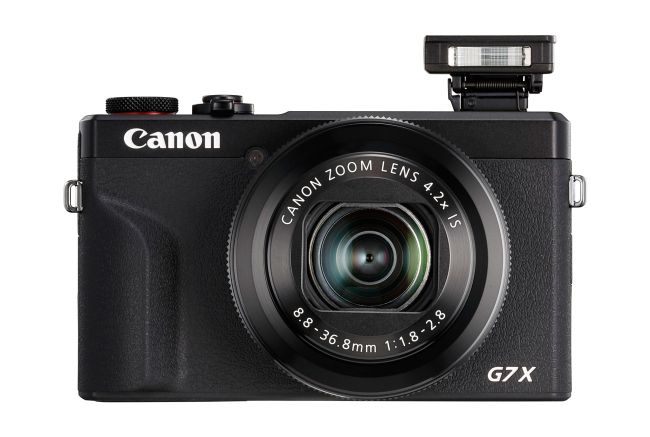 Dimensions (W x H x D): 105.5 x 60.9 x 41.4 mm
Sensor: 1.0 type stacked CMOS.
Megapixels: 20.1 MP.
Lens: 24-100 mm f/1.8-2.8.
Screen: 3-inch tilt-up touchscreen.
Maximum Resolution: 4K.
The best camera for youtube has to be the Canon PowerShot G7 X Mark III. This pocket-sized camera is packed with the greatest features that will suit most YouTubers. It will be a perfect match for anyone trying to become a YouTuber:
Vloggers
Travelers
Gamers
Comedians
This model is very similar to its predecessor (the G7 X Mark II). But thanks to the 1-inch CMOS sensor and the Digic 8 processor, users can expect improvements in video and image quality. With this model, you'll be able to record 4K 30P videos with no crops, and 120fps HD videos. Though it has a limit of ten minutes of 4K filming, after that, it overheats. Speaking of videos, you can film vertical videos with this model, which is great for getting awesome Instagram Stories. And thanks to the 3.5mm mic input, you can have both great video quality and clean audio. Though it doesn't come with a headphone socket.
It has a 3-inch tilting LCD touchscreen with 1,040K dots that is very responsive to human touch. The screen has a 180° upward tilting design specifically made for taking selfies and doing front face vlogging. This camera has Wi-Fi connectivity and gives you the possibility to directly make YouTube live streams, just in case you ever feel like doing so. And since it has out-this-world image stabilization, it'll be easy for you to capture great images in movement.
Things We Like
Excellent video stabilization.
Microphone input included.
You can make live streams to YouTube directly with the camera.
Things We Don't Like
Doesn't have a headphone socket.
4K videos limited at ten minutes.
Summary
The PowerShot G7 X Mark III is a well-thought camera and its features are just what every potential YouTuber needs. It's lightweight for traveling, great for professional shots, and excellent for vloggers. One camera that it's definitively worth the high price.
---
2: DJI Osmo Pocket
Best YouTube Camera for Traveling
Amazon product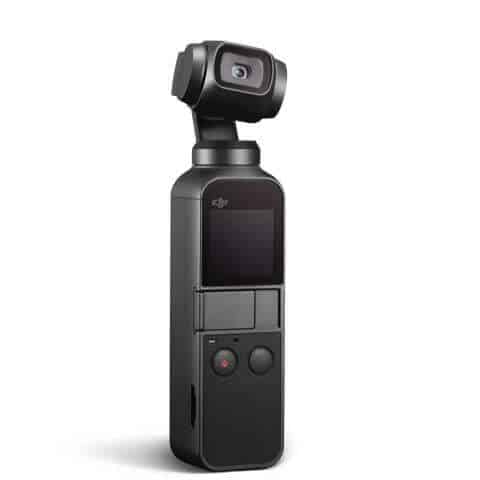 Dimensions (W x H x D): 121.9 × 36.9 × 28.6 mm.
Sensor: 1/2.3-inch.
Megapixels: 12MP.
Lens: 80° wide-angle lens.
Screen: 1-inch touchscreen.
Maximum Resolution: 4K.
Despite its small size, the DJI Osmo Pocket is a powerful compact camera and a perfect option that's ideal for traveling. Thanks to its 3-axis mechanical gimbal, you get a powerful camera with an ultrawide angle that automatically stabilizes your image. This will help you capture quality images in movement —like running, surfing, or walking really fast.
Out of the box, we get the DJI Osmo Pocket, a sweat-proof cover, a lanyard, a USB-C adapter, a power cable, and a Lightning adapter. It doesn't come with a mic input but you can insert a microphone with an adapter —and given the weak audio quality, you'd want to use a mic.
With the 1/2.3-inch sensor and f2.0 aperture, you can capture 4K/60 fps videos at 100 Mbps that will transform your travel memories into cinematic images worth an Academy Award.
Another stunning and smart feature is ActiveTrack and FaceTrack. ActiveTrack automatically recognizes your objective and follows it to film it. And FaceTrack automatically detects faces to keep in the spotlight —which is ideal during action selfies.
Things We Like
Small and compact.
Fantastic stablization.
ActiveTrack and FaceTrack work wonderfully.
Things We Don't Like
External mic option only with an adapter.
Doesn't come with a tripod.
Summary
To summarize, this camera was specially made for traveling and daily vloggers who are constantly moving and capturing life through the everyday lens. You probably won't get the best audio, but with a little editing, you can make magic.
---
3: Sony Camera ZV-1
Best YouTube Camera for Vlogging
Amazon product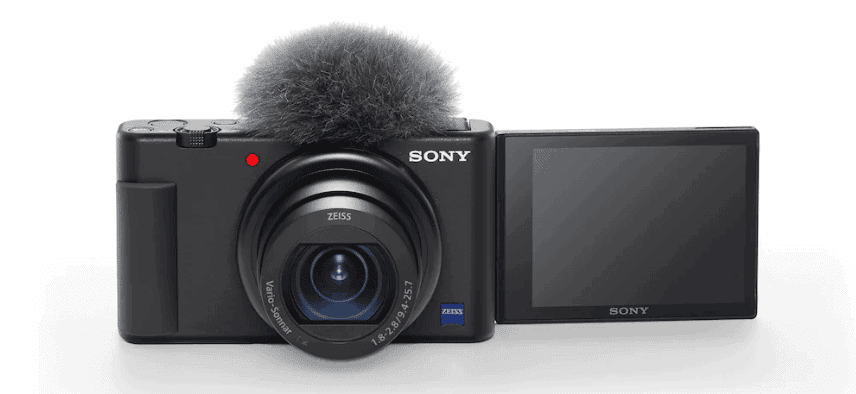 Dimensions (W x H x D): 105 x 60 x 44 mm.
Sensor: 1-inch BSI-CMOS sensor.
Megapixels: 20 MP.
Lens: 24-70 mm f/1.8-2.8.
Screen: 3.0-inch vari-angle touchscreen.
Maximum Resolution: 4K.
When Sony launched the Sony ZV-1 model, Sony was really looking to create a camera that would focus on the needs of Internet Vloggers. The Sony ZV-1 is essentially a combination of the Sony RX100 model without the expensive parts and with extra vlogging features.
Straight from the box comes a Micro-USB cable, a windscreen (and a windscreen adaptor), a strap, and a rechargeable battery pack (NP-BX1). If you buy it with the ZV-1 kit, you get a 64GB SD Card and a shooting grip that can also convert into a tripod.
It comes with very fast and reliable autofocus and a face/eye-tracking feature that will make sure that your face is always the protagonist. The screen is polarized to get better pictures on hot sunny days. Just don't go vlogging on a storm because the camera's body is made from plastic and it's not waterproof. It's also possible to do 4K shots with its 24-70mm f/1.8-2.8mm lens. But the battery will probably die after one hour, so be sure to keep extra batteries if you're out of your house.
This camera comes with a remarkable feature that will benefit vloggers called "product showcase". Use the feature and it will automatically focus on the object you're trying to show instead of your face. The Sony ZV-1 comes with a high-quality microphone and a screen that you can flip around and play with, though the touchscreen isn't the most responsive.
Things We Like
Fast and excellent autofocus.
Mic input.
Lightweight and compact.
Things We Don't Like
Isn't waterproof.
Short battery life.
Regular video stabilization.
Summary
A compact hand-size camera that will be able to create powerful cinematic videos. This camera will be a great match for those coming from a smartphone camera and aren't used to video cameras.
---
4: GoPro HERO8 Black
Best YouTube Action Camera for Sports
Amazon product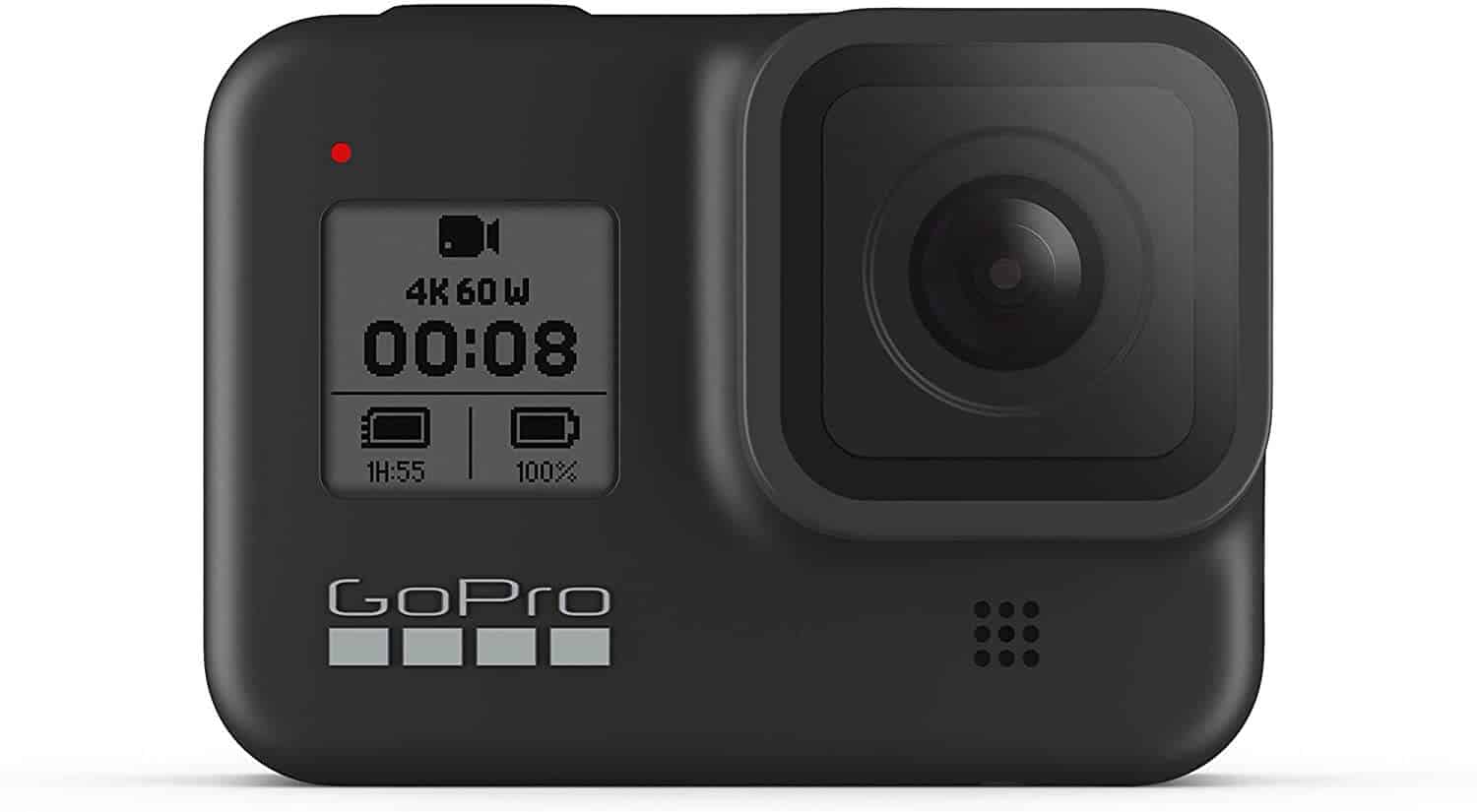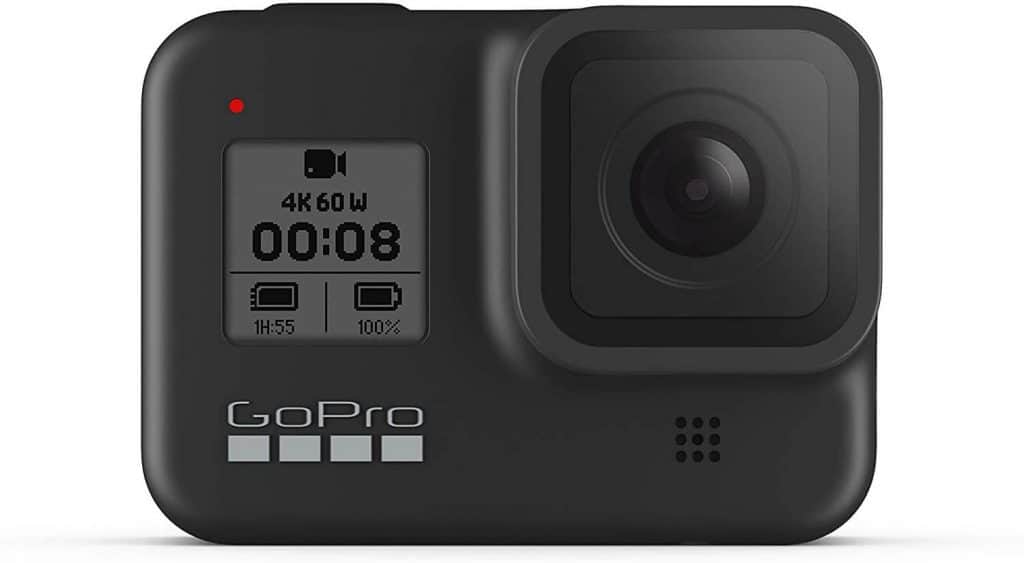 Dimensions (W x H x D): 66.3 x 48.6 x 28.4.
Sensor: CMOS.
Megapixels: 12MP.
Lens: Digital Lenses (SuperView, Wide, Linear, Narrow).
Screen: Intuitive 2-inch LCD touchscreen.
Maximum Resolution: 4K.
The GoPro HERO8 Black is one of the best cameras for youtube for sports thanks to is characteristics. It's small, light, and incredibly simple to use.
In the box comes a rechargeable battery, a curved adhesive mount, a mounting buckle, a USB-C Cable, and a thumbscrew. The GoPro HERO8 Black was built with high endurance to survive the toughest falls, and waterproof materials to help you dive in with awesome images. You can store your content on an SD Card. It also comes with 4 default video modes:
Standard: Films in 1080p, and that makes it perfect for regular and slow-moving objects.
Activity: With 60 fps and a 2.7k resolution, this mode works best with fast-moving objects.
Cinematic: Ideal when you want to film 4K videos with 16:9 resolution.
Slo-Mo: This mode creates videos with a frame-rate of 240 fps with an incredibly high resolution. This is the ideal mode for very fast moving objects.
Unlike the DJI Osmo Action, the GoPro HERO8 Black doesn't have a front-face display. If you ever want to front-facing, you'd need to buy extra accessories called mods. You can add a powerful flip-up screen, a 3.5mm mic (for better audio), and LED lighting.
The stabilization software (the HyperSmooth 2.0), is one of the most powerful stabilization tools available in action cameras. HyperSmooth 2.0 is available at every mode and video resolution and comes with multiple levels of stabilization. TimeWarp was also updated to its 2.0 version, allowing you to film movie-like movie sequences at 2x, 5x,10x 15x and 30x speeds.
Things We Like
Amazing HyperSmooth stabilization.
Rugged and waterproof.
Default video modes are excellent.
Things We Don't Like
No front-face display unless you buy extra accesories.
Has problems focusing objects in low light.
Summary
The GoPro HERO8 Black has a very intuitive interface and high-quality features that will help you obtain elite results. GoPro took the characteristics from the HERO 7 Black and upgraded them for a new level of action filming. It's just one of the best action cameras at the moment. Perfect for tough sports, hard environments, and fast-moving subjects.
---
5: DJI Osmo Action
Best YouTube Camera for Beginners
Amazon product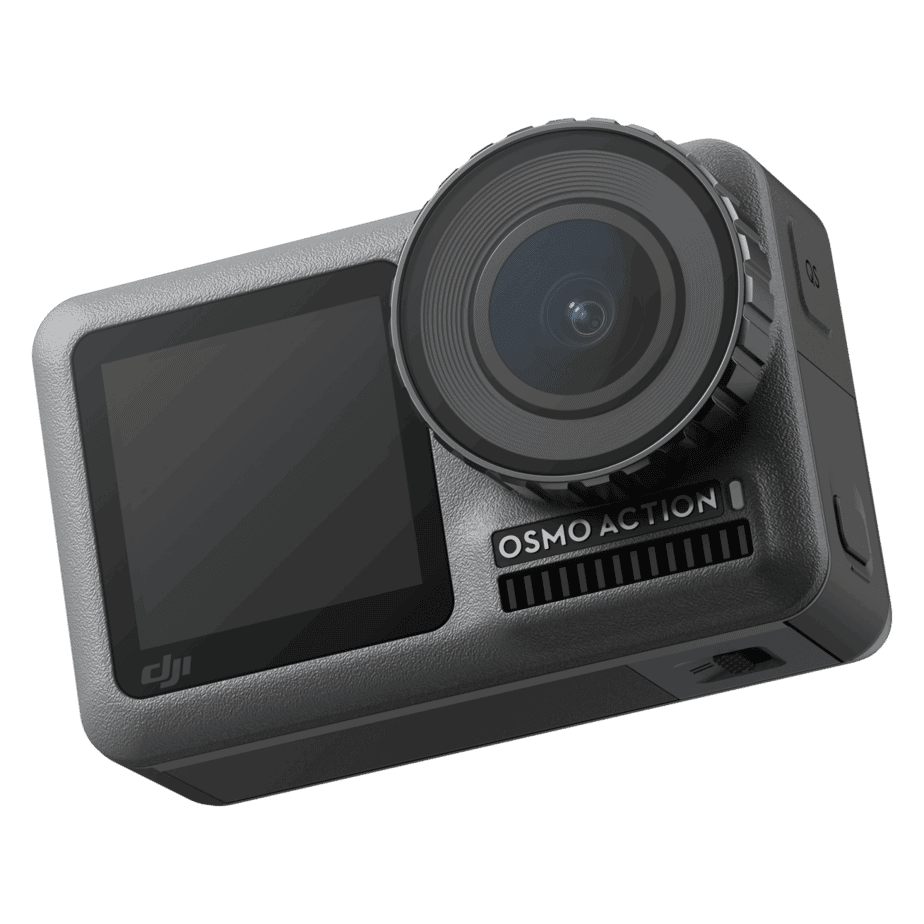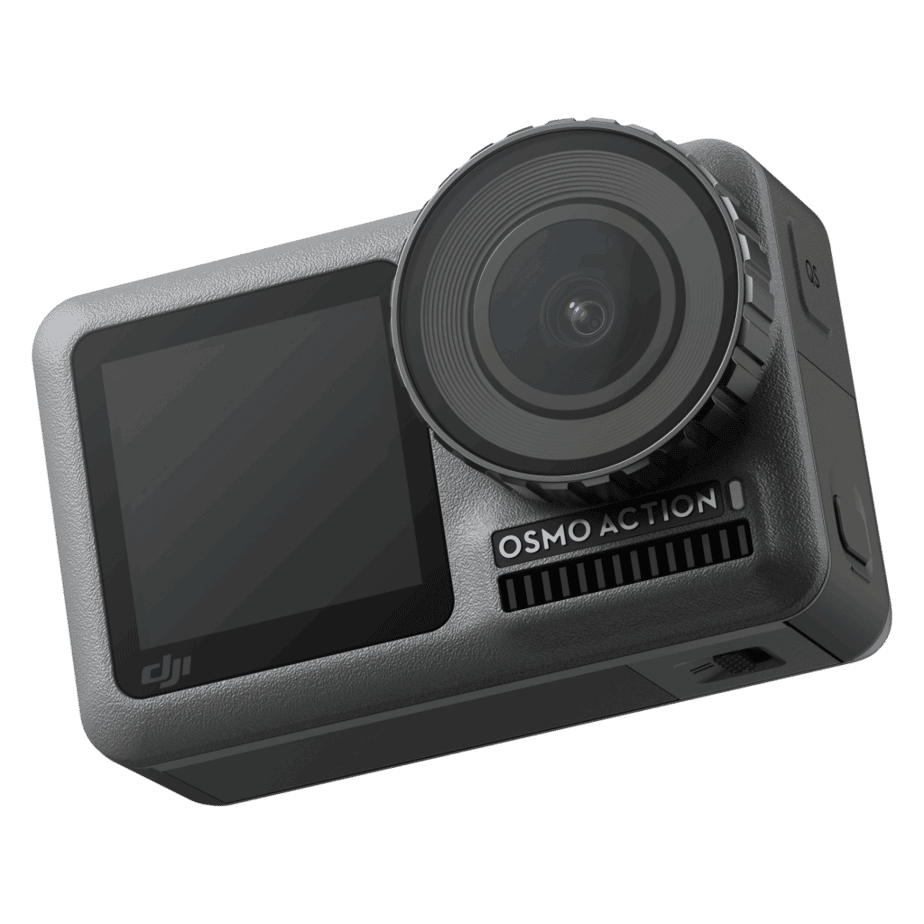 Dimensions (W x H x D): 65 × 42 × 35 mm.
Sensor: 1/2.3-inch CMOS.
Megapixels: 12 MP.
Lens: FOV 145° f/2.8.
Screen: 2.25-inch back touchscreen and a 1.4-inch front screen.
Maximum Resolution: 4K.
Another great action camera on this list is the DJI Osmo Action. Even with its small size, this light and compact camera has a list of different features that make it one of the best cameras in the market. GoPro has finally found a real competitor that's starting to gain recognition among action travelers.
Inside the box, it comes a camera frame, a curved and a flat adhesive mount, a quick-release base, a battery with its case, a locking screw, and a USB-C cable. A quick glance will let you know that the image quality it's superb.
Its design is a little utilitarian, which means it adopts being practical over having too many buttons and configurations. It's waterproof, so you can take it near the pool and the beach, and thanks to the front-facing you can easily take selfies underwater.
The DJI stabilization software it's called the RockSteady, which is just as impressive as the HyperSmooth 2.0. You can toggle the menu with your fingers or switch to the voice command. As with the GoPro HERO8, the battery can be removed, so that means that you carry around many batteries for hours of filming—or use a Power Bank.
With the QuickSwitch button, you can easily navigate between regular video, HDR video, Time Lapse, and more. With the 145° FOV and its special de-warping technology, you'll get images with a more natural look. How about if you want to edit? With the DJI Mimo App, you can edit your videos and images.
Things We Like
Waterproof design.
User-friendly navigation.
Amazing RockSteady stabilization.
Things We Don't Like
Average audio quality.
Lag issues when RockSteady is active with 4K.
Summary
The DJI Osmo Action is the best YouTube camera for beginners because of its simple and practical design. You'll get amazing features that were designed for people who want to vlog without being extra bout it. A worthy competitor of the GoPro series.
---
6: Sony RX100 VII
Good All-rounder
Amazon product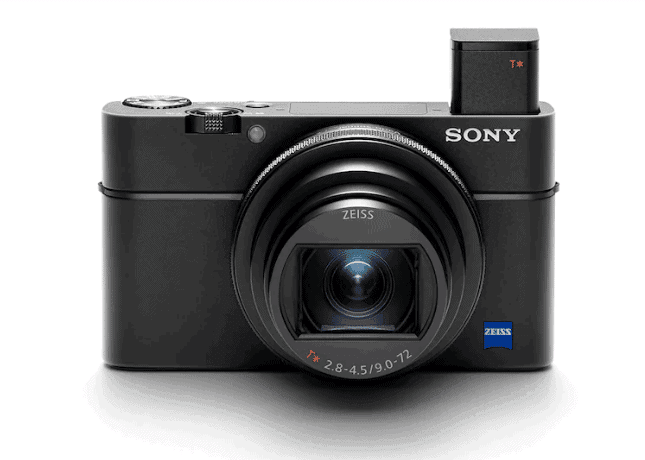 Dimensions (W x H x D): 102 x 58 x 43 mm.
Sensor: 1-inch BSI-CMOS.
Megapixels: 20 MP.
Lens: 24 -200mm f/2.8-4.5.
Screen: 3-inch tilting touchscreen.
Maximum Resolution: 4K.
Sony has been providing us with amazing cameras for a long time, and the Sony RX100 VII is no exception. This small camera offers us the possibility to take fantastic images. The RX100 VII presents an upgrade to the RX100 series, but with more features like fast eye-tracking, a better sensor, and the long-awaited mic input.
With the sharp 8x zoom lens, we get a camera that can zoom all the way from 24mm to 200mm. That means that we get more flexibility during filming. It might not be as light as other models, but it can surely fit into most pockets without any problems. This camera might have dust and splash protection, but it isn't rugged nor waterproof, so no heavy biking or beach swimming with this camera, please.
Now, one of the biggest features of this camera is the advanced autofocus that comes with the model. With Real-Time Tracking the camera can detect and instantly focus on moving subjects. It's able to detect faces to track them, even cats and dogs have been officially tested and the results are positive. Now you can vlog with your cat and make sure both of your faces are on point.
Some level of digital stabilization has been applied to videos, so that's good news for travelers, vloggers, and anyone trying to get a decent video while walking. One downside will be the very high price this camera has. Sony is taking the risk of pricing out of the market.
Things We Like
Incredibly small and compact.
Superb autofocus and movement tracking.
Microphone input for better audio quality.
Things We Don't Like
Expensive.
Small controls.
Summary
The RX100 VII is a formidable camera, suitable for YouTubers. It might not be as good as the Canon PowerShot G7 Mark III, but it's certainly a camera that's worth mentioning.
---
7: Olympus E-M5 Mark III
Best YouTube Camera for Professionals
Amazon product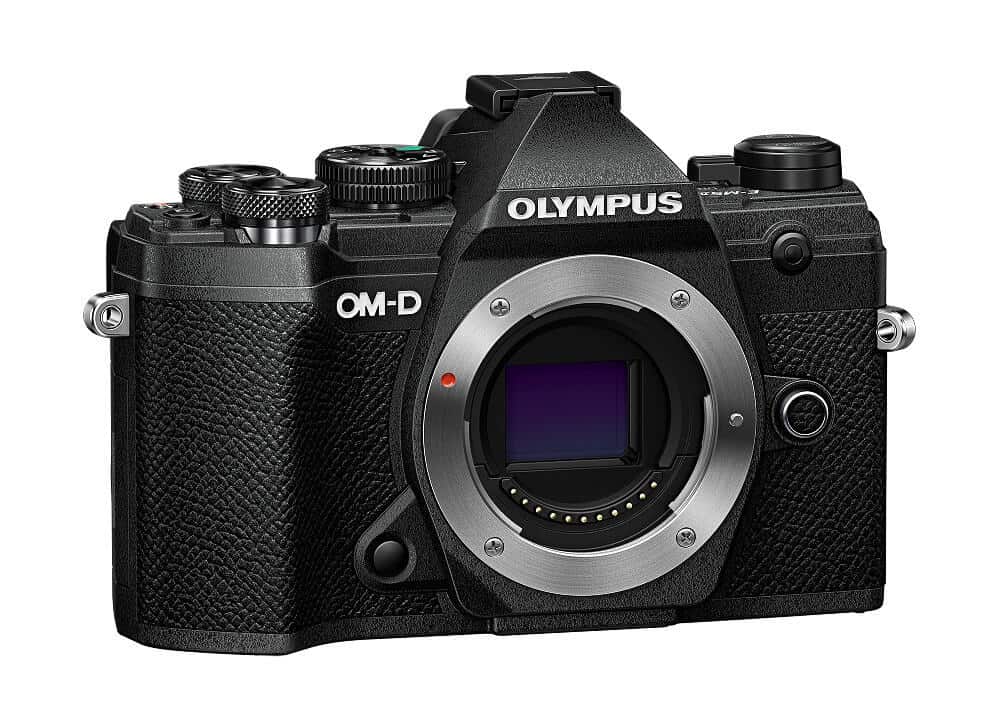 Dimensions (W x H x D): 125 x 85 x 50 mm.
Sensor: 4/3 CMOS.
Megapixels: 20 MP.
Lens: 4-150mm f/4.0-5.6.
Screen: 3-inch fully-articulated touchscreen.
Maximum Resolution: 4K.
Most Olympus fans had been waiting for this model to appear. We see a smaller and less bulky model than its predecessor (the E-M1 II). This professional mirrorless camera pushes the boundaries of compact cameras and their abilities. This model is the best YouTube camera for professionals given its specs and its features.
This camera was launched after Olympus 100-year anniversary. The 20 MP sensor was a long-awaited feature. You can capture 10 fps in continuous shooting, and a remarkable amount of 30 fps in Pro Capture mode. The screen is packed with 1,040k dots, so it's safe to take this camera outdoors and get decent photos.
This model was mostly designed for vloggers who like to feel a level of manual control. The body of the camera is heavily packed with buttons and an on-screen interface to implement them.
This model was built dust, splash, and freeze-proof (basically, weatherproof). The autofocus has the biggest number of AF points, but the 121 phase detection on the sensor AF points cover pretty much most of the area of the sensor. The autofocus feels fast and responsive.
Things We Like
Rugged and weatherproof.
Includes an external flash.
Vari-angle LCD screen.
Things We Don't Like
Its wide aperture lenses aren't lightweight and are expensive.
The Charging Port isn't USB-C.
Summary
This model might intimidate many people, especially if they are beginners. But for those experienced photographers that are starting to make YouTube videos, this camera might feel more natural to them.
---
8: LUMIX G Camera DC-G10
Great YouTube Camera for Vlogging
Amazon product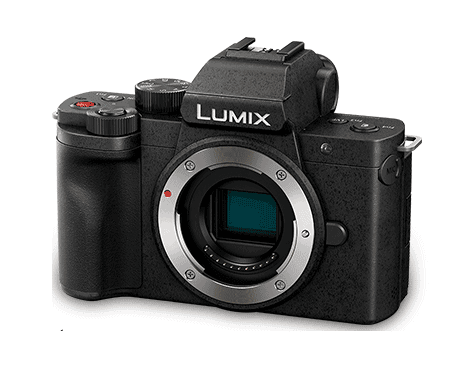 Dimensions (W x H x D): 116 x 83 x 54 mm.
Sensor: 4/3 CMOS.
Megapixels: 20 MP.
Lens: 12-32mm f/3.5-5.6.
Screen: 3-inch fully-articulated touchscreen.
Maximum Resolution: 4K.
The Lumix DC-G100 is Panasonic's take into the vlogging-camera market. It's a mirrorless camera that was designed with video vloggers in mind. Its features are really what most vloggers need from a camera with extra abilities.
It comes with OZO Audio, by Nokia. That means that spatial audio recording via three built-in mics has been implemented to ensure clean and professional audio. It has an automatic video selfie mode that can be set when you rotate the screen forward, great for keeping your face focused on the recording.
The G100 can record UHD 4K videos at 30p, and Full HD recordings at 60p. You can film vertical videos with the DC-G100, perfect for smartphone-related content creators. And with its HDMI, Bluetooth, and Wi-Fi connectivity, you can be sure that yor photos can be shared and storaged in any way.
Things We Like
Professional-level audio quality.
Improved connectivity.
High-quality video.
Things We Don't Like
Doesn't have a headphone jack.
No in-body stabilization.
Summary
The DC-G100 has all of the necessary characteristics to be considered a suitable camera for YouTube videos. The audio is on fleek, the videos are professional, and the interface is not complicated to understand.
---
9: Canon EOS 90D
Best DSLR Camera for YouTube Videos
Amazon product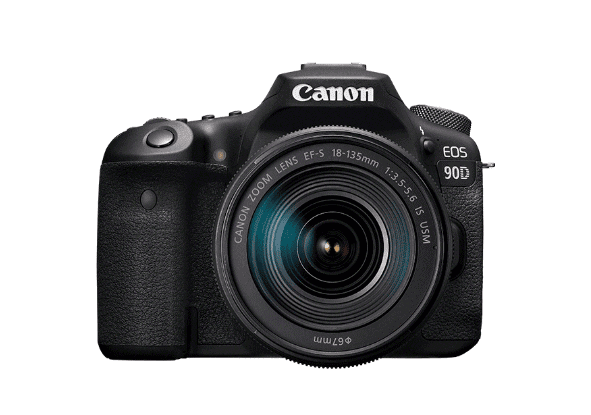 Dimensions (W x H x D): 140.7 x 104.8 x 76 mm.
Sensor: 22.3 x 14.8 mm APS-C CMOS.
Megapixels: 32.5 MP.
Lens: EF-S.
Screen: 3-inch articulated touchscreen.
Maximum Resolution: 4K.
Canon didn't forget about DSLR camera lovers. The Canon EOS 90D is a great DSLR camera for YouTube video makers that still prefer DLSR cameras in a mirrorless era. It has a Digic 8 processor like the PowerShot G7 X Mark III and a high-resolution sensor that delivers a smooth performance. This model has a powerful battery life, a user-friendly interface, and a good handling design.
Out of the box comes an LP-E6N battery, an LC-E6 battery charger, and a neck strap. It has Bluetooth and Wi-Fi connectivity to share photos and to have remote control of it. This model is excellent for nature and sports films, and since it's splash and dust-proof, it can fit in natural environments.
It has a high ISO capture, but at around 3200 ISO some noise might appear, and at 6400 ISO might still be a worth-keeping video that can be edited in post-production. Like with most of the cameras on this list, you can shoot uncropped 4K UHD videos at 30 fps, videos in Full HD at 60 fps, or Standard HD at 60 fps.
Things We Like
Very high ISO capture.
Strong battery life.
High-resolution sensor.
Things We Don't Like
Noise appears at 3200 ISO.
Limited buffer capacity.
Summary
In conclusion, this camera could work for both bird-watcher and vloggers thanks to its versatility and high resolution. Great for those who prefer DSLR cameras.
---
10: Panasonic LUMIX GX85
The best camera for youtube for 4K Filming
Amazon product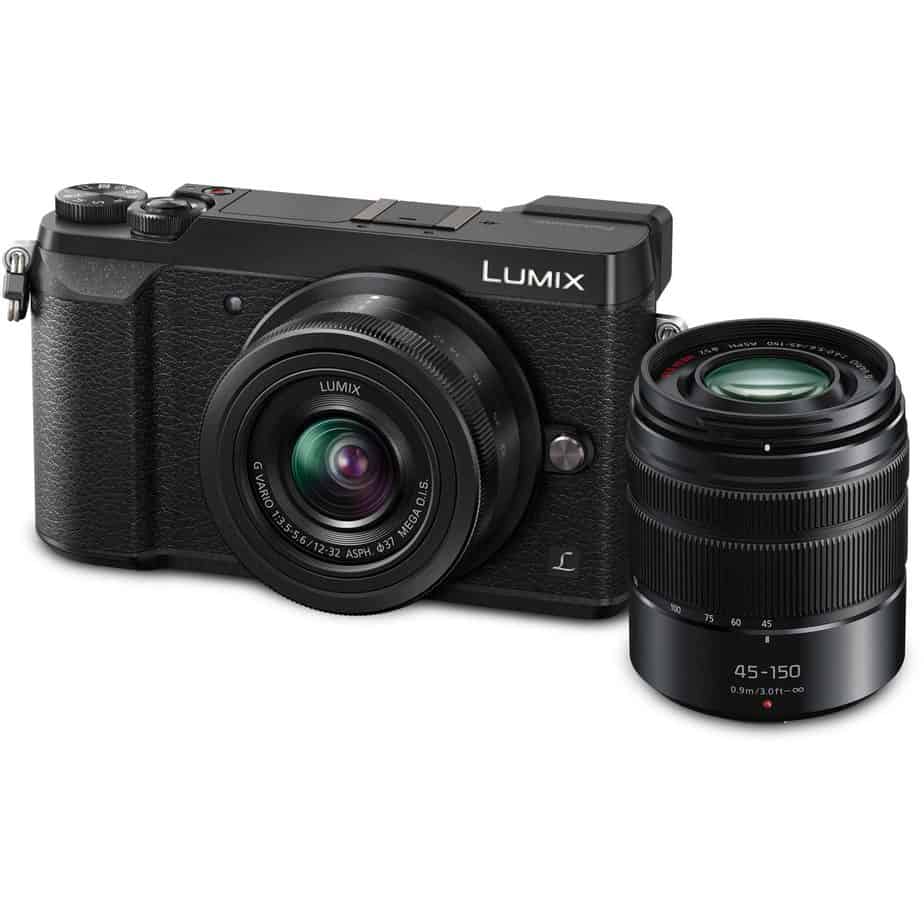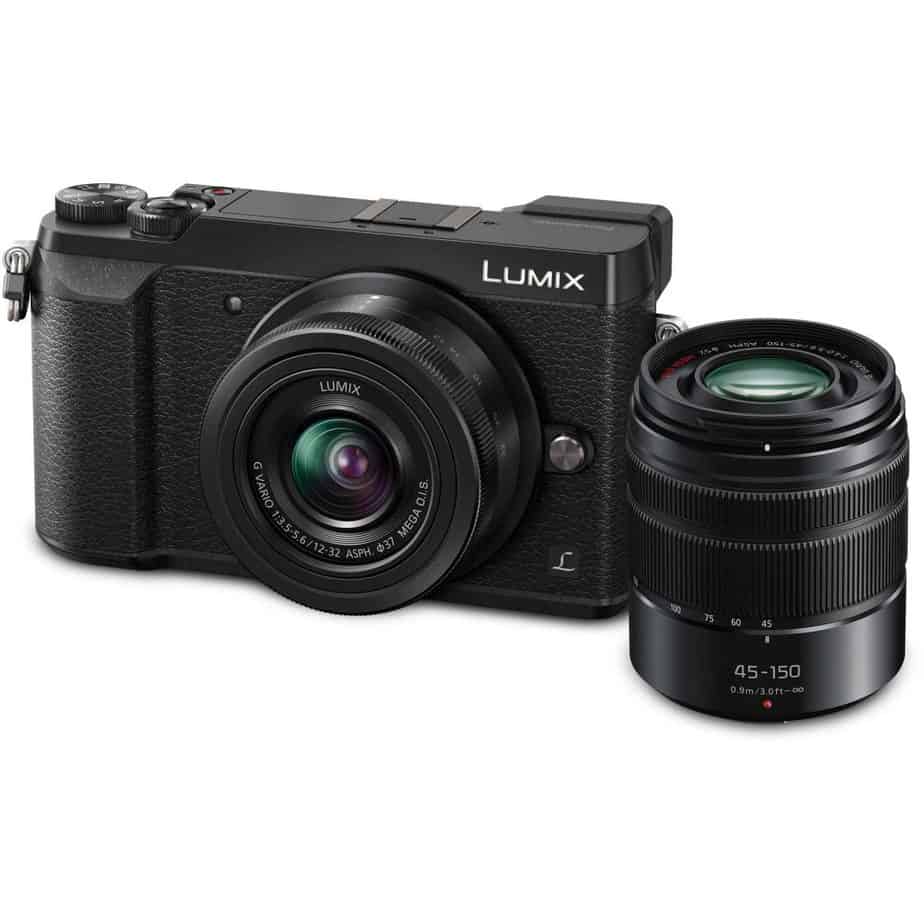 Dimensions (W x H x D): 121 x 71 x 44 mm.
Sensor: 4/3 CMOS.
Megapixels: 16 MP.
Lens: 2-35 mm f/3.5-5.6 and 24-64 mm-equivalent zoom.
Screen: 3-inch tilting touchscreen.
Maximum Resolution: 4K.
Lastly, we got the Panasonic Lumix DMC-GX85, one of the best YouTube cameras for 4K filming. It's targeted to more experienced photographers and filmmakers. It features incredible features like 4K Photo mode, Post Focus, Depth from Defocus AF, and more. This model doesn't include a mic input, so if you need clean audio, you'll need to go to post-production. It has a compact and light design that makes it ideal for street traveling and vlogging.
It has many advanced features built-in. Great quality, speed, and body. But the most notable it's the 4K video quality. Capable of filming 4K UHD (3840 x 2160) at 30p and 24p with 6 fps burst AF. This model offers 4K video at 100Mbps bitrate. And with 4K Photo mode, you can capture high-quality photos for your miniatures.
Things We Like
High-quality 4K filming.
Not too expensive.
Small and compact.
Things We Don't Like
No microphone input jack.
Noise reduction works a little aggresively.
Summary
This camera is perfect for those YouTubers who need very high-quality 4K videos and photos for their channels.
---
FAQs
Are YouTube Cameras Easy to Use?
Yes, most YouTube cameras are built to suit every new vlogger, from the beginner to the professional. Some cameras do require you to know a little about photography, but they're very user-friendly and easy to learn.
What Are Digital Single-Lens Reflex Cameras (DSLRs)?
Digital Single-Lens Reflex Cameras (DSLR) are digital cameras that use a mirror mechanism that reflect the light from the lens to the optical viewfinder. The images travel through a prism or additional mirrors. Another well-known characteristic of DSLR Cameras is that they have interchangeable-lens models. They are usually preferred by professional photographers, but beginners can use them as well.
What Are Mirrorless Cameras?
A mirrorless camera is a camera that doesn't have a mirror mechanism inside of it. Mirrorless cameras use an electronic viewfinder that displays what the lens of the camera capture.
Should I Buy Mirrorless or DSLR?
It depends on your needs. Mirrorless cameras are usually lighter, more modern, compact, and usually better at video shooting; but they lack the accesories that DSLR cameras have. DSLR cameras have better optical viewfinders, a stronger battery, and a variety of interchangeable lens.
What Are Action Cameras?
Action cameras are cameras that are meant to be used for action shots while the user is moving in a certain environment. They are small, compact, rugged, and mostly waterproof.
Is it free to start a YouTube channel?
Yes, starting a YouTube channel is free; however, the equipment isn't. You'll need to have the necessary tools in order to grow as a professional YouTuber.
What Equipment Do I Need To Start Vlogging?
You'll need a camera (obviously), a microphone, a tripod or a gimbal stabilizer, video-editting software, and good lighting.
Conclusion
Like we said earlier, the camera that suits you will largely depend on your needs as a YouTuber. There is no right or wrong and hopefully, you'll choose wisely based on your needs. Keep reading GadgetGang to find out about the latest tech news. Leave a comment and let us know what you think!