Taking advantage of your videos and selfies means getting the best micro SD card for your GoPro. The latest GoPros have the capacity to shoot 4K videos, so yes, you need to know which SD card you should buy in order to get the best results. After all, you need your SD card to do the best possible work to get the best possible results.
We also had those same questions, that's the reason why we went out and bought highly rated SD cards so we can perform our testing. We have listed our results below with a list of the 7 best micro SD cards for GoPro.
So whether you're filming for YouTube or for yourself, keep reading to learn more and find out how to buy a memory card like a pro.
---
Top 7 Best Micro SD Cards for GoPro
You don't need to panic when choosing the best microSD Cards for GoPro. We've already made a list of amazing and fully functional micro SD cards that will do a fantastic job. We have tried and tested these SD cards with the GoPro Hero 7 all the way up to the GoPro Hero 9 so we know they work very well.
1: SanDisk Extreme Pro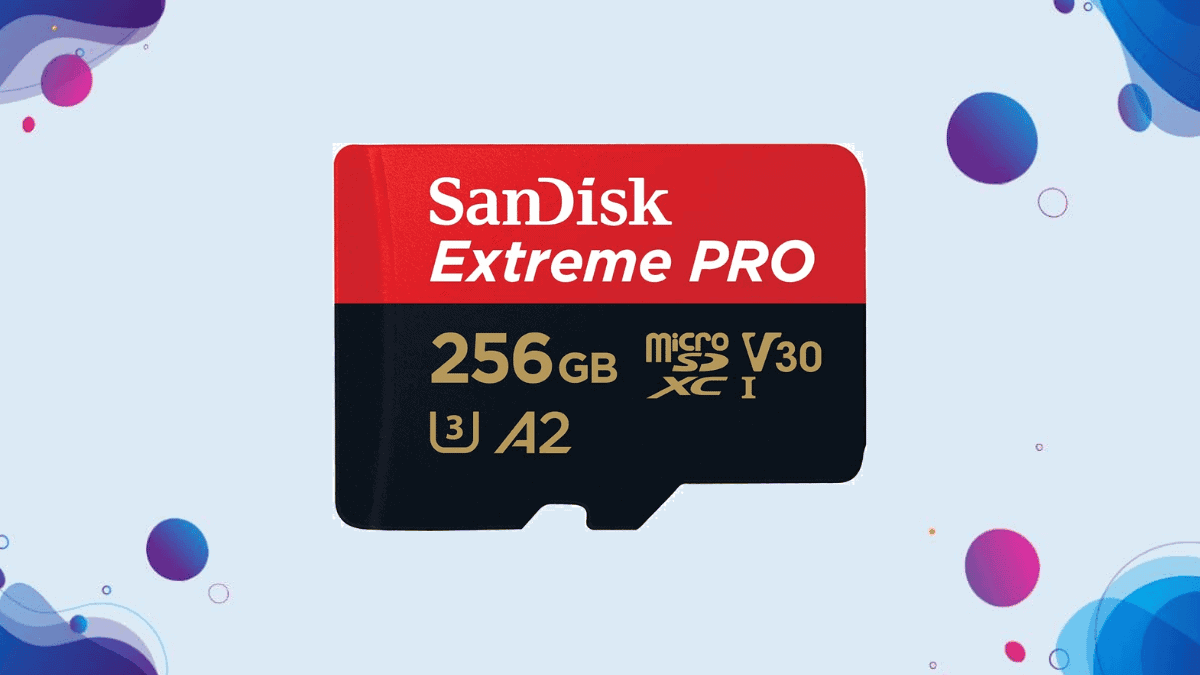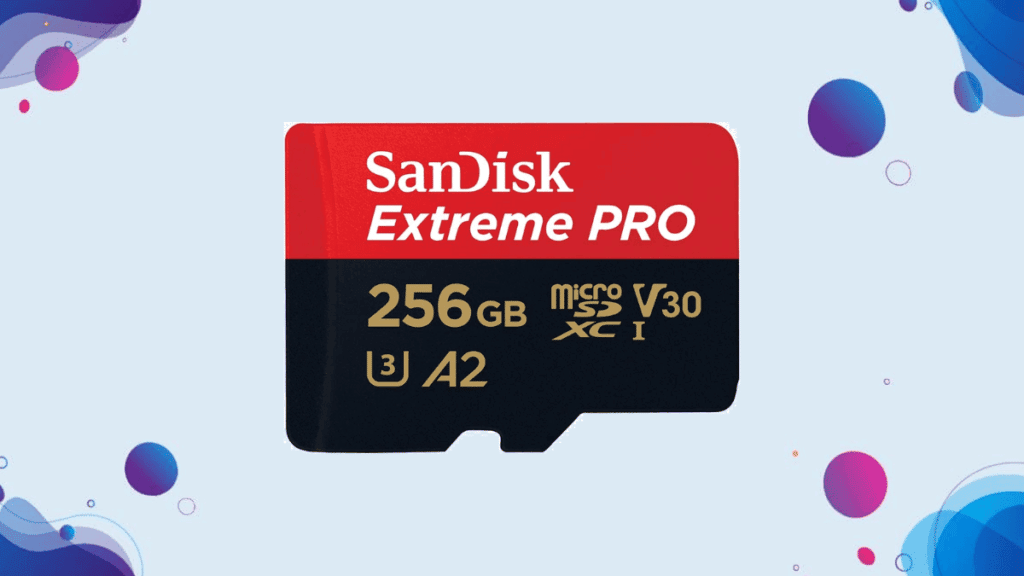 | | |
| --- | --- |
| Speed: | Up to 170MB/s |
| Brand: | SanDisk. |
| Storage capacity: | 64GB-400GB. |
| Weight: | 0.352 oz. |
| Card Type: | MicroSDXC. |
| Color: | Red and Black. |
Amazon product
When looking for quality in SD cards, you simply can't ignore SanDisk. They're one of the most recognized and world-wide famous brands when it comes to making SD cards.
This micro SD card for GoPro is at the top of our list because of its well-known quality. It's temperature proof, waterproof, shockproof, and X-ray proof. This is excellent for those wild adventurers out there that don't want to worry about losing their files after an accident.
The UHS-I speed of V30 means that it'll be able to record flawless 4K videos without much problem. It can read files at 170MB/s and write at 90MB/s.
This SD card can work on Android devices and on the Nintendo Switch. So it's an excellent choice for people who like using one card on different devices (also great for drones.)
One downside will be that this model is a little more expensive than other products in the market. But this card offers excellent features from a trusted brand, so that's why the price can be so high.
Key Features
Reliable SanDisk technology.
Compatible with drones, Android devices, and the Nintendo Switch.
---
2: SanDisk Extreme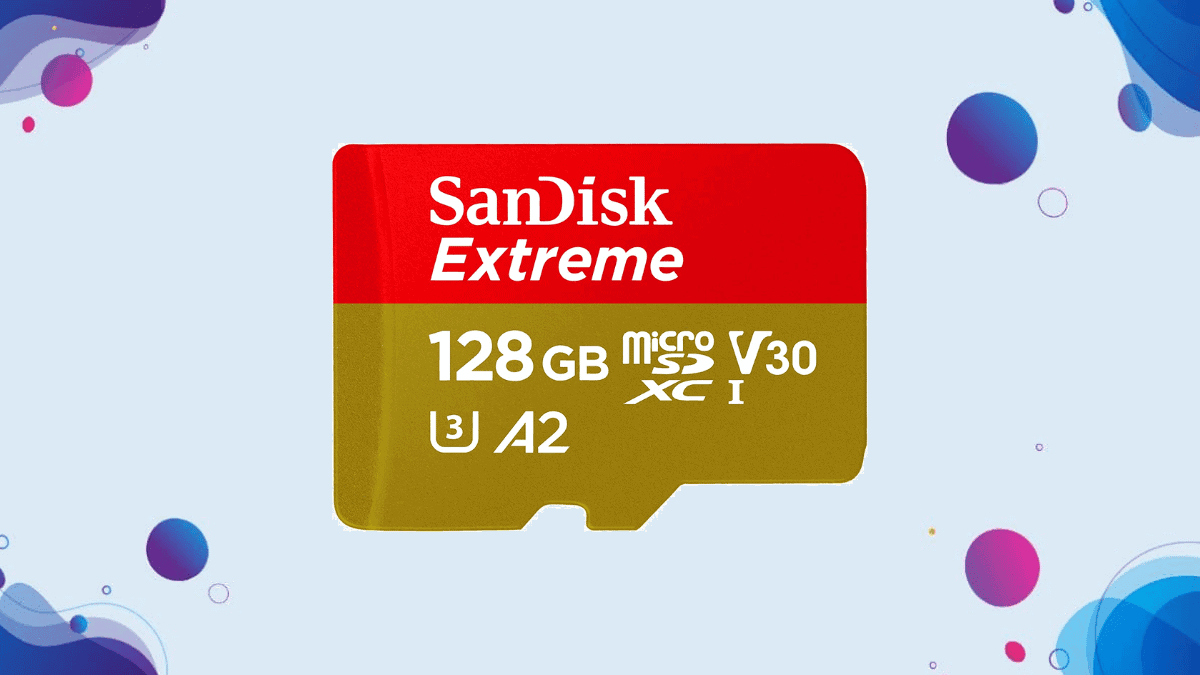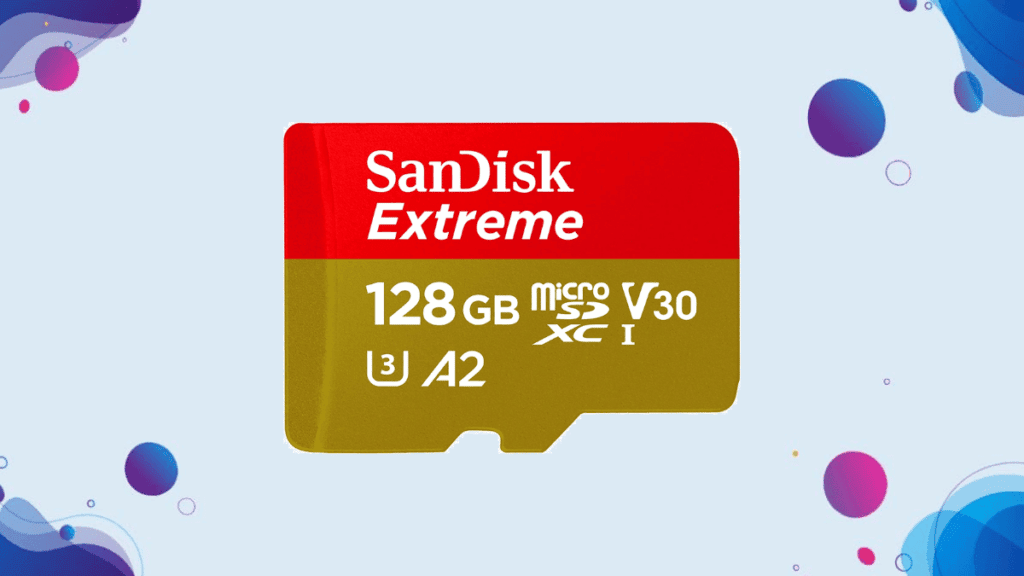 | | |
| --- | --- |
| Speed: | Up to 160MB/s |
| Brand: | SanDisk. |
| Storage capacity: | 32GB-1TB. |
| Weight: | 0.16 oz. |
| Card Type: | MicroSDXC. |
| Color: | Red and Golden. |
Amazon product
Another unmissable GoPro SD card has to be the SanDisk Extreme. SanDisk is a big shark in the memory card market and let's find out why. This model's almost like the father of all SD Cards. It's no wonder that GoPro officially recommends this card, and sells it directly with their cameras from their official shop.
This card is so fast it can work for the latest models out there, it's well-known for its quality, and it's less expensive than the Extreme Pro. You can choose from as little as 32GB to as much as 1TB. So you can expect this model to handle those 4K videos that your GoPro can film.
It's a strong SD card that anyone that has used it in the past would recommend with their eyes closed. Like most SanDisk SD cards, this one is temperature-proof, water-proof, shock-proof, and X-ray proof.
This is the best SD card for GoPro Hero 9 because it can work fantastically without any problems. It has up to 90MB/s writing speeds and a 160MB/s reading speed. We could call this the holy grail of portable storage.
Definitively a top SD card for GoPro devices at the best price and for the best quality. SanDisk cards will certainly be a great investment.
Key Features
Excellent performance.
A great choice for 4K filming.
Big storage capacity.
---
3: Samsung: EVO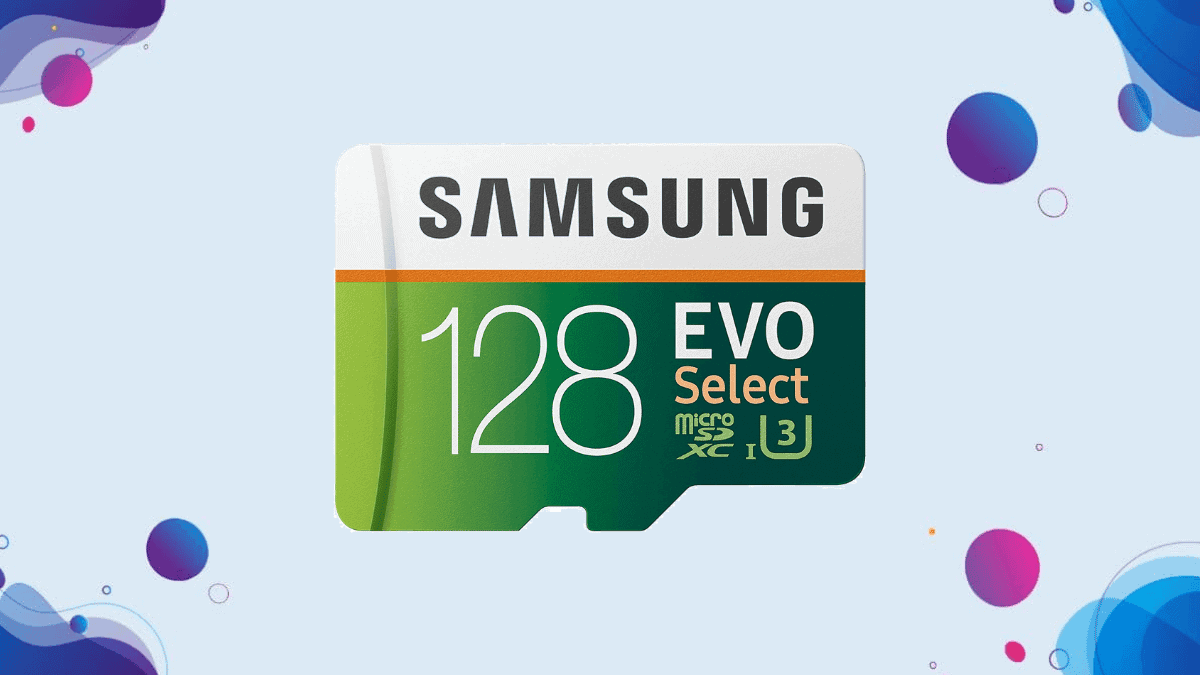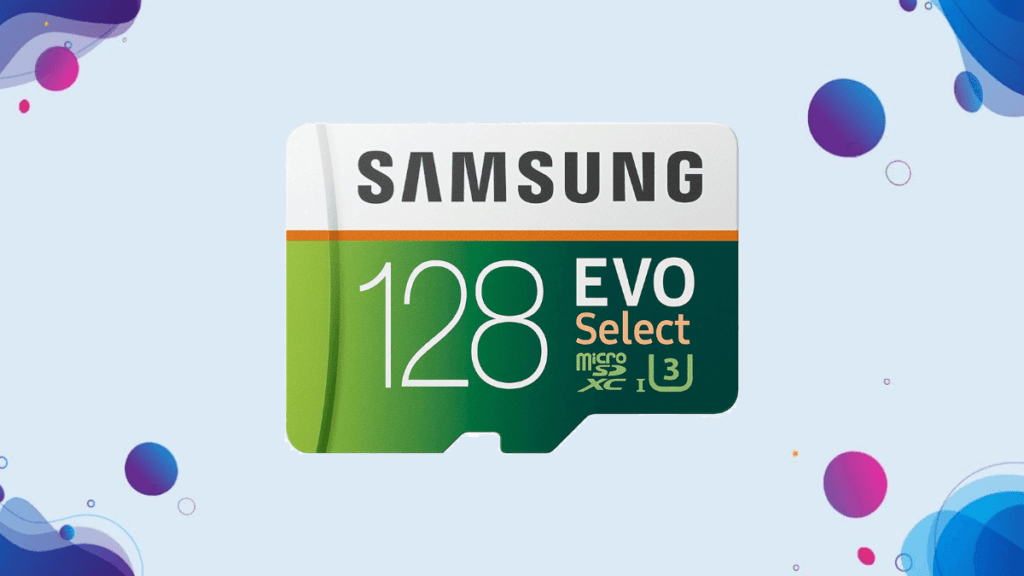 | | |
| --- | --- |
| Speed: | Up to 100MB/s |
| Brand: | Samsung. |
| Storage capacity: | 32-512 GB. |
| Weight: | 0.317 oz. |
| Card Type: | MicroSDXC. |
| Color: | Green and white. |
Amazon product
When Samsung isn't using their high-end technology for making phones, they use it for making some quality SD cards
It has a very competitive price mixed with an outstanding performance. It's been tested and it works perfectly even on the most demanding video settings. It's a UHI-I memory card with a U3 rating. So feel safe to record 1080p and 4K videos with this little hero.
This SD Card can also resist a two-meter drop because it's shockproof. It's also magnetic proof, X-ray proof, waterproof, and temperature proof.
This is another fast card that can read at speeds of 100MB/s and write at speeds of 60MB/s.
You can get it with a micro SD-to-SD adapter or with a USB thumb drive card reader. A ten-year warranty is also included. This is also another versatile micro SD card that you can use on your Android device, drone, and more. And since you can get it with a full-size adapter, you can adapt it and use it on your desktop computer, camera, or laptop.
Key features
Full-size adapter makes it great if you want to use it on regular cameras or laptops.
Great level of protection against accidents.
Ten-year warranty.
---
4: PNY Elite-X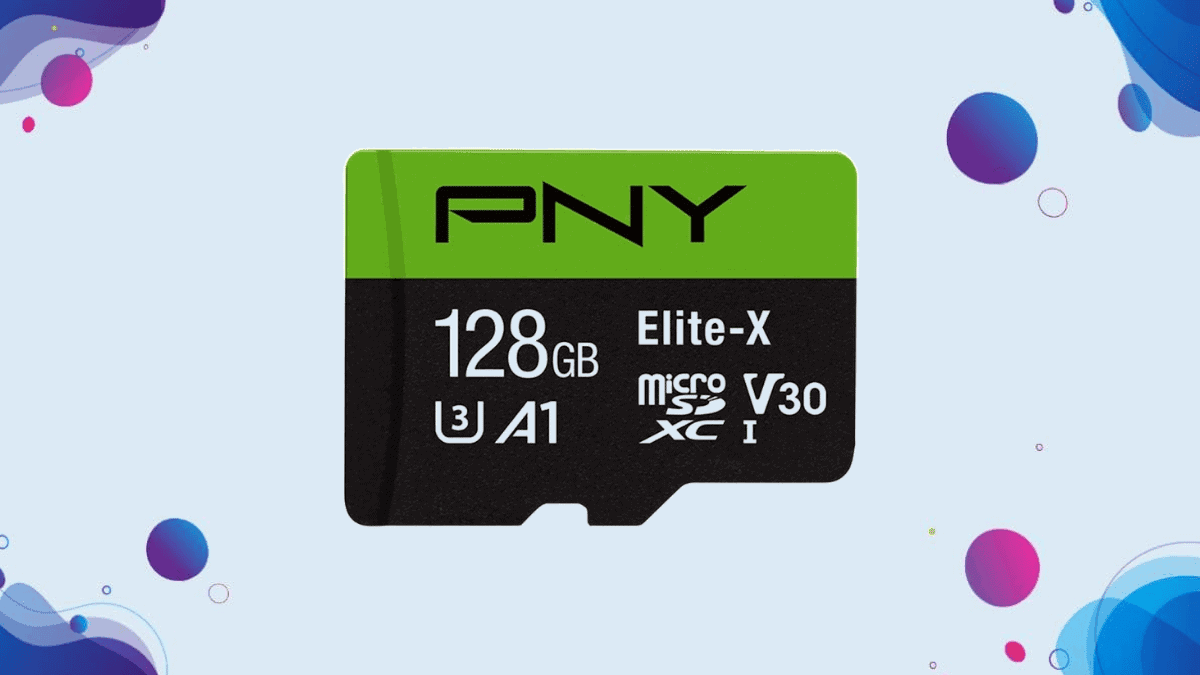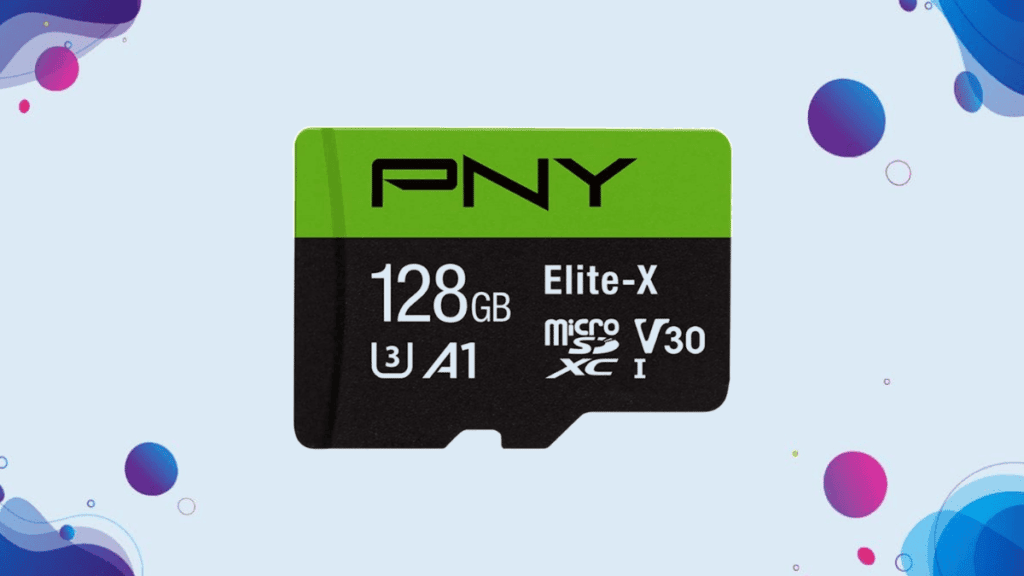 | | |
| --- | --- |
| Speed: | Up to 100MB/s |
| Brand: | PNY. |
| Storage capacity: | 32-256GB. |
| Weight: | 0.563 oz. |
| Card Type: | MicroSDXC. |
| Color: | Black and Green. |
Amazon product
Maybe this brand isn't as big and recognized as SanDisk and Samsung, but they've been making some awesome SD cards that are worth checking out. And the Elite-X is one of their best results.
We have another versatile option that can adapt to a wide range of devices from smartphones to action cameras.
It's a UHS-I card with a rating of V30. You can choose between a wide variety of storage options, but you should go with something around 128-256GB. It's one of the fastest micro SD cards for GoPro in the market, with a reading speed of 100MB/s and a writing speed of 60MB/s, so HD filming is obviously possible.
It includes an SD adapter for compatibility with SDHC devices. This SD card might present issues in older models like GoPro Hero 6 and below but works perfectly on newer models like the GoPro Hero 7. But still, it's one of the best SD cards for GoPro devices.
Key features
Amazing writing and reading speeds.
It's cheaper than other models.
---
5: Samsung Evo Plus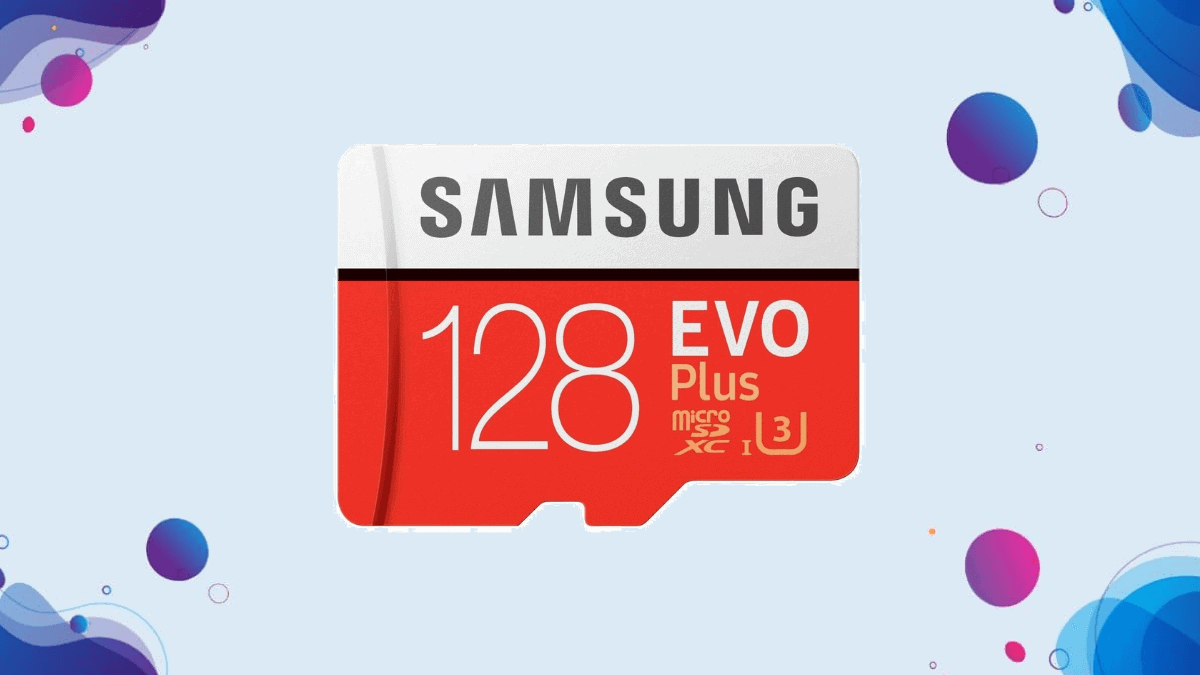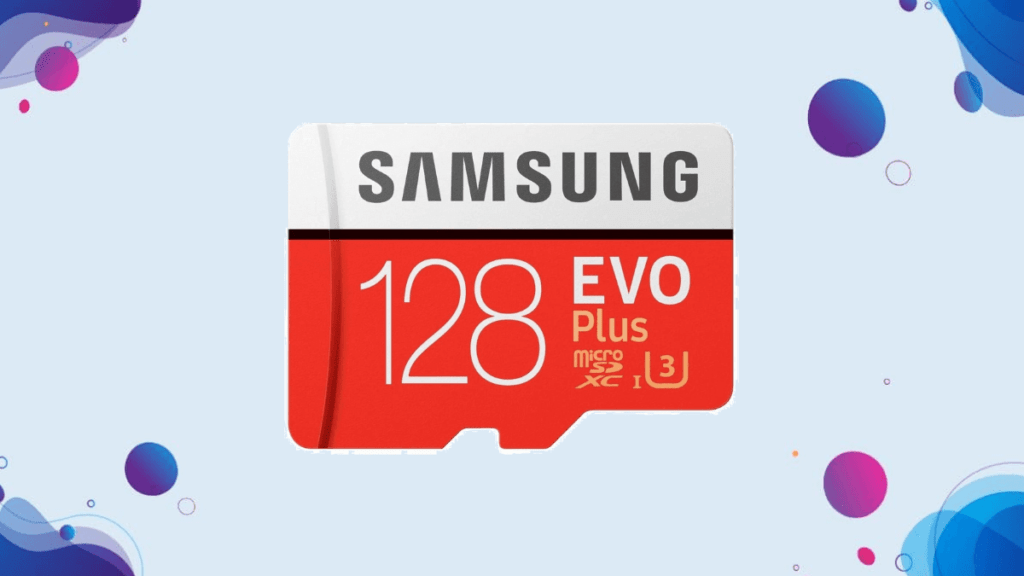 | | |
| --- | --- |
| Speed: | Up to 100MB/s |
| Brand: | Samsung. |
| Storage capacity: | 128 GB. |
| Weight: | 1.8 oz. |
| Card Type: | MicroSDXC. |
| Color: | Red and white. |
Amazon product
Another incredible Samsung SD card for GoPros has to be the Evo Plus.
Like you would expect from Samsung, it has everything you need from a memory card: it's strong, it has quality, and it will let you shoot beautifully detailed 4K videos. You'll never have to worry about running out of storage with this card.
It has ultra-fast speeds and can read up to 100MB/s and write up to 90MB/s and resist water, shock, magnets, and X-rays. So not only you can feel safe to know that your files will be protected, but you can also feel safe to know that they will be read fast.
Definitively one of the best memory cards for any GoPro device. You simply can't miss the fact that it's an incredibly cheap 128GB micro SD card, almost too incredible not to miss it. You can get the best Samsung results with the Evo Plus.
Key features
Incredibly fast.
Economic price.
Top-notch Samsung quality.
---
6: Delkin Select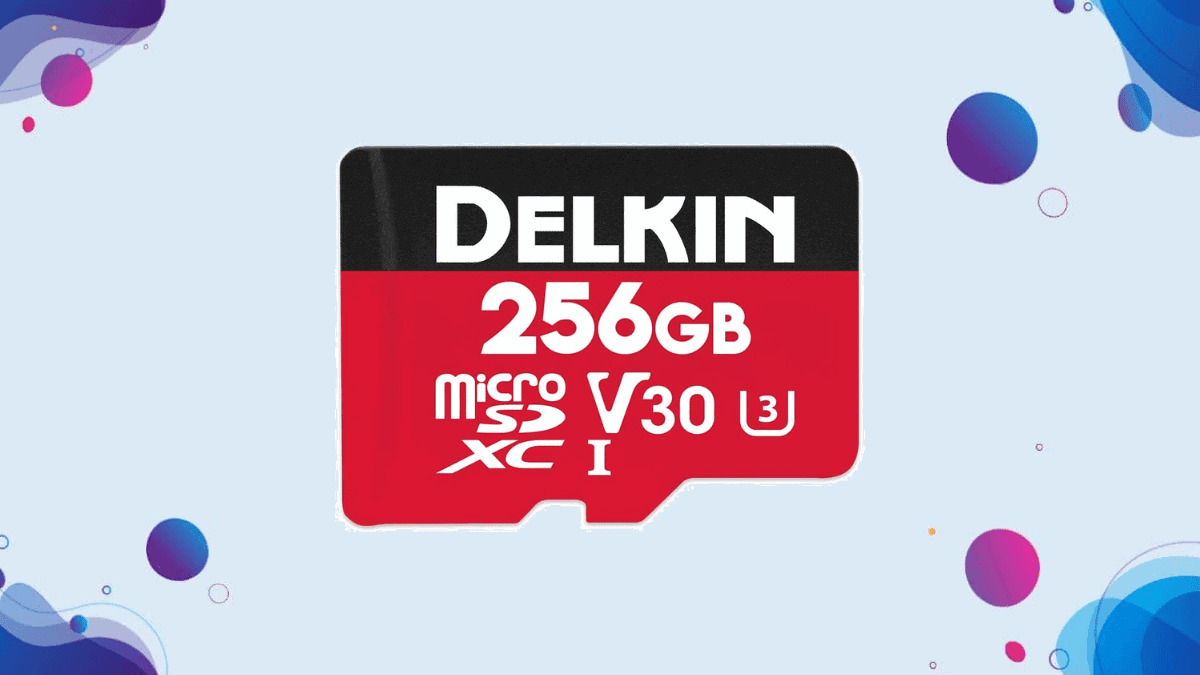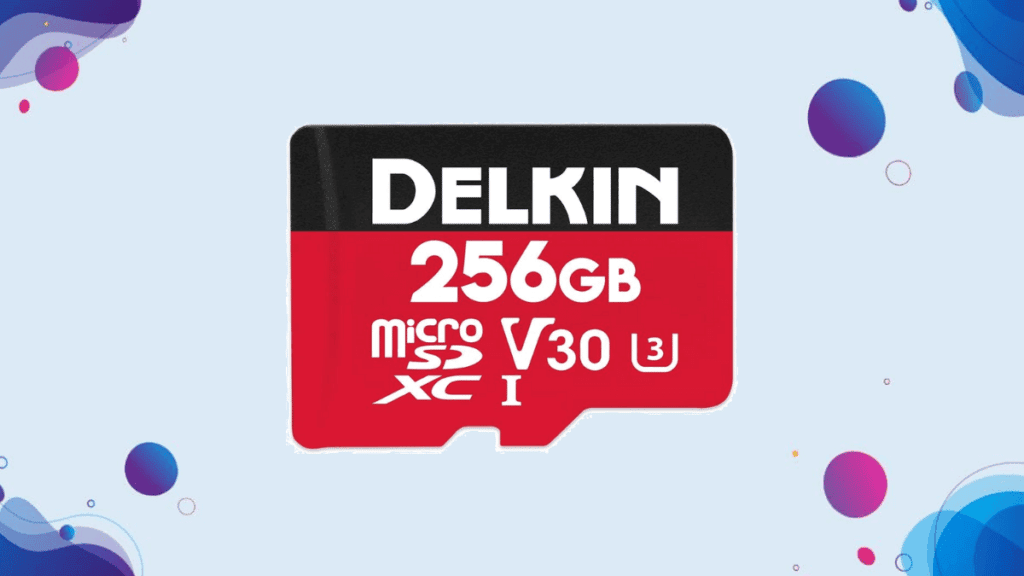 | | |
| --- | --- |
| Speed: | Up to 100MB/s |
| Brand: | Delkin Devices. |
| Storage capacity: | 16-512GB. |
| Weight: | 0.634 oz. |
| Card Type: | MicroSDXC. |
| Color: | Red and Black. |
Amazon product
Another fantastic brand is Delkin Devices and their remarkable products. They've been making SD cards for quite some time.
While this isn't one of their fastest results, with a writing speed of 80MB/s and a reading speed of 100MB/s, they are really impressive. This is one of the best micro SD cards for GoPro because it has everything that GoPros need, nothing more and nothing less.
This model comes with an SD adapter, so you can also use this card with other devices such as cameras. But the performance isn't just what's good about this, we also have one of the cheapest SD cards in the market. An incredible deal.
It's also water-proof, shock-prof and X-Ray proof. So if you decide to get this card you'll have an amazing deal in your hands.
Key features
Reasonable price.
Comes with an SD adapter.
---
7: Lexar Professional 1000x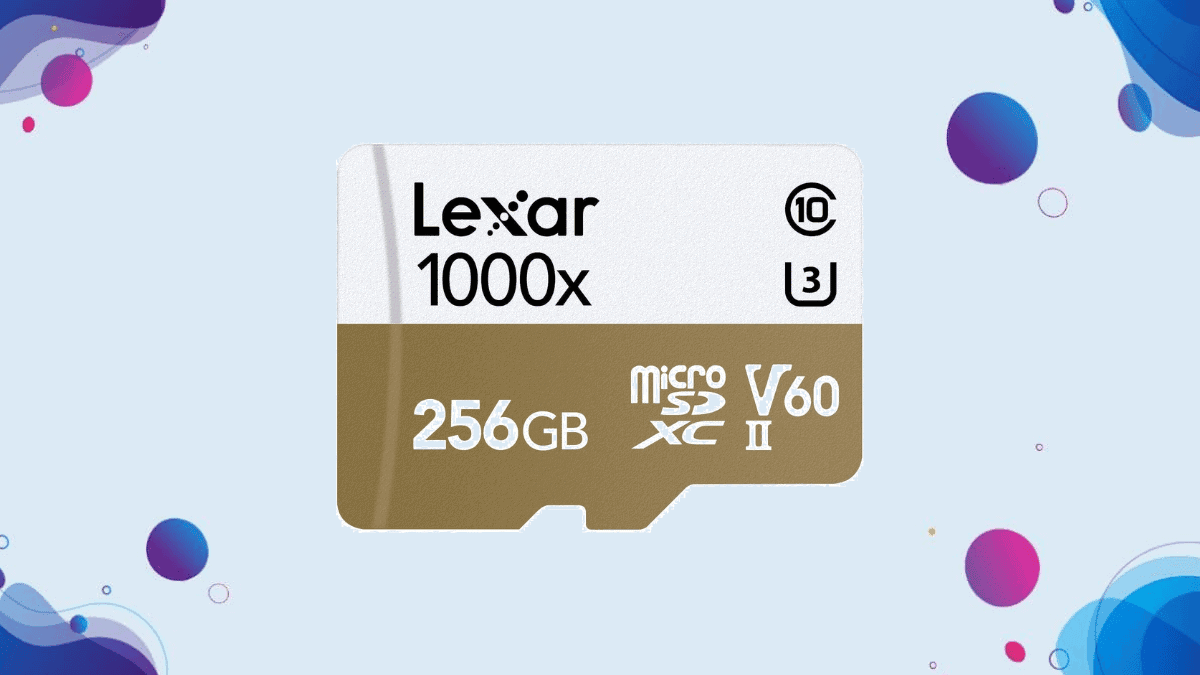 | | |
| --- | --- |
| Speed: | Up to 150MB/s |
| Brand: | Lexar. |
| Storage capacity: | 32-256GB. |
| Weight: | 0.32 oz. |
| Card Type: | MicroSDXC. |
| Color: | White and Beige. |
Amazon product
Lastly, we got another incredibly well-equipped micro SD card for GoPro, the Lexar Professional 1000x. In the Lexar family we can find slower models like the 633x cards that'd work great on older models, but wouldn't handle 4K magic.
This card uses UHS-II technology, which is a little more than what you'd need on your GoPro, but since it has backward compatibility to UHS-I devices, you can use this card with ease.  And this is also a premium memory solution for GoPro lovers.
It has a reading speed of 150MB/s and a writing speed of 90MB/s. So this card is perfect for photographers and 4K video lovers out there who need premium storage right now.
Key features
Incredibly fast writing and reading speeds.
Premium performance.
---
How to Choose the Best GoPro Micro SD Card
Yes, choosing the right SD card is important. That's because there'll be a risk of error or data loss if the memory card in your GoPro doesn't match up with the device's potential.
In case you haven't noticed, memory cards come with all sorts of different codes that'll definitively leave some people scratching their heads in confusion.
To avoid further confusion, you need to know what those codes mean, which ones you should look out for. Here's everything you need to know about GoPro SD cards.
Memory Card Type:
MicroSD
Most action cameras won't work with a plain SD card. SD cards simply won't fit inside the GoPro. That's because almost every action camera usually needs a Micro SD card to work, and GoPro is no exception. The only difference between an SD Card and a Micro SD Card is size, GoPros have a very compact size, and so do their memory cards.
Speed Class:
Class 10 or UHS-I (I) U3/ V30
Do You Need a High-Speed SD Card for Your GoPro?
Short answer: Yes.
Long answer:
Filming at very demanding video settings (like 4K at 60fps), will make your GoPro use the H.265 Codec (HVEC) instead of the H.264 Codec (AVC). That means that it'll write video files at 12 MB/s. So, this means that you should aim for a micro SD card by the name of UHS-I, which is marked with an "I", and sometimes followed by a "U3" or "V30". Those have a writing speed of at least 30 MB/s, that's why they're called UHS (Ultra High Speed.)
Slower speeds, like those below Class 10, have a writing speed below 10 MB/s. That speed won't keep up with the video demand of the most recent GoPros. So you should always focus on Class speeds of 10 or higher, but 10 is the right number for most models.
Recommended Storage Capacity:
32-256 GB (SDHC-SDXC)
The storage capacity you need will depend on your camera's storage. The latest GoPro models support up to 256 GB of video files, getting a micro SD card with more storage than that won't really be that beneficial unless you need to shoot lots of high-bitrate 4K videos.
The official GoPro website recommends going for either an SDHC (Secure Digital High Capacity) or an SDXC (Secure Digital Extended Capacity). That's because old regular miroSD cards had a 4GB storage limit, which runs short with the most recent GoPro models.
But now, how do you tell the difference between a card that reads SDHC or SDXC? Well, without getting into technical details, one practical difference between SDXC and SDHC is that every microSDXC card will be 64 GB or higher. SDHC cards will be 32 GB or lower. So, if you have a recent model focus on a card that says "SDXC", but if you have an older model without too much storage capacity, go for an SDHC.
Here's a chart to help you know the right amount of storage based on your GoPro model:
| | | | | |
| --- | --- | --- | --- | --- |
| GoPro Model | 32GB | 64GB | 128GB | 256GB |
| MAX | X | X | X | X |
| Fusion | X | X | X | X |
| HERO9 | X | X | X | X |
| HERO8 | X | X | X | X |
| HERO7 Black | X | X | X | X |
| HERO7 White/Silver | X | X | X | – |
| HERO6 | X | X | X | – |
| HERO5 | X | X | X | – |
| HERO Session | X | X | X | – |
| HERO (2018 Model) | X | X | X | – |
| HERO (2014 Model) | X | – | – | – |
| HERO+ | X | X | – | – |
| HERO4 | X | X | X | – |
| HERO3+ | X | X | – | – |
| HERO3 | X | X | – | – |
| HERO+ LCD | X | X | – | – |
| HD HERO2 | X | – | – | – |
| HD HERO Original | X | – | – | – |
| HD HERO 960 | X | – | – | – |
The HERO (2014), the HD HERO2, HD HERO Original, and the HD HERO 960 can only store 32 GB.
The HERO3 Black Edition, HERO3+, HERO+, HERO+ LCD, HERO3 Silver Edition, and the HERO3 White Edition can store a total of 64GB.
Some newer models like HERO5, HERO4, Hero Session, and HERO6 can keep up about 128GB of files.
And the more recent models like the HERO7, the HERO8, the HERO9, GoPro Fusion, and GoPro MAX have storage of around 245GB, so a 256GB SD card will be just right.
Brand
There are several different brands in the microSD market, but some of the most recommended brands that make good and quality micro SDs are:
SanDisk
Lexar
Samsung
Kingston
PNY
Sony
Delkin
These are the top brands that GoPro recommends going with. You should also focus on getting these from trusted sellers like Amazon, where you can find interesting offers.
---
FAQs
Can any micro SD card work in my GoPro?
Mostly, yes. Unless you are using one of the older models. For example, the HERO (2014) model will only accept cards that are up to 32GB (SDHC). On the other hand, newer models will happily take anything above 64Gb (SDXC).
How many hours of 4K video can 128GB hold?
An average 128GB SD card can storage around 4.5 hours of 4K video files.
How many hours of 4K video can 256GB hold?
An average 256GB SD card can hold up to 12 hours of 4K footage.
Can I use my GoPro without an SD card?
No. Using your GoPro without an SD card won't work because there's no place for the device to store the files. One of the reasons why the GoPro is so small is because they made it without a built-in memory. You could even try to pair your camera with a smartphone and the GoPro app, but still, you'd need to write in the SD before transferring the data to your phone.
Why can't I just get the fastest microSD card I can find?
Well, it's also possible to just get the fastest micro SD card for GoPro that you can find. But remember that cameras have a limit, so even if you get the fastest card, your camera will only write at a certain maximum speed. So even the fastest micro SD card on the planet will only work at a certain point. You should focus on searching for a card that's fast enough for your GoPro model.
How to Format a microSD card in your GoPro?
1. Put the microSD card inside the camera.
2. Turn the camera on.
3. Open the back screen menu.
4. Enter Preferences.
5. Scroll until you see "Reset".
6. Format your MicroSD Card.
---
Conclusion
If we had to choose one option we'd go with the SanDisk Extreme Pro, but all of the other micro SD cards will work just as fine on your GoPro. All of the micro SD cards from this list will prove to be beneficial and will grant you wonderful results. Check your camera's storage and then make a wise choice from this list.
If you want more space to save more videos you can always buy more than one micro SD card. So you can keep filming 4K videos even when you fill your card's maximum GB capacity. Also, some GoPros like the GoPro Fusion can handle two micro SD cards. Just take with you several SD cards and you'll be fine.
If you liked this post leave a comment and let us know your thoughts about it. Keep reading GadgetGang to find out more about the latest trends in the tech world.