For the next generation of gaming laptops, BOE has announced a display panel with a refresh rate of 600Hz.
The World Display Industry Conference 2022 featured the next-generation display panel from BOE (Beijing Oriental Electronics Group). The panel was shown on a functioning laptop that was running DOTA 2 and had hardware that was not revealed but was obviously powered by an NVIDIA GeForce RTX GPU.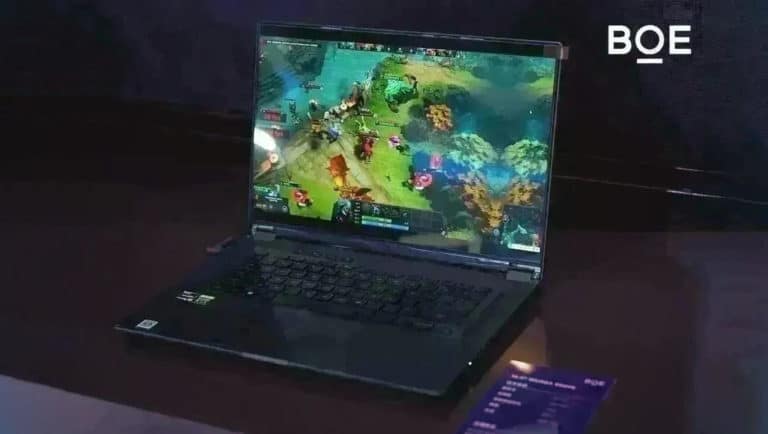 For those who are interested in the specifics, the BOE 600Hz refresh rate display panel is absolutely astounding and significant news for laptop gamers, particularly eSports players, who may benefit from these high-refresh-rate panels. The laptop itself has a form factor of 16 inches and seems to have a 16:10 aspect ratio. The Alienware x17 R2 laptop from Dell, which supports refresh rates of up to 480Hz, currently has the highest refresh rate on a laptop display.
The BOE 600Hz display will aim for the 1920 x 1080p FHD resolution, much like other high refresh rate panels. A 34″ WQHD display with a 165Hz AMOLED panel with HDR1000 certification, as well as a full-n TV with Mini LED 4K technology in an 86″ form factor were among of the new displays that BOE has shown off this year. BOE also presented their 500Hz+ 27-inch FHD gaming display. The TV's maximum brightness is 1500 nits.
Due to the proximity of CES 2023, we may soon learn more about these products, particularly the 600Hz laptops, as the hardware needed to power these quick eSports laptops NVIDIA GeForce RTX 40 series mobility chips and next-generation Intel/AMD CPUs for fast-paced, high-fidelity gaming will be unveiled there.
Source: Videocardz