It seems that after a long earned rest, CDPR just released a new video detailing the reasons behind Cyberpunk 2077's lackluster performance on the consoles and share a commitment to properly make the game up to the mark that it should be on the PS4 and Xbox One consoles. They also shared a roadmap which details the free DLC and the next-gen upgrade.
CDPR is turning over a new leaf
CDPR has just released a video and an FAQ page that contains a roadmap about the future of Cyberpunk 2077. In the immediate scenario, the company is sticking to its commitment for two major patches in January and February with no fixed dates shared by the company yet.
The company further shared their plans for getting on the road to making amends with the console users. You can view the full FAQ here.
Here is a picture of the roadmap in question.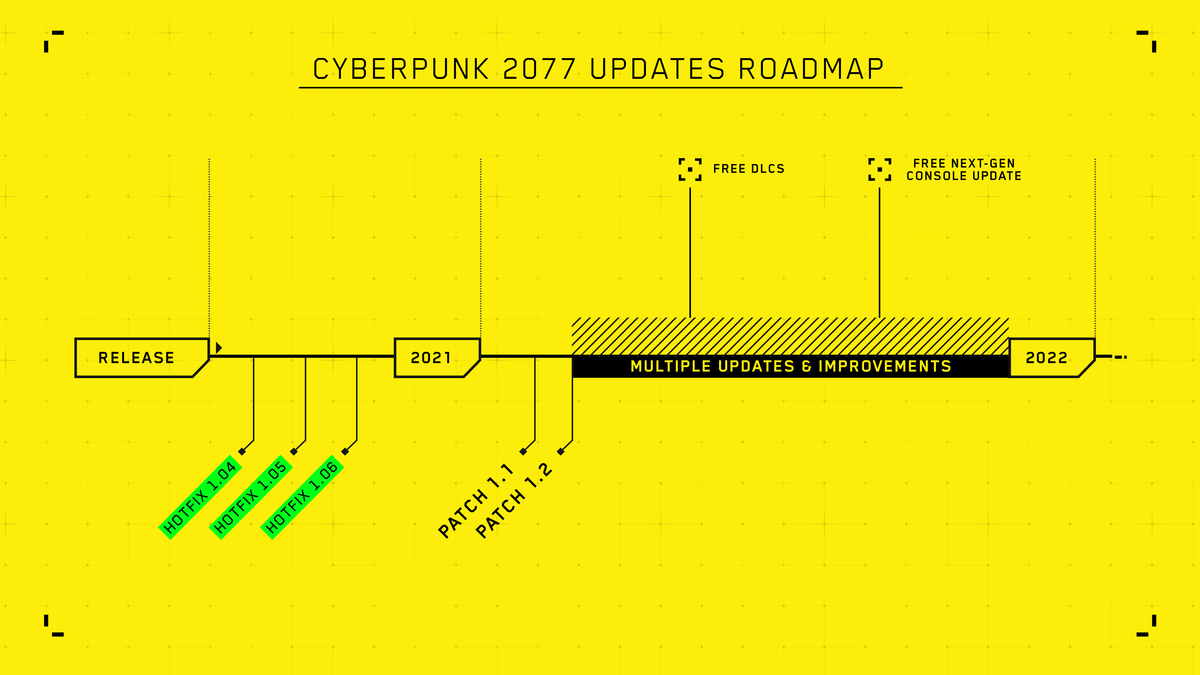 The roadmap doesn't share a specific timeline or month for each release.
The immediate priority for the company is Patch 1.1 and Patch 1.2. This will be followed by the free DLC's which are hopefully set to release before the end of the second half of the year.
While they didn't share a specific release window, we can hope for the next-gen upgrade to take place sometime in the second half of 2021.
While the journey of Cybperpunk 2077 on the console is nothing short of a future case study of how not to launch a game, it is good that the company is taking responsibility and taking the right steps to make things right with gamers.
In addition, it seems that Multiplayer may have been put in the backburner and could be released in 2022 instead of 2021 as originally planned. However this could be for the best considering the state of the game.
For now, if you are among the population that didn't refund their copy of the game, you can still wait patiently for these patches and the free DLC that CDPR is working on for the game. While it is still difficult to get a next-gen console right now, we can hope that this