Yeah, there is a Facebook Messenger Makeover. Don't be afraid, this isn't click bait. As Spotify just did recently, Facebook is following in their footsteps and trying to slim down their premium app. Recently, Facebook Messenger has begun dishing out a version of the app that is more streamlined for both Android and iOS. Soon, Facebook Messenger will funnel all their chat features into a redesigned, simpler application. The new look chat platform Facebook has unveiled will officially be known as Messenger 4.
The user interface is set to be simplified by this redesign as well as the introduction of new customization options. Those of you that use Messenger will soon notice a less cluttered display screen once you update the application. For instance, on the new look app, at the bottom, you'll find three shortcut icons instead of the usual five.
In the new Chats tab, messages from groups and friends will be displayed alongside their Stories. This feature basically lets the user post photos and videos that will stay at the app's top for 24 hours and then vanish. The People tab will also show Stories as well as who's active online at the moment. Discover, which is the last tab allows the user to chat with businesses and corporations such as Nike, Sephora and the like. Oh, you can also play games on this last tab.
The Facebook Messenger Makeover is officially the Messenger 4
The new version dubbed 'Messenger 4' by Facebook, will have a camera button located at the top in order to make snap selfies easier for the user. Chat bubble colors can now be changed with an option from gradients of green, orange, yellow, pink and so much more. You can let your color reflect your mood. In time, Facebook stated that they'll release a 'dark mode' option that will reduce glare from your mobile device screen.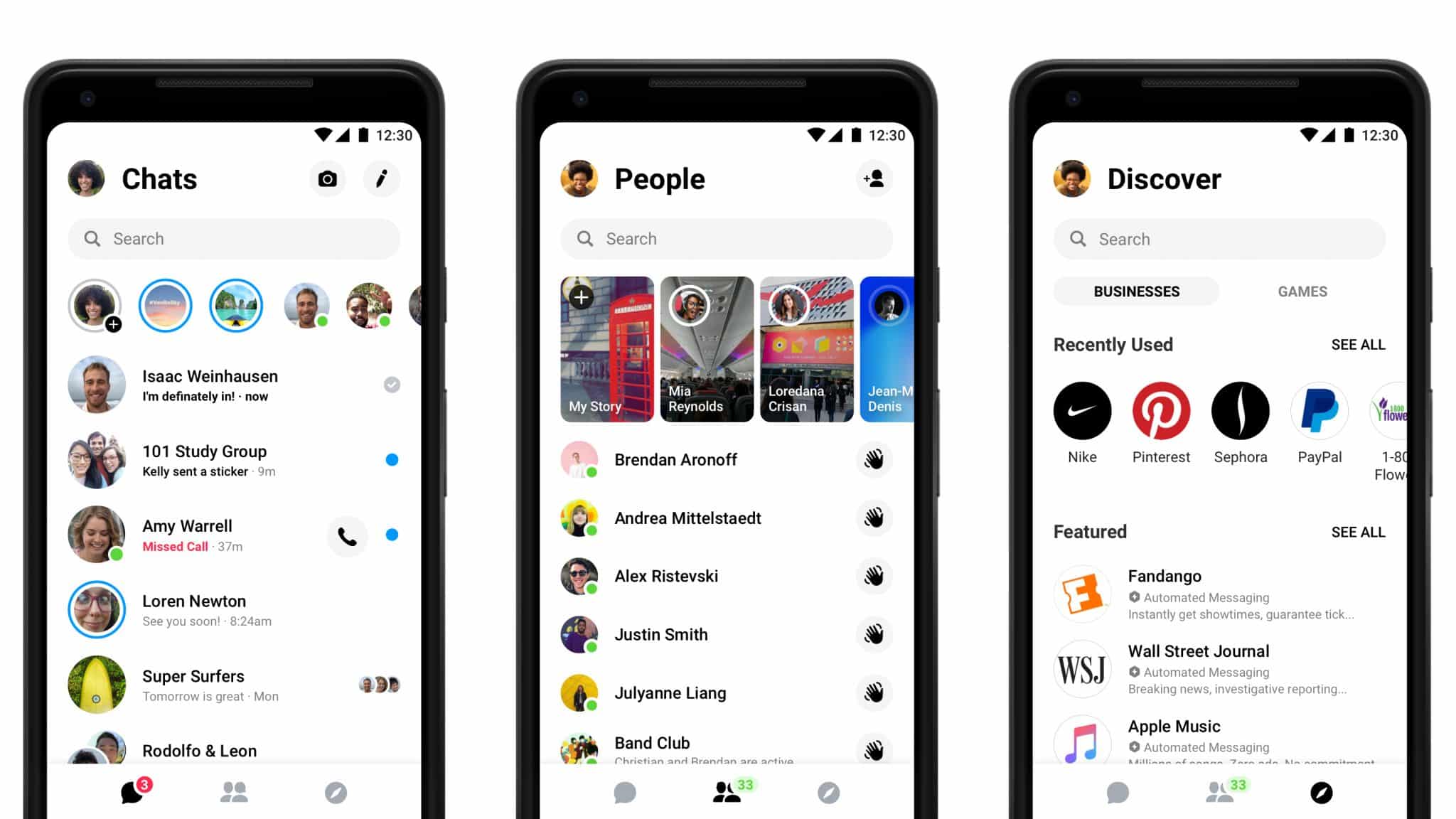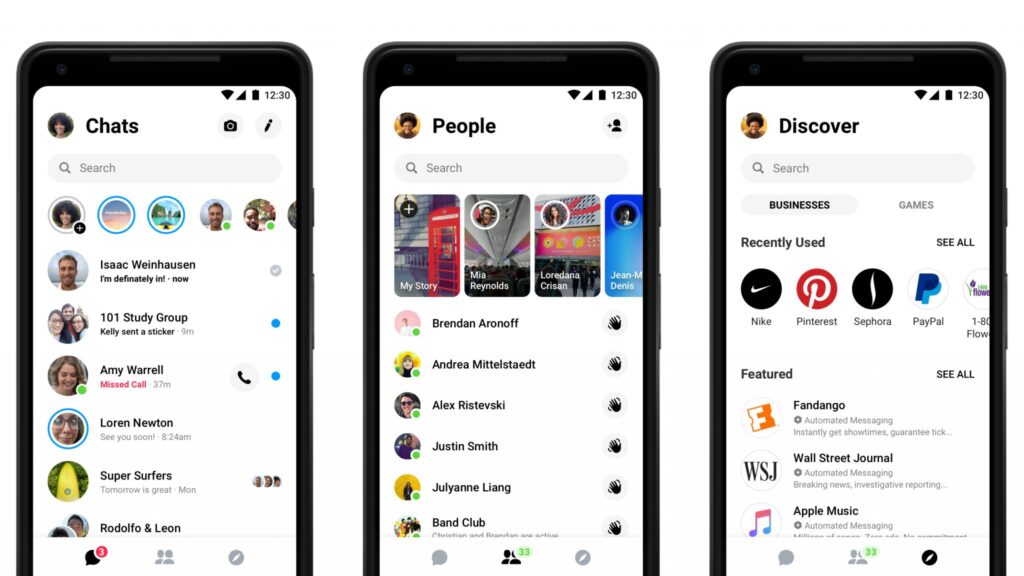 Facebook Messenger app which now boasts of having around 1.3 billion users worldwide, is so popular largely because, at the turn of 2014, this large tech conglomerate set this as a separate downloadable app. To keep in the race with the likes of similar instant messaging apps such as Line and WeChat, Facebook has been gradually beefing up Messenger with exciting inclusions such as video chat, games and mobile payments. However, some have a complained of a less cohesive app navigation due to all these new features.
The situation in the Facebook household
This Facebook Messenger makeover has come during a time where users of Facebook have been questioning and pondering whether it's a good idea to put their trust in this social media juggernaut on whether they can effectively safeguard their privacy and data. This is in large part due to the fact that they recently revealed that hackers managed to hack the personal information of some of their users
Facebook claims that during a recent survey they undertook they found that 71 percent of the people that responded stated that simplicity was a paramount feature for any top instant messaging app. They are of the school of thought that this Facebook Messenger Makeover will deliver to its users the authenticity and closeness they've been wanting. This they say they'll achieve through powerful features and simplicity of design that will help bring the focus back to connecting and messaging.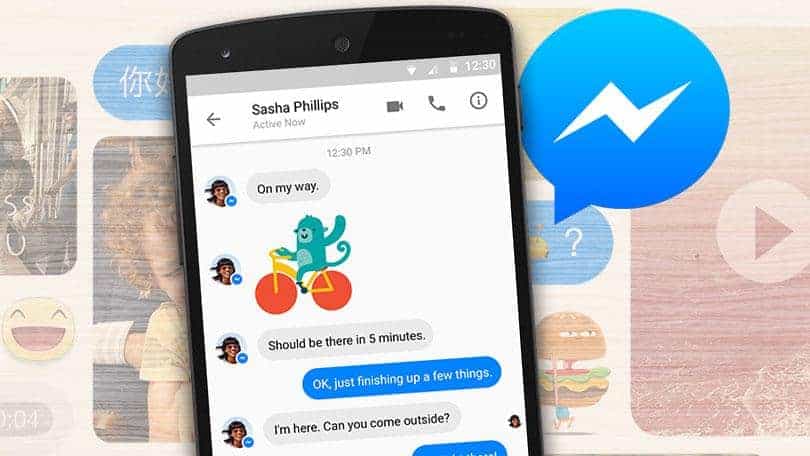 The Future seems Bright
The new look Messenger 4 clearly has a different look, however, Facebook says that users will still find familiar features such as group video chats, polls and location sharing. They also aren't anywhere near done with this new application. The tech firm claim to have many other features they still have in store. Their poster child feature being the 'dark mode' option that we just highlighted earlier in this article. Updates are set to be rolling out in phases. This means that some of your friends on Messenger may get to see Messenger 4 after or before you do.
All in all, things look bright when it comes to the future of Facebook Messenger and the company in general. It looks like the tides have turned for them a bit and things are starting to look up. As always at the Gadget Gang with everything tech and its world, in general, we'll always strive to keep you in the know. I mean you can trust we'll never leave you hanging in the cold. So, go update your Messenger stat. Get yourself into the new era of Messenger on Facebook.