Over the last several quarters, the DRAM market has seen a sharp drop, and this trend seems to be holding. According to TrendForce, the DRAM market suffered a significant 21.9% QoQ (quarter-over-quarter) decline, resulting in a decrease in total sales of US$9.663 billion.
Sales in the industry have fallen sharply for three straight quarters. Although a number of causes contribute to this slump, a persistent oversupply issue has a substantial impact on the ongoing drop in prices. The three biggest suppliers, Samsung, Micron, and SK Hynix, reported quarterly revenue reductions.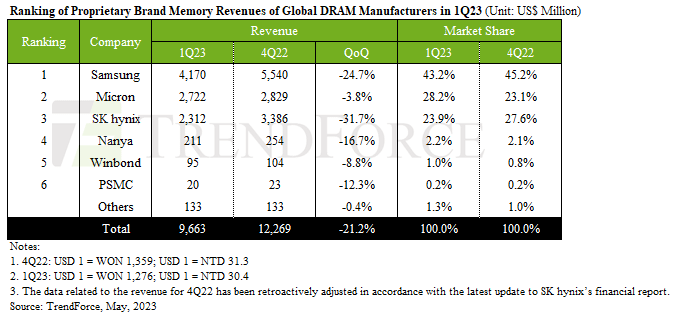 Looking at the data, Samsung had a QoQ fall in revenue of 24.7%, or US$4.17 billion, as a result of lower shipment quantities and ASP (Average Selling Price) owing to fewer orders for its newly announced products. Micron, on the other hand, reported a 3.8% fall in sales, bringing its total down to US$2.72 billion, although seeing a rise in shipment volume. The largest loss was suffered by SK Hynix, whose shipment volume and average selling price both dropped by over 15%. This led to a severe decline in revenue of 31.7%, or almost USD$2.31 billion.
Due to broken demand and supply networks, the DRAM market has been continually declining. We really hope that things improve, but based on the most recent economic data, the sector has a difficult path ahead.