The Galaxy Z Fold 5 and the Galaxy Z Flip 5 are expected to be unveiled by Samsung later this year, most likely in August or September. Finally, both phones have surfaced on Geekbench, verifying their results and unique model IDs.
Model numbers for the Galaxy Z Fold 5 and Galaxy Z Flip 5 are SM-F946U and SM-F731U, respectively. Of course, these are American models, so in other countries, you can anticipate slightly different model numbers. The Snapdragon 8 Gen 2 for Galaxy, which features faster processor rates, powers both smartphones. The fact that both of these phones are quicker than the Galaxy S23 Ultra, which reportedly employs the same processor, despite being in the early phases of development, is what's most intriguing.
The Galaxy Z Fold 5's performance on Geekbench is shown below. Both the single-core and multi-core results are outstanding. 12 gigabytes of RAM are available on the mobile. These results are so remarkable because they reflect the Galaxy S23 Ultra's (SM-S918B) 1,364 single-core and 4,460 multi-core test ratings.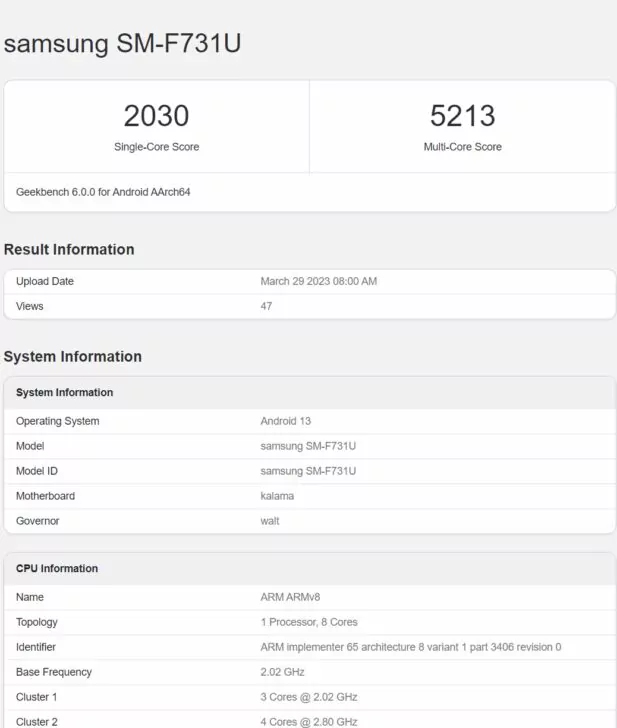 The Galaxy Z Flip 5's 8 gigabytes of RAM demonstrates the same. In comparison to the Galaxy S23 Ultra, the ratings are noticeably higher. This could imply that the circuitry of these devices has been further improved, which is always advantageous because it will result in better efficiency
Both the Galaxy Z Fold 5 and the Galaxy Z Flip 5 are expected to go on sale between the months of August and September of this year. During the event, Samsung is also expected to introduce new devices and possibly a new line of gadgets, but we'll keep you updated as the release date approaches.