ICY DOCK has introduced their next-generation conceptual adapter cards, which have an active-cooled design and feature support for PCIe Gen5 M.2 and E1.S SSDs. These adapter cards can be found on their website.
Both of the adaptor cards that ICY DOCK has shown off are still just concepts. The CP125 and the CP073 are among the docks. Starting with the CP125, we employ a single-slot design with a typical FHFL expansion card. Up to two E1.S, SSDs may be supported by the device, which has a PCIe5 x8 interface.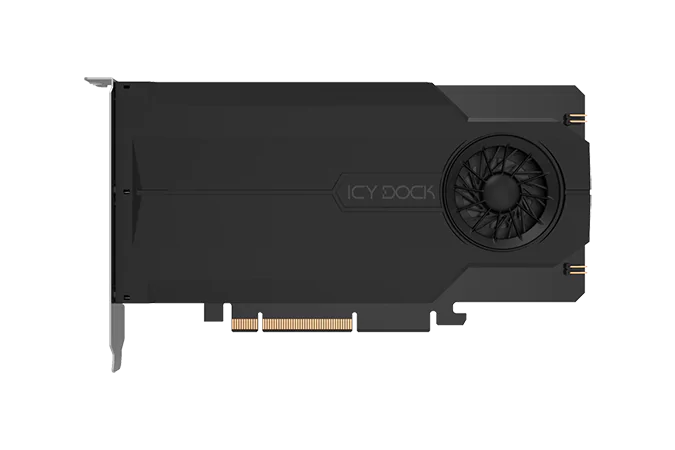 The SSD Mobile Rack, which has a tool-free design and attaches to the adaptor with simplicity, can install two of the new rulers that were just released, the E1.S. The adapter has a 50mm blower fan that ought to protect the two SSDs from overheating. Additionally, two HDD LED ports that may be attached to the motherboard and an LED indication on the I/O both allow for the display of HDD activity through the front panel LEDs.
The ICY DOCK CP073-1, the second adapter on the design screen, has a strong resemblance to the CP125 but supports two common PCIe Gen5 M.2 SSDs rather than E1.S SSDs. The SSDs are installed via the sides of the shroud and, like before, have a tool-free design that supports form factors up to and including 2280/2580. The design incorporates an aluminium heatsink that serves as the shroud and a 50mm blower fan with exhaust ports on the front. On the front, there are LED indicators as well.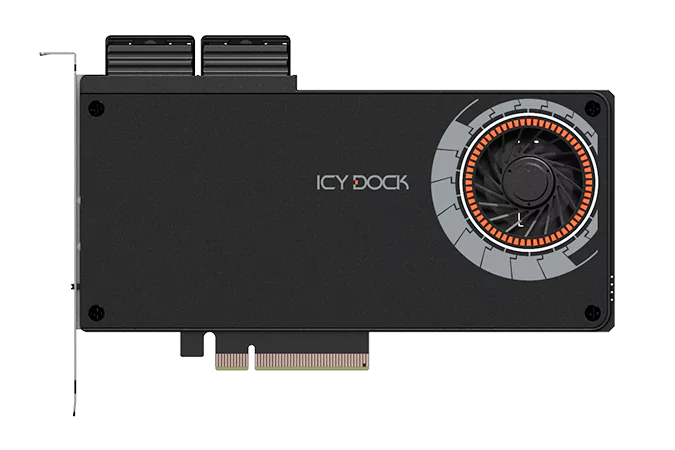 Both ICY DOCK Gen5 SSD adapter cards provide speeds of up to 32 GB/s and can be powered by a single PCIe port. The manufacturer hasn't said if the card needs an 8-pin or 6-pin connection. There is no information on when or even if these devices will emerge on the retail market, but storage fans will undoubtedly find them fascinating.