Another Intel Raptor Lake Laptop CPU, the Core i7-13700HX, has been discovered to have been leaked only a few days after the Core i9-13900HX.
This review features a forthcoming model of a laptop that was manufactured by Lenovo. In spite of the fact that it is a "next-gen" system, Lenovo has decided to go with NVIDIA's Ampere rather than Lovelace. This is an intriguing choice.
According to Geekbench, the Intel Core i7-13700HX processor has a total of 16 cores and 24 threads. As most people are aware, the Raptor Lake HX mobile CPUs will make use of the desktop dies, which means that these CPUs do have a certain amount of power. In comparison to the i7-12800HX, which only has 25MB of L3 cache, the 13700HX has 30MB of this storage available. According to the results of this test, this central processing unit (CPU) has a base frequency of 2.1 GHz and can reach speeds of up to 5 GHz.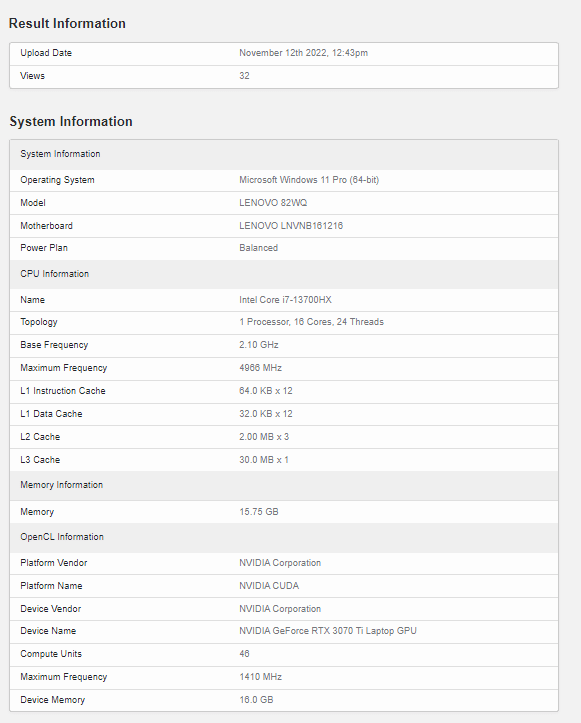 There has been no mention of a power metric. According to the specifications of the previous HX series, the 13700HX is capable of having a base power consumption of 55W and a maximum turbo power consumption of 157W.
Interestingly, the laptop utilizes NVIDIA's RTX 3070 Ti mobile GPU. This indicates that, despite Ada's release to the market, manufacturers continue to use last-generation graphics technologies. These GPUs may not significantly improve Ampere, or they could use a lot of power.
In any case, Intel's mobile Raptor Lake SKUs are scheduled to be on sale later this year. However, since CES takes place in the first week of January, there may be a little delay. The HX range won't be on sale for quite some time after the basic models. Expect a release date that might occur in Q2-Q3 of 2023. Even yet, they still fall short of what AMD intends to give despite the significant scaling advancements from generation to generation.