Later this year, Apple will introduce the new iPhone 15 and iPhone 15 Pro models, which will have a variety of forward-looking improvements. The business will make a few further adjustments to distinguish between the basic and "Pro" versions, however. With the release of the iPhone 15 series, Apple is reportedly adding WiFi 6E capability. According to recent reports, WiFi 6E will only be available on iPhone 15 Pro versions; ordinary devices will continue to use WiFi 6.
It looks that WiFi 6E will only be available on iPhone 15 Pro models, according to a leaked document. The paper, which reveals the iPhone 15's antenna layout, was obtained from a researcher by Unknownz21. The basic iPhone 15 devices are identified as D3y in the paper, while the iPhone 15 Pro is referred to as D8x. Only iPhone 15 Pro versions will include WiFi 6E technology, according to the paper. The iPhone 15 and iPhone 15 Plus will include WiFi 6, according to the information in the paper, much as the iPhone 14 and iPhone 14 Pro models.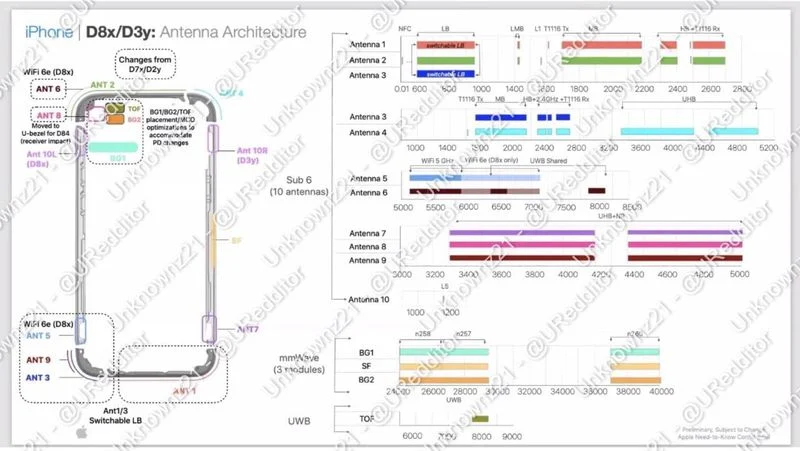 The leaked paper describes the iPhone 15 Pro's antenna architecture and contrasts it with the iPhone 14 Pro. According to the antennas, WiFi 6E will only be available on iPhone 15 Pro versions. Apple is not experimenting with technology for the first time. The M2 iPad Pro versions, along with the newly unveiled MacBook Pro and Mac mini, all employ WiFi 6E.
Users will be able to benefit from a variety of advantages that WiFi 6E has over WiFi 6. For instance, a better user experience might result from quicker wireless speeds and reduced latency. Along with 2.4GHz and 5GHz, WiFi 6E also has a 6GHz band. Users would need to spend money on a router that supports the WiFi 6E architecture, however.