The preliminary Geekbench scores for Apple's forthcoming M2 Max processor are quite encouraging. For those who don't know, Apple unveiled its M2 range in June of this year. There have been some signs that the M2 updates might come in the first quarter of the next year.
The benchmarks from today seem to suggest that Apple is actually developing an M2 Max processor. This CPU has 12 cores, which is two more cores than the M1 Max, which debuted last year. The M2 Max chip passed this test with a base frequency of 3.54GHz and 4MB of L2 cache. The enormous 96GB of RAM on the Mac utilised for this test is impressive.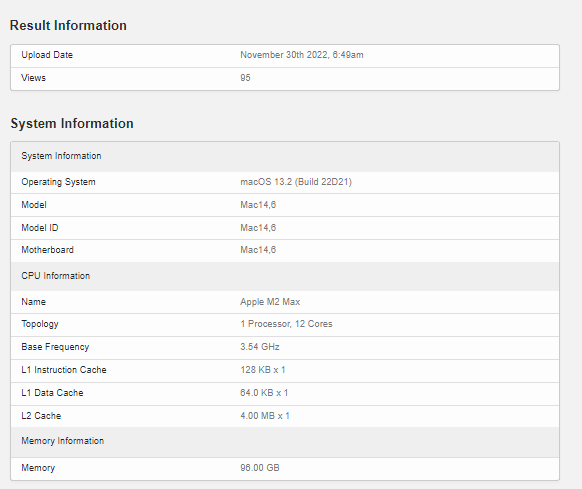 In terms of the tests themselves, the M2 Max receives 14586 points for the multi-core test and 1889 points for the single test. In order to put this into perspective, the M1 Max from the previous generation scored 1787 and 12826 points, respectively. As a result, the M2 Max represents a great 5% and 13% improvement over the M1 Max.

When it comes to actual performance, Zen4 and Raptor Lake outperform the M2 Max somewhat. The majority of the time, Intel and AMD chips are cruising past the 2000-point mark without factoring in power efficiency. Keep in mind that this is just a preliminary test, so Apple will make a few minor adjustments. The M2 Ultra and M2 Extreme will also be targeted at the best AMD and Intel processors.