The Geekbench 6 computing benchmark of M2 Ultra has just emerged. Surprisingly, it is just 10% slower than the RTX 4080, the second-fastest desktop GPU from NVIDIA after the RTX 4090.
In terms of benchmarks, the M2 Ultra edition under evaluation has 76 GPU cores and 128GB of unified RAM thanks to its 24-core CPU arrangement. The chip scored 220,674 on the Metal benchmark, which is quite high when compared to comparable pieces of hardware. Let's begin with a comparison to the M1 Ultra, which came before it. The M1 Ultra scores a 150,407 on the Metal benchmark rankings.
This enormous disparity suggests that the M2 Ultra is 46% quicker than the M1 Ultra, with the increase in GPU cores likely being a contributing factor. The M2 Ultra's 76-core GPU arrangement is an improvement above the M1 Ultra's 64-core GPU maximum. But that's not even the best news; the freshest and greatest from Apple is just slightly slower than a desktop RTX 4080.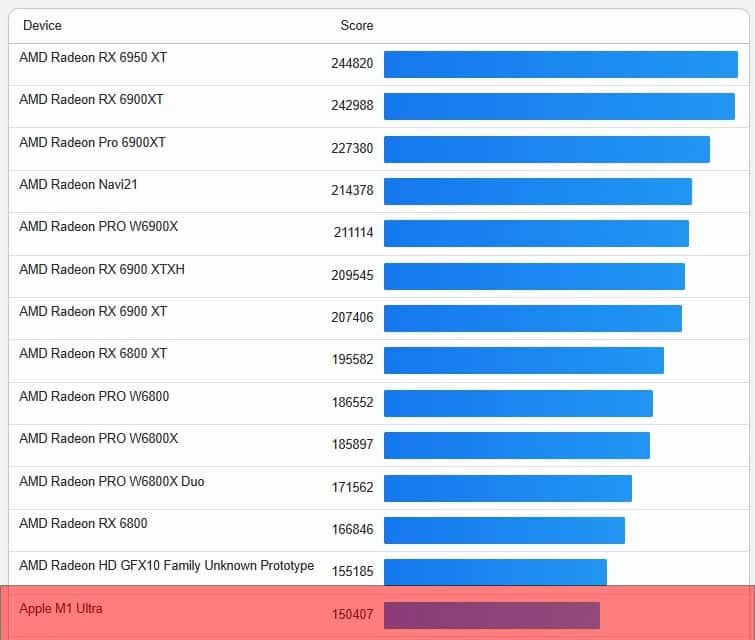 The M2 Ultra was just 10% slower than the RTX 4080 in this test, with a score of 245,808. Even if Apple's flagship SoC will likely fare differently in other Geekbench assessments, the company's growth in its custom silicon business is still impressive.
While we were unable to locate a comparable RTX 4080 score in the Geekbench 6 database, we did find that the GPU performed similarly across the board.