Let's face it, morning showers can be a bit of a chore. You get up, climb out of bed, and drag yourself into the bathroom to get ready for another day of work.
Wouldn't it be nice if there was some way to liven things up?
Wireless, portable Bluetooth radios have been around for a while now, and, when it comes to getting up and out of the house, many people find their morning music almost as effective as their coffee. That's why today we're taking a look at Majority's Eversden waterproof, portable, Bluetooth Shower Radio to see if this is the product to help you get your daily dose of music.
The Basic Specs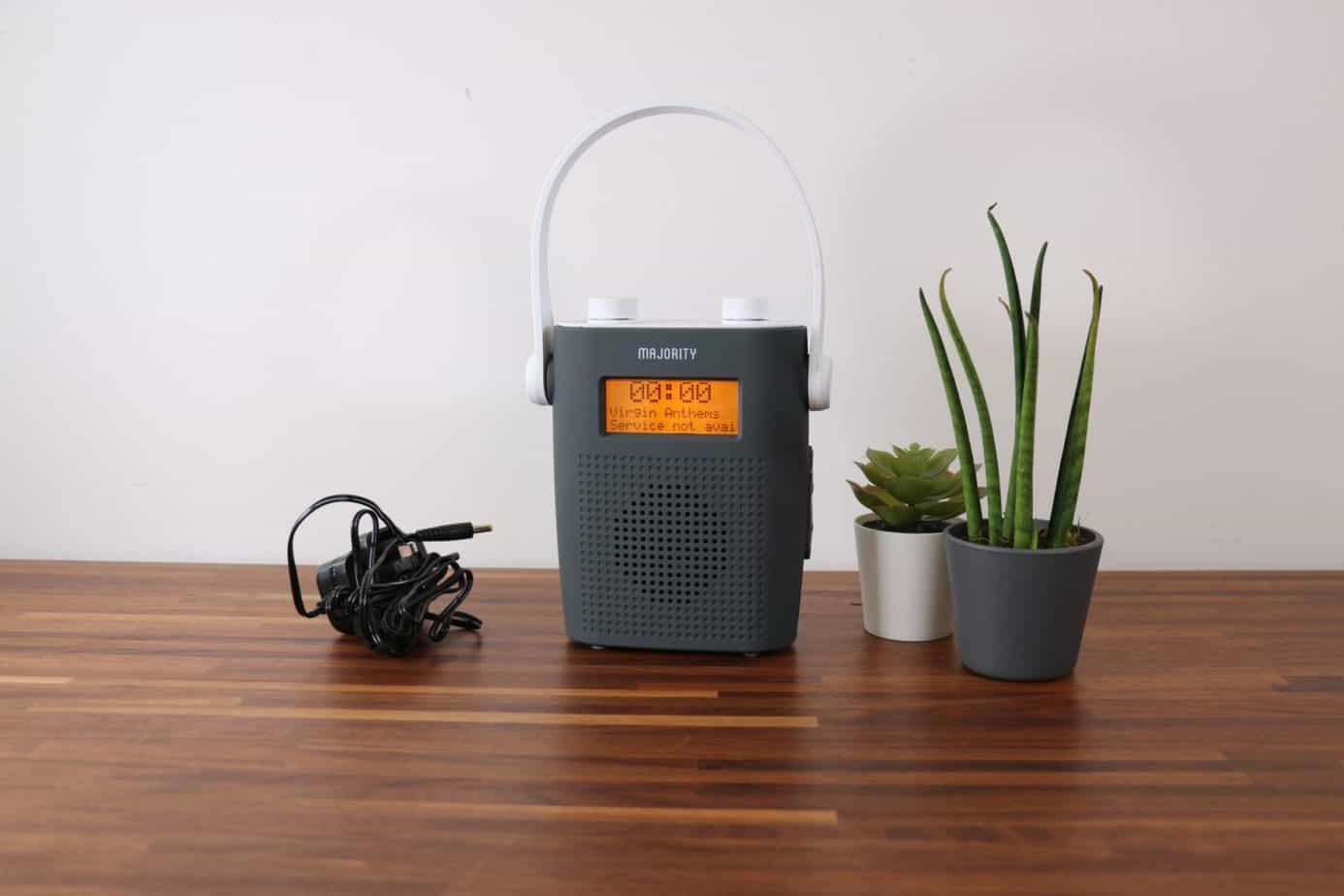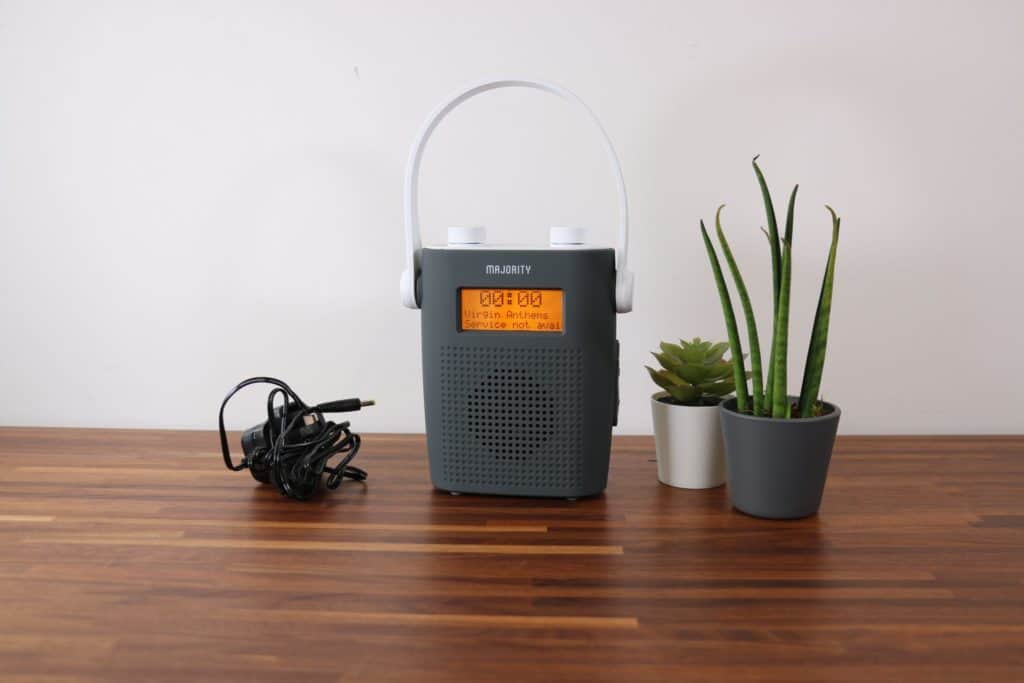 | | |
| --- | --- |
| Dimensions | 5.3 x 13.8 x 15.9 cm |
| Power | DC 12V |
| Weight | 0.49 kg |
| Speakers | Mono |
| Battery | 3000 mAH |
| Screen | Mono LC |
The first thing to say about this wireless radio is that it's certainly not overcrowded with features. Eversden has gone for a simple but effective design, with the twin goals of portability and ease of use.
To an extent, what you see is what you get. This waterproof radio comes fully equipped with Bluetooth functionality. It has fifteen hours of battery life, and a mains electricity charging cable. It can find DAB, DAB+, and FM radio channels, meaning you'll be able to listen to all your favourite stations. You'll also get a headphone jack, an alarm clock setting, and a dimmer switch.
That might sound like a lot but that's about it. All the functionality of a basic portable radio with no unnecessary bells and whistles.
Audio Quality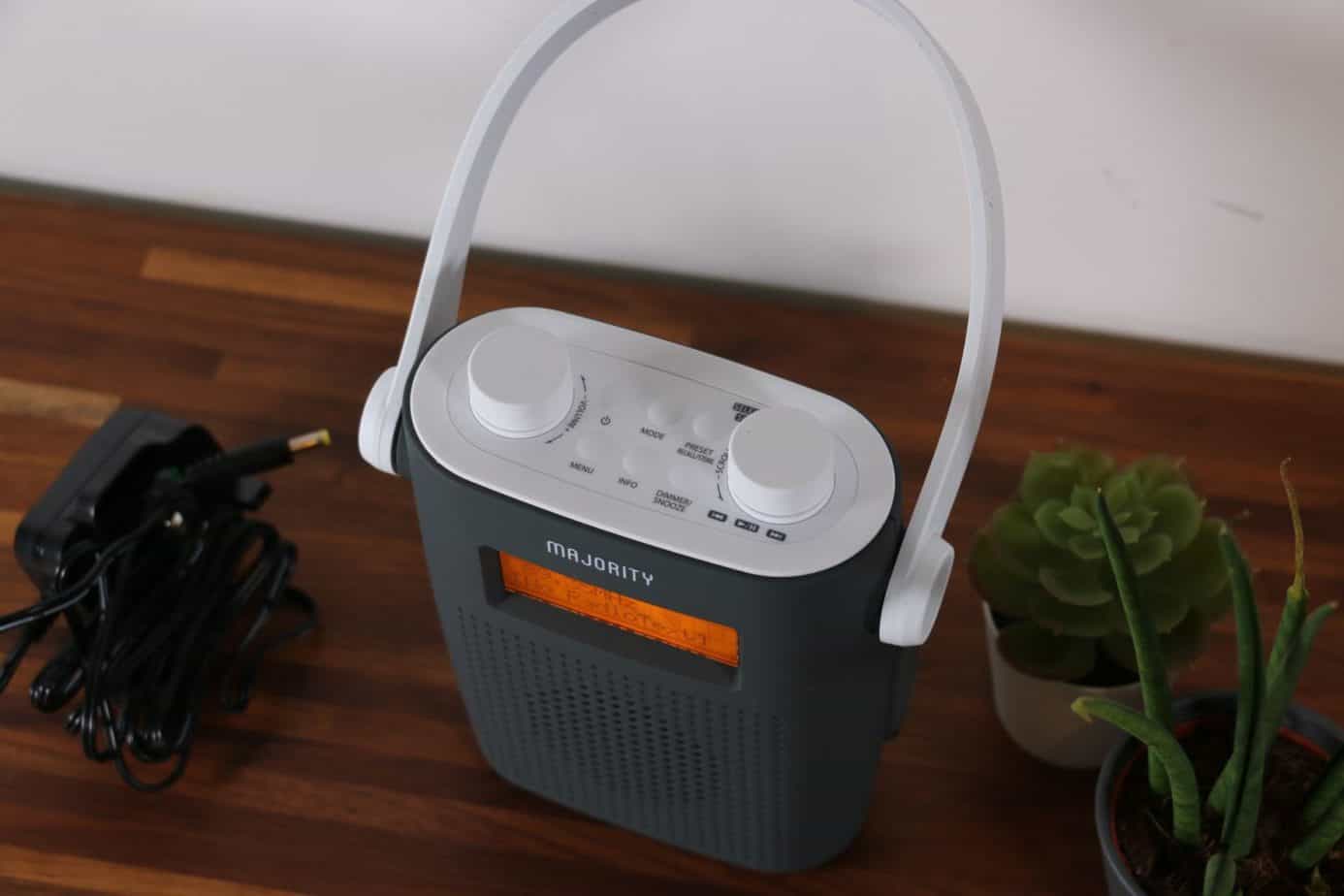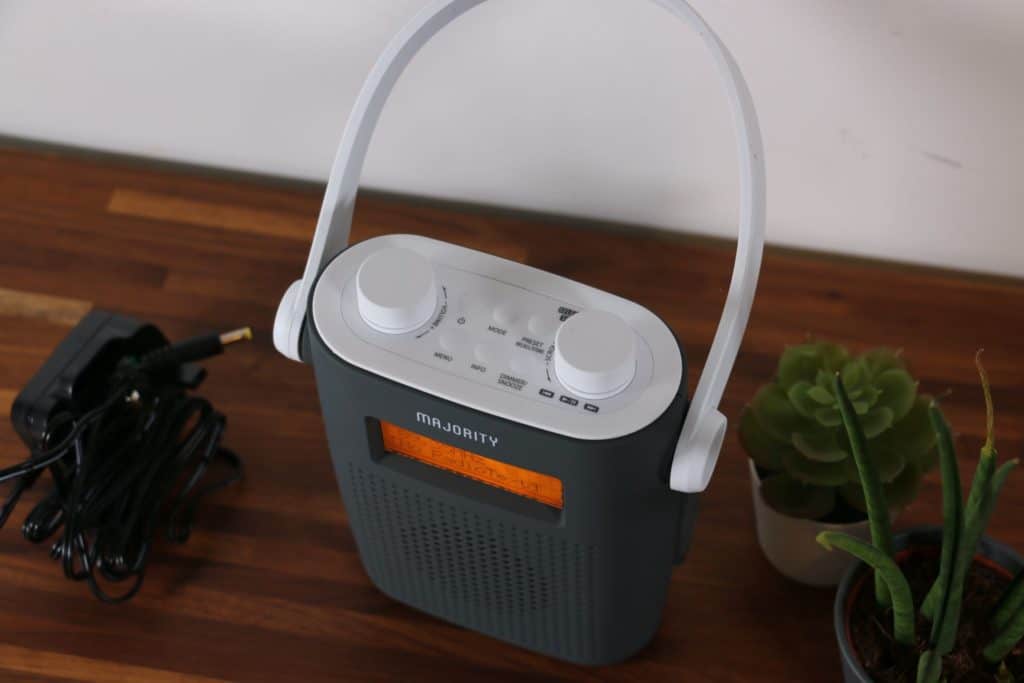 While audio quality may not be your top priority when it comes to listening to music while showering, it certainly does make a huge difference. The Majority Eversden did not blow us away by any means. However, it wasn't half bad either. What do we mean by that? Well, it delivers ample sound in such a tiny package. Of course, it's not very clear on the high ends and neither does it great separation on the highs – but who are we kidding? In such a small form factor, we're plenty impressed with what the Eversden already can do.
Podcast Performance
We won't judge you if you like vibing to some 2010 pop while you enjoy your hiatus in the shower. But – the most apparent use case of a shower radio is listening to podcasts / radio shows. And, this is where the Eversden truly excels. It is clear that the manufacturers have put in a lot of effort to make sure vocals are crisp and clear. Moreover, the reception of the speaker even in a closed room was excellent and it helped us truly enjoy our time waving our fists when listening to dreary news shows.
A Look At The Nitty Gritty
If you search up 'Shower Radios' online, you'll find a wide range of competitors at less than half the price of this one. The Eversden shower radio is currently selling at £59.95. Alternatively, competitors claim to have many, if not all, of the same features, for as low as £15. On the other hand, very few of them have the same almost unanimous five-star rating. In fact, a quick glance through the customer reviews is all you need to see just how many people have bought and approved of this product.
The other big pro to this product is its cool minimalist aesthetic. Of course, tastes can vary, but it's hard to argue with this elegant yet modern design.
That being said it's largely made of plastic so it's likely to get scratched, dented, or otherwise damaged faster than if it were made from other, more durable materials such as metal or rubber. The radio does come with a three-year, but it explicitly does not cover 'wear or tear from normal use'.
Finally, it's only fair to mention that buying this will also contribute towards The Majority Forest; an environmental project the company are running to plant a tree for every product sold. That doesn't change much about the product itself, of course, but it's nice to feel that you're spending your money with a company who are committed to offsetting their carbon emissions.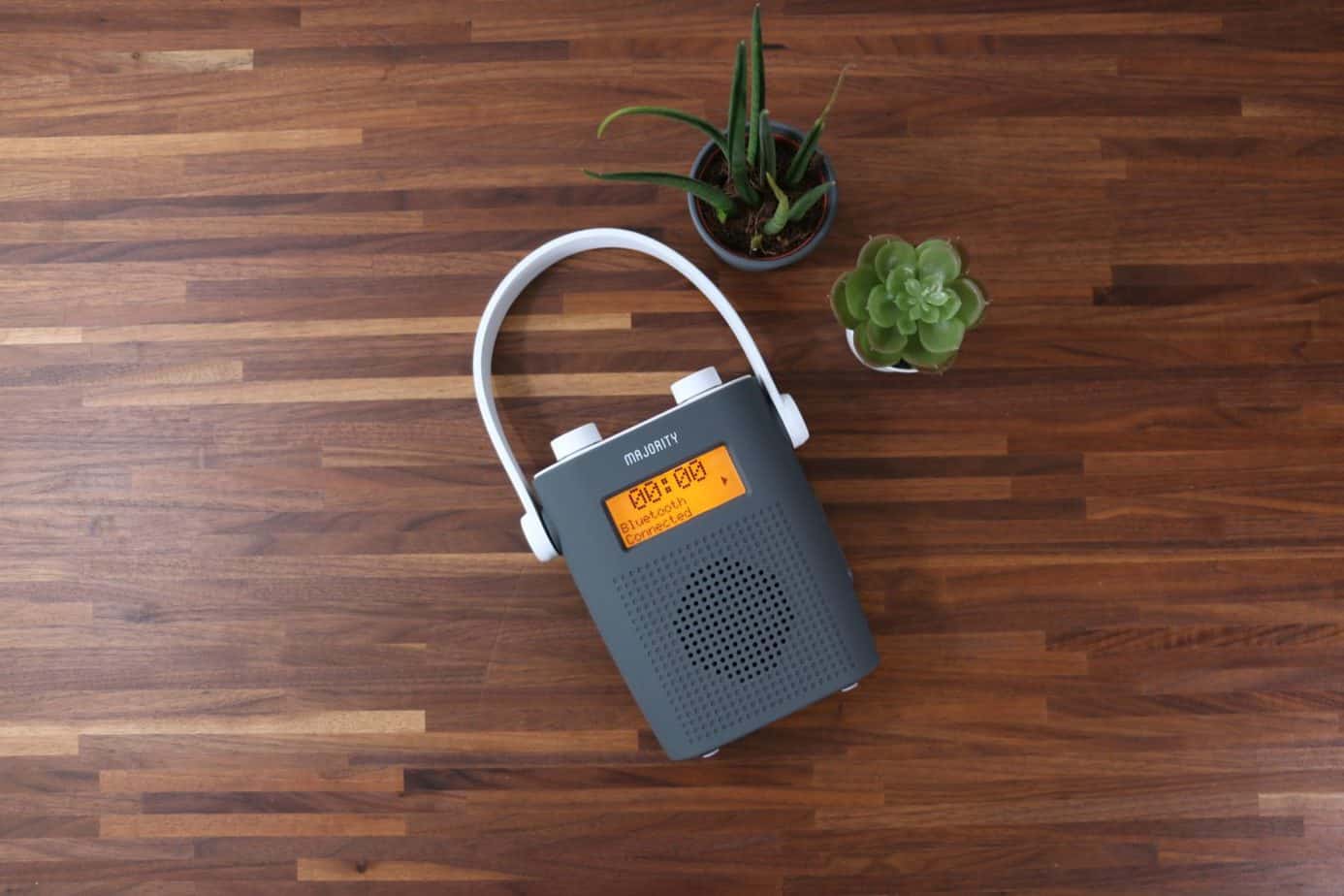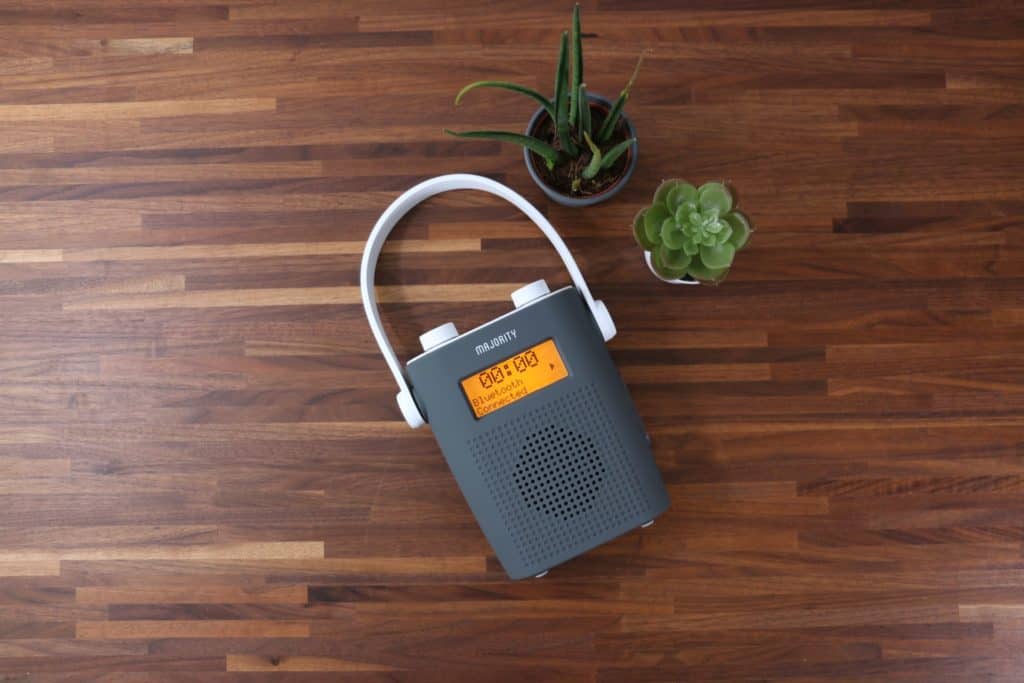 Is The Majority Eversden Worth It?
The product Majority are selling is not offering any unique features. You can find other products all over the internet promising all the same features at a lower price. So, why buy the Eversden Shower Radio then?
Well, as we've already alluded to, ultimately it all comes down to value for money. This little radio is a great compromise between cost and quality. So if you're looking for a way to start your day with a musical beat, then Eversden is a great choice to go with. And, we'd definitely recommend it if you are looking for a high-quality shower radio that's minimal but functional.