There's no single doubt that Counter-Strike: Global Offensive (CS:GO) is one of the most iconic First Person Shooter in the world. Playing with your friends as a terrorist or as a counter-terrorist is a ritual among many social circles. That's why people should know about finding the best headsets for CS:GO.
We know that headsets are sometimes overlooked. Most people care about having the best mouse or the best keyboard for CS:GO. After all, headsets don't directly affect your performance on CS:GO. However, they add something more to the game, and that is immersion.
It's not a surprise to find people gaming with small, plastic headphones or even worse, computer speakers. Although they certainly do their job, they prevent you from a full-depth gaming experience that a pair of headsets can provide you.
In a competitive game like CS:GO, every little detail matters. So, yes, the best CS:GO headsets will allow you to have a richer and more immersive experience. And with so many options in the market, it's getting harder and harder to choose the right pair of headsets. That's why we made this list for you.
---
The 8 Best Headsets For CS:GO
All of the gaming headsets on this list will function perfectly for CS:GO. They aren't placed in order of importance, they're all a great deal. But since you have the final word, you can compare specs and find one that suits your needs.
1. HyperX Cloud II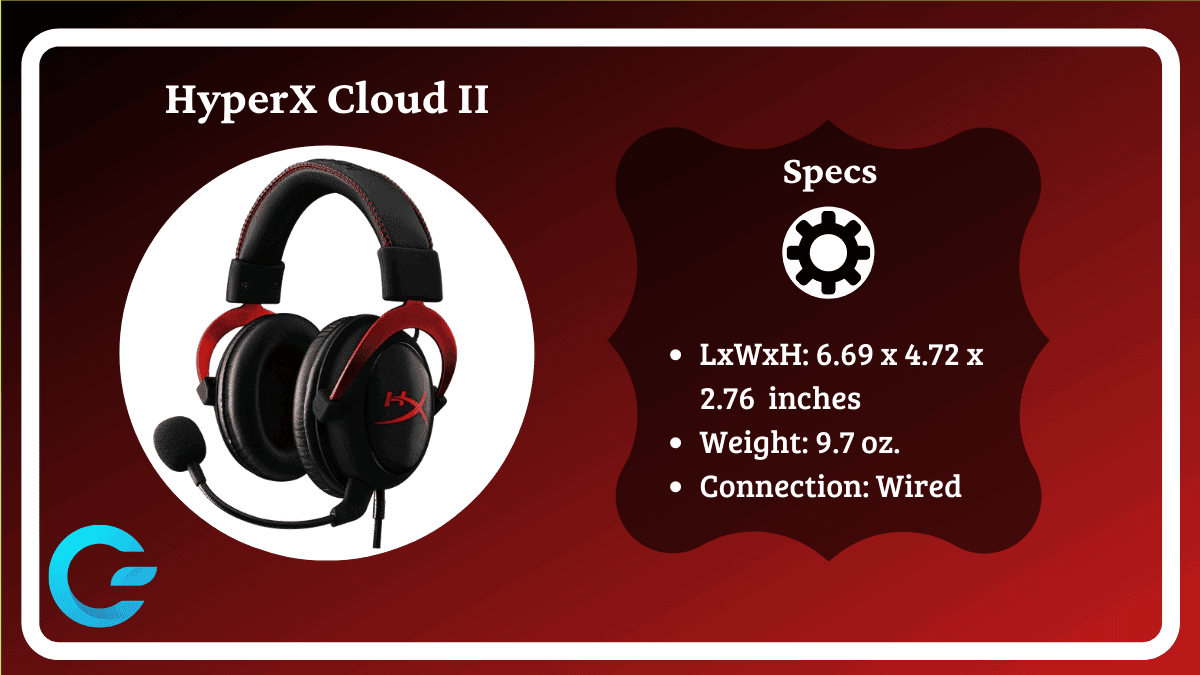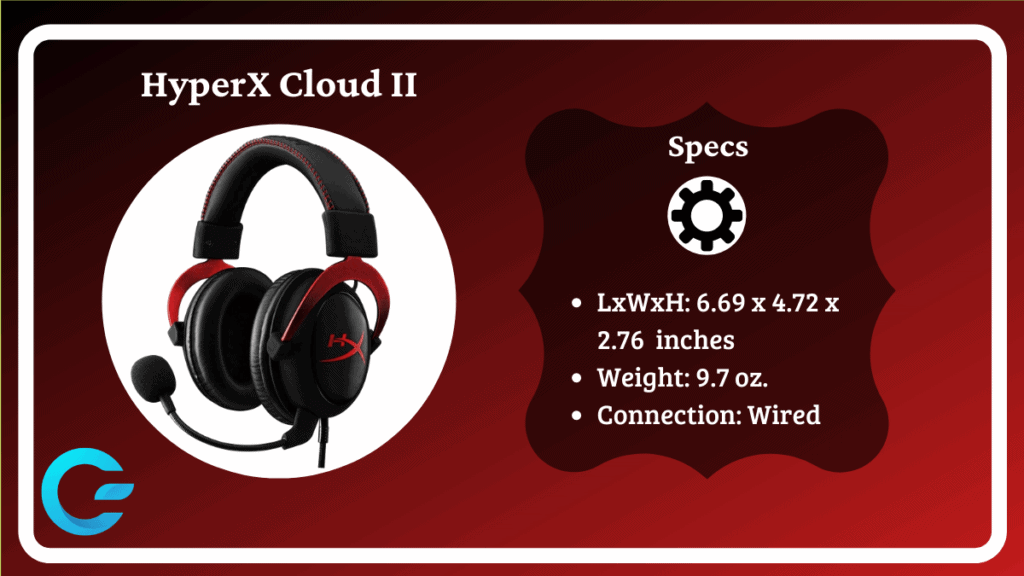 Amazon product
HyperX is a worldwide recognized brand when it comes to the headset arena. The brand grabbed the idea of the previous model and upgraded it to every possible level. The Hyper X Cloud II is incredibly versatile and probably the best gaming headset for CS:GO and we'll explain why:
In a world that's increasingly opting for wireless gadgets, the HyperX Cloud II reminds us of the beauty of wired headsets. It has a very awesome value, a lot of flexibility, and great functions. It's a very cheap headset, yet very powerful.
The design is pretty minimalistic, the colors are stylish and it looks great. It's made from aluminum and has a cushioned headband for your comfort. And no, it won't apply terribly tight pressure on your head. But still, it gives you the option to choose from a velour or a leather cushion for the ear pads, which add an extra layer of comfort, depending on what you like.
This headset has virtual 7.1 Surround Sound, but that's a feature that struggles with. Although you probably won't use virtual 7.1 sound in CS:GO anyway, but it can still be useful if you like to play other games like Call of Duty: Warzone.
What about the microphone? It has a detachable mic on the left side, so you can take it off whenever you don't feel like talking. The mic does its job, it might not be professional broadcasting material, but we're sure on the other side will understand you without inconvenience.
On a side note, the customer service is very responsive to user's problems. So don't worry about having trouble because they'll happily help you solve it.
Summary
Listen, do you want a gaming headset for CS:GO that does efficiently what it's supposed to do at the best possible price? Then go with the HyperX Cloud II. The 3.5mm jack works for PC, PS4, and PS5. This headset's for professionals, casual gamers, and everyone else in between. Sure, it might lack some features that other headsets offer. But at this price and with these features, it's hard to deny the power of this headset. A solid choice for anybody.
Things We Like
2-year warranty.
Flexibility.
Awesome value.
Things We Didn't Like
The minimalistic design might be too boring for some people.
7.1 Virtual Surround Sound isn't the best out there.
Pro players who use the HyperX Cloud II: Brollan, twist, bondik, Stewie2K, Spiidi, jkaem.
---
2. HyperX Cloud Flight S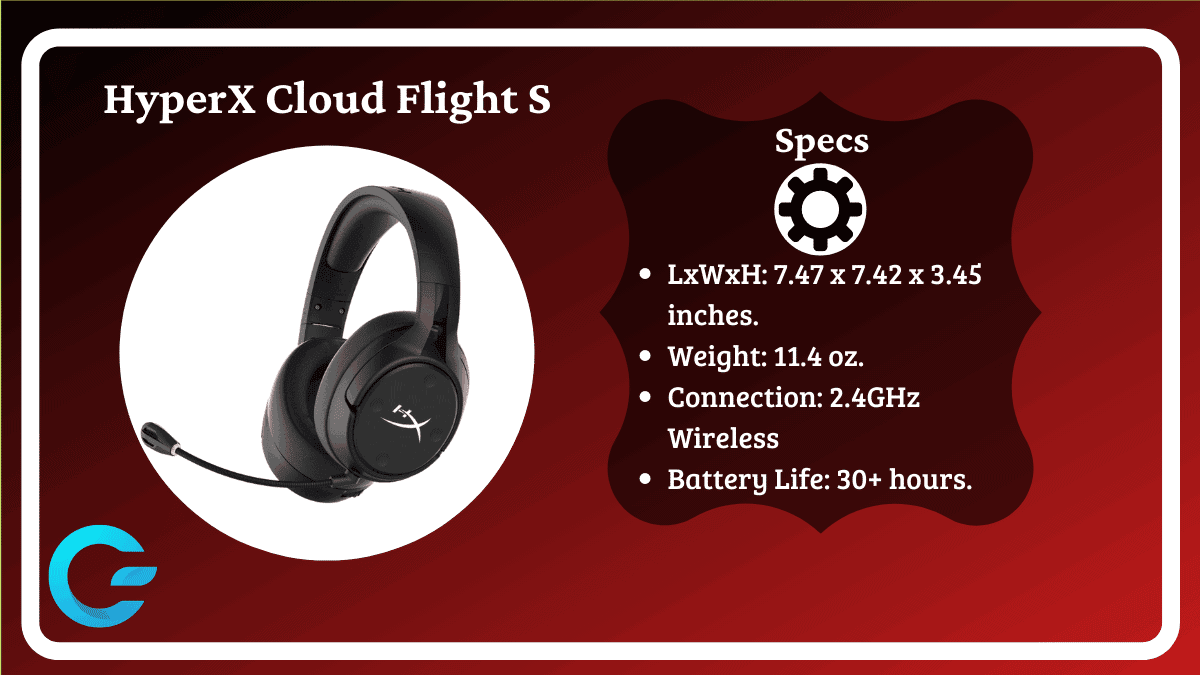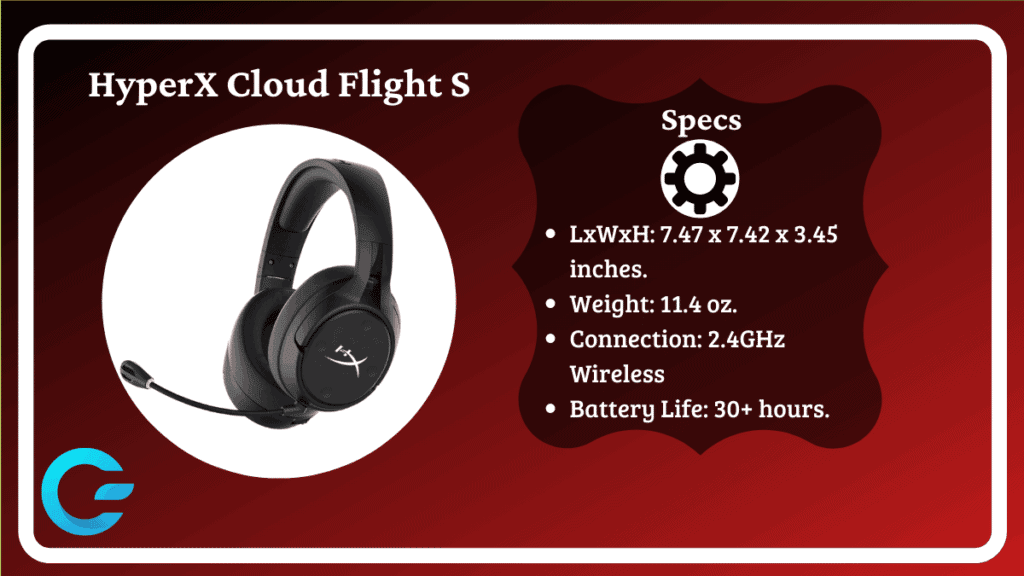 Amazon product
Another member of the HyperX family is the HyperX Cloud Flight S. It's a little more expensive than the HyperX Cloud II, but let's make the case for this headset.
This completely wireless headset is a total redesign of the Cloud Flight model. We get a 2.4GHz wireless connection that uses a USB RF dongle and comes with almost no lag. It's made from hard plastic but doesn't feel cheaply made, it's sturdy enough to feel professional. It's pretty modest, so it doesn't come with RGB lights, the only light is the one on the mic indicator.
And talking about microphones, this headset doesn't have exactly the best out there. It's not that it's terrible, but it could be more accurate when capturing voices. On comfort, it comes with a really comfortable memory foam cushion that won't squeeze your head out.
But one of the highlights of this model is the Qi-wireless charging option. Yes, you can charge this headset if you have a Qi charger at home (and you better have one, because the headset doesn't include one.) Also, no 3.5mm jack included, this is a fully wireless model.
Antoher great thing about the HyperX Cloud Flight S, is that it has an incredibly long battery life of over 30+ hours. That means that you'll probably need to charge it around once or twice a week (depending on how much time you dedicate to gaming.)
Summary
The HyperX Cloud Flight S takes wireless features to the next level. With a slightly better look than its predecessor, this headset manages to deliver long hours of quality sound performance. With a 20-meter range, it's mostly recommended if you own both a PC and a PS4. Though the mic quality falls behind most of the other features, it's still a pretty formidable choice.
Things We Like
Incredibly long battery life.
Amazing sound.
Things We Didn't Like
Mic could be better.
Allows Qi-charging but doesn't come with a Qi-charging pad.
Pro player who uses the HyperX Cloud Flight S: f0rest.
---
3. SteelSeries Arctis 7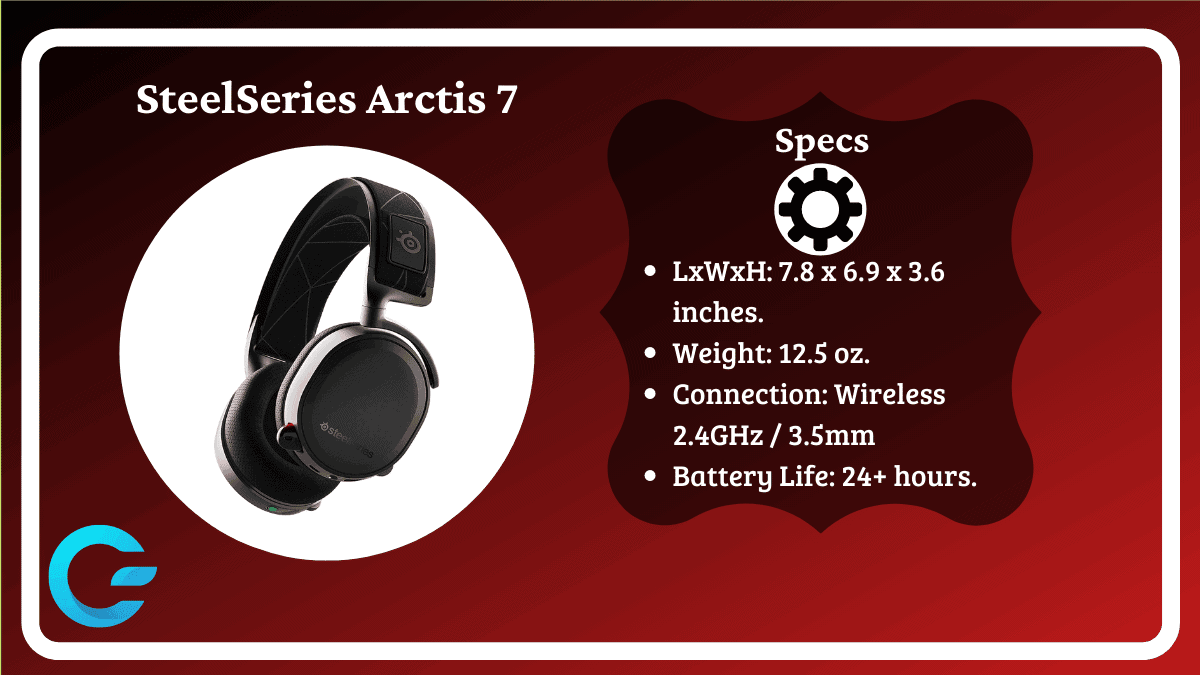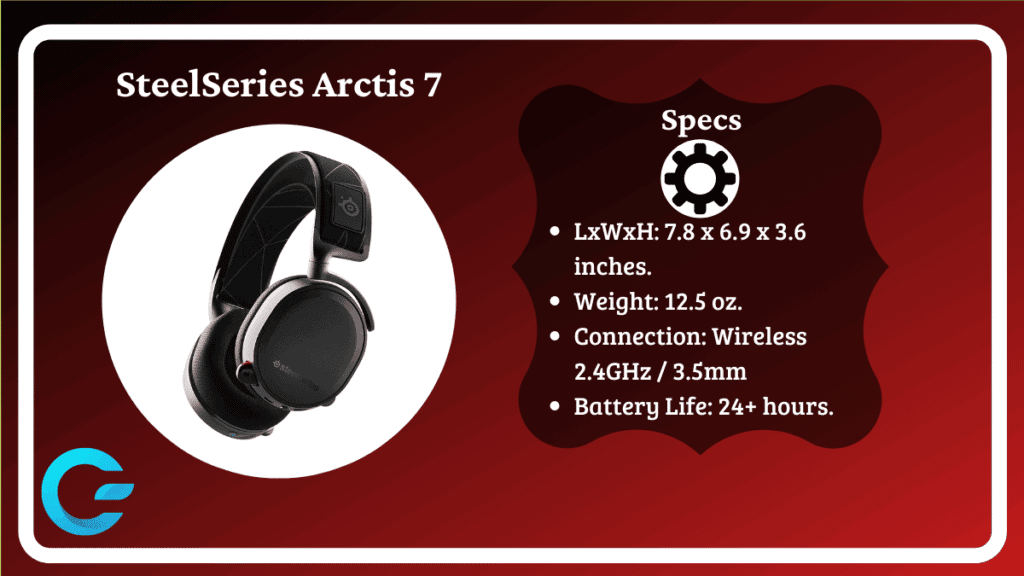 Amazon product
Next on this list, we have another big brand in the game. SteelSeries has been doing gaming peripherals for years, and every time they just keep getting better. Many pro and amateur players prefer the Arctis 7 because it's very comfortable and has an excellent performance. It features a detachable noise-canceling mic, perfect for clean audio.
It has a very aesthetic design. Like the other gaming headsets before this one, it doesn't come with any kind of RGB lights, so SteelSeries preferred to have a more modest design with this one. The ear cups will cover your ear and submerge you into the next level of comfort.
Those ear cups are made from a material called AirWeave. It's breathable, it doesn't get hot, and it doesn't collect sweat, so it's fair to say that it gets the job done. The mic is good, your team will hear you from the other side of the world easily. The aluminum headband is both comfy and strong enough to handle day-to-day usage.
This model has a well-designed velcro strap for those who like to feel more in control when it comes to head pressure. And while it's good to have it, this also makes it not as tight as other models. As long as you don't like playing and working out at the same time, it shouldn't fall off your head.
The SteelSeries Arctis 7 uses a 2.4GHz wireless connection thanks to an RF USB dongle with the lowest rates of latency. And with 24+ hours of battery, feel free to stay up late without even thinking about charging. Virtual 7.1 Surround Sound is one great feature of this headset, but you can still enjoy and immerse yourself completely without it.
Summary
SteelSeries made the Arctis 7 with one thing in mind: Comfort. All in all, it's a really good option to go with, especially if you need a great quality product that delivers great results both in terms of performance and comfort. The Arctis 7 is a modest option when it comes to a gaming headset that definitively won't disappoint.
Things We Like
Fantastic performance.
One of the most comfortable headsets on this list.
Things We Didn't Like
The headband can feel somewhat loose.
Pro players who use the SteelSeries Arctis 7: Coldzera, pashaBiceps.
---
4. Logitech G Pro X Wireless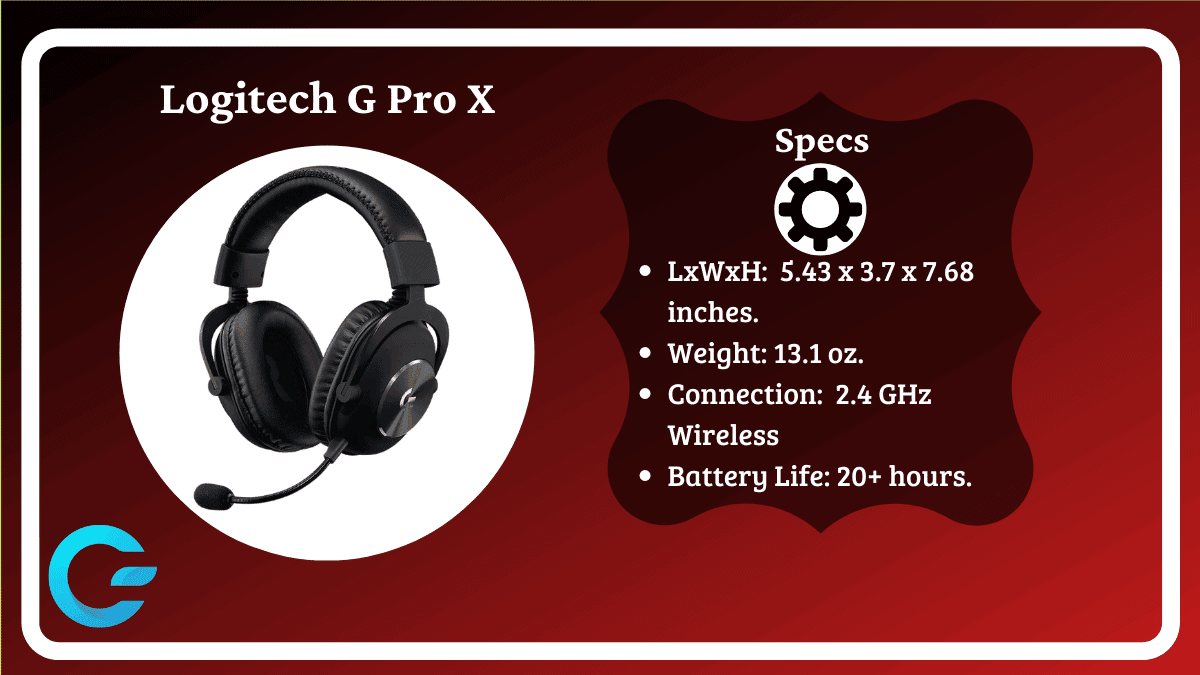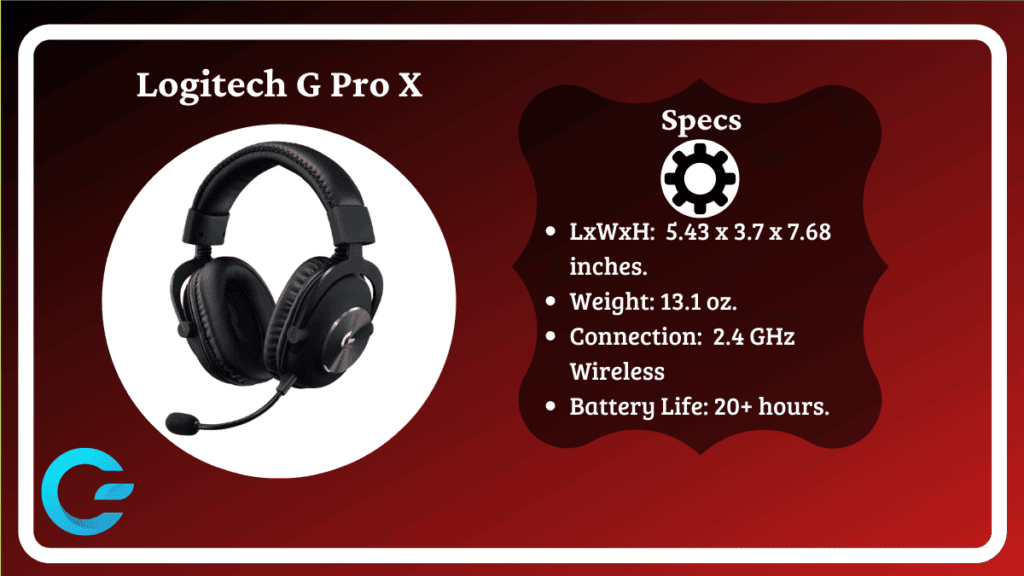 Amazon product
For the people who don't know Logitech: They are a big brand, making some of the best gaming accessories. They've been out making great products for so long, yet they still find ways to impress their followers. The Logitech G Pro X is no exception to this rule, so let's explain why this is one of the best CS:GO headphones.
Let's begin with design. It's made from very strong metals like aluminum and steel, but that doesn't mean it's hard as a rock, the total opposite. The headband has the right amount of flexibility and it's covered in a fluffy leatherette cushion. It's also not that heavy, so you'll be able to carry it around without any inconvenience.
This is another headset that relies on its wireless feature, so it doesn't come with any 3.5mm jack. The connection happens through a 2.4GHz USB FR dongle that covers a range of about 15 meters, which is enough for large rooms.
This headset is perfect for gamers that wear glasses and a comfortable headset because it comes with an extra set of velour pads for your ears. And speaking about your ears, you can feel calm after knowing they'll be in good comfort with the leatherette with noise-canceling properties.
And for those who love tweaking sets, the Logitech Hub Software will give you the necessary customization level that you crave. You can even tweak the removable mic with the Blue Vo!ce feature in the software. So it's ideal for those who love customizing stuff around.
Summary
This is one of the most used headsets in the world of CS:GO pros because even they know that this is one of the best CS:GO headsets that money can buy. It's beautiful, it's worth its value, and it performs excellently. Definitively a gaming headset you'll love from day one.
Things We Like
Great level of customization.
Sturdy and comfortable.
Things We Didn't Like
The mic isn't the best, but if you know how to tweak the settings, you'll be good.
Pro players who use this headset: s1mple, device, NiKo, dupreeh, Magisk, Xyp9x, Skadoodle, AdreN, STYKO, NBK-.
---
5. Razer BlackShark V2 Pro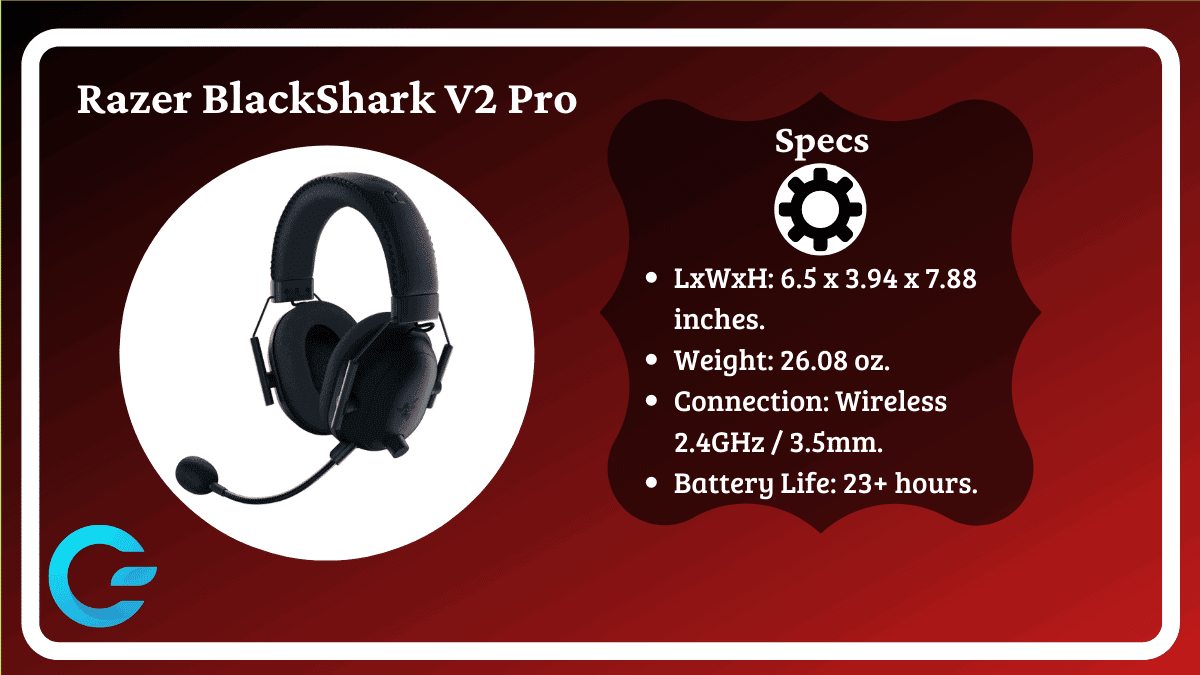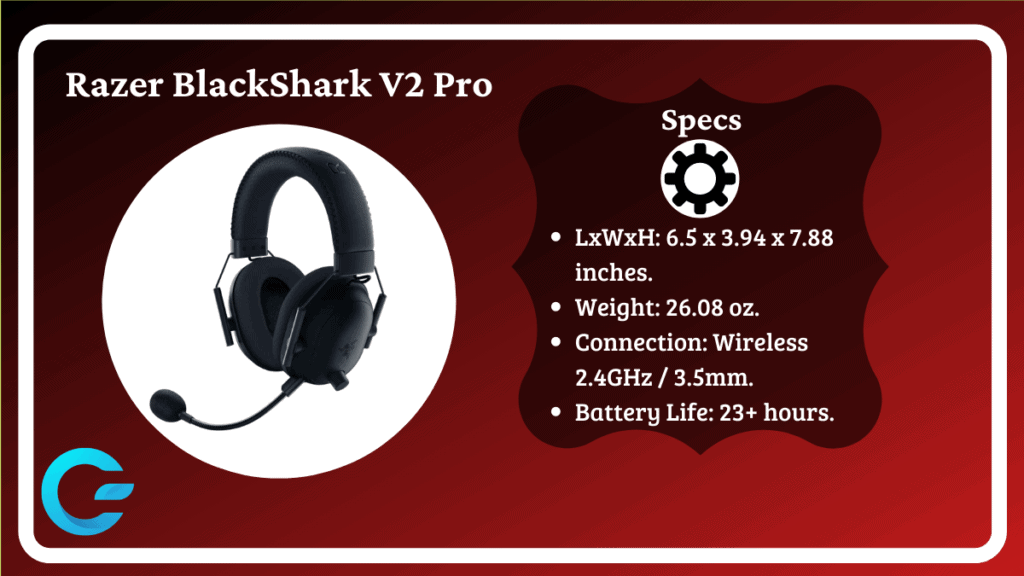 Amazon product
Let's introduce the Razer BlackShark V2 Pro, an incredible headset coming from Razer. This is another versatile and cutting-edge headset on this list with amazing qualities. This model is almost the exact same as its predecessor, the Razer BlackShark V2, but instead this time they made it wireless and with extra features.
This wireless headset connects through a 2.4 GHz USB RF dongle, so it can work with your PC, Xbox or PS4. The latency was practically non-existent, so don't even worry about response times. The BlackShark V2 Pro presents us with a removable boom microphone with a passive voice cancellation that isolates your voice and makes sure that your team gets your message clear and clean.
There's a trend going on that says that LED lights on headsets are a little unnecessary unless you go to competitions or travel with your headset. That can be true because, with a headset on your head, you probably won't see the colors. This model hops on that trend and doesn't include any kind of customizable lights.
And talking about design, it's got an oval-like shape on the ear cups, which is ideal for canceling noise and delivering optimal results. The black plastic wireframe is wrapped in a cozy headband, but it doesn't feel as tight as it should, so, no jumping allowed while you wear it or it could fall off. The ear cups are breathable and built to prevent heat and sweat.
This model's lightweight, but given its shape, it's not as portable as other headsets. The battery can last around 23+ hours, which is enough for moderate gamers.
Summary
The Razer BlackShark V2 Pro is one of the best options in the headset market. It's light, it looks good, it works fine and the mic quality is excellent. We'd mostly recommend this product for PC because this headset stands out on PC. It's not that it can't work for consoles like the PS4 or the Xbox, but there are better options if you want to focus on console gaming. But still, this wireless headset will cause you minor issues when you use it.
Things We Like
The mic quality is outstanding.
Cozy and comfortable.
Things We Didn't Like
Not as good performance on consoles.
Pro players who use this headset: ropz, karrigan.
---
6. Sennheiser Game ZERO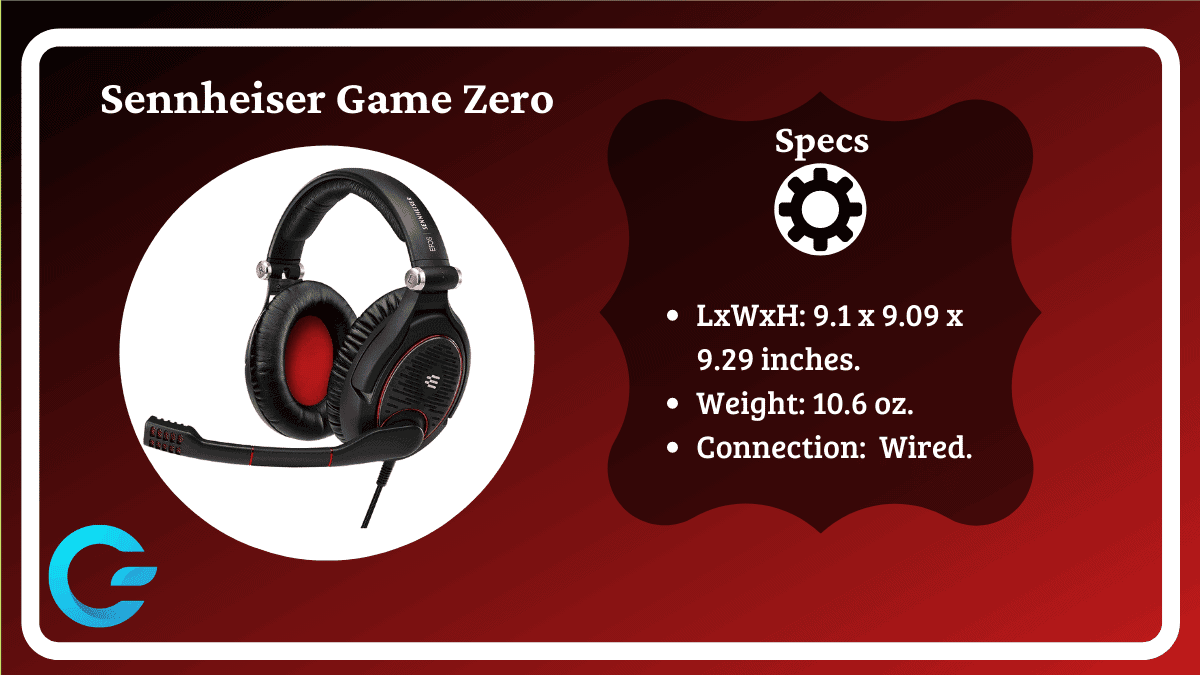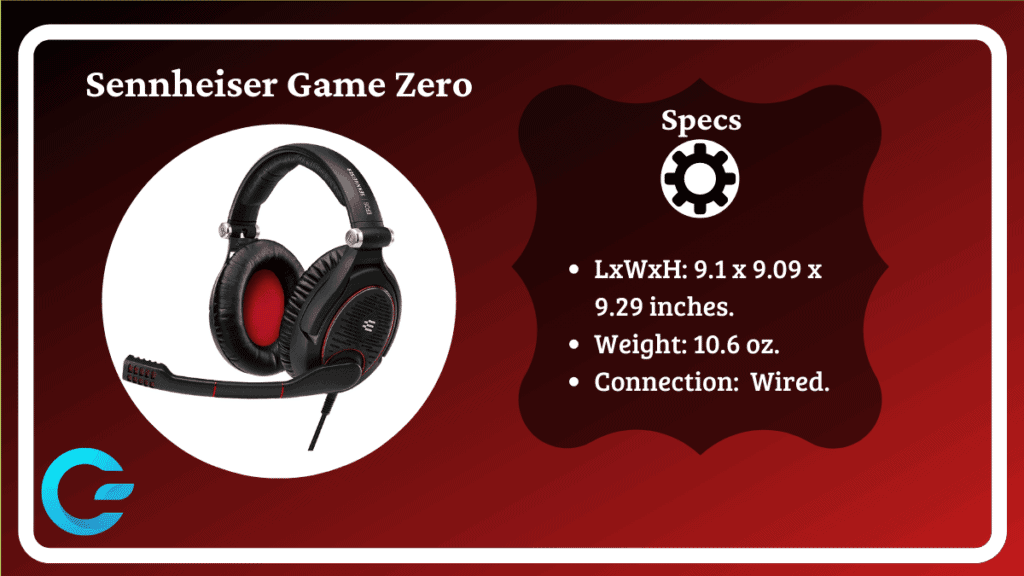 Amazon product
The Sennheiser GAME ZERO has a point to prove here. And that is that even a headset with just 2.1 stereo sound can still catch up with the biggest sharks in the game when it's got great performance.
Sennhesier is a respected manufacturer when it comes to audio-related products. This wired headset combines all of the great characteristics that make for one of the best headphones for CS:GO.
It's made from an incredibly lightweight yet robust plastic. It has a decent aesthetic look, nothing too outrageous and not too boring. No extra shenanigans, just the right amount of details. And when it comes to the ear cups, they're covered in faux leather with a generous level of softness.
We love the fact that it doesn't have a bulky design like other headsets from Sennheiser do. That means that this headset is great for carrying it around wherever you want. And yes, the mic is not detachable, but it folds easily and takes almost no space.
Thanks to its lightweight feature, it won't crush your head abruptly. The tremendously big ear cups will completely block the entire world from your mind. The sound is excellent enough to hear the enemy's footsteps coming around. And don't worry about getting hot ears, because it's breathable enough to prevent that.
The retractable microphone is decent enough for most gamers. It captures your voice efficiently and background noise is out of the way. One downside would be the fact that it doesn't come with a software to mess around with the settings.
Summary
The Sennhesier GAME ZERO looks fantastic both on paper and in the practice. It's comfortable, it's light, and since it's not wireless, you don't need to worry about charging times. However, it doesn't come with customization software and it could be a little expensive for some people. It's still an excellent choice for anyone looking for a high-end headset. That's why this is one of the best headsets for CS:GO.
Things We Like
Easy to carry around.
Breathable ear cups.
Overall great performance.
Things We Didn't Like
No customization software.
Pro players who use this headset: MODDII, Furlan, byali, Snax, Ethan, oskar.
---
7. Corsair HS70 Pro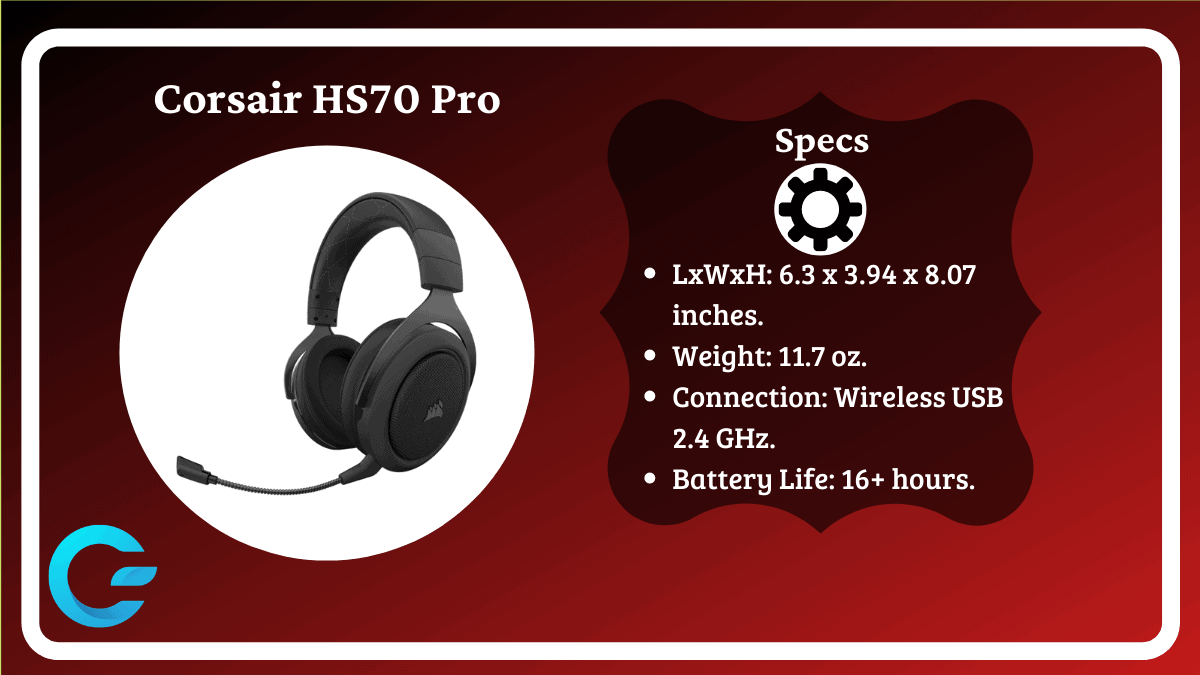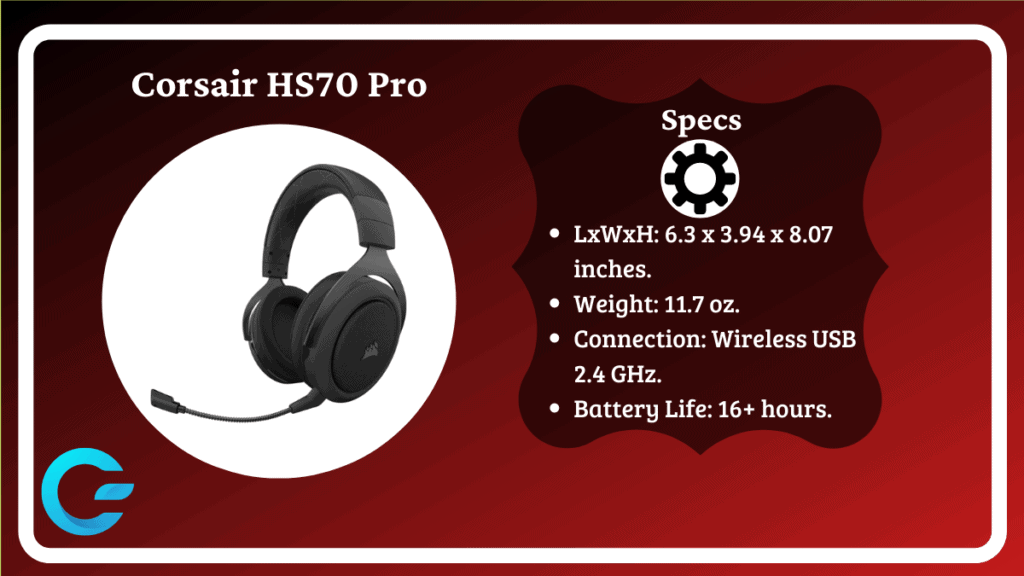 Amazon product
Another big brand that does things right is Corsair. With the Corsair HS70, they've managed to create one of the best gaming headsets for CS:GO. This headset won't let you down if you decide to go with it. It doesn't only have an excellent price, it also comes with great features for your CS:GO needs.
Let's explore the design first. Like most gaming headsets on this list, it prioritizes performance over too many details. So it's a pretty modest headset we get here. It has a black stylish design and no LED lights. It's made out of metal and it's cushioned for comfort. The HS70 doesn't feel heavy in any way and feels sturdy.
This headset has a battery life of 16+ hours, which is a decent amount of hours. But don't worry, it can be fully charged in just about 2 hours.
The ear cups are made from a soft memory foam that'll keep your ears comfortable even after long hours of kidnapping hostages. It features 7.1 Virtual Surround Sound that can only be used on PC. But still works great on consoles.
This headset does come with a customization software to move things here and there. You'll become familiar with the iCue software in no time. It's not one of the best softwares around, but the hardware system compensates for that.
And speaking of hardware, it features a completely detachable Discord certified mic. Your voice gets captured easily and smoothly, even in loud environments.
Summary
This headset will give you fantastic results on CS:GO. It's a great option considering its value. It might not be as advanced in other features like battery life or RGB lights, but it compensates for performance. It's also a pleasure to be wearing this headset after long sessions. A great option for anybody who loves good products at relatively low costs.
Things We Like
Great price.
Feels durable.
Amazing comfort level.
Pro player who uses this headset: former player s0m.
---
8. HyperX Cloud Revolver S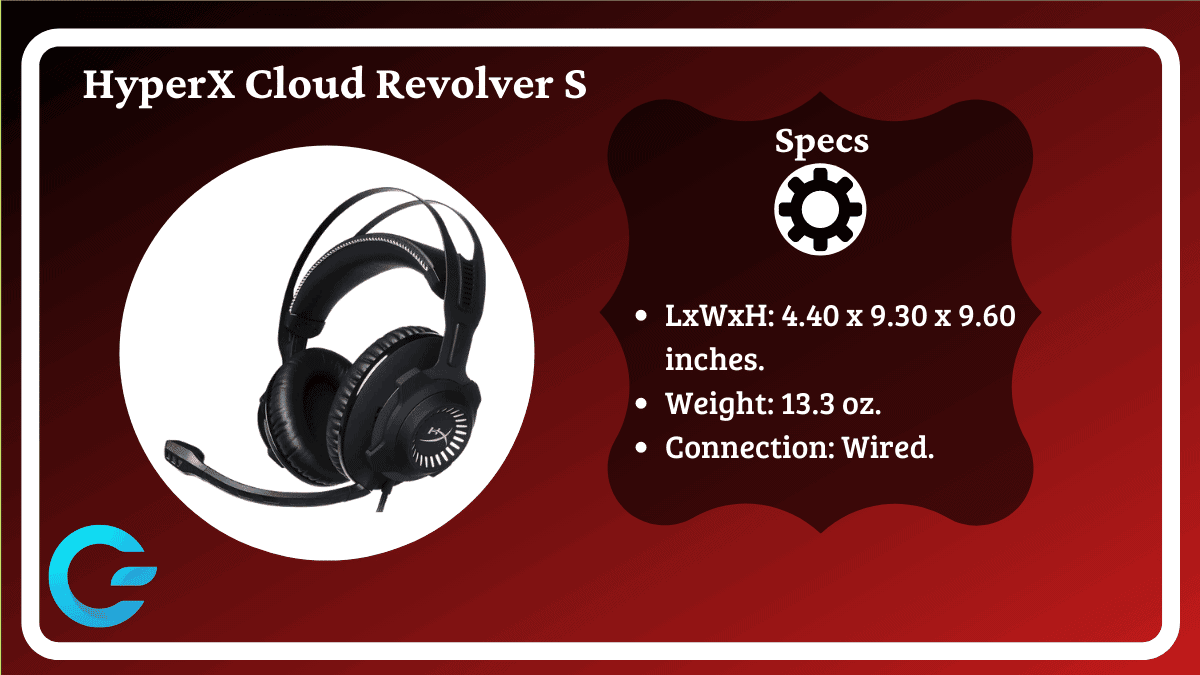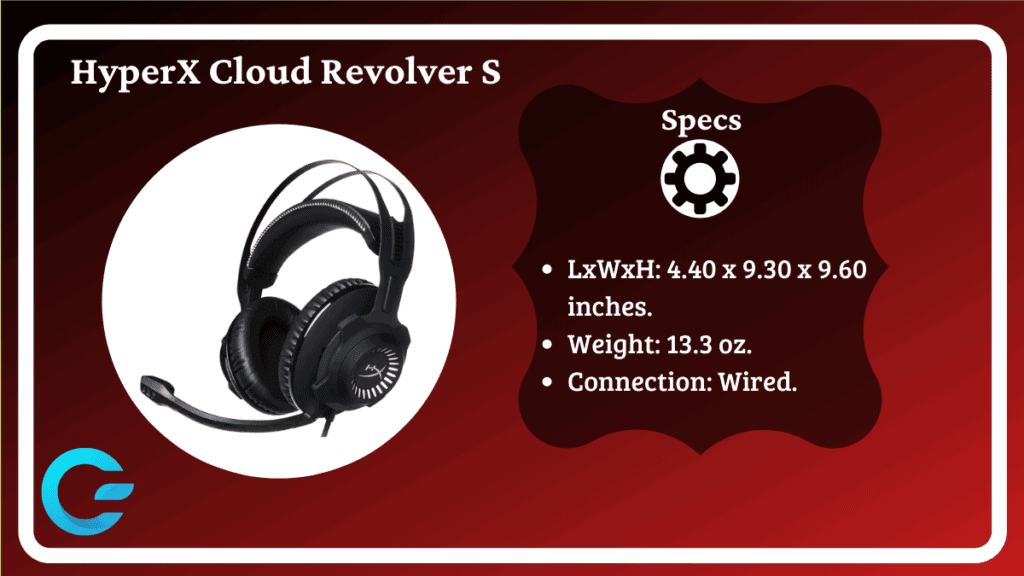 Amazon product
If the HyperX Cloud II or the HyperX Cloud Flight S didn't catch your attention, then maybe you need to check the HyperX Cloud Revolver S. This wired headset it's very versatile and comfortable to use.
When it comes to design, it's almost the same as its predecessor, the HyperX Revolver. It contains a seemingly strong steel frame and some enormous ear cups that'll cover your ear and submerge you into your session.
The cloud on its name stands for how comfortable it feels. The big ear pads give a little space to your ears and add comfort to your ears thanks to the faux leather. The headband is very soft and will adjust easily on even the largest foreheads.
It includes Dolby 7.1 Surround Sound that can be activated with just pushing a button, no software required. The flexible mic can be plugged using a 3.5mm jack.
It's also very versatile, so feel free to use it on PCs and PS4s and expect to receive the best results.
Summary
This headset is one of the most comfortable options on the HyperX menu. It will give you quality sound that will make you forget about the birds singing as the sun rises. It's a little more expensive than the HyperX Cloud II, but the features are a little improved. All in all, this is a good CS:GO headset to try.
Things We Like
Beautiful design.
One of the most comfortable HyperX headsets.
Things We Didn't Like
The cable's longer than usual.
Pro player who uses this headset: AZR.
---
Buying Guide: Choosing the Best CS:GO Headset for You
Searching for headsets is an easy task, the hard part comes when you have to decide on one. With literally dozens of options, some people don't even know where to start.
Well, stop worrying about that, because we'll tell you exactly what are characteristics that you need to take into consideration before picking a gaming headset for CS:GO. Our picks on this list were based on these aspects. So feel free to choose one of our picks that matches your preferences.
Comfort
One of the most important aspects that the best gaming headset for CS:GO should have, is comfort. It's really disappointing to have a headset with cutting-edge hardware technology with a terribly uncomfortable feeling.
Most gaming sessions can take up entire nights of intense staring at your screen and fast-moving fingers. Now imagine how much pain an uncomfortable headset can provide after a night like that.
Your ears will sweat and will probably get warm thanks to the friction of having a headset. An uncomfortable headset can even give you migraines, yikes!
If comfort is on your mind when you make a choice, you can go with options with self-adjusting cushioned headbands. Some models also include an extra pair of cushions to switch between them whenever you want.
Also, lighter models are preferable in these cases. Pure leather earpads look awesome, but they develop sweat after some time.
Microphone
If there's one feature that a lot of people tend to forget about when choosing a gaming headset, that has to be the mic.
But they're also very essential for gamers. Some headsets have built-in microphones or detachable ones. Having a headset with a detachable mic means that you can store it and transport it a little better than a built-in mic.
Go for models with noise-canceling qualities, since they will allow you to sound clear and vivid to your teammates.
Please note, don't expect these microphones to have a perfect performance, since most of them won't have that. But they still manage to do a fantastic job. Some models come with voice customization options so that you can twitch around and make things work for you.
Going wired or wireless?
A few years back, it would have been impossible for anyone to be seriously talking about choosing a wireless headset for serious gaming. The latency was so big, that it would have been incredibly difficult to play with them.
But now, wireless headsets are all over the market with a near-to-zero latency. And they offer incredible advantages over wired headsets, for example, they give you more freedom and save you time since you won't be dealing with long cables.
However, wired headsets are still a worthy choice, because they are usually less expensive than wireless headsets and don't need to be charged like their wireless counterparts.
To summarize, if you're playing on PC, you can choose between a wired or a wireless option. But if you also have a console, you should try a wireless headset to have extra freedom of movement.
Durability
You need a headset that can survive the toughest conditions.
Most low-end models are made from cheap plastic. But the best options are those that use hard plastic or metal. Some models have a combination of both metal and plastic.
Consider getting a headset that is durable and has great cushions, so that the materials won't hurt your head.
Think about design
The design is another aspect you should consider.
Most gaming headsets will have that well-known design. They can pass as your regular music headsets, with no extra accessories, no RGB lights, no bright colors.
Others like to play here and there with some extra features or designs to make the headset look more like something a gamer would buy. There are a lot of white gaming headsets that look stylish and cover basic needs.
And others are outright extravagant, with lights and weird-looking parts everywhere.
Just go for whatever you feel like with these things in mind:
Portability, if you travel a lot.
RGB lights (if they're wireless the lights will consume extra energy.)
Personal style.
7.1 Surround Sound?
Let's something out of the way, Virtual 7.1 Surround Sound does completely nothing on CS:GO. But if you're considering playing other games, you could go for that.
However, headsets that have 7.1 Surround Sound built-in (with actual multiple sound drivers on each side), are a whole different thing.
Headsets with a virtual 7.1 Surround Sound are generally less expensive than those with real hardware 7.1 Surround.
Some players say that Stereo sound in gaming should remain dead. But it's still pretty common, and while it's not as high-end as 7.1 Surround, it does its job right. So, take all of that into consideration when picking.
---
Statistics on CS:GO Pro Headsets
If you want to know what are the gaming headsets that CS:GO pros use, then you've got you covered. We took a look at the top 99 CS:GO players as of January 2021 and made a chart showing their preference for gaming headsets.
Most Used Headsets by CS:GO Pro Players (By Brand)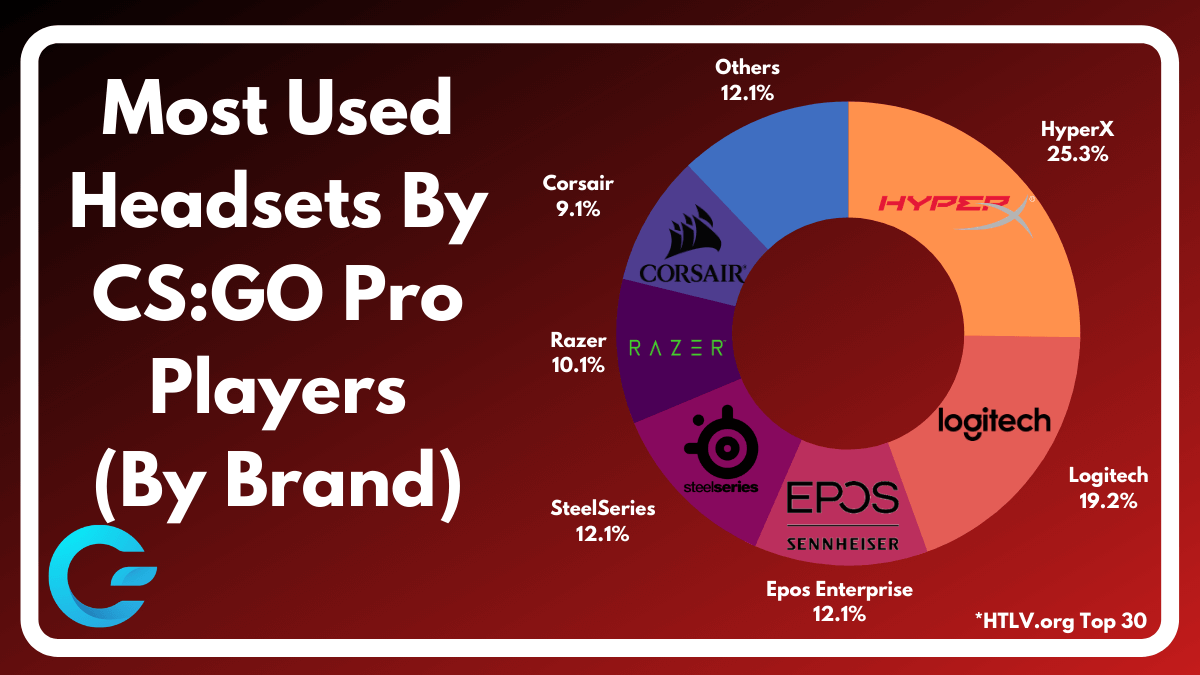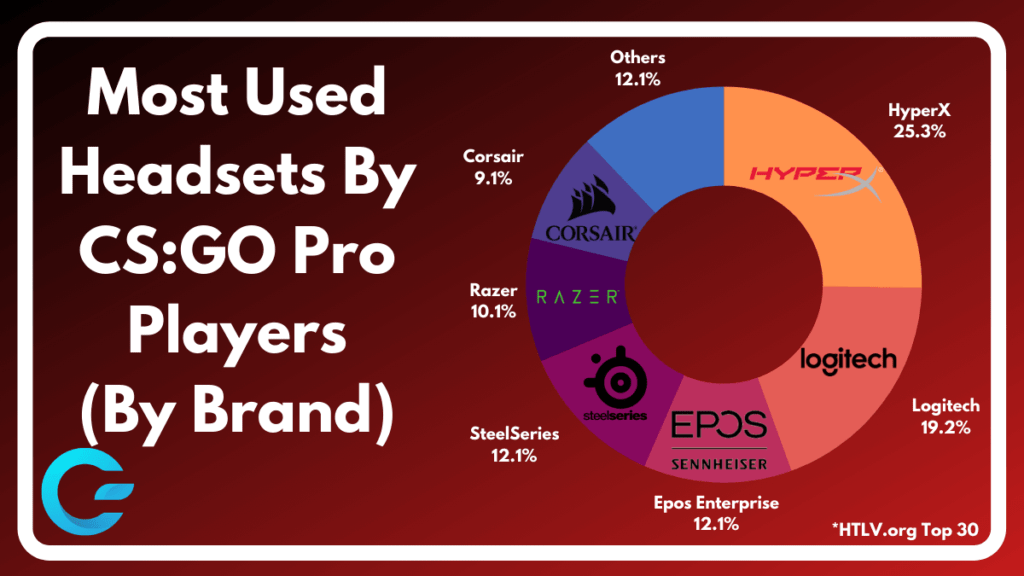 The top headset manufacturers for pros are:
HyperX (25.3 %)
Logitech (19.2 %)
Sennheiser (12.1 %)
SteelSeries (12.1 %)
Razer (10.1 %)
Corsair (9.1 %)
Others (12.1 %)
Taking a look at this chart will immediately tell us that HyperX products are totally dominating the headset territory. And it's no surprise to us given that they have a wide variety of well-designed headsets for everyone.
HyperX has grown a lot of reputation on online forums and critics for their excellence in making headsets ideal for games like CS:GO.
The Sennheiser models from Epos Enterprise are also some of the best headsets for CS:GO in the market. All in all, these brands have a well-known and excellent recognition, so you know you'll receive quality products from them.
Most Used Headsets by CS:GO Pro Players (By Model)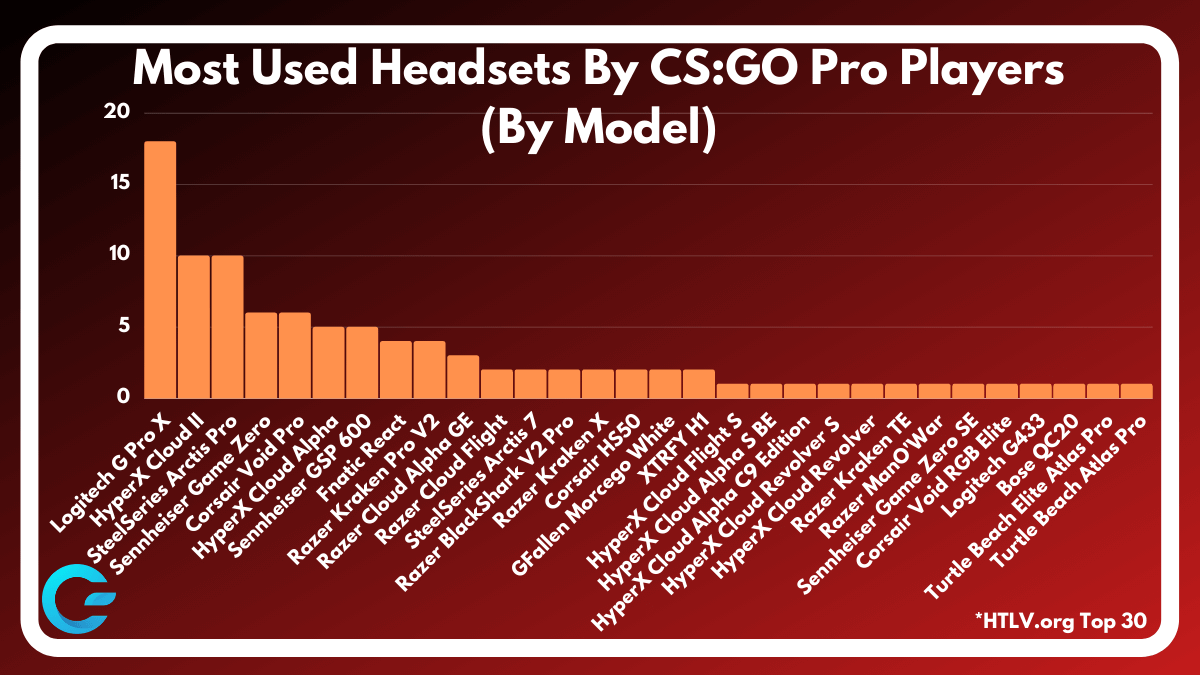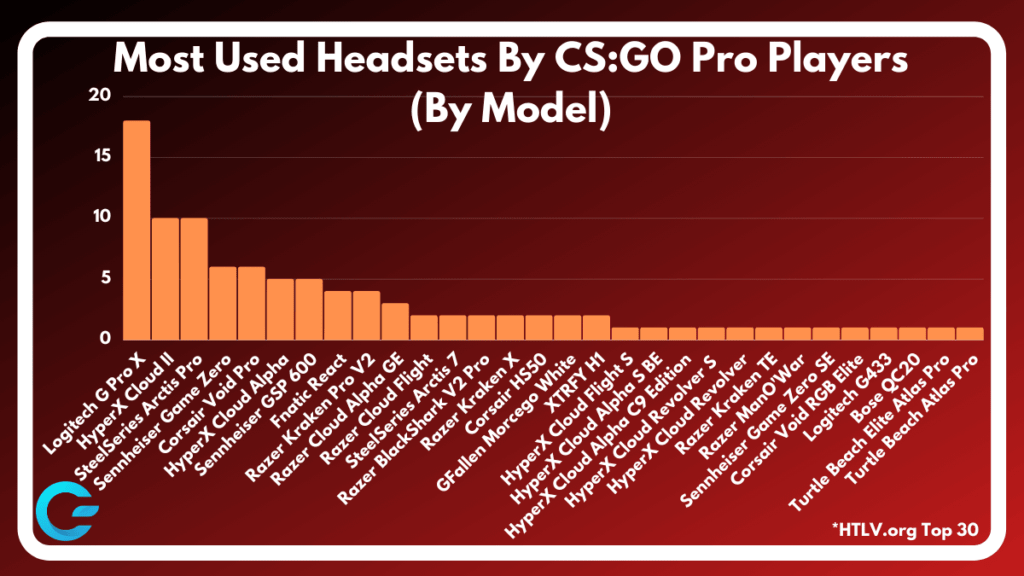 Although HyperX is the most used brand overall, the Logitech G Pro X Wireless is the most used gaming headset by pros. Next to the Logitech G Pro X, we have the HyperX Cloud II and the Arctis Pro. These are all fantastic headsets and the pros know that.
These statistics are just a reference. All of these models work because the people that use them feel comfortable in them. So you should look out for something that feels comfortable to you as well. Having any of these headsets won't magically give you supersonic hearing abilities, so please use this only as a reference and not as a strict guideline.
---
Frequently Asked Questions
Is a Gaming Headset Worth It?
Of course, it is! A gaming headset will make you feel more immersed in any game that you play. The dedicated clear sound will make you forget about the world around you and submerge yourself into a fantastic stress-free session.
Are Gaming Headsets Useful for CS:GO?
Well, they surely are. They will help you communicate efficiently and better with your team. They can also help you concentrate better as it will block outside noises. Being totally immersed means you can hear your enemy's footsteps as they come near, which is a clear advantage. All in all, it's a good idea to get a gaming headset if you want to take things seriously.
Are Wireless Headsets Better than Wired Headsets?
It's a matter of preference and needs. Most console gamers would probably need a wireless gaming headset because it's easier to play. PC gamers however can opt between wired or wireless gaming headsets depending on their tolerance for loose cables.
How Long Does The Average Gaming Headset Last?
If a gaming headset is properly cared for, it can typically last around 2 to 3 years. But that refers to standard gaming headsets. Most premium headsets can last up to 5 years if they are used with responsibility and care. Some models may last longer if they have replaceable parts.
---
Conclusion
Having a gaming headset means taking your CS:GO sessions to the next level. And while it won't instantly make you a better player, it will certainly improve your overall experience.
All of the headsets on this list will prove to be very helpful. These are the top of the top headsets. They have the right characteristics and the pros love them, so check them out and give them a try.
And if you ever need an escape from playing CS:GO all the time, you can always hop on the MOBA territory and try a game like DotA 2.
So keep exploring GadgetGang to find out useful tips like how to show your FPS in CS:GO or to read the latest tech news. Leave a comment and let us know your thoughts.