Mediatek has been one of the top manufacturers of smartphone SoCs over the last few of years. There are currently several fantastic MediaTek products available, like the recently introduced MediaTek Dimensity 7200, which has revolutionized what formerly was the firm living in the shadow of the giants.
The newest member of the low-cost 7000 series, the MediaTek Dimensity 7200, will provide a number of improvements. To begin with, the chip is constructed utilizing a 4nm manufacturing technique, which is often used for the highest-end products, as opposed to an earlier production method. The new chipset's manufacture is being handled by TSMC.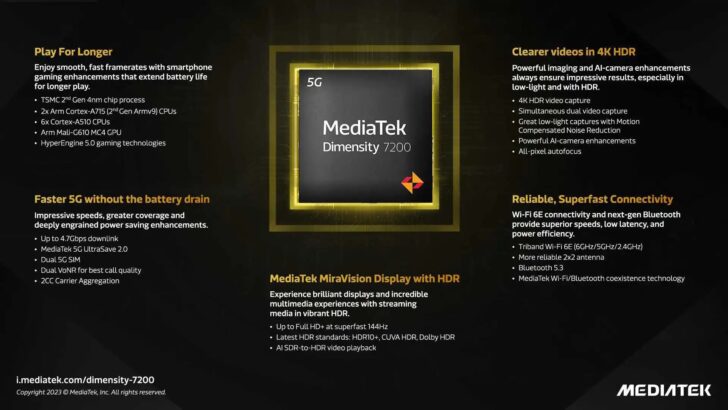 The MediaTek Dimensity 7200 is noteworthy because it has an octa-core architecture, which combines two Cortex-A715 cores clocked at 2.8GHz with six Cortex-A510 cores. A Mali-C610 MC4 GPU handles the visual processing, and it is combined with MediaTek HyperEngine 5.0 to improve gaming performance. You will receive compatibility for sub-6 5G networks, Wi-Fi 6E, and Bluetooth 5.3 LE on the modem side of things.
The MediaTek Dimensity 7200 is a fantastic mid-range chipset, as everything indicates. Nevertheless, it doesn't stop there since you also get simultaneous video recording, 4K HDR video recording, and camera compatibility up to 200 megapixels. For enhanced photos, the SoC also has MediaTek Imagiq 765 with 14-bit HDR ISP. You will be able to support FHD+ displays with refresh rates of up to 144Hz for the display. You receive UFS 3.1 storage support for the RAM, with transfer rates of up to 6,400Mbps.
While the MediaTek Dimensity 7200 is not yet available in smartphones, the firm has said that it would start making them in the first quarter of 2023. This implies that the new phones will soon be available.