The coronavirus (COVID-19) pandemic is still keeping many kids at home, yet there is good news. Microsoft has stepped up and released a blog announcing that Minecraft Educational Edition will be coming to Chromebooks for the return of the school year!
As a platform designed with education at its core, the new edition of Minecraft is set to be a success. It will provide teachers with a range of tools they can use to engage their classrooms online. Teachers can find lesson plans created by the Microsoft team, helping them start on the platform.
The lesson plans offer a range of subject kits, tailored towards popular subjects. They provide a platform for schools around the world to build a comprehensive online learning space. The subject kids cover:
Language Arts
Computer Science
Math
Art and Design
History and Culture
Science

Obtaining Minecraft Education Edition
The new edition of Minecraft will be available on all Chromebooks, Microsoft devices, and iPads, within the coming weeks. Most users will receive the update automatically, however, iPad users may have to download the update manually. This update will be free on all platforms, as long as you have a license for a previous edition of Minecraft.
For schools signed up to Microsoft 365 for Education (A3 or A5), they will receive the update for free on all Chromebook, Microsoft, and tablet devices for free. Meaning that the vast majority of schools will have access to the new edition immediately. For schools looking to get started, look here to access the Edition early and prepare yourself for the school year.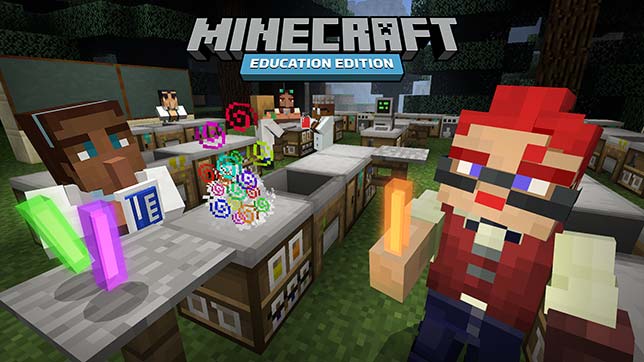 Online Video Game Education – Only the Beginning?
With the release of Minecraft Educational Edition marks a first. The first time a major game brand has developed a version of their game for educational purposes. With the online learning industry growing rapidly over the last decade, now accelerated by the pandemic, Microsoft could be the first in many popular titles to try and adapt to an educational setting.
Although, not all games are like Minecraft. As a masterclass in its genre, Minecraft has been a unique evolution of Lego for the digital generation. Yet are there any other titles that might be able to pull off what Microsoft has with Minecraft?
Tell us what you think in the comment section below!
Don't forget to share this article with your teacher if you'd like to enjoy some Minecraft learning yourself in the coming school year.