A "SUPER" model with a complete GA106 GPU was intended to be the fifth option for NVIDIA's GeForce RTX 3060, however it was never released.
It seems that NVIDIA was set to release a brand-new GeForce RTX 3060 SKU based on a tweet from @inatural_log. The GeForce RTX 3060 12 GB, RTX 3060 8 GB, and their corresponding GA104 variations that were produced subsequently were the other three RTX 3060 variants. This SKU was supposed to be the greatest model in the complete RTX 3060 series.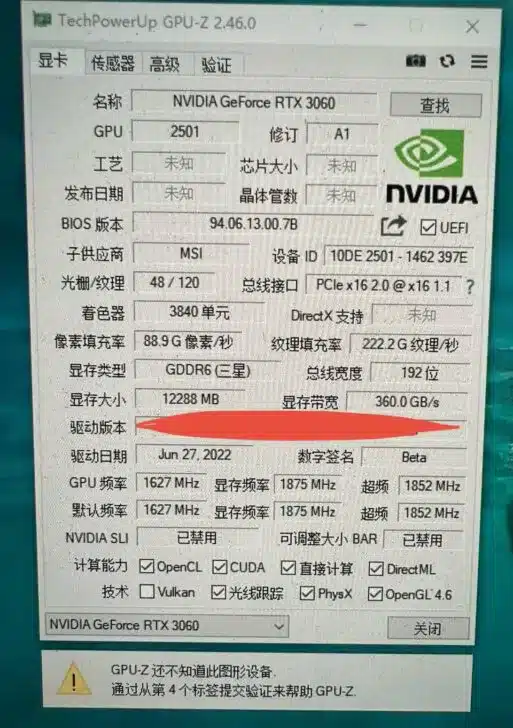 The NVIDIA GeForce RTX 3060 SUPER is currently known to use the PG190 SKU 50 PCB and is based on an MSI design, according to a GPU-z screenshot. The design of this card was completed in December 2020, little than a month before the RTX 3060 12 GB was initially made public. Regarding the technical details, the graphics card utilizes the whole GA106-400 GPU, which has 3840 cores, 120 TMUs, and 48 ROPs.
The 12 GB of GDDR6 memory from the NVIDIA GeForce RTX 3060 SUPER should have been kept via a 192-bit bus interface with a 360 GB/s bandwidth. The clock rates, which are likewise much faster than the normal RTX 3060 12 GB variant, were listed as 1627 MHz base and 1852 MHz boost.

Given that several reports at the debut of the RTX 30 series also mentioned different specs and SKUs, it is now simple to see where those rumors originated. It is possible that NVIDIA handed out this specification to its partners for assessment reasons.
In actuality, a number of SKUs have appeared far later than they were first reported. There are now cards with 20 GB of memory, like the RTX 3080 Ti, and 16 GB of memory, like the RTX 3070 Ti. These specifications were among those that we had previously dismissed as just hearsay, however they were really developed but never made available to the general public.