Exynos 2400 is the future flagship smartphone, and we have previously heard information about it. However, it seems that Samsung is also developing the Exynos 2300.
The Exynos 2300 was last reported to have a curious 9-core CPU configuration, consisting of one prime Cortex-X3 core operating at up to 3.09 GHz, four Cortex-A715 cores operating at 2.65 GHz, and four Cortex-A510 cores operating at a maximum frequency of 2.1 GHz. A very identical 1+4+4 chip, identified by the model number SM-S919O, has just surfaced in a mystery Samsung handset on GeekBench.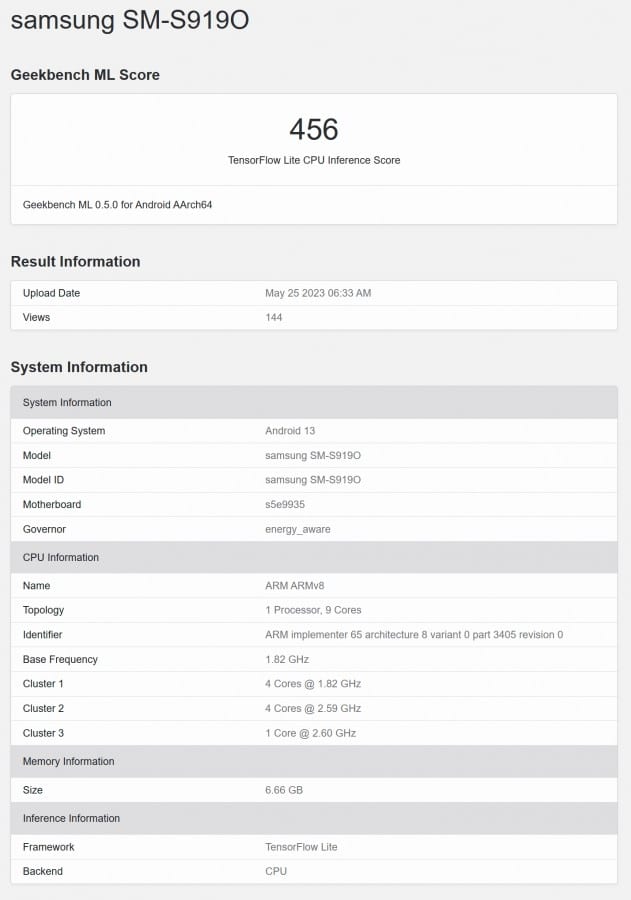 Although the stated CPU frequencies don't match the anticipated ones, this is very typical for technology that is still in development. The Exynos 2200 employs a 1+3+4 design, but the Exynos 2400 is anticipated to deliver a 1+2+3+4 configuration with a Cortex-X4 at the helm. As a result, the actual core arrangement is far more revealing and hints to a yet unknown processor.
The only other detail we are aware of about the purported Exynos 2300 is that its GPU will be semi-designed using AMD's RDNA2 architecture. Anything beyond that is speculative, but because we are already making assumptions, we may be able to anticipate that this new processor would replace the rumoured Exynos 2200 in the next Galaxy S23 FE. Time will only tell.