According to a recent study from Counterpoint Research, the mmWave versions of the Pixel 7 Pro only cost $413 to produce. The research also provides further information on the hardware configuration.
According to Counterpoint Research's analysis, the Pixel 7 Pro was substantially less expensive to build than its competitors. It's interesting to note that just over 50% of the 128GB mmWave enabled Pixel 7 Pro devices manufactured for sale according to the breakdown of material prices use Samsung internals.
The QHD+ AMOLED panels that are utilized in Google's flagship are only made by Samsung Display. This accounts for 20% of the cost to build each Pixel 7 Pro, the study said. As has long been known, Google's proprietary processor, the Tensor G2, was created in collaboration with Samsung. This is produced using the 5nm EUV process and represents around 7% of the cost of the whole component. This year, Tensor G2 and Titan M2 are reportedly $10 more expensive to make than the original Tensor.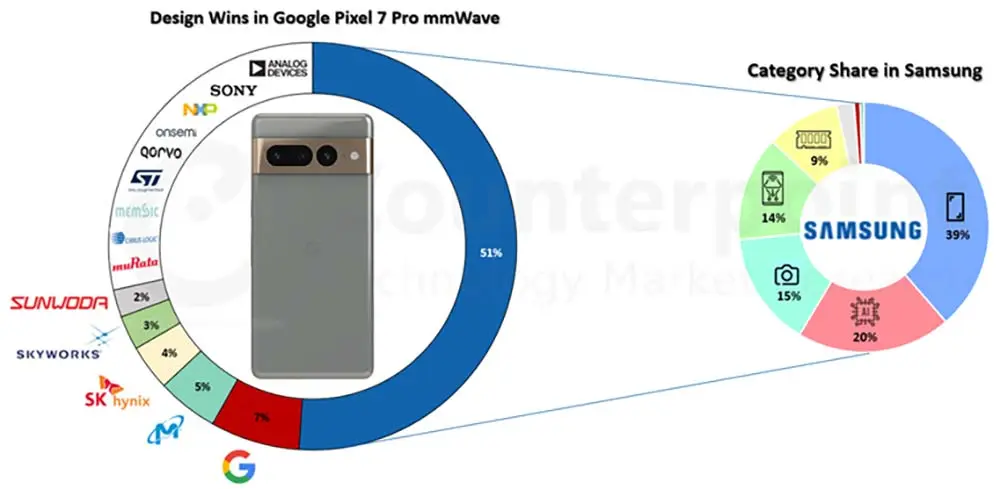 In addition, the 5x periscope zoom camera and selfie sensor, which are other areas where Samsung hardware is necessary for telecoms connectivity with the mmWave antennae developed jointly with Murata, are produced by the Korean tech giant. Samsung also makes the ISOCELL GN1 camera sensor, which is at the core of the Pixel 6 and 7 series. This also applies to RAM, which is made by Micron.
While SK Hynix offers the 128GB NAND Flash modules that are constructed in accordance with the UFS Gen 3.1 standard, Skyworks is responsible for the Wi-Fi connection. ATL provides the actual cells for the 5,000mAh battery modules, while Sunwoda Electronic packages the battery. The Quick Charging IC was developed by NXP, while the wireless charging coil was created by IDT.
Naturally, this $413 sum only accounts for the expenses incurred during construction of each Pixel 7 Pro. Since the release of the Pixel 6 series, Google has boosted its marketing budget, but this doesn't account for additional expenses like those associated with research, R&D, or even real manufacturing. It's unclear how much money Google makes on each Pixel 7 Pro sold given that it retails for $899 and often drops much below this price.