Resident Evil Village has been officially rated by the relevant government bodies of Brazil. As spotted by Gematsu: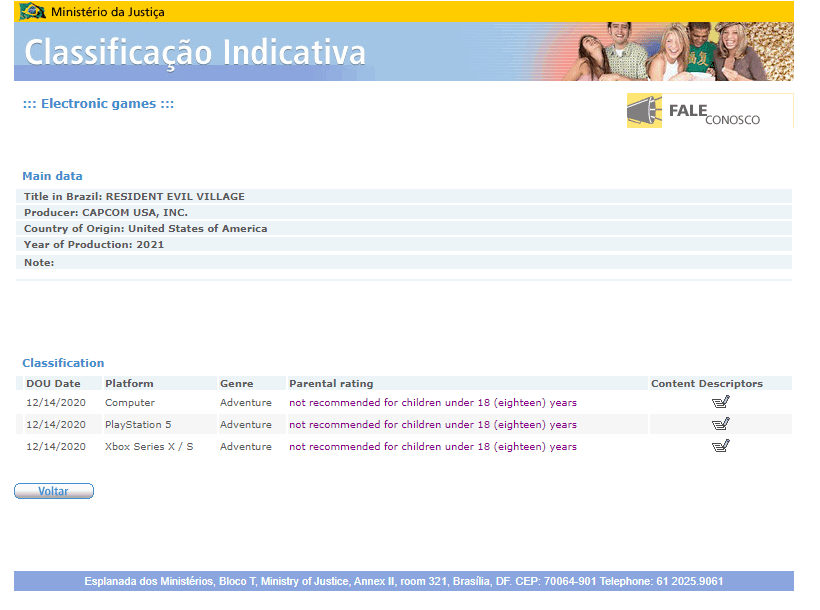 Here is a quick translation of the official decriptions-
Corpse exhibition aggravated by scene composition and interaction;
Weapon with Violence, Fear, Violent Act, Presence of Blood, Intentional death and mulation are aggravated by frequency, relevance and scene composition
Given that the official ratings are out, the game is practically finished. Interestingly, Resident Evil Village has been only rated on PC, PS5, and Xbox Series S/X. In contrast to a leaked Capcom marketing presentation for Resident Evil Village, courtesy of RagnarWare, the game was also supposed to release on last-gen consoles. The official announcement was scheduled to drop sometime in early 2021.
Going by the official ratings, it's unlikely that the game will release on PS4. Keep in mind that the marketing presentation that was leaked was a part of the October leaks, so it's bound to be outdated information. Perhaps Capcom simply looked at how poorly Cyberpunk 2077 was performing at last-gen consoles and decided to pull the plug on the project.
Resident Evil Village continues the story of Ethan from Resident Evil 7. The game is set just a few years after the events of Resident Evil 7: Biohazard and takes place in Europe. During the reveal Capcom's Kellen Haney said about the story: "Ethan's world suddenly comes crashing down once again when Chris Redfield, an unexpected yet familiar face makes an appearance, setting off a chain of events that sees a distraught Ethan seeking answers to Chris's shocking actions, and ultimately finding him in a mysterious village."
Resident Evil Village was announced back in June 2020 back at PS5's conference. The curtains were not supposed to be lifted off the game until next year, but fate had something else in mind. Spoils of the Capcom leak still plague the internet. Most recently, a major spoiler and a boss fight from the game were leaked.