The all-new GeForce RTX 4070 graphics card from NVIDIA, which costs $599 US and promises 100+ frames per second in 1440P gaming, has officially been introduced.
The newest addition to the Ada Lovelace gaming range, the GeForce RTX 4070 from NVIDIA, is being hailed by the green team as a huge improvement over the GeForce GTX 1080 and GeForce RTX 2070. The graphics card also lowers the cost of the Ada Gaming series, making it the cheapest next-generation card ever at $599 US. Along with improving performance and efficiency, it also includes a number of new features, such as:
New Streaming Multiprocessors (SM) – The new SM delivers up to 2x performance and power efficiency
4th Generation Tensor Cores and Optical Flow – Enable and accelerate transformative AI technologies, including the new frame rate multiplying NVIDIA DLSS 3
3rd Generation RT Cores – Up to 2x ray tracing performance, delivering incredibly detailed virtual worlds like never before
Shader Execution Reordering (SER) – SER improves ray tracing operations by 2x, boosting FPS up to 44% in Cyberpunk with RT: Overdrive Mode
DLSS 3 – A revolutionary breakthrough in AI-powered graphics that massively boosts performance using AI to generate additional high-quality frames
NVIDIA Studio – Unmatched performance in 3D rendering, video editing, and live streaming
AV1 Encoders – The 8th generation NVIDIA Encoder (NVENC) with AV1 is 40% more efficient than H.264, enabling new possibilities for streamers, broadcasters, and video callers
A scaled-down AD104 GPU arrangement with 46 SMs and 5888 CUDA cores is what the NVIDIA GeForce RTX 4070 employs. The GPU will include 184 Texture Mapping Units, 36 MB of L2 cache, and 64 ROPs in total. The graphics card's clock rates are specified as 1920 MHz base and 2475 MHz boost clocks. The card provides 466 TFLOPs of compute output on INT8, 67.4 TFLOPs of RT, and 29 TFLOPs of FP32.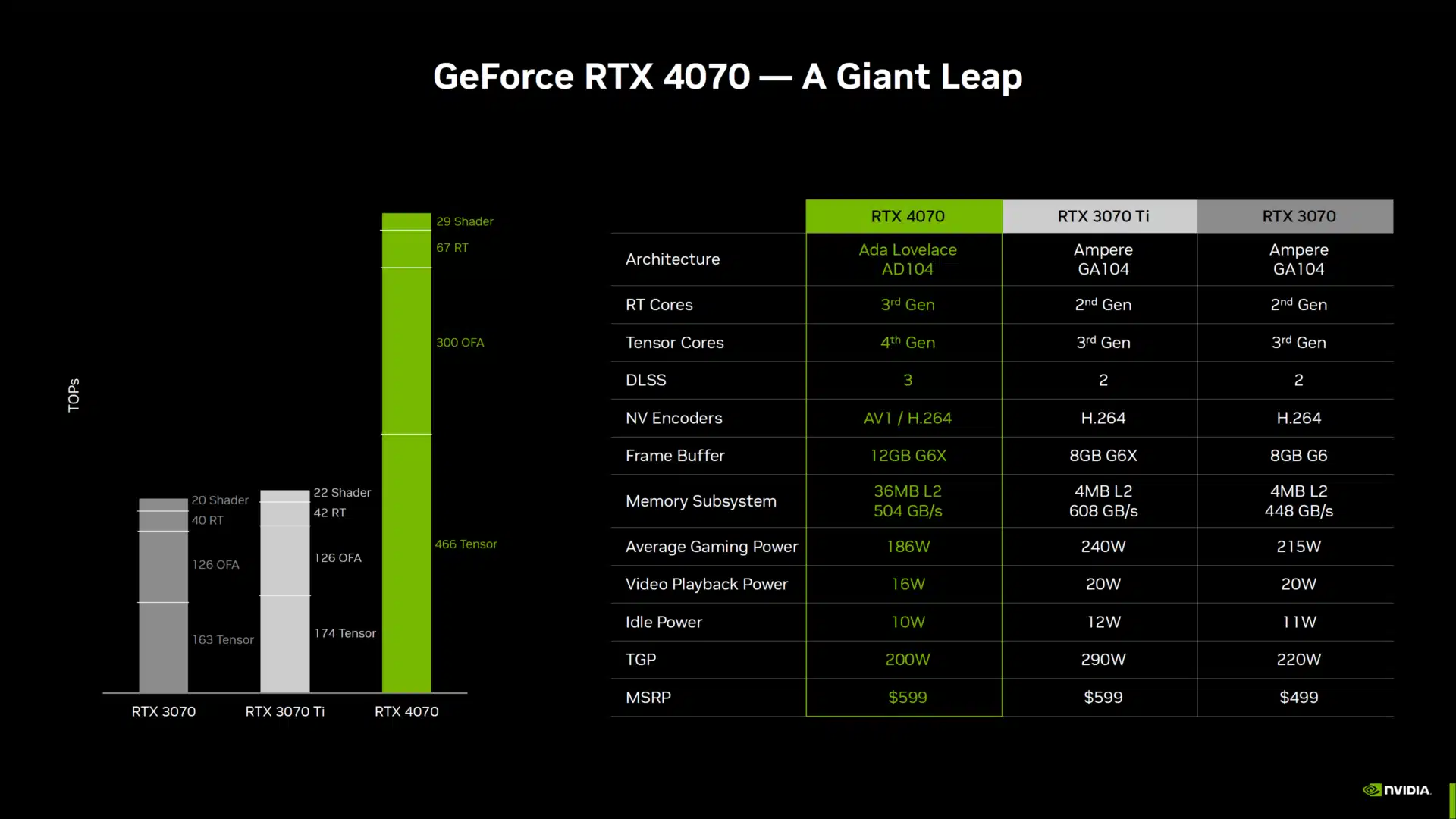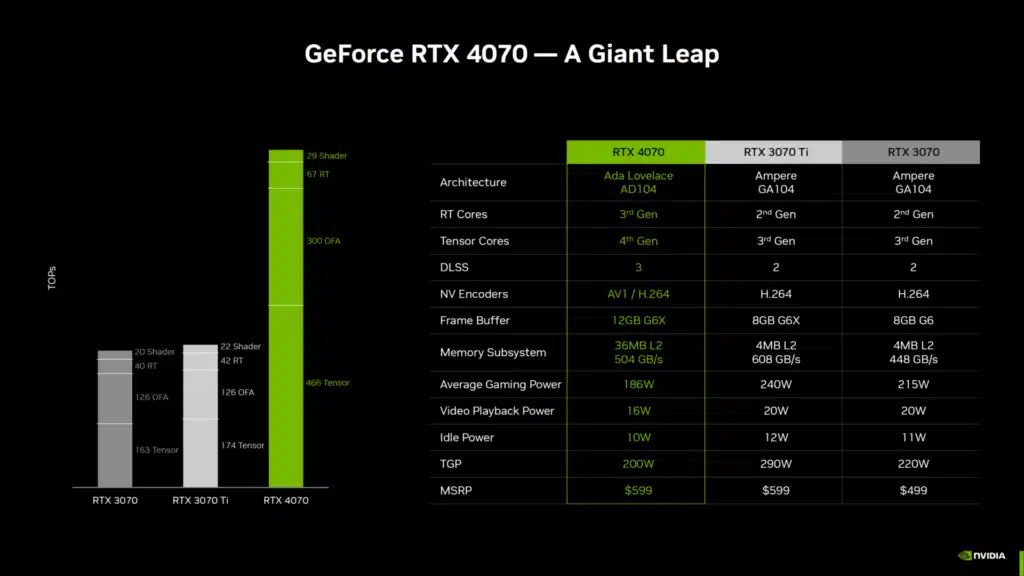 According to NVIDIA, the RTX 4070's L2 cache is nine times larger than that of the RTX 3070 (36 MB vs. 4 MB), which enhances performance, lowers latency, and boosts power efficiency by allowing data access to continue on-chip rather than relying on memory bandwidth.
The GeForce RTX 4070 has 12 GB of GDDR6X memory capacity, which is clocked at 21.0 Gbps via a 192-bit bus interface. This will provide bandwidth of up to 504 GB/s. This memory arrangement is the same as that of the RTX 4070 Ti, which has 4 GB more memory than graphics cards from the 3070 series.
Starting tomorrow, the NVIDIA GeForce RTX 4070 graphics card may be purchased for $599 US. On the same day, both the Founders Edition and custom models will go on sale.