Thanks to laptopvideo2go, Videocardz was able to get a leaked RTX 4070 Ti in OctaneBench. Octanebench is not a representation of the GPU's in-game performance, we should warn readers. Instead, it is a rendering engine for visuals. To demonstrate the anticipated performance, we may contrast this GPU with a number of other Ada Lovelace series products from NVIDIA.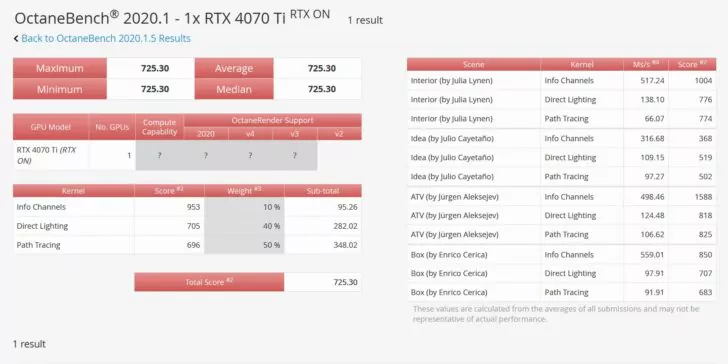 In the OctaneBench, the RTX 4070 Ti manages to score 725 points, which puts it about 5% quicker than the RTX 3090 Ti. However, the 3090 Ti tends to outperform the 4070 Ti in terms of gaming performance. Additionally, in the same test, this GPU is up to 21% slower than the RTX 4080 and 42% slower than the RTX 4090. Again, this is not an accurate depiction of performance, but it does give us a sense of how the 4070 Ti compares.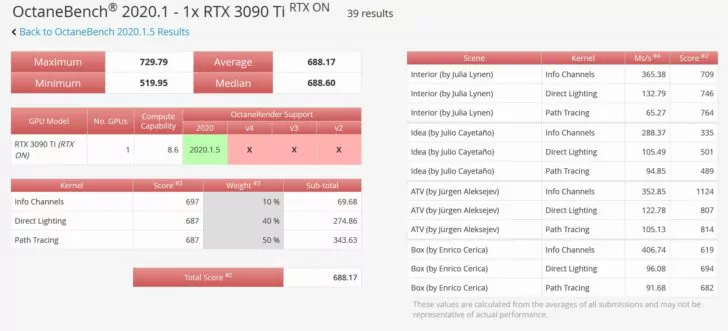 These statistics are intriguing since programmers and content producers could choose the RTX 4070 Ti over the RTX 3090 Ti because to its superior performance. However, it won't be proven until this GPU starts operating. If you find yourself memory-bound, the additional RAM with Ampere's King may provide much improved performance. Even so, it uses a lot more power than the 4070 Ti does.
A 192-bit memory bus will connect the 12GB of GDDR6X memory that the RTX 4070 Ti will come with. The NVIDIA AD104-400-A1 GPU, which has 7680 CUDA cores, will power the 4070 Ti. A memory speed of 21 Gbps would equate to an effective bandwidth of 504GB/s. It should be noted that this GPU's raw raster performance is much inferior than the RTX 3090 Ti's. A 285W TDP shouldn't need changing the power supply. Consumers may have to pay up to $899 for the RTX 4070 Ti.