Apex Legends is one of the first high-octane Battle Royale shooters out there. Before Call of Duty Warzone dominated the battlefield of fast-paced shooters, Apex Legends did it first and is still holding a strong presence in the field. Now it seems that the battlefield is getting bigger with Apex Legends for Nintendo Switch supposedly coming in February 2021.
Apex Legends for Nintendo Switch – Stack Up On 'em Mozambiques
According to a twitter account that posts about the world of Apex Legends, a number of foreign social media accounts are reporting the arrival of the Nintendo Switch version set to arrive on February 2nd, 2021.
The following stems from the latest trailer of the game for the upcoming Season 8.
Here is the page in Russian: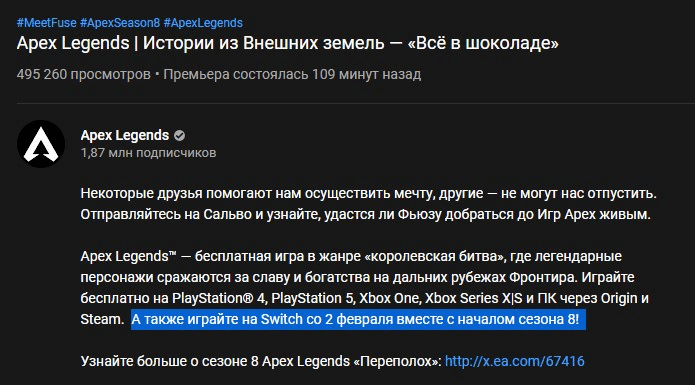 And again in Spanish:

Curiously, the mention is absent in English:


We do know that Respawn has been working on a Nintendo Switch port of the game for a while now, but considering how hush the company was since the announcement, we thought it was silently scrapped. After almost 2 years of its release, the game could be getting an entirely new fan base to join the foray.
It's also coincidental that February 4th is going to mark the 2nd year anniversary of the games launch, so it would be an opportune time to announce the title as a surprise.
If the game follows the current model as the other platforms, you shouldn't need a Nintendo Switch Online subscription to play the game as it will launch as a free-to-play game available for free on the Nintendo eShop.
However, keep in mind that the Nintendo Switch is still an underpowered machine. The system struggles to run Fortnite at the same level of play as the other platforms.
Another pertinent question is if the game will support cross-platform play, or will the Nintendo Switch players be segmented to their own console?
This could be the case once more with the Nintendo Switch, and could be one where using the game in docked mode would be the way to go.
For now, all we have is some mistranslation, but in several foreign languages. We highly recommend taking this news with some heavy grains of salt.