GTA 4 Complete Editon could be coming to PS5 on April 29, 2021. A listing for the game was posted Amazon and promptly removed once the leak went viral. The source of the rumour is 4chan, so take it with a grain of salt.
Here are some of the key details of the game from the leak:
4K resolution for a stunning image on PS5.
Includes Grand Theft Auto 4 and Episodes: The Lost & The Dammed and The Ballad of Gay Tony
Features an array of technical improvements for PS5 such as higher frame rates and haptics for the Dual Sense controller.
GTA 4 Complete Editon is essentially un upscaled remake of the 2008 game with all its DLC that is supposedly coming for the PS5 in early 2021. The product says that the game will utilize the improved haptics of the DualSense controller is a clear nod at the use of adaptive triggers. And the best part about the whole deal is the price. It costs just $39.99 as compared to an average PS5 title which costs as much as $70.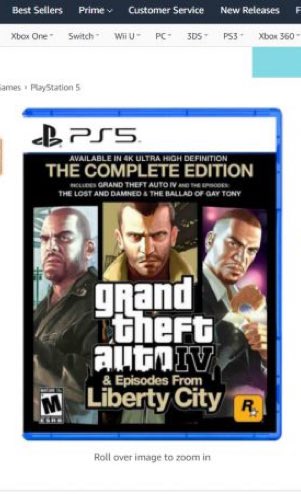 So far, there's no word for the Xbox Series S/X version of the game. However, considering the fact that Rockstar's games usually debut on both the consoles at the same time, GTA 4 Complete Editon for Xbox Series S/X could very well be underway. However, due to the technical limitations of Xbox Series S, 4K ultra-high definition would be a pipe dream.
This leak is uncannily similar to the Red Dead Redemption Remake rumor for PS5 and Xbox Series S/X. Both of them had a which had a cryptic source for an Amazon page when Amazon leaks usually have a link. The video that was shared on 4Chan and attached above does add little credibility to the leak and can easily be faked, but considering the fact that Rockstar is already busy with GTA 6, GTA V Online, Red Dead Redemption Online and (if rumours are true) Red Dead Redemption Remake, they've got their hands full.
After all, the Red Dead Redemption Remake has been going around for some time now, but it didn't come to any fruition. We hope that this rumour is true, but we suspect it isn't.