Rust Console Edition was announced back at the end of 2019 for the PS4 and Xbox One via an announcement trailer, but since then the game has had radio silence. However, a recent rating on the ESRB could mean that the game is close to being released but currently its only for the PS4 and Xbox One.
Rust Console Edition – No need to bash heads for this release
Rust is a online survival game that really shows how desperate a server full of individuals will go to great lengths to kill you in order to survive.
After the immense popularity and fall of Fall Guys and Among Us, Rust has once again come back in the spotlight and is picking up massive traction on Twitch and other platforms. This is also great timing for the game to get a brand new ESRB rating for the game.
The game was also rated in Australia in April 2020.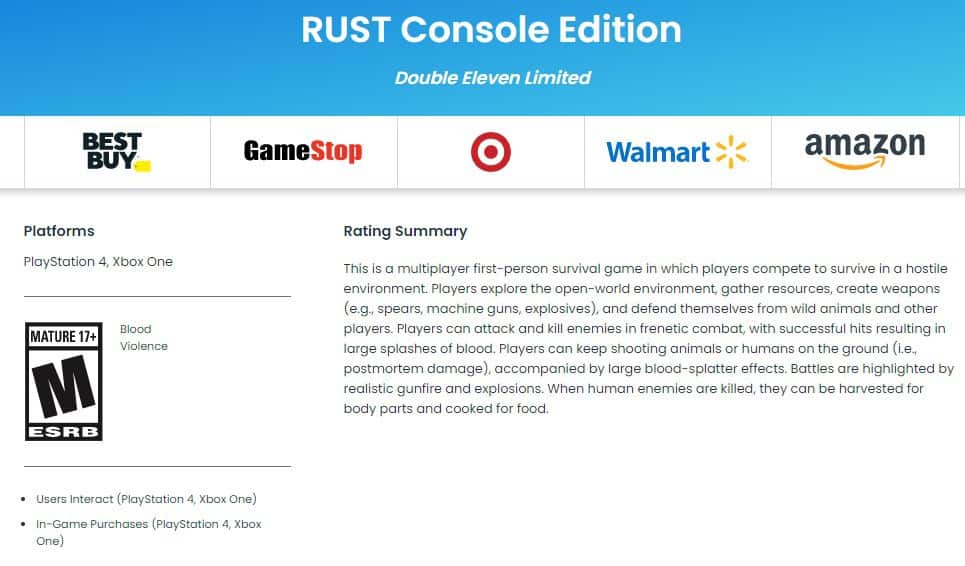 What is interesting is how the rating doesn't include nudity as players are able to adjust nudity on the PC version to being able to completely see genitals. This could mean that the console version might have a forced censored version in order to avoid a higher rating.
Rust was announced for the PS4 and Xbox One at the tail end of 2019, and since then the publisher and developer went to radio silence regarding any updates to the game. This is a bit concerning especially when we take into account how other games ported to console didn't fare so well.
Games like PUBG, Ark Survival Evolved, etc all run relatively poorly on the consoles while running slightly better on the PC. We can hope that the studio responsible for porting Rust to the consoles handles this transition well.
We also still don't have any other details on the game, such as cross platform play with Xbox, or how the game will handle on PS5/Xbox Series X/S. We can hope that the game is also optimized to run better on the newer consoles.
For now, let's keep our eyes peeled for official updates regarding the game.
What are your thoughts on the new development? Let us know in the comments section below!