Samsung has officially unveiled its next-gen Odyssey lineup at CES 2023 which includes the Neo G9 and the OLED G9 with up to 240Hz refresh rates. For its entertainment lineup, Samsung is adding the ViewFinity S9 and Smart Monitor M8.
Odyssey Neo G9
Gamers that use the Samsung Odyssey Neo G9 Gaming Monitor (Model Name: G95NC) may see unprecedented levels of detail. For the first time, a screen with a 32:9 aspect ratio and 7,680 x 2,160 resolution is provided by the gaming monitor.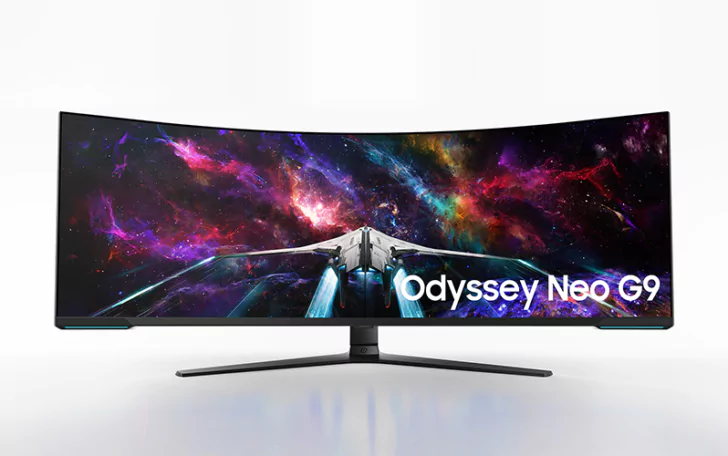 With VESA Display HDR 1000 standard and quantum micro LED technology, its 1000R curved 57″ panel produces outstanding image in all gaming environments, including dark and light scenarios. During the most intensive gaming sessions, the Matte Display minimizes distractions by reducing light reflection on the screen.
Additionally, it has the first DisplayPort 2.1 support ever, which transports data around twice as quickly as the previous DisplayPort 1.4 standard. Additionally, the new DP2.1 enables information to be sent without distortion using the lossless industry standard Display Stream Compression. A 240Hz refresh rate is also supported by the Odyssey Neo G9, ensuring that gamers won't miss anything during frantic action.
Odyssey OLED G9
The newest model in the Odyssey family, the Odyssey OLED G9 (G95SC), has a dual quad-HD 49″ 1800R curved display with a 32:9 aspect ratio. Its OLED illumination, which uses quantum dot technology, is pixel-by-pixel regulated, enabling almost unlimited colour contrast ratios.
The OLED panel delivers real RGB and true black without the need of colour filters, enabling a 1,000,000:1 dynamic contrast ratio. It also lights each pixel individually and does not rely on a backlight. The Odyssey OLED G9's 0.1ms reaction time and 240Hz refresh rate help to prevent lagging and skipping during games.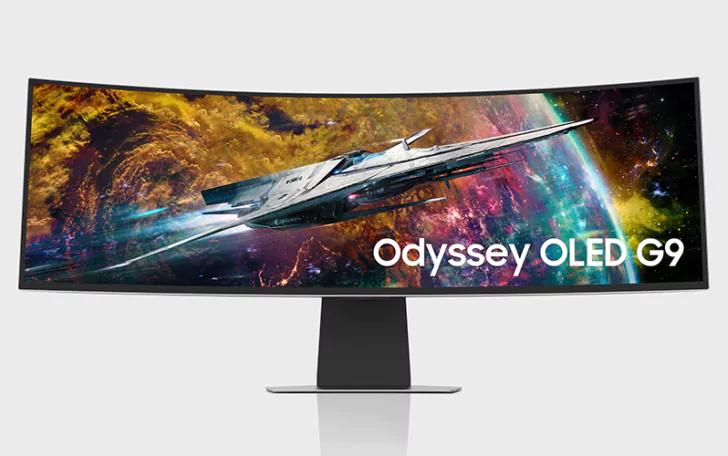 The Odyssey OLED G9 also makes use of applications from partners like Prime Video, Netflix, and YouTube via Smart Hub, which enables customers to access a variety of over-the-top media through an Internet connection and without a PC.
It also has Samsung Gaming Hub, an all-in-one game streaming platform that enables players to find and play cloud-based games from partners like Xbox and NVIDIA GeForce Now without a console or game downloads.
ViewFinity S9
The newest monitor in Samsung's portfolio is the ViewFinity S9 (Model Number: S90PC). For the first time, it has a 5K 27″ screen and is designed with creative professionals like graphic designers and photographers in mind. Even in complex or nuanced visual settings, its 5,120 x 2,880 resolution and broad colour gamut of 99% DCI-P3 deliver sharp, true-to-form details, and its average Delta E ≦ 2[1] colour accuracy also results in clear, exact colour representation.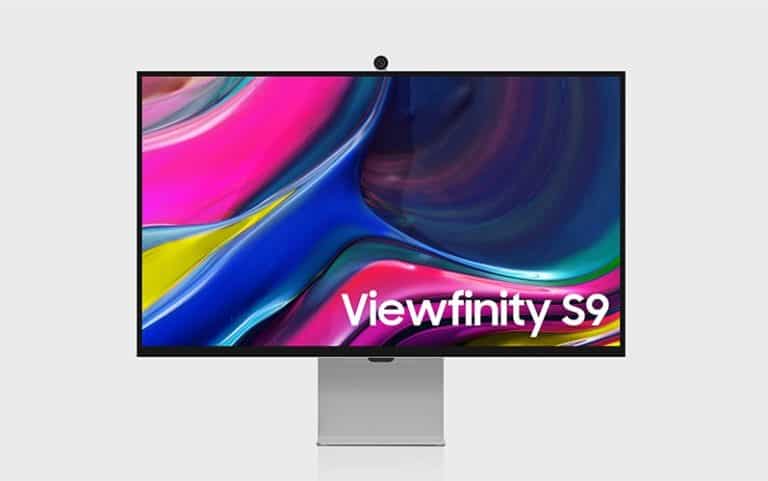 The monitor's built-in Color Calibration Engine assures accurate screen colour and brightness, and users can use their smartphones and the Samsung Smart Calibration application to precisely alter white balance, gamma, and RGB colour balance. The Matte Display reduces glare and light reflection to lessen workplace distractions.
Smart Monitor M8
The Smart Monitor M8 (Model Number: M80C) has a fashionable and sleek design and is now available in two new sizes, 27″ and 32″, all of which have 4K resolution. This monitor is available in four colours, making it compatible with any space: Warm White, Daylight Blue, Spring Green, or Sunset Pink.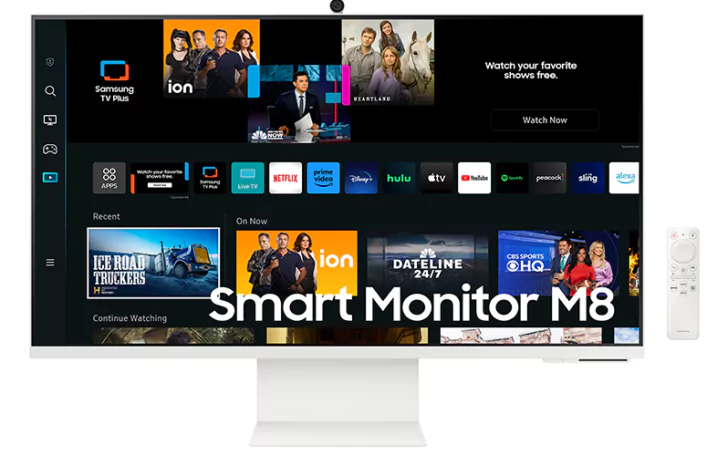 Users get the optimal angle thanks to the height-adjustable stand with tilt support. Users may now see lengthy papers with less scrolling because to the screen's ability to tilt 90 degrees. Additionally, it complies with VESA mount compatibility requirements, which helps maintain a clutter-free environment and saves space.
Through the integrated SmartThings Hub, the Smart Monitor M8 can connect to, manage, and control hundreds of compatible connected devices, such as lights, cameras, doorbells, locks, thermostats, and more. Beginning this year, Samsung intends to embrace Matter functionality and Home Connectivity Alliance standards in order to increase device options and usefulness.