The Snapdragon 8 Gen 3 outperforms the A16 Bionic in the single-core and multi-core results of Geekbench 5, scoring 1,930 and 6,236 points, respectively, according to a user by the name of "USA" on the Korean website DCinside. Those are pretty astounding results, and if common devices achieve the same outcome, it may surpass Apple as the industry leader in mobile chipset performance.
The greatest single-core and multi-core scores that the A16 Bionic had at the time we looked at the Geekbench 5 leaderboards were 1,874 and 5,384, respectively, so what the Snapdragon 8 Gen 3 has accomplished, at least so far, is simply amazing. The Snapdragon 8 Gen 2 is said to be 20% more energy-efficient than Qualcomm's next flagship processor, according to further information, although we were not given any information on temperature or power use.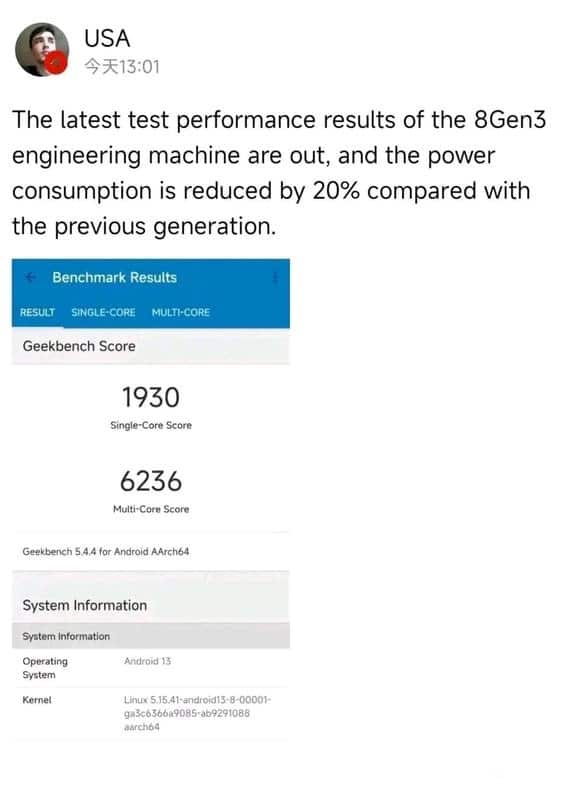 These upgrades imply that Qualcomm may have sampled the Snapdragon 8 Gen 3 on the TSMC 3nm process, although it is not yet known if mass production would occur on the same technology. Due to escalating wafer costs, Qualcomm was previously rumored to be undecided about using TSMC's 3nm node. However, if Samsung's own 3nm GAA process falls short of Qualcomm's expectations, the San Diego company won't have much of a choice.
There is a good potential that Apple's A-series lineup will be eclipsed by Qualcomm's Snapdragon 8 Gen 3 when the A17 Bionic launches later this year, but as we have previously said, take this leak with a grain of salt.