At some point, everyone wants to create some graphic work for their immediate needs. Graphic design entails a lot, and you do not need to be a professional graphic designer to create some. Content creators – text and video – need images for their work to catch the attention of their audience.
Web designers need logos and images in their pages. Marketers also need page covers for blogs and social profiles and ads. The list is endless because even movie artists require disc covers that feature the main characters. Everywhere you go, there is some content staring at you in the form of graphics. It, therefore, becomes necessary to learn about various ways to create them – you do not need to hire "experts" for things you can do alone.
Yes, I respect the work professional graphics designers do create awesome art to fit the context in which it is used. However, some creations need nothing more than the right words, fonts, and random shapes or stock images. You can even use personal photos to create your covers.
For your personal needs, these are the five free options to consider in creating awesome graphics.
1. Canva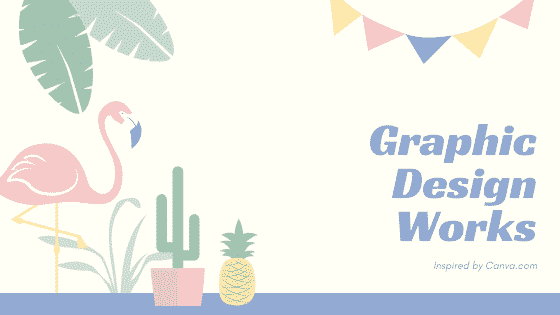 My favorite. I am not so much into graphics, but I sometimes have to create some covers for social media or blog posts. Such tasks do not need a sophisticated tool. Canva has been my number one go-to tool for creating images using readily available photos and clip arts. There are even predesigned formats you can edit to suit your intended use. You only have to change the words, fonts, color, or background, and you are ready to go.
Canva is a free online tool for everyone who needs to do some light design. But I find it more than sufficient for my needs. However, in case you need more, you can upgrade to a premium account at any time, which gives you access to stock photos branding design, resizing, and so much more. There is also a free 30-day trial without commitments. However, if you are running a non-profit organization, you may get their premium account for free.
2. GIMP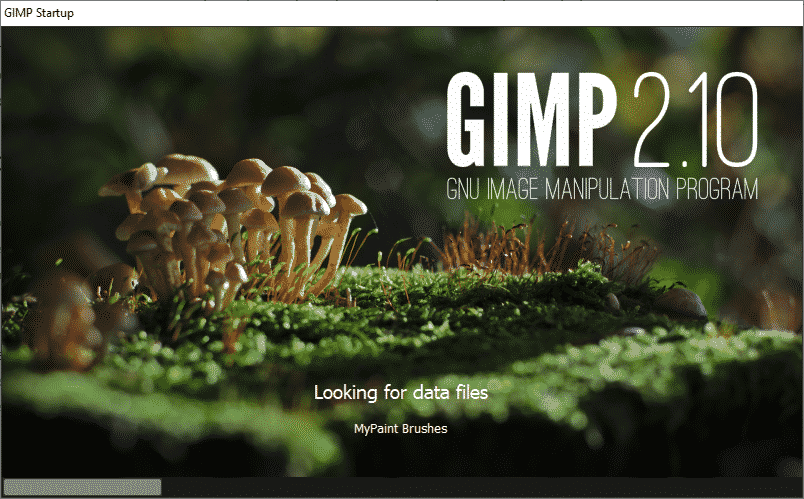 I guess this is the most common Photoshop alternative. GIMP stands for GNU Image Manipulation Program. From its name, then you can tell that this is the choice you have been looking for – free Photoshop. The free and open-source program is available for Windows, GNU/Linux, Mac, and so many other operating systems.
GIMP has so many configurations and editing options that I was unable to use it for simple tasks. I am sure you will love the program regardless of your operating system. Apart from editing images for unique artwork, you can generate graphical elements and icons that you would need for any project at hand.
3. Photos Pos Pro
The program calls itself the perfect free photo editing software. Photos pos pro is a complete photo editing suite for both professional photography and artwork. You can use the program to create stunning images and graphics for various projects – including designing business cards.
But you should not worry. You do not have to create your artwork based on pre-existing images. I know graphic designers love doing their work from scratch, and that is what Photos pos pro can achieve. The program comes with many free extensions to enhance your design. The pro version, which unlocks every feature and allows you to manipulate your design work as per your imagination limits, goes for $29.90. You pay a one-time fee for a lifetime license.
4. Pixlr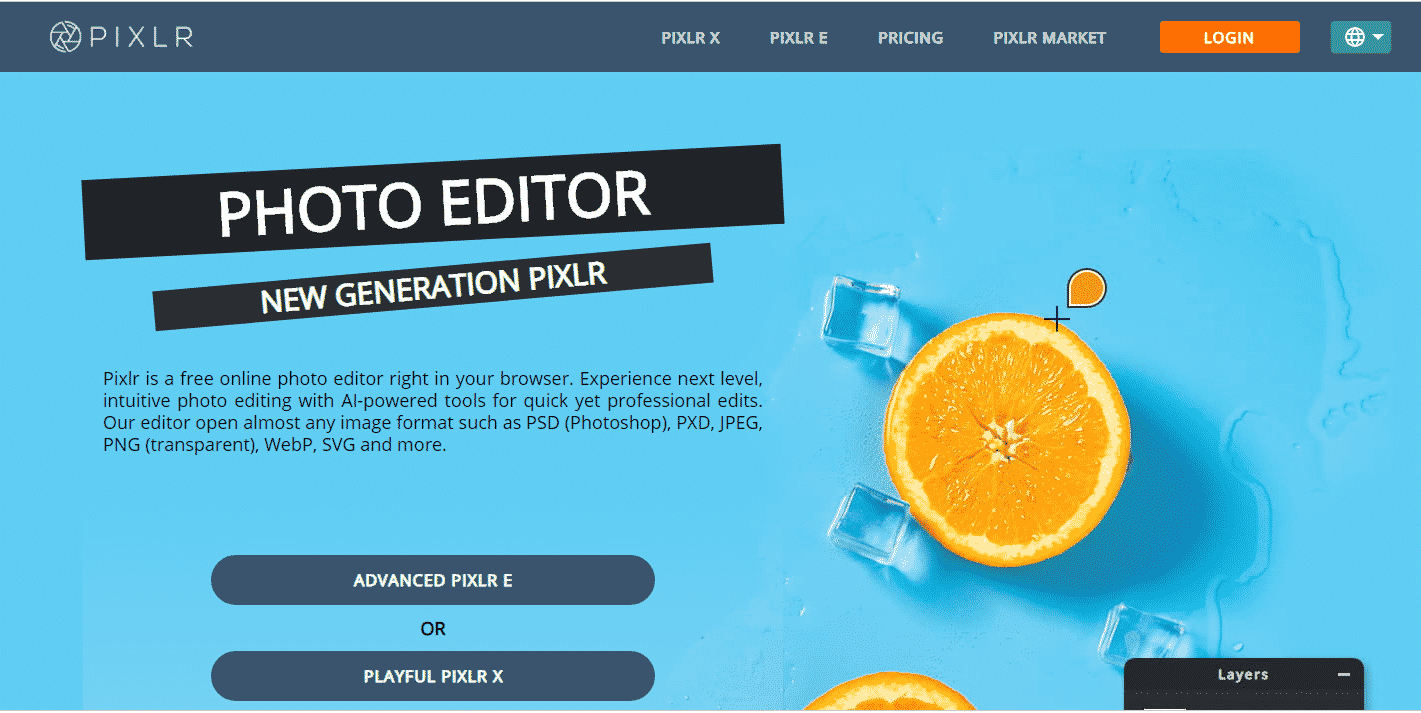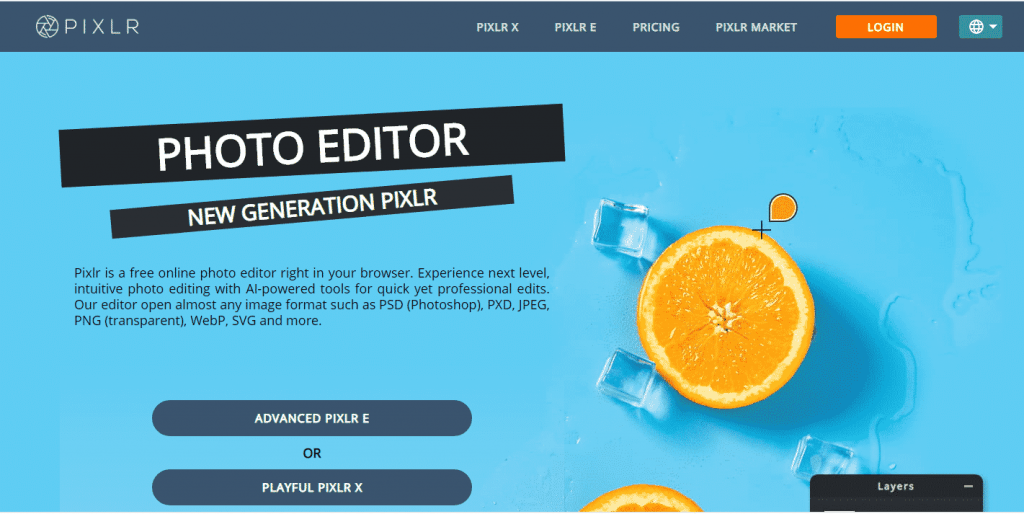 Not everyone wants to do too much on their design work. Sometimes, you need a simple solution to adjust the photo color, accent, saturation, and maybe add frames. Pixlr helps you to accomplish all these with some extra features. One advantage of Pixlr is that it is an online program, like Canva. You do not need to install software on your computer to retouch your photos before printing.
With premium accounts (advanced and professional), however, you get access to more edit tools that make you a pro photo and image editor. By upgrading your account, you also get access to millions of photos, audio, video, templates, fonts, and graphics to work with. The program is recommended for professional editors who simply want to shift to cloud storage and work, especially now that you have to work from home and you need to collaborate.
5. Inkscape
While most of the programs focus more on photo editing features as Photoshop, Inkscape is more of a graphic designer. And that is the focus of our article. With Inkscape, you do not need to be a professional photographer to create your masterpiece. If you need to create vector graphics from photos, this is the right tool. You can import your images and transform them so that you can create original graphics that fit your immediate needs.
Inkscape is compatible with many file formats, and you can use it to create graphics based on text as well. With its drawing tools, you can design your artwork and create your graphics from your imagination. This is what you need for all design work that meets customer requirements.
Summing Up
Having a professional image editing tool is awesome if you are a photographer. However, graphic designers want to add a touch of uniqueness to their work. An ideal graphic design tool should allow you to do exactly what you want depending on your goals. You can pick your PhotoShop alternative depending on what your major projects entail in your design work.