It seems that NDCube is doing some fresh hiring for a new title over at their studios. Whether this translates to a New Mario Party Game or a spin-off similar to Animal Crossing: Pocket Camp. We just hope that this time around the game actually receives a fair update or fresh content.
A New Mario Party Game Could Be Rolling Very Soon
Mario Party is one of Nintendo's oldest and most beloved series in the casual Mario games. Intended for players to play for fun rather than beating a sole objective or story, it's always fun to play a virtual board game starring Mario and company.
While Super Mario Party released in 2018 to some good reception and reviews, it was the lack of post-launch content that really upset fans. With no new games, modes, or anything to make the fans excited for anything else, the game was quickly forgotten and people moved on.
It seems NDCube is hiring for a new project.
While the studio more than made up for the lack of content in Super Mario Party with Clubhouse games, which offered 51 popular board games from across the world, earlier in 2021.
NDCube has a meticulous track record of being a first-party Nintendo studio.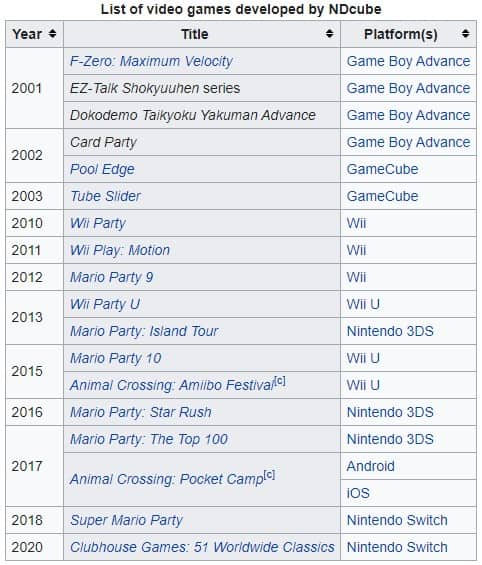 While they might not be immediately working on a new Mario Party, but we can rest assured that it will be a new Nintendo entry, which could mean the studio could have something to announce for 2021.
While Nintendo has yet to announce or hold a Direct for 2021, it is also possible that NDCube could be among the announcements for Nintendo's first event of the year.
As 2021 rolls in, we only have a few games on our radar for Nintendo Switch games, but most of them lack a release date. The first of the Nintendo Games is supposed to be Super Mario 3D World + Bowsers Fury that is set for a February 2021 release date.
For now, we can hope that 2021 is also the year we hear about forgotten games like No More Heroes 3, Bayonetta 3 and Metroid Prime 4 are only a few games to name that have not had any updates to them in several months and some in years.