Reputable leaker Enthusiast Citizen has divulged critical information concerning the future products that are being developed by AMD and Intel.
AMD intends to introduce the Ryzen 7000 X3D CPUs the following year, maybe at CES 2023. Due to the significant performance benefits provided by the additional cache, these CPUs will compete head-to-head with Intel's Raptor Lake. It will be a fascinating rivalry since the Ryzen 7 5800X3D and the 12900K have already been shown to be competitive.
Enthusiast Citizen reports that Zen4X3D will only provide 6 and 8 core SKUs. Thus, Ryzen 7, Ryzen 5, and lesser processors may be the only ones compatible with V-Cache Zen4 products. Despite the fact that V-Cache may be overkill for the ordinary user, it seems we won't be seeing a Ryzen 9 with this feature. In addition, the price will put it in the $1000+ range, which is more than the average gamer would pay for a CPU.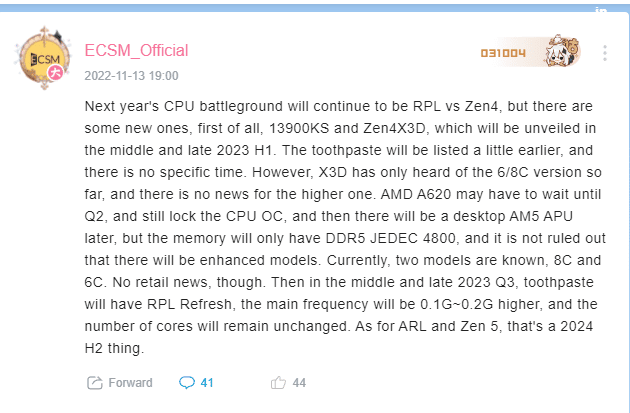 One interesting fact revealed is that these Ryzen 7000 chips will only support DDR5-4800 memory, which is disappointing given that APUs need as much bandwidth as possible. The chips will also be offered in 8-core and 6-core flavors, and there is talk of enhanced models as well, though no details have been released as of yet.
According to reports, AMD plans to introduce motherboards with the affordable A620 chipset in Q2 2023. An AM5-based APU is also mentioned, but it only supports DDR5-4800 memory. The Ryzen 5 5600G is one of the "G" processors that are essentially all part of this series. Due to the poor performance of Zen4 in terms of CPU sales at the moment, the A620 motherboards can significantly aid AMD in increasing their sales. This is a result of the extraordinarily high motherboard prices, which should be reduced by this action.
Intel's Revamped Raptor Lake Expected to Launch in 2023
The leaker claims that Raptor Lake from Intel will be revamped by next year. The 10ESF method, which the new processors are anticipated to adopt, should enable them to achieve somewhat better outcomes. The intended delivery date for these CPUs is H2 or Q3 2023. One may now mistake this lineup for Meteor Lake, but take notice that the latter is now scheduled for 2024. A few individuals also suggest that Meteor Lake may be used on the mobile market the following year.