Apex Legends for Nintendo Switch has just been listed on Amazon Japan. The game was previously rumored to be coming to the Nintendo console a few days ago via an accidental social media leak, but it seems that the release is now all but confirmed. The game has been listed for a February 2nd, 2021 release date which lines up with the release for Season 8 and the 2 year anniversary of the title.
Apex Legends for Nintendo Switch – Get out the old mozambique
Apex Legends is a free-to-play 60 player Battle Royale shooter that is made by Respawn Entertainment. The studio behind the Titanfall games made Apex Legends as a tie-in title that fits in with the Titanfall world.
The game has enjoyed fair success on the PS4, Xbox One, and PC also enabling crossplay between the games to play across systems. While the game is far from reaching the numbers of Fortnite or Call of Duty Warzone, the game has a dedicated and ardent fanbase that plays the game passionately and enjoys it.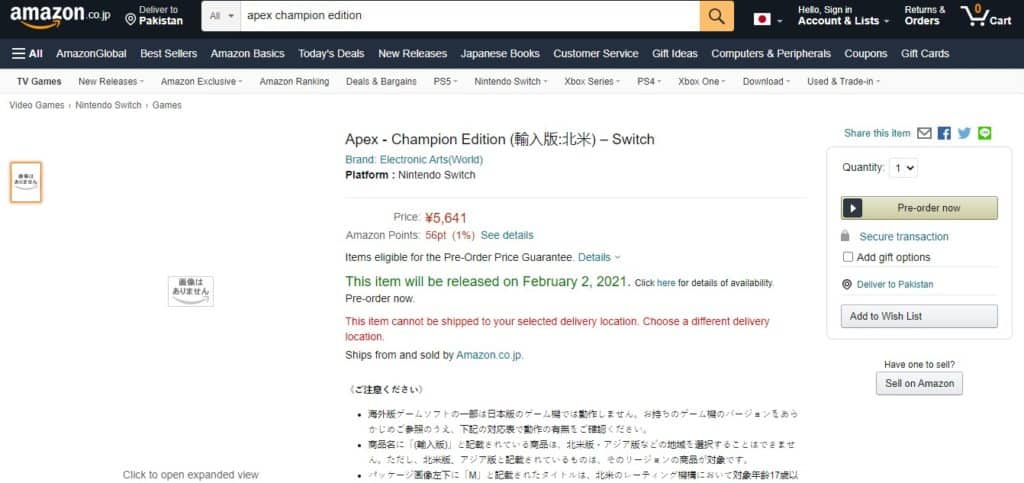 You can see from the screenshot that the game is published by Electronic Arts (World) which is EA's wing in Japan.
The 2nd February date appeared in the previous coverage of the game which lines up with the release of Apex Legends season 8 and also with the 2-year anniversary of the games release.
Respawn Entertainment has promised that they were looking into the Nintendo Switch version time and again, but it seems that they are finally delivering on the promise.
In addition, the biggest question on fans minds is whether or not the crossplay feature will come over to the console, considering how games like Fortnite and Rocket League run on the handheld, and this goes without saying – stand as the versions of the aforementioned games that offer the least FPS consistently.
While Apex Legends on Nintendo Switch will help connect the game to an entirely new fanbase, it should help bolster the playerbase of the game too. The game will launch as a free-to-play game (digital) on the eShop which doesn't require a Nintendo Online membership, allowing for easy access to every owner of the system.