Call of Duty: Warzone (or just Warzone for short) was one of the greatest hits of 2020. Many people see it as an improved version of Call of Duty: Black Ops 4's Battle Royale called Blackout. And it currently sits as one of the biggest Battle Royale games in the world, with over 75 million players in August 2020. It's clear that free-falling in Verdansk is an activity that gamers all over the world have learned to anticipate dearly. But if you really want to take gaming to the next level, you need to know about the best headsets for Warzone.
Whether you're playing on an Xbox, PS5, PS4, or PC, having the best COD headsets will take immersion into a whole different definition.
Why? Because with the right headset you will be able to listen and communicate efficiently with your squad and your gaming environment. After all, in order to be "in the zone", you need to eradicate outer sounds to fully submerge yourself in your gameplay.
Quick Look:

Our top 3 picks
How to Choose the Best Warzone Headset for You:
Choosing the best Call of Duty headset isn't an easy task. Especially if it's your first time choosing a gaming headset. But we've got you covered. Here's everything you need to know to make the wisest choice:
Mic
Microphones are sometimes overlooked when thinking about gaming headsets, but they are essential. You can opt for a model with a detachable mic or a built-in one.
You can look out for models with noise-canceling properties and boom microphone for greater voice quality.
Noise Isolation
Bad noise isolation will be detrimental to your gaming sessions.
You need a headset that can cancel out sounds from your environment, like a dog barking on the street or cars passing by. This way you can get better audio quality for you to enjoy. So pay attention to speakers with isolation features.
Wired or wireless
There are two types of gaming headsets: Those with cables and those without them. Each one has a set of pros and cons.
Wired headsets are usually less expensive than their wireless counterparts, but you know the amount of mess they create on a desk. I don't know a single person who likes having a desk or coffee table filled with messy wires. They also don't need charging or extra batteries since they'll always be attached to your gaming system.
On the other hand, wireless headsets are more practical, they give you more control, and simply look better. They tend to be a little more expensive because of the additional technology. They are ideal for PS4, PS5, and Xbox players. If you go wireless, be sure to pick a headset with a long range for extra movement liberty.
Comfort matters
I think that comfort is the single most important feature that the best gaming headset for Warzone should have.
We all know how long gaming sessions can take. You start at 8 p.m. and as soon as you realize you hear the birds singing and see the sun rising. That's why you need a comfortable headset that won't hurt your ears or head after prolonged use.
Mix sweat, friction, a plastic headset, and a too-tight headband and that's the recipe for disaster. So try to go for models with self-adjusting or cushioned headbands. Leather pads can feel a little more stylish, but they tend to develop heat over time. You can opt for a softer material to make it more breathable, but it might not feel as nice.
Body quality
There are a lot of gaming headsets in the market that are made out of plastic. Try to go for a more durable headset that has a wire or metal frame. Some plastic models are great when they give you the option to adjust the headband. But it's important to consider this if you fear getting a weak headset.
Design and aesthetics
And talking about design, most headsets will look like a regular set of headphones but with a mic included, which might be too boring for some people. Some other headsets look like a "Cyberpunk meets alien creature" chaos on your head. It's worth taking that into consideration if you plan to go to public spaces with your headset. But if you're not planning to take those headsets out of your house, then go with whatever you feel like.
If you plan to take a set of wireless RGB headsets, you need to know that the extra lighting can make the battery last a little less.
Surround sound or stereo sound
For surround headsets, there are multiple drivers attached on each side of the pads for different audio channels. So that means that you will be able to hear sounds at different angles. This can help you figure out where a sound is coming from, and in a game like Warzone, that feature is a must.
Most gaming speakers use surround sound over the stereo sound. There are also some that offer 3D sound, but that is a feature yet to be fully developed since not many games support 3D audio.
---
Top 7 Gaming Headsets for Call of Duty: Warzone
Now that you know what the perfect headset needs to have, here are our top recommendations for you. All of these headsets have the necessary features that you need to fully enjoy the best of Warzone.
1. SteelSeries Arctis 7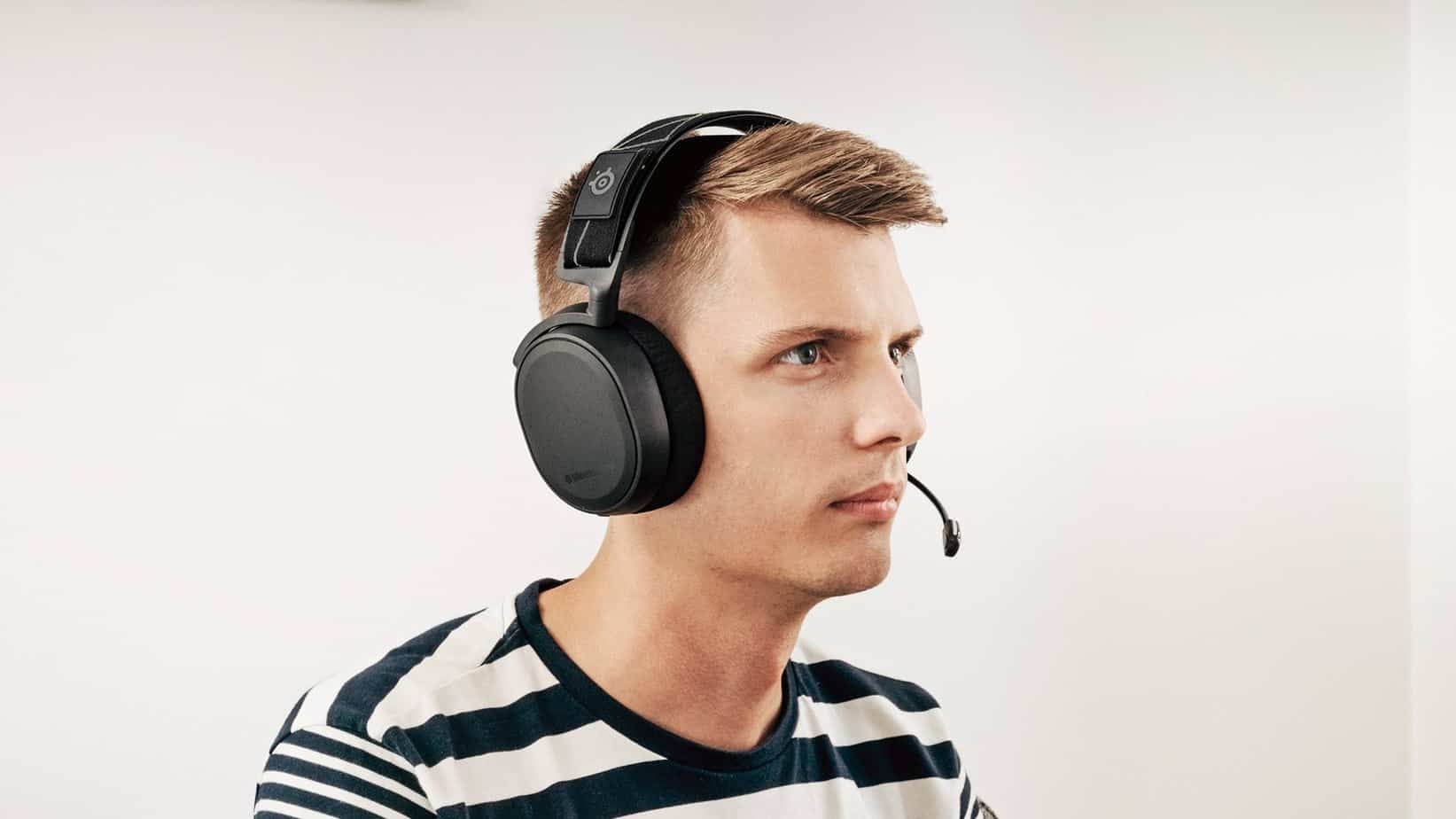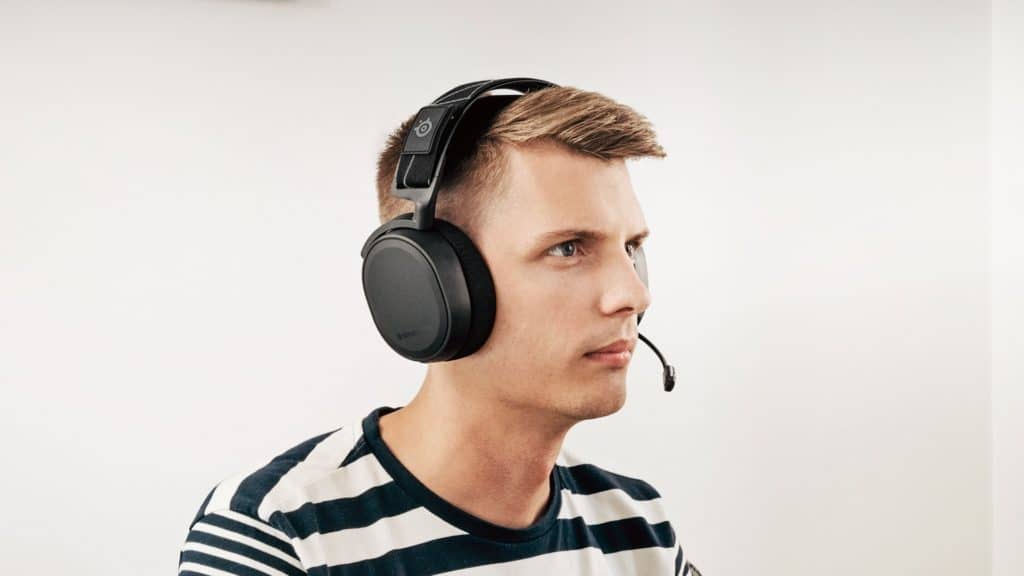 | | |
| --- | --- |
| Dimensions (LxWxH): | 7.8 x 6.9 x 3.6 inches. |
| Weight: | 12.5 oz. |
| Connection: | Wireless 2.4GHz / 3.5mm |
| Battery Life: | 24+ hours. |
Amazon product
SteelSeries has been in the gaming market for years. They have a loyal fanbase and a worldwide reputation for making some of the best gaming peripherals in the market. The SteelSeries Arctis 7 is simply one of the best cod Warzone headsets because it's practical and comfortable.
This headset doesn't use Bluetooth at all. Instead, it connects via a 2.4Ghz wireless RF USB dongle. But don't worry, it has near-zero latency. It comes with a 7.1 digital surround sound for gaming, although, it doesn't support surround sound on the PS4.
The design is one of the top features of this headset. It's a little bigger than your average regular headset but is not over the top. The design feels stylish and looks professional. Although it doesn't have any kind of LED lights, which is a shame if you prefer colorful peripherals.
It has an adjustable aluminum headband that combines being malleable and sturdy a the same time. And since it has an elastic velcro strap you don't have to be struggling with painfully rigid extendable rods anymore. Just adjust the velcro strap and apply yourself the right amount of pressure you need. Although it's not as tight as other models, sometimes it might slide off your head if walk around with them. But if you don't move from your chair, you won't even notice.
The ear cups are extremely comfortable to use and are made out of a breathable fabric called AirWeave. Your ears might get a little hot, but never sweaty. This headset's mic is retractable and very versatile, it also cancels noise to get clear and clean audio.
Summary
The SteelSeries Arctis 7 set the boundaries for what a comfortable Call of Duty headset should have. It's simply one of the best headsets money can buy, so be safe to know that you're making a wise investment by getting the Arctis 7 headsets.
Things We Like
Amazing sound.
Incredible comfort.
Things We Didn't Like
Surround sound not available on PS4.
---
2. Razer BlackShark V2 Pro Wireless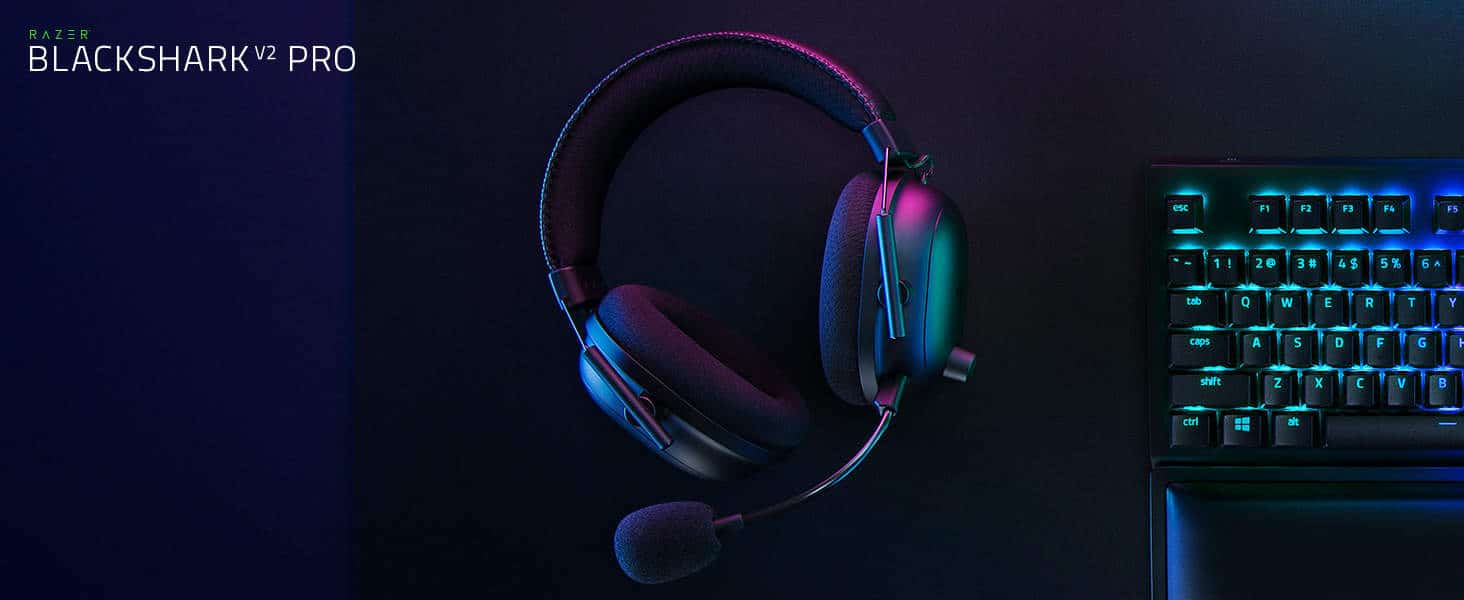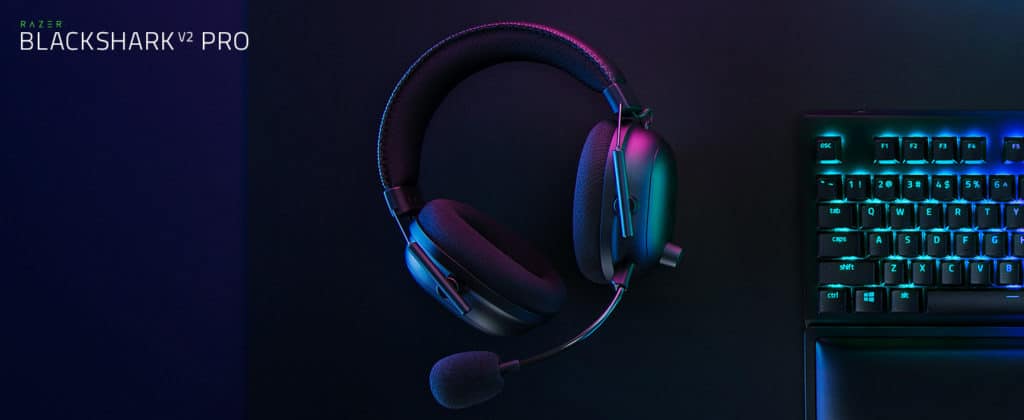 | | |
| --- | --- |
| Dimensions (LxWxH): | 6.5 x 3.94 x 7.88 inches. |
| Weight: | 26.08 oz. |
| Connection: | Wireless 2.4GHz / 3.5mm. |
| Battery Life: | 23+ hours. |
Amazon product
Another excellent wireless headset comes from the brand Razer, one of the biggest gaming peripherals manufacturers. The Razer BlackShark V2 Pro Wireless is almost similar to the praised Razer BlackShark V2, but with a wireless connection and some performance improvements. It can be used on PC, PS4, and Xbox.
This headset is made out of black plastic with a wireframe covered in a cushioned headband. Like we said earlier, the design is pretty much the same as its predecessor, so it has an oval-like ear cup design. LED lights and any kind of extra accessories are out of the picture. It's somewhat lightweight, but since it's pretty big, it's not as portable as other models.
The oval-shaped ear cups are made out of foam and are covered in leatherette for extra comfort. They're also built to prevent overheating and to avoid pressure on the head. However, it can feel pretty loose sometimes when you walk around, so they're not recommended for working out, just gaming.
It connects via a 2.4GHz USB RF dongle. Lag was nowhere to be seen, the speakers and microphone work with very low latency. And talking about mics, this headset comes with a detachable boom microphone. The mic has passive voice cancellation that picks up your voice almost perfectly even in loud environments.
Another fantastic feature is the THX 7.1 surround sound, which will give you auditory depth when playing a game like Warzone. The battery lasts about 23 hours, so you'll probably charge it once or twice a week.
Summary
One of the current best options for a wireless gaming headset is the Razer BlackShark V2 Pro. It's an ideal option for PC gamers because even though you can use it on PS4 and Xbox, it's just not as good as on PC. But still, this headset manages to mix comfort, durability, and great performance on a single product.
Things We Like
Very comfortable.
Advanced microphone.
Things We Didn't Like
Good in consoles, but could be better.
Somewhat loose around the head.
---
3. Logitech G PRO X Wireless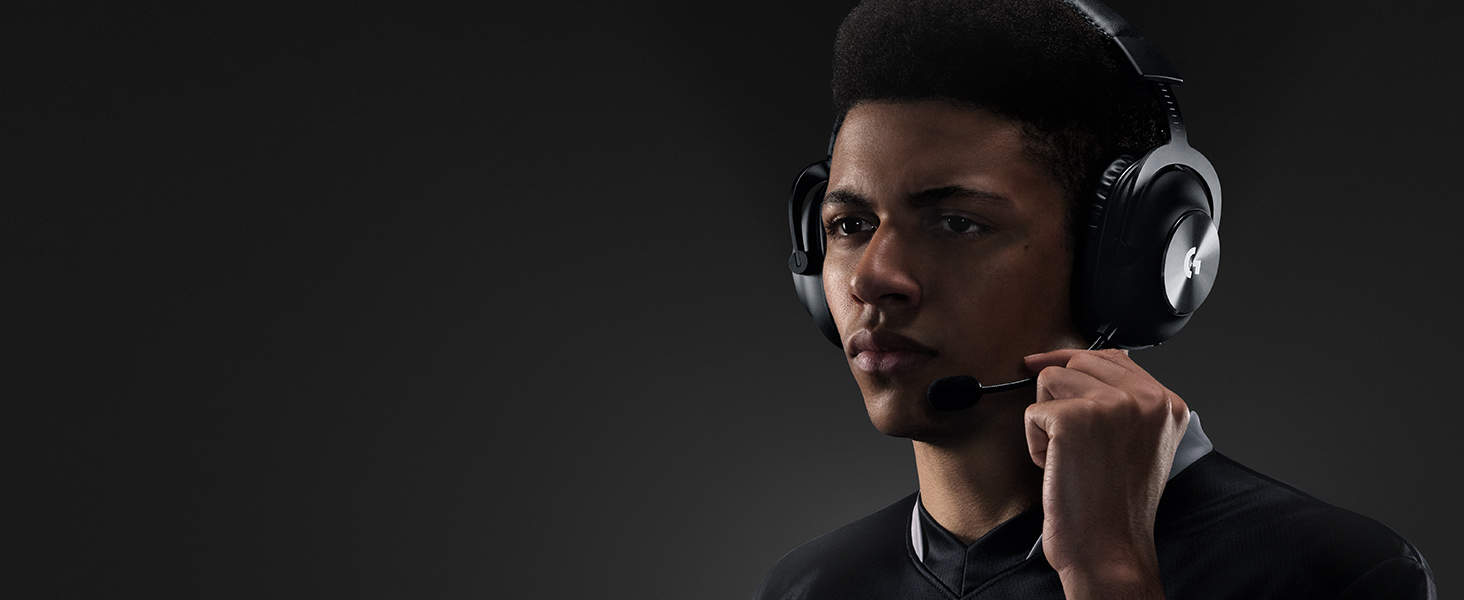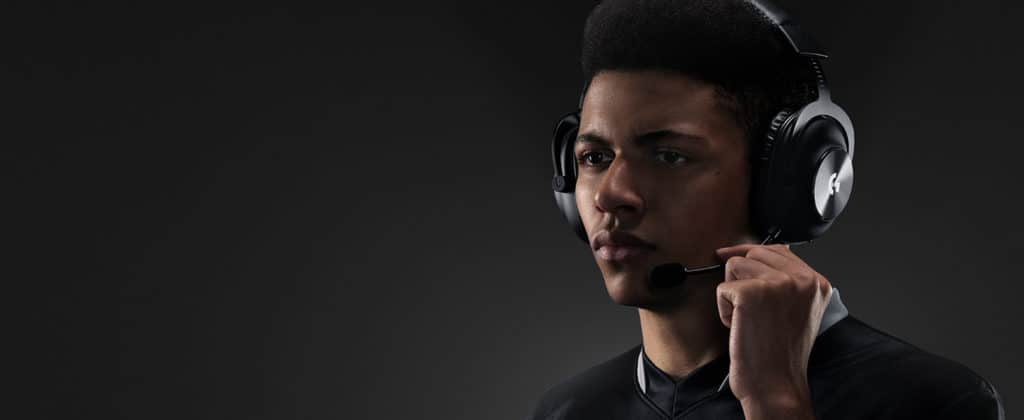 | | |
| --- | --- |
| Dimensions (LxWxH): | 5.43 x 3.7 x 7.68 inches. |
| Weight: | 13.1 oz. |
| Connection: | 2.4 GHz Wireless. |
| Battery Life: | 20+ hours. |
Amazon product
Next on our list of the best headsets for Warzone is the Logitech G Pro X Wireless Lightspeed Gaming Headset. Logitech is another big shark in the gaming industry, so we've learned to expect the best products from them. This model is almost identical to the previous G Pro X, but done wireless.
It's mostly made from durable aluminum and steel hinges. The headband is really flexible and is covered in a comfortable leatherette cushion. There's a metallic circle on the center of both headphones with the Logitech logo. But with only 13.1 oz, you can take it almost anywhere without feeling its weight.
The ear cups are covered in a premium noise-canceling leatherette. It also includes extra velour pads for extra comfort, which is also ideal for those who wear glasses. The velour pads are a little more breathable but tend to isolate less outer noise. It also features DTS headphone:X 2.0 surround sound beyond 7.1-channels.
This headset doesn't come with a 3.5mm port, it focuses only on its wireless capacity. It uses a 2.4GHz USB FR dongle with a 15-meter range and no lag. The Logitech G Hub software allows you to enable advanced features.
It comes with a removable mic that can be manually adjusted thanks to the Blue Vo!ce in the Logitech G Hub software. The mic hardware is just average, but when you activate Blue Vo!ce, the mic quality improves. The amount of adjustments you can make is incredibly extensive.
Summary
Another great product done the Logitech way. It's an excellent choice for stay-at-home workers and gamers everywhere. Definitively one of the best cod headsets in the market.
Things We Like
High-quality sound.
Very comfortable to use.
Things We Didn't Like
The hardware mic isn't the best.
---
4. Corsair Virtuoso RGB Wireless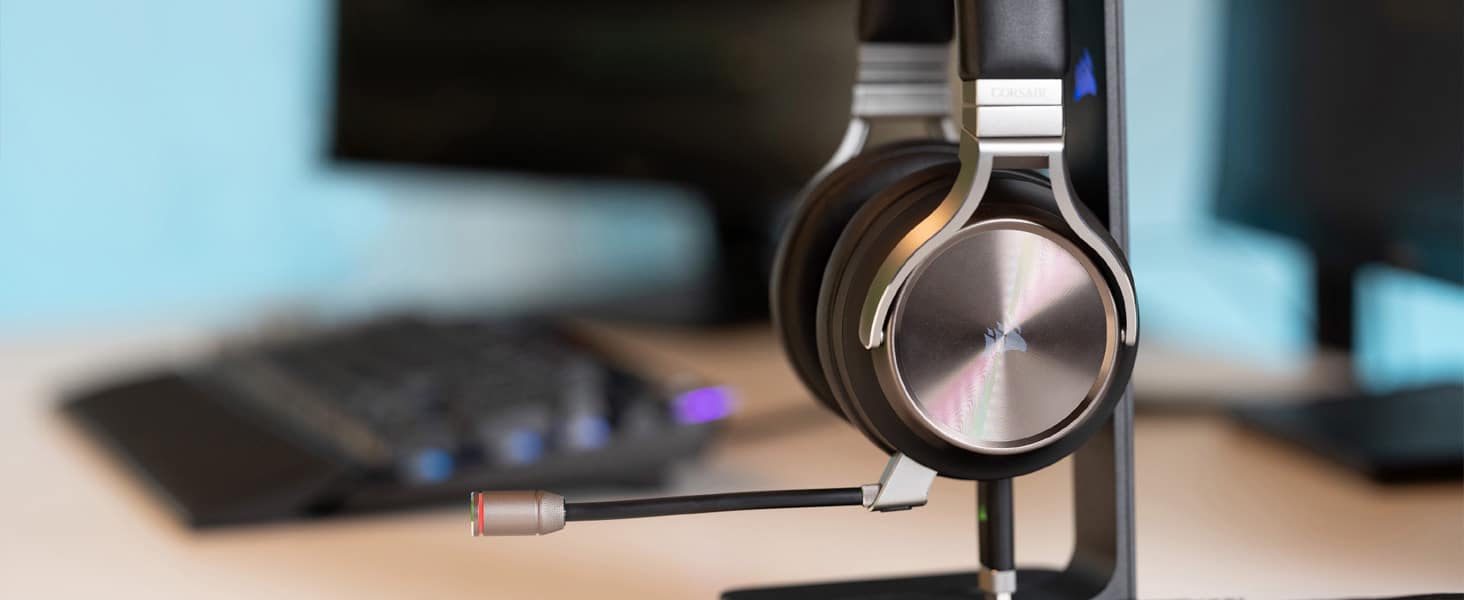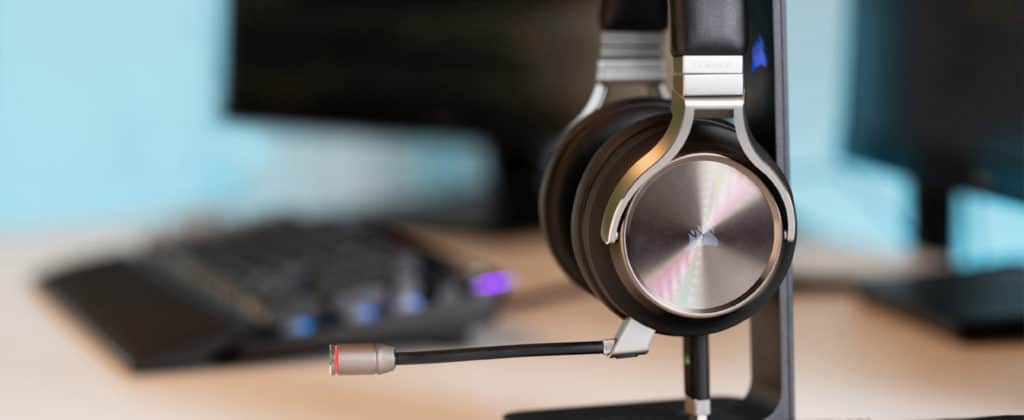 | | |
| --- | --- |
| Dimensions (LxWxH): | 9.37 x 3.59 x 8.25 inches. |
| Weight: | 13.1 oz. |
| Connection: | Wireless Bluetooth. |
| Battery Life: | 20+ hours. |
Amazon product
Corsair brings us the Corsair Virtuoso RGB Wireless SE Gaming Headset, a wonderful gaming headset for anyone who likes good performance and quality. This gaming headset competes for the title of the best headset Warzone headsets among the others on this list.
Corsair's headsets are known for being considerably less expensive than other similar products in the market. They somehow manage to deliver quality products at competitive prices. But this time they went into a pricier arena with the Corsair Virtuoso Wireless SE.
This leading-edge headset offers us some of the best technology available. It offers us high-resolution audio, RGB lights, wireless Bluetooth connection, USB-C charging, and a 20+ hours battery life. The weight it's very well distributed, and the body is well constructed. It's built from aluminum and a leatherette headband. The ear cups are made a very soft memory, also covered in leatherette.
You can use it with either a USB cord, a 2.4GHz USB RF dongle, or just a 3.5mm cord. We promise no lag. It also features virtual 7.1 surround sound. The RGB lights are customizable to show your true colors.
You can have more complex features thanks to the iCue app that comes with the headset. We gotta say it, it's not one of the best softwares around but manages to do its job. It's very intuitive, although sometimes has bugs.
Both the microphone and the speakers have incredible quality. Despite being a gaming headset, the mic sounds clear and without too many problems.
Summary
Thinking about a wireless gaming headset? You should consider the Corsair Virtuoso RGB Wireless Gaming Headset. We'd say it's one of the best headsets for Warzone in the arena right now. It delivers more than some of its competition and in overall terms, it's pretty excellent.
Things We Like
Microphone quality.
Elegant design.
---
5. HyperX Cloud II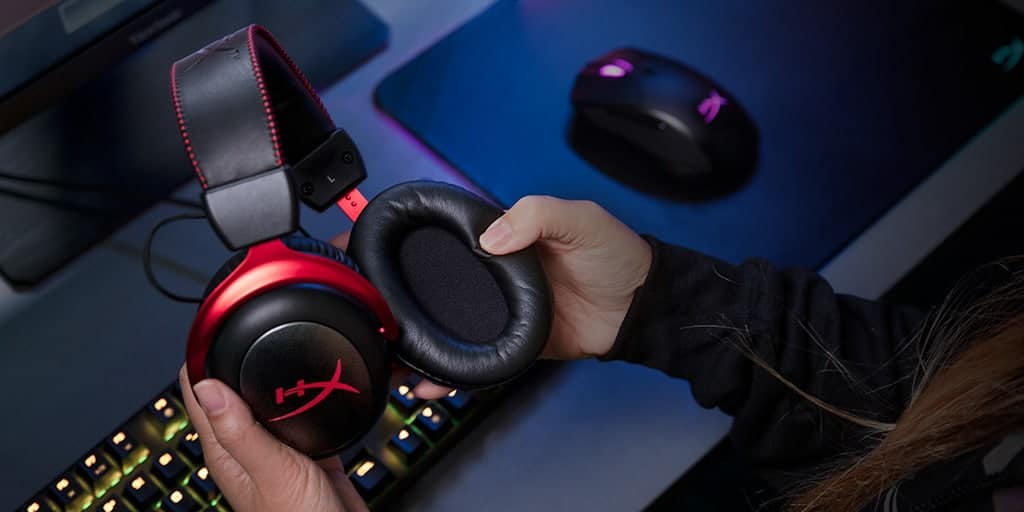 | | |
| --- | --- |
| Dimensions (LxWxH): | 6.69 x 4.72 x 2.76 inches. |
| Weight: | 9.7 oz. |
| Connection: | Wired. |
Amazon product
HyperX is another worldwide famous brand that creates products for your everyday gamer. The Hyper X Cloud II is a less-expensive alternative for those who need a great headset for cod Warzone.
Its design's pretty good. The body is made out of metal and the ear cups are very comfortable, which is amazing. You can choose from a velour or a leather cushion for the ear cups, depending on your tastes and level of comfort.
Although the 7.1 surround sound might have some trouble showing up. It works for some people and doesn't for others. However, with the memory foam cushioned ear pads, the outer world (and all of its distracting noises) will disappear absolutely.
One important thing to say is that the customer service team does a remarkable job solving any issue that you have.
Summary
Looking at the price you'd probably think that you shouldn't expect much from this headset. But after actually trying you'll be surprised that it's able to match the latest gen of headsets with its fantastic features. A recommended option for PC gamers, but it can also work for PS4 and PS5 thanks to the 3.5mm jack.
Things We Like
Incredible price.
Well-built.
Things We Didn't Like
7.1 Surround sound looks good on paper but struggles to come through in real life.
---
6. Corsair HS70 Pro Wireless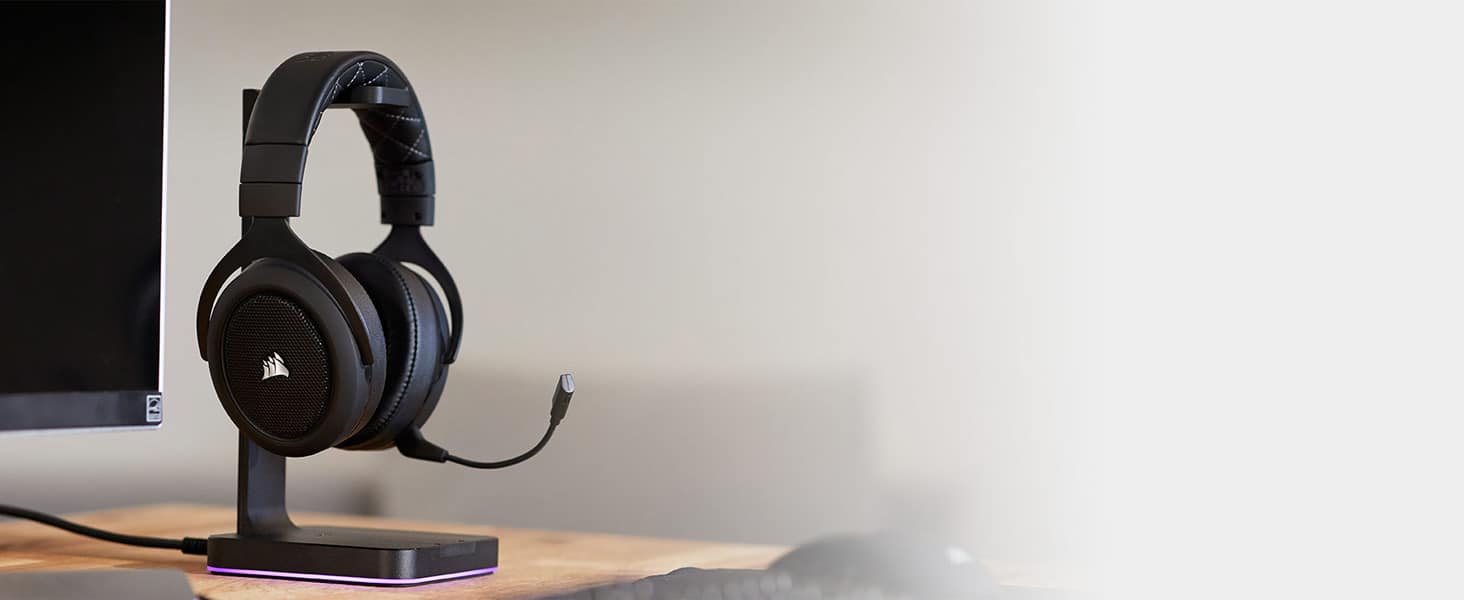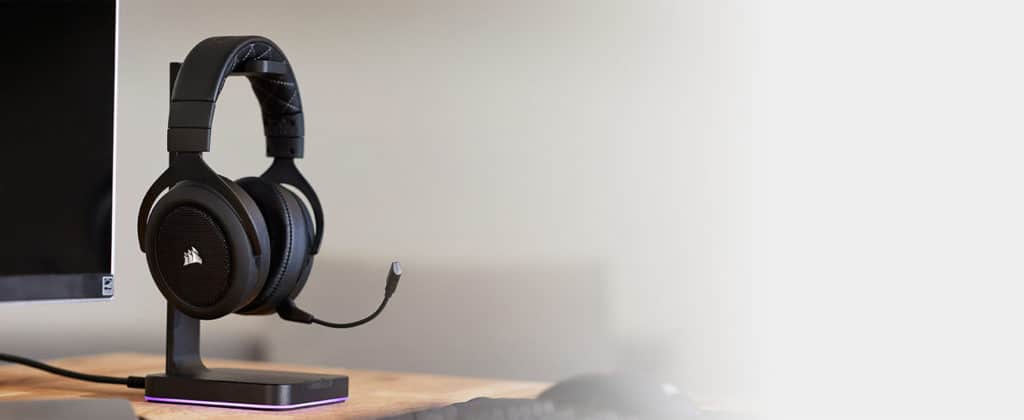 | | |
| --- | --- |
| Dimensions (LxWxH): | 6.3 x 3.94 x 8.07 inches. |
| Weight: | 11.7 oz. |
| Connection: | Wireless USB 2.4 GHz. |
| Battery Life: | 16+ hours. |
Amazon product
The Corsair HS70 Pro is another excellent gaming headset for Call of Duty: Warzone. It has all of the necessary hardware to function properly and comfortably in even the most extreme conditions.
The black design looks elegant and stylish, a little too boring for some people. This headset is made out of metal and the headband is cushioned for comfort. It lacks RGB lights and extra shenanigans. With comfort in mind, this headset does its job. The body feels durable and very lightweight. Ideal for long Warzone sessions.
The 7.1 surround sound is only available on PC, but this headset works greatly on the PS4 and PS5. It has a fully detachable unidirectional Discord certified microphone that captures noise wonderfully. The iCue software is intuitive, you can get technical with your headset and customize it, but as we said earlier with the Corsair Virtuoso RGB Wireless, the software could be better.
The adjustable ear cups are made from memory foam to ensure that your ears remain comfortable after hours.
Summary
The Corsair HS70 Pro is an affordable alternative for your gaming needs. It's durable and comfortable. The sound and the mic have a great quality, but the iCue software still needs to be improved. An option that must be considered when choosing your headset.
Things We Like
Price matches performance.
Comfortable.
---
7. HyperX Cloud Flight S Wireless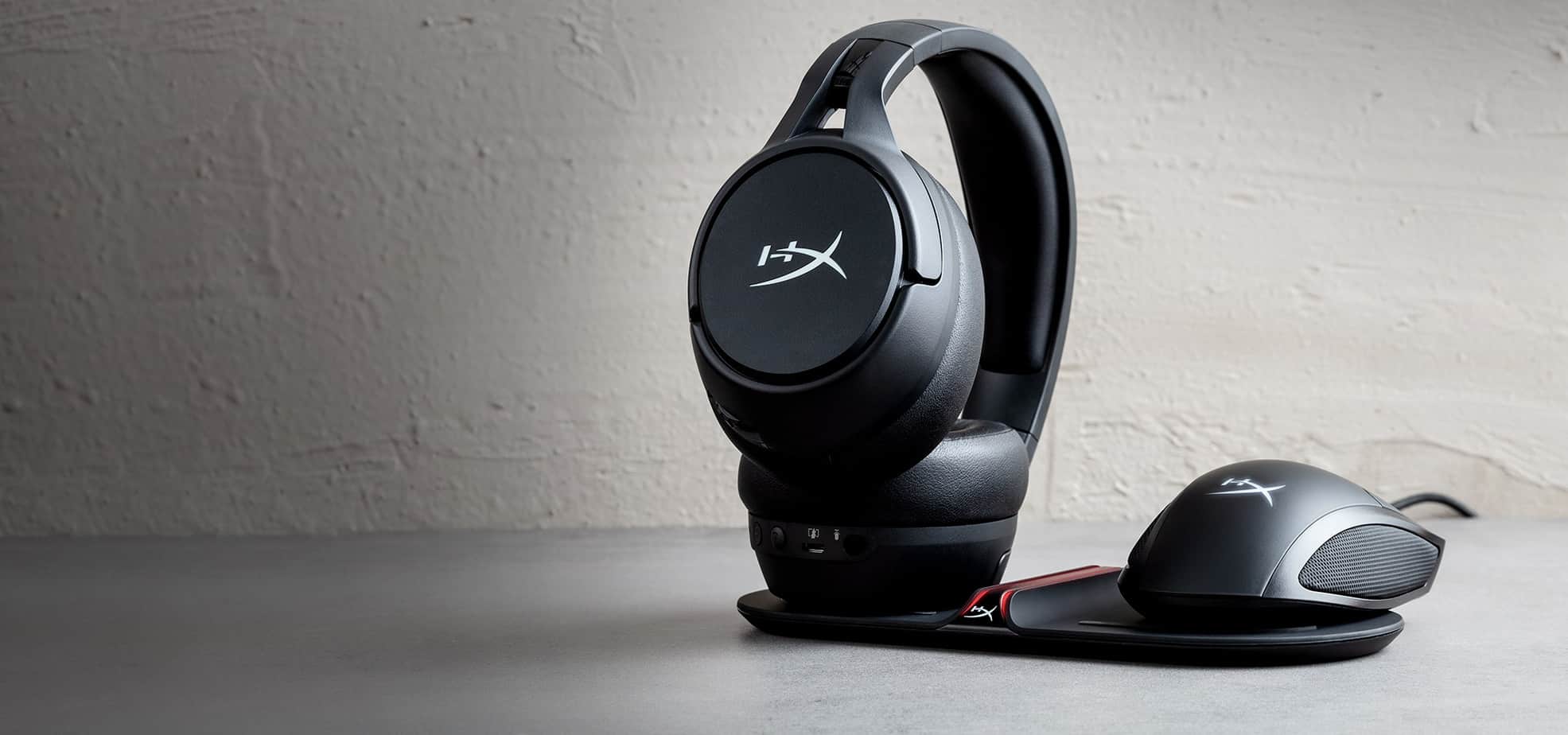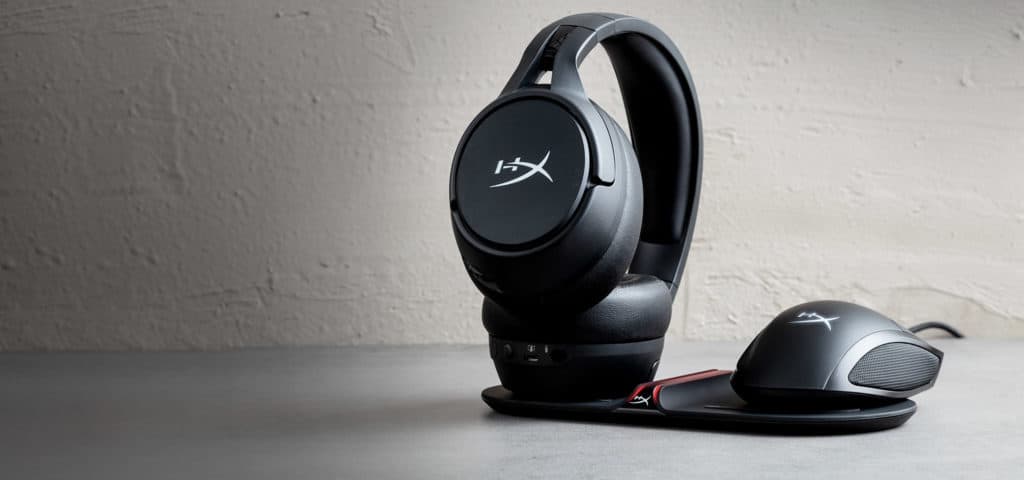 | | |
| --- | --- |
| Dimensions (LxWxH): | 7.47 x 7.42 x 3.45 inches. |
| Weight: | 11.4 oz. |
| Connection: | Wireless 2.4 GHz. |
| Battery Life: | 30+ hours. |
Amazon product
HyperX has a price and a product for everybody. The HyperX Cloud Flight S is a little more expensive than the HyperX Cloud II. It also has some advanced extra features to justify its price.
It's a versatile gaming headset, so you can use it on PC, Xbox, PS4 or PS5. It's made out of plastic with a metal line located inside of the headband for durability. Despite being almost entirely made from plastic, it doesn't feel cheap.
Your ears will be in a safe place surrounded by a leatherette-covered memory foam cushion. And the head is also made from memory foam and delivers just the necessary amount of strength to adjust comfortably into your head.
Some headsets offer surround sound through software. Not this time. The hardware delivers surround 7.1 sound without the need of extra softwares. Just plug and play. However, you can remap any buttons thanks to the HyperX Ngenuity app.
It connects through a 2.4GHZ USB RF dongle with a 20 meter range. Oh, say goodbye to cables because you can charge this model with a Qi-certified wireless charger. The microphone is detachable and offers clear communication with your squad.
Summary
To wrap it up, the HyperX Cloud Flight is one of the best headsets for cod Warzone because of its functionality. It offers premium sound and mic quality, among with a lot of extra features like wireless charging and a detachable mic.
Things We Like
Incredible battery life.
Amazing sound.
Supports wireless charging.
Things We Didn't Like
Side buttons are a little awkward.
---
Frequently Asked Questions
Do I need a headset for Warzone?
Yes. In Warzone, you are playing with online real-time players from all over the world. You need to have good communication with your squad if you want to take gaming seriously. With a headset, you'll be able to listen properly and reply quickly as the game passes.
Is there a difference between gaming headphones and normal headphones?
There isn't really an enormous difference between a gaming headphone and a regular music headphone. We need excellent audio to listen clearly on both types of headphones. However, when it comes to gaming headphones, they have extra features that regular headphones don't have in order to improve the gaming experience.
How long does the average gaming headset last?
A gaming headset can last around 2 to 3 years if properly cared for. As long as the sound drivers themselves aren't damaged, you can expect them to last a little longer. More premium models can last up to 5 years, especially if they come with replaceable parts.
What Is Discord Certified?
To put it simply, when a mic is "Discord Certified", it means that it went through a rigorous testing process done by Discord. This is to make sure that it has the necessary qualifications to be a fully functional and comfortable headset.
---
Conclusion
Choosing the best headset for Warzone doesn't have to be an impossible task. Now that you know what your headsets need, you can use that information and pick one that better suits you. Making a wise investment means not wasting money on a pair of cheap headsets with poor features. Follow our advice and save time, money, and effort.
All of the headsets on this list will work for Warzone without any kind of problem. They are also compatible with many consoles like, Xbox, PS5, and PS4. If we had to choose one, we'd go with the SteelSeries Arctis 7 because it just hits the best spot for us. However, you are free to explore all of the other headsets and decide for yourself. There are also great options when it comes to white gaming headsets.
Leave a comment and let us know what you think.