So the rumors were true, the iPhone 12's lineup won't include a power adapter (nor a new set of EarPods). It's not like we're going to miss the 5W block that usually comes in the box and takes about 7 months to charge your iPhone. Also, this way Apple aims to reduce electronic waste and help the environment, and well yes, save money. While this all sounds great, some people don't have a single USB-C charger hanging around in their house. That's why we made a list of the best iPhone 12 chargers and the best iPhone 12 power adapters so that you can make a wise decision about how to charge your iPhone 12.
"As part of our efforts to reach our environmental goals, iPhone 12 and iPhone 12 mini do not include a power adapter or EarPods", says Apple on their website. It also encourages consumers to "Please use their current Apple power adapter and headphones, or purchase these accessories separately." So it's really just the phone with a Lightning to USB-C charging cable, which results in a thinner product box.
The iPhone 12, 12 Mini, Pro & Pro Max will be compatible with MagSafe Chargers, and that's good news. But that also won't include a power adapter and it will have a USB-C type connection, so it's a safe bet to go for USB-C charger adapters.
What to Consider When Choosing the Best USB-C Charger Adapters for iPhone 12
Like we said before, it's important to point out that you should try to go for a USB-C type adapter. Why? Because it's becoming the norm for technology manufacturers to make products with this port. Sure, you can go for a USB-A type power adapter and USB-A to Lightning, but going for a USB-C type might be better in the long-run.
There are things to consider before choosing a charger for iPhone 12 other than just the price, like wattage. The new iPhone 12 will support fast charging and you obviously want that from your power adapter, and if it supports a higher level of wattage (60W+), you can even charge other Apple products like MacBooks.
And although these chargers haven't been technically tested on iPhone 12, we're making this list based on these charger's performance on previous models. So here's our list of the best chargers for iPhone 12:
---
1. RAVPower 61W PD GaN Charger
Amazon product
Best All-Around Charger for iPhone 12


Dimensions (LxWxH): 1.9 x 1.9 x 1.2 in / 4.9 x 4.9 x 3.2 cm.
Weight: 3.7oz / 105g.
Wattage: 61W.
You can't expect us to make a list of the best power adapters for iPhone 12 without mentioning RAVPower. Here we have a small and powerful adapter that can handle up to 61W, so that's great news if you need to charge your laptop without having to buy too many products. Want to charge your iPhone? Go ahead. Your MacBook? Do it. iPad on low battery? It's all possible with this power adapter.
It's small and slim so you can carry it around and it will fit the most intimate corners of any wall. Which means that it's perfect for both travel and going to the office. 61W PD GaN Charger has built-in mechanisms that protect it against the dangers of overheating, overcharging, and short circuits. It also has foldable pins for extra portability.
All in all, this is a power adapter that won't easily let you down. It's small, light, portable, and most importantly, works excellently. A wise option for iPhone (and laptop) owners.
Pros
Charge almost any device.
---
2. Anker Nano (PowerPort III Nano)
Amazon product
Best iPhone 12 Charger Overall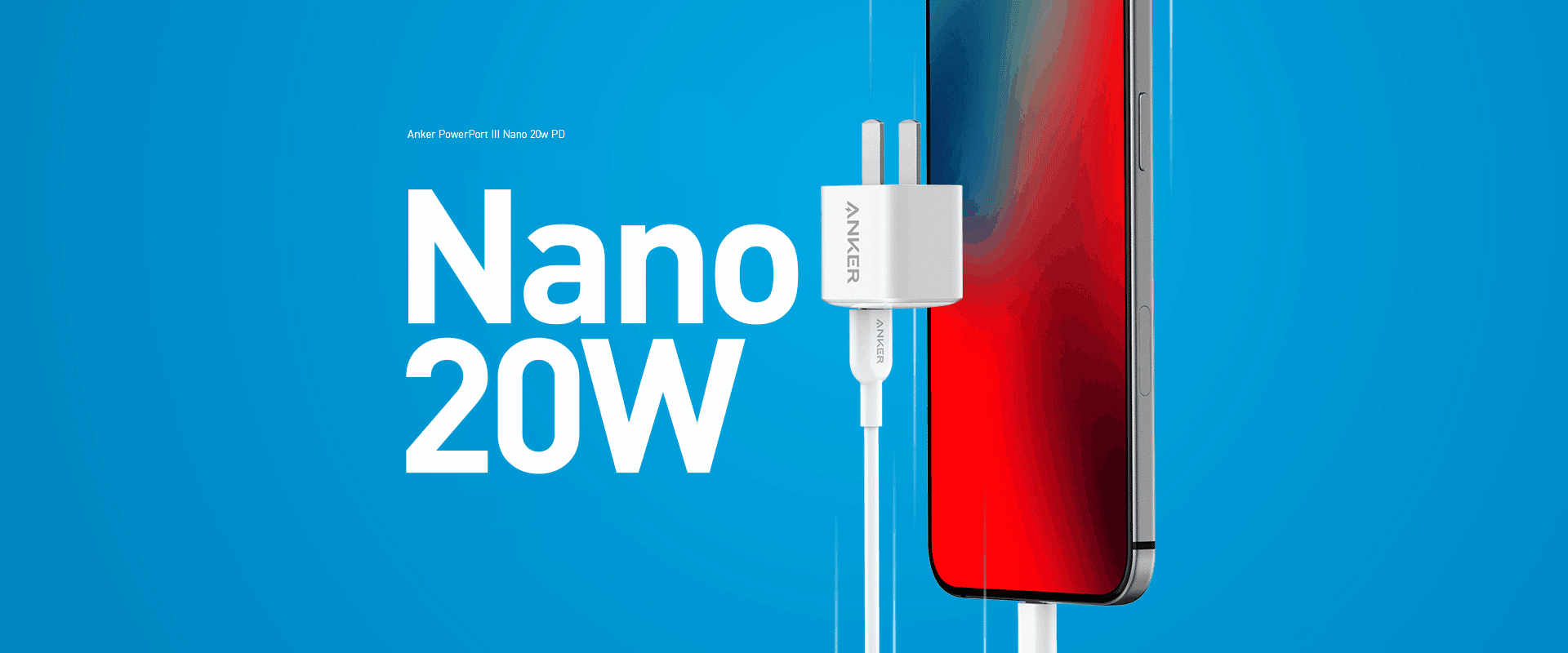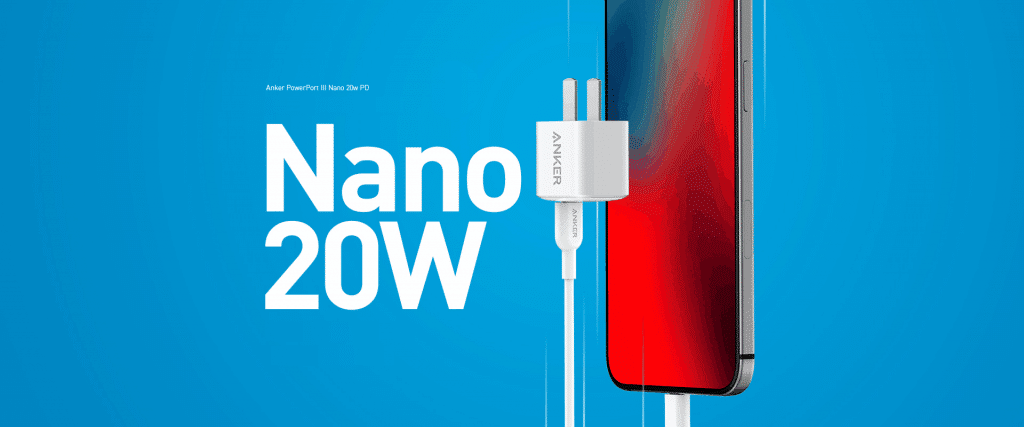 Dimensions (LxWxH): 1.81 x 1.08 x 1.08 in / 4.5 x 2.7 x 2.7 cm.
Weight: 1.12oz/ 28g.
Wattage: 20W.
Anker is another well-known cell phone accessory manufacturer with great quality products and a loyal fanbase. This charger can charge up to 20W, which means that it allows fast charging for iPhone 12, which is just enough for the max input of the iPhone 12. Another great accomplishment is being the number one bestseller in cell phone wall chargers on Amazon, which is pretty impressive to me.
It's small, compact, and portable to take around anywhere you go. It doesn't have the most aesthetic design ever, but it does its job and I think that's all that matters after all. It weighs the same as an AA battery and charges your phone 3 times faster than the regular and old 5W block.
Built with heat dissipation for great-quality performance, this charger adapter will solve all of your charging needs that your iPhone 12 might have. It's so good that it's no surprise it's the best-selling wall charger on Amazon. A great and cheap option for anyone wanting to charge their iPhone 12.
Pros
Incredibly light and small.
---
3. Apple 20W USB-C Power Adapter
Amazon product
Best Official Charger for iPhone 12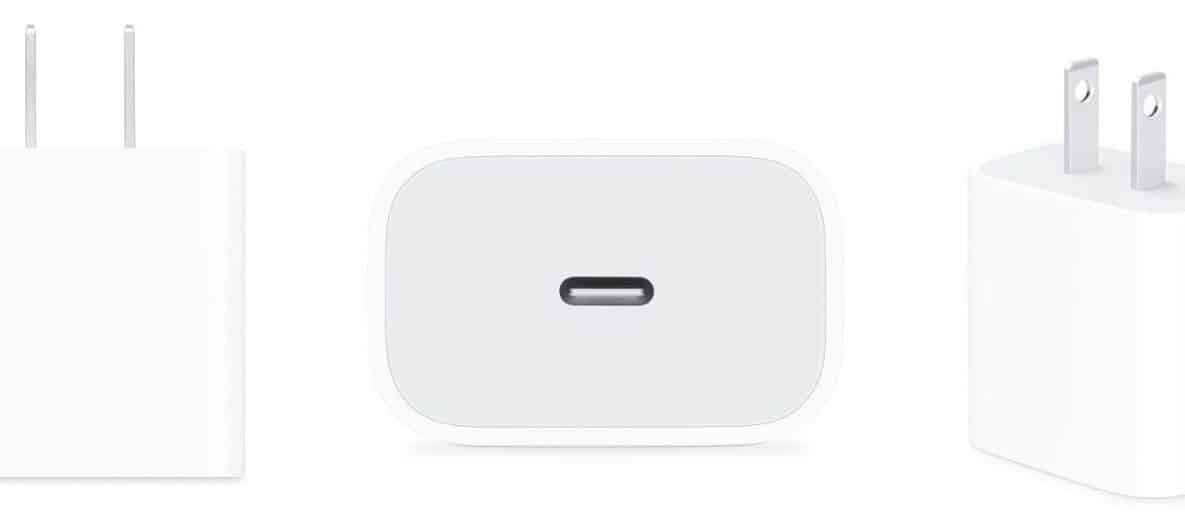 Apple announced a new charger for their iPhone 12's lineup. We can't say anything about Apple that you don't already know. Their products are great and their accessories are well-known for their awesome Apple-quality. The downside? Their not so awesome Apple prices.
Still, this charger works perfectly for your iPhone products. It's small, aesthetic, and you can tuck it in every pocket to charge your phone on your office, your house, or the nearest wall around you. This is fast charging technology done the Apple way.
---
4: Anker USB C Charger PowerPort PD 2
Amazon product
Best Dual-Port Charger for iPhone 12

Dimensions (LxWxH): 2.48 x 2.44 x 1.14 in / 6.2 x 6.1 x 2.8 cm.
Weight: 3.68oz / 104.3 g.
Wattage: 30W.
Anker does a great job at making the best chargers for iPhone 12 Pro and other models. This time, we have a 30W dual-port power adapter with a USB and a USB-C port to charge two devices at the same time. It can charge one device at 30W and if two devices are at the same then it evenly distributes the charge for an optimal performance.
In Anker, they believe that size matters, a lot. That's why they keep making super small and compact power adapters that take almost no space but deliver great power and fast charging technology for all of your iPhone devices. The plug is foldable, the material is solid, and the interior design is built with heat dissipation so it won't harm your phone with overheating.
Anker is committed to creating faster and safer products for you, so it's worth taking a look at what they do. That's why these are some of the best chargers for the iPhone 12.
Pros
Powerful two-port charger.
Cons
Folding electrical prongs are shorter than usual.
---
5: Anker PowerPort Atom PD 1
Amazon product
Great USB-C Port Charger for iPhone 12

Dimensions (LxWxH): 2.17 x 1.38 x 1.61 in / 5.5 x 3.5 x 4 cm.
Weight: 1.76oz / 28.3 g.
Wattage: 30W.
If all you need is one powerful power adapter for your iPhone and that's it, then you might as well check out another one of Anker's products. This model is just as powerful, small, and efficient as you'd expect from an Anker power adapter for iPhone 12.
It comes with one USB-C type port that can charge up to 30W. So it's great for other higher wattage-demanding Apple devices like iPads. It's built to prevent overheat and all of those unwanted issues. It's also 40% smaller than your average MacBook charger. Feel free to join the Anker family of around 50 million users worldwide and take home this wonderful power adapter for iPhone 12.
---
6: AUKEY Focus USB C Charger 30W PA-D1
Amazon product
Great Dual-Port Charger for iPhone 12

Dimensions (LxWxH): 2.36 x 2.17 x 1.1 in. / 6 x 5.5 x 2.8 cm.
Weight: 3.63oz / 103g.
Wattage: 30W.
Aukey is another well-known manufacturer that has managed to create well-functioning phone accessories for iPhone and Samsung devices. This model allows you to plug in up to two devices with a USB and a USB-C type outlet. This charger allows up to 30W, which by now you know that this means fast charging. Allows 30W when it's used with one device and when two devices are connected it distributes evenly the charge. And given its small size, it's also portable and travel-friendly.
This is one of the best chargers and best power adapters for the iPhone 12 because it has all of the necessary features that your iPhone needs from a power adapter. It prevents your phone from the unnecessary threats of overheating, overcharging, and short circuits. And like all of the power adapters from this list, it has a C-type USB Port because the future belongs to C-Ports and that's a fact.
It's been tested for safety and durability. On safety: it reduces the risk of battery damage by 80%. On durability: It's been extensively tested to ensure great solidity. Leave your iPhone 12 in good hands with this amazing phone charger.
Summary
If you're only buying the iPhone 12 then you might not need a two-port charger, but if you want to charge your laptop then you might consider one of those. And it's better if it has a higher wattage.
Remember that all of these chargers are still yet to be tested on iPhone 12 devices, this list was made on the previous performance of these chargers. Leave a comment and let us know what you think. Be sure to follow GadgetGang to stay updated on the latest and most important tech news.